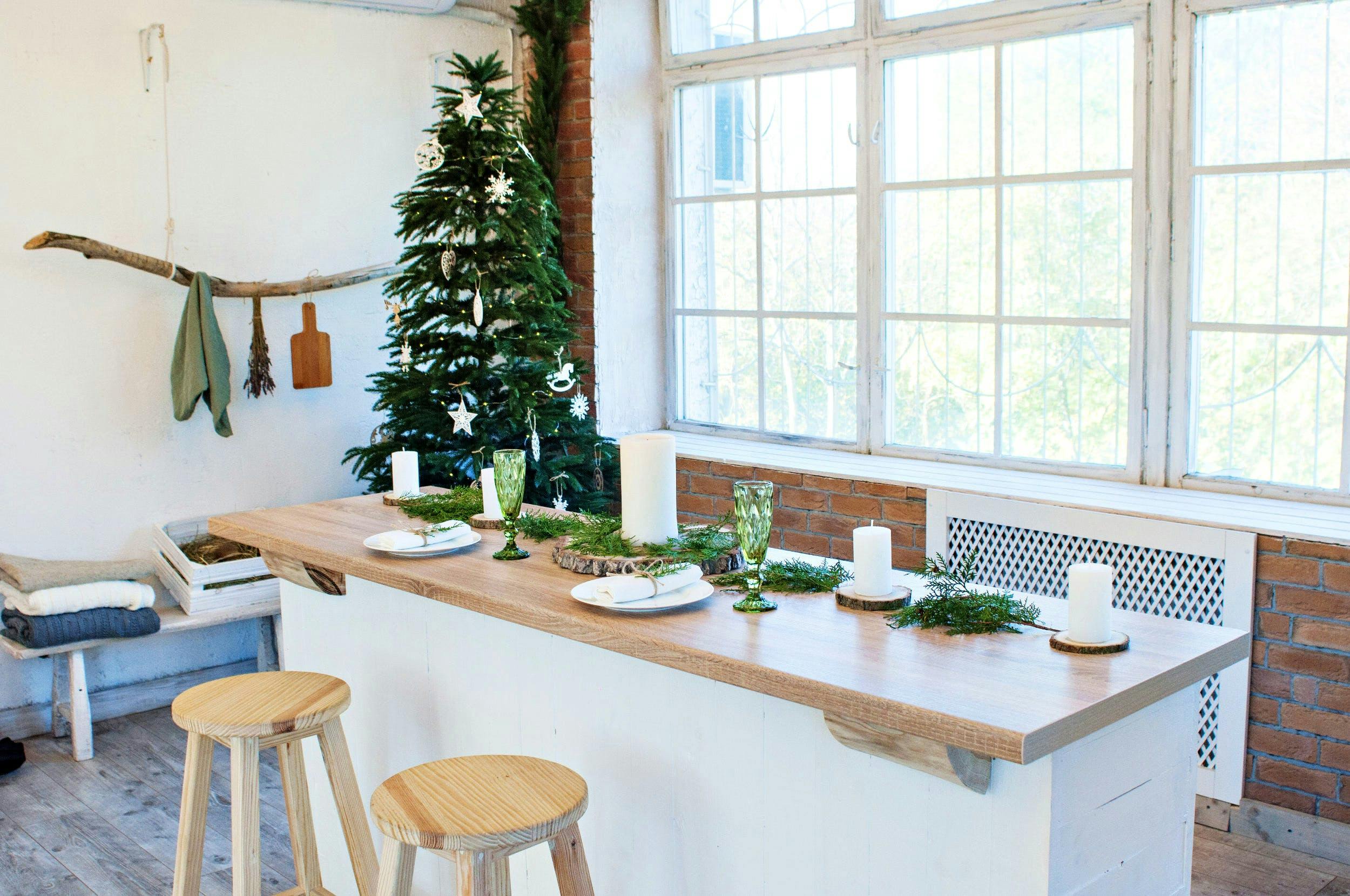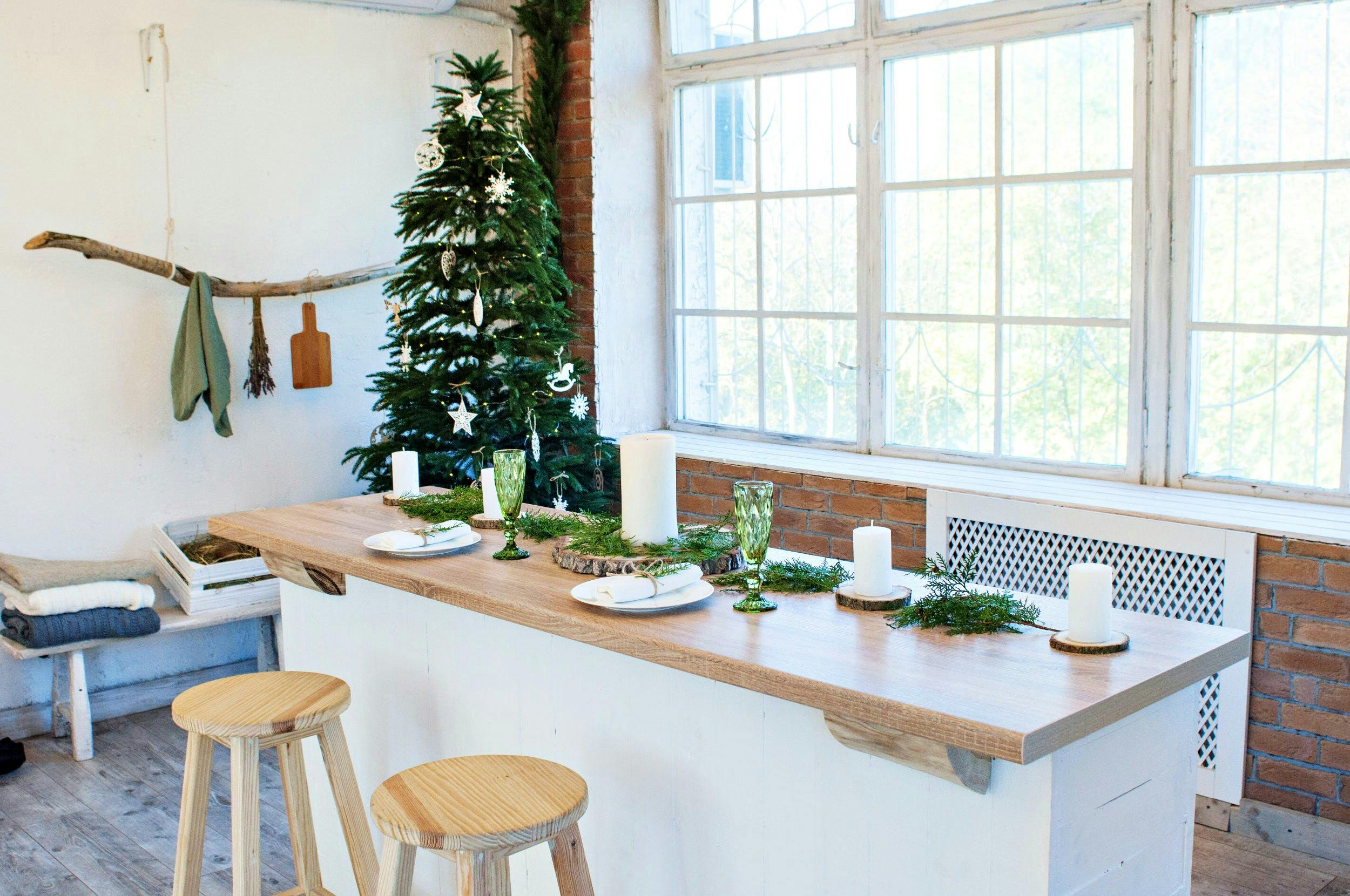 The most creative Christmas decoration ideas for your kitchen
Christmas is just around the corner. And now's the perfect time to dust off last year's decorations and get the house ready for the festivities. The kitchen, as an extension of our living room, plays an ever more important role when it comes to Christmas decorations. In many cases, it's also the place where the big celebratory dinners will be held on Christmas Eve and Christmas Day.
Do you know the story of the Christmas tree?
The tradition of decorating the house for Christmas – living room or kitchen, it's all the same – has been around for centuries. The Christmas tree is a northern European pagan custom that was adopted as a Christian tradition thanks to St Boniface, who decorated a pine tree with apples and candles. The apples – now replaced by Christmas baubles – were a symbol of original sin, and the candles, or today's strings of lights, represented the purifying light of Jesus Christ. The tradition dates back to 16th-century Germany and Scandinavia, later spreading to England and France before arriving in Spain at the end of the 19th century.
There's also a story behind the stockings hanging from the chimney, the mistletoe and poinsettia. However, above all, we love them for the way they set the festive scene in our kitchen or festive living room.
Having given the cultural aspect its due, we can return to the matter at hand: decorating the kitchen at Christmas. Not sure where to begin? Want to wow your guests by creating the prettiest and most Christmassy kitchen? Bored of your old decorations and feel like shaking things up? Here are our five tips for giving your kitchen a festive makeover:
1: A GOOD BASE IS ESSENTIAL
As with any decorating project, a blank canvas made from quality materials is the best way to guarantee that everything that goes on top looks great. Materials such as Silestone or Dekton for a kitchen countertop, or Dekton Slim to clad furniture or walls, help you to achieve the perfect visual continuity in your kitchen to complement the perfect Christmas look. Obviously, this isn't a job that can be cobbled together in a couple of weeks. But if you're planning to remodel your kitchen, you'll have the perfect decor in time for Christmas 2020.
We love black finishes that provide your kitchen with an elegant, neutral base from which to decorate the room in your favourite Christmas colours (white, silver, gold, red or green).
Whatever the colour scheme of your kitchen or living room, remove any clashing elements and get rid of unnecessary decorations to leave as neutral a base as possible for all that is about to arrive.
2: CHOOSE WHICH ELEMENTS TO DECORATE
Our second tip is to choose one or two elements to focus on to ensure that the Christmas decorations in your kitchen or living room are balanced. Although festive decorations always have a certain degree of Baroque ostentation, avoid creating a gaudy, over-the-top atmosphere.
We recommend focusing your attention on these features: 1. chimney – if you're lucky enough to have one, 2. display cabinet or dresser – to decorate its shelves, 3. countertop – perfect if it's part of an island, 4. dining table – not just for the Christmas dinner, 5. windows - only if they're particularly pretty ones, and 6. doors – the ideal for hanging wreaths made from vegetation. Choose two or three of these elements and try to ensure they share the same aesthetic.
3: STICK TO ONE DECORATIVE STYLE
And now we come to our third tip. Before you go crazy picking out decorations, decide on the aesthetic you want to decorate your kitchen or living room with for Christmas. The idea is to choose a Nordic style, for example, with earthy colours and pale wood and to maintain a cohesive look throughout the space.
You could opt for classic red and green or use white. This tone works very well with silver or gold and creates a relaxed, wintry atmosphere. But remember, no more than two colours if you want to achieve a stylish look. Don't forget, "less is more" when it comes to decorating and turning your kitchen into a fairground is as bad as doing things by half measures.
4: DECIDE WHICH DECORATIONS YOU'RE GOING TO USE
By this point, we've taken our kitchen or living room back to basics and have chosen our Christmas look and the elements we want to decorate (chimney, door, window, countertop, etc.). Now it's time to get the decorations out and start having fun.
We recommend using decorations based on vegetation, which work well in any kitchen. Beyond the traditional fir, how about holly and mistletoe wreaths for doors, and poinsettia for the countertop and dining table?
Decorating doors for Christmas is always a worthwhile place to focus our attention. There are endless Christmas wreaths for doors that can match your look for the rest of the living room and kitchen.
Lighting is also essential when it comes to decorating your kitchen or living room for Christmas. We love warm lighting - no blinking or flashing please! - and even better when it comes from candlelight. There's no better way to bring warmth and cosiness to a room than a pretty candle.
If you're a creative type who loves to innovate, you could also decorate with kitchen utensils or even food: red-and-white striped candy canes, biscuits in the shape of a Christmas tree or baskets of nuts.
5: GET CRACKING
It's time to get to work. No excuses! Enlist the help of your little ones and give them clear instructions as to what you're trying to achieve. They're sure to surprise you… And if not, just go with it. There's beauty in chaos and disorder!
Don't forget to save some decorations for the Christmas table: it's the perfect opportunity to show off your best efforts and impress everyone, even your mother-in-law. Use the same approach as you did for decorating the rest of the kitchen and living room. It's a foolproof method. And don't forget the candles: they create a warm, cosy atmosphere and add that festive touch you're looking for.
Ready to celebrate? Happy Christmas!