Top Homes
The natural beauty of Dekton gives consistency to this house in Australia
Signature by Metricon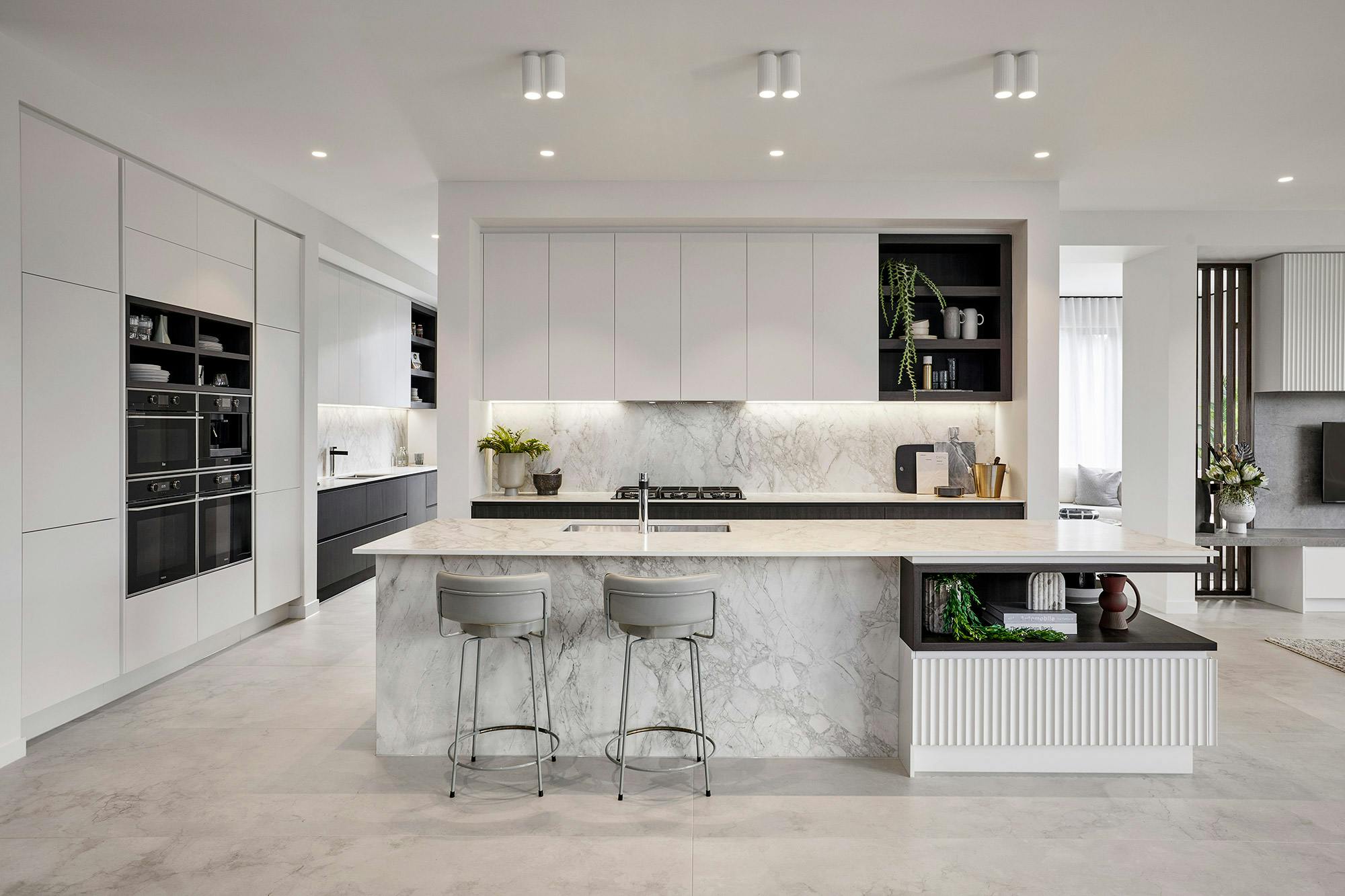 Location
Bentleigh, Victoria (Australia)
Material
Dekton | Silestone
Application
Wall cladding, fireplace, worktops, island, splashback
Architecture/Design
Signature by Metricon
Color
Soke, Portum | Cemento Spa, Desert Silver, Eternal Serena
The Franklin 50 stands as pure luxury wrapped in quality materials and impeccable style. This house, currently on display, is designed by Metricon to be enjoyed. It consists of a cosy study for more relaxed moments, a formal lounge to welcome visitors, an open plan centre that integrates the dining, living and kitchen areas, and an outdoor space perfect for enjoying summer activities.
The kitchens, bathrooms and bedrooms have been designed in detail using quality materials with a very welcoming classic and modern look. As a common thread, Cosentino surfaces run throughout the design with natural accents and industrial touches. Silestone and Dekton have been selected for various applications, providing all their technical advantages, since they are stain-resistant, easy to clean materials which retain their flawless aesthetics over time.
Dekton Portum running through design spaces
Without a doubt, the heart of the house is the open-plan kitchen. This is just an example where Cosentino surfaces can be used to provide natural feel, beauty and quality. In the kitchen, Dekton clads the island and splashback, bringing a fresh and light style with the Portum colour.
'The natural beauty of Portum, with its greyish veins forming a sculptural pattern, provides the perfect balance with the neutral-toned units and a sense of urban minimalism,' explain the designers.
Industrial and contemporary colours for luxury spaces
'Dekton Soke blends seamlessly with Dekton Portum to lend an earthy base to rooms thanks to its warm industrial feel and solid composition,' they continue. This colour, whose texture is inspired by classic cement floors, offers a wide range of grey shades that make it highly versatile.
On the other hand, Silestone Desert Silver and Eternal Serena were the preferred choices for the numerous bathrooms for their classic lines and contemporary feel, contributing to a refined harmony with the various types of tiles and colours of units used.
Cosentino's materials used in this project
Explore Similar Case Studies