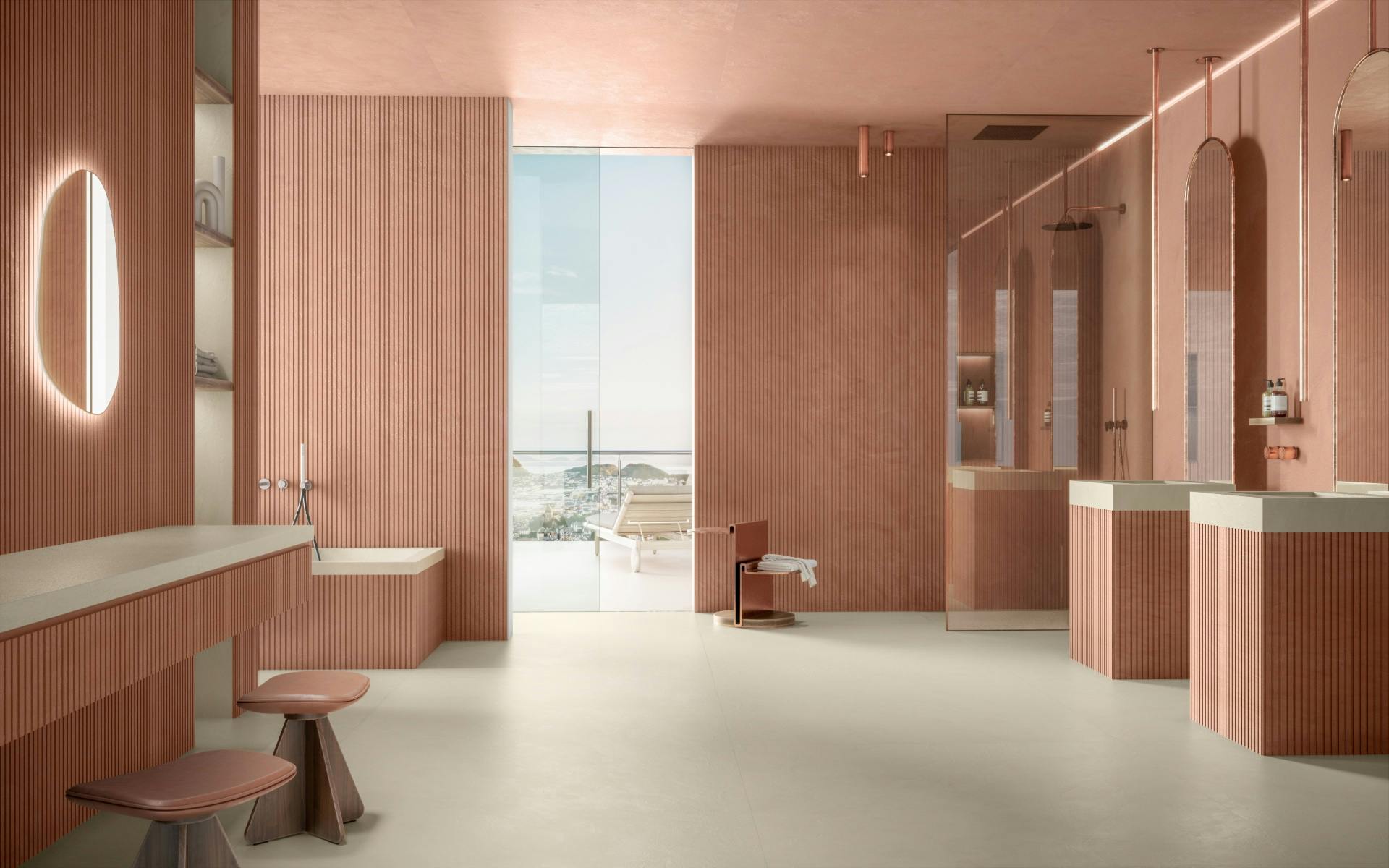 The perfect bathroom according to Claudia Afshar
Cosentino has just launched C·Bath, its comprehensive approach to bathrooms. A selection of leading international designers and interior designers have been brought together to help us draw a picture of the ideal bathroom.
In recent years we have seen how this space, previously relegated to mere functionality, has increasingly become the main feature. Nowadays, bathrooms are just as important as other spaces in homes and commercial premises, such as restaurants: they are a letter of introduction to our guests and clients, as well as a place of privacy and relaxation for families in their own homes.
In this article we talk about the opinion of designer and interior designer Claudia Afshar, CEO of Claudia Afshar Luxury Interiors, known internationally for her stylish, elegant and contemporary design style. 'My style is simple, clean and timeless. I aim to design homes for my clients that they will fall in love with for years to come.'
Based in Los Angeles, Claudia Afshar brings her British influence to major residential and commercial projects. According to Claudia, her inspiration for bathroom design stems from the needs and desires of the client. Inspired by her travels, she also pays attention to those accents and textures that make the space contemporary and bring it to life at the same time.
What the perfect bathroom looks like according to Claudia Afshar
From Claudia's point of view, the ideal bathroom has an open floor plan where the master bedroom and en-suite flow seamlessly into one another, making the best use of space. The en-suite bathroom would include a large open shower, with separate areas for the bathtub and vanity.
For Claudia Afshar, the perfect bathroom must also be functional and well-planned. Another important part of the design is a careful selection of lighting, as it will set the tone of the space, which should ideally be romantic rather than overdone.
Finally, storage space must be included, often hidden behind beautiful stone units and wood panelling.
Trends for the perfect bathroom in 2023 according to Claudia Afshar
In Claudia Afshar's opinion, the bathroom has become a very important area of the house and is given much more attention than in the past. 'As personal care is already part of our daily routine, we strive to create an experience in every bathroom using different materials, accents and textures.'
Warm colours and understated luxury for spa-like ambience
When it comes to the bathroom, Claudia loves minimalist design and understated luxury combined with a touch of Zen. She wants this space to be warm and reminiscent of a spa. Nowadays, she admits that she likes to use TK06 Marmorio from the Pietra Kode collection, of which she is a big fan. She also loves to include walnut or other warm woods that add layers to the space and make it more interesting. Tinted mirrors and beautiful indirect lighting provide just the right amount of romantic flair and fine detailing.
Attention to decorative features, also in the bathroom
In her studio, they use a variety of different materials: natural stone, industrial stone, glass and wood. With metals and fabrics they seek to bring nuances to the space.
'Incorporating direct lighting with fine metal details and a wooden stool next to the bathtub will have a great impact on the design of the space. We also focus on finishing touches, such as the way towels are rolled up and the placement of accessories and scented candles.'
A more sustainable bathroom thanks to the surfaces
Sustainability is something Claudia Afshar values highly, which is why she prefers to work with Dekton. 'Cosentino offers the possibility of selecting and incorporating high quality products that are both sustainable and aesthetically pleasing. As a designer, I like the variety of finishes and I'm excited about the new textures that the brand is offering.'
Separate en-suites for each partner with communal areas
Claudia's studio often undertakes large-scale projects in which the master bedroom features two separate en-suites, one for each partner. These separate en-suites can be designed to share a communal area, allowing everyone to have their own experience. The aim is to ensure fluidity between the different areas and the common space.
Connection to outside from the bathroom
'We are really keen on this idea. It's great that the master bedroom flows into a lovely en-suite, which also leads to an outdoor area.' Increasingly, master bedrooms are being designed to look like a luxury hotel suite. In such a large space, where each area is separated from the others, it is crucial to add features that will surprise the inhabitants.