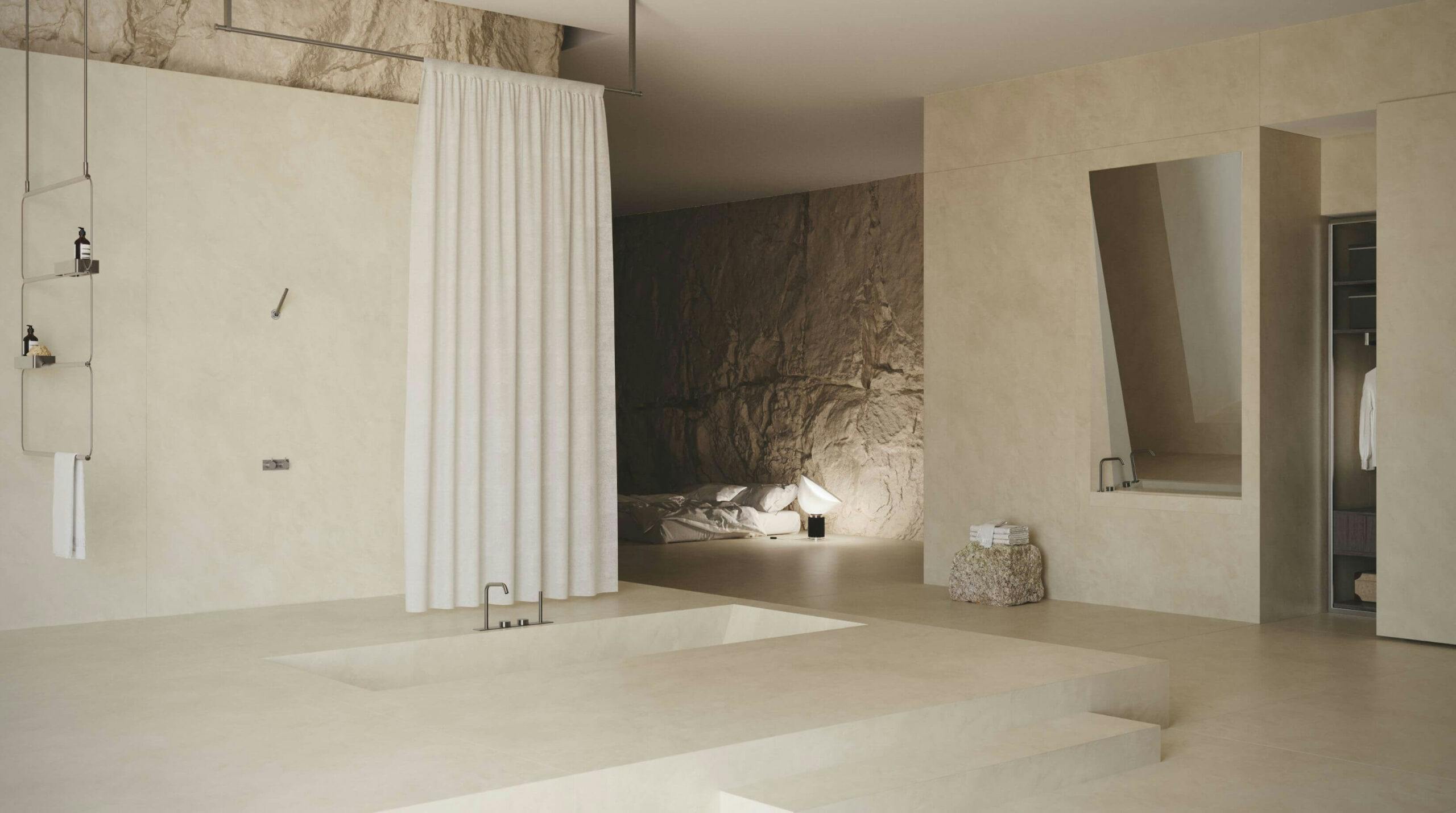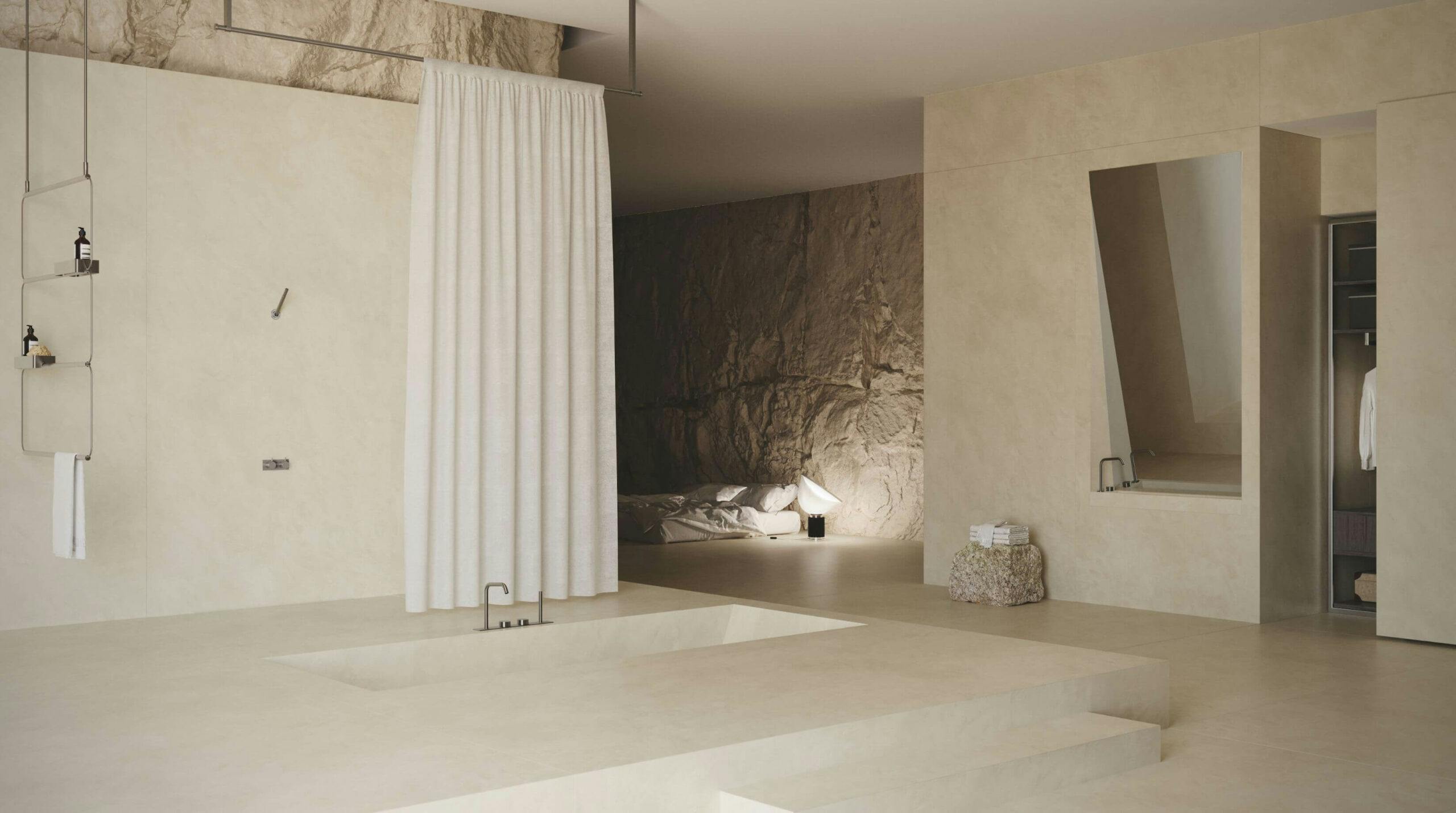 The perfect bathroom according to MUT Design
Cosentino has just launched C·Bath, its comprehensive approach to bathrooms. A selection of leading international designers and interior designers have been brought together to help us draw a picture of the ideal bathroom.
In recent years we have seen how this space, previously relegated to mere functionality, has increasingly become the main feature. Nowadays, bathrooms are just as important as other spaces in homes and commercial premises, such as restaurants: they are a letter of introduction to our guests and clients, as well as a place of privacy and relaxation for families in their own homes.
In this article we talk about the vision of Alberto Sánchez and Eduardo Villalón, from the MUT Design studio, who bring us their emotional vision of design, creating two bathroom concepts for the launch of C·Bath.
What makes the perfect bathroom for MUT Design
The main goal for the MUT Design team is to turn the bathroom into a space that is much more integrated into the home. This is achieved by removing traditional barriers, such as walls and doors, that make the bathroom feel like a smaller, enclosed space, so that it flows naturally with other spaces, such as the bedroom or a terrace.
'As in the kitchen, which has been transformed into an increasingly open concept, our approach to the bathroom is based on overcoming these material boundaries.'
The more intimate area is kept a little more hidden and private, while other parts, such as the bathtub area, should have more open access, so that it can be seen from the bedroom or allows bathing in front of a large window with a view.
As for the choice of the colour range for the bathroom, MUT Design favours very natural and neutral colours, neither too bright nor too loud. They go for shades that inspire calm, serenity and cosiness. 'We avoid both too flashy and too aseptic, such as all-white. We are looking for pleasant and balanced colours, which fill us with warmth and make us feel almost as if we were at the beach or in a mountain pool. Something that evokes nature.'
Trends for the perfect bathroom in 2023 according to MUT Design
The MUT Design team shares with us what they believe will be the bathroom trends in 2023 based on their personal style, marked by simplicity, geometric shapes and functional spaces and objects.
A place to pamper body and soul
The trend is for the bathroom to be more than just a place for personal hygiene and satisfying basic needs almost on the spot, but a room dedicated to wellness. It is almost like a haven to unwind and reflect, where you can recharge your batteries for the day ahead or prepare your body for rest.
Not only do we welcome the introduction of new materials or cutting-edge technologies such as home automation, but also the return of an item that had been overlooked in the past: the bathtub. This is precisely in line with what was mentioned above, that the bathroom is a place where we want to spend more time and that is why we want it to be more habitable, more comfortable, more welcoming. A place that invites us to read, listen to music and pamper our body and soul.
Music as part of the bathroom
Music has always been part of our bathing routine, but now we can bring it into the bathroom in a much more elegant way by incorporating, for example, Bluetooth-connected smart speakers.
The importance of lighting
MUT Design highlights the boom in the installation of smart lighting systems that contribute to the sense of calm that we desire. The idea behind this is to include light sources in the right place and, above all, to make the most of natural light. To this end, the bathroom even opens up to the outside through large windows and connects to the garden.
The bathtub is once again the star of the bathroom
The bathtub takes the place of the shower again as an indicator of change. Furthermore, it is not just that it has once again become an integral component, but rather the central pivot around which everything else revolves. Even from bed, we want to be able to see that bathtub, get up and dive into it right away. And if the bathtub overlooks the outside, all the better.
How to make bathrooms more sustainable
This is mainly achieved through the use of natural or recycled materials and the introduction of plants into the environment. For instance, creating a bathroom concept that is more outward-facing or open to the other rooms of the house also lets natural light in more easily and therefore makes artificial lighting unnecessary during the day.
Technology also allows us to install energy-efficient lighting, which means that our bathrooms can be far more sustainable, as well as much more modern, thanks to the many possibilities of LED lighting.
MUT Design states that they almost always work with materials that stand out for being sustainable and that they collaborate with companies that also strive to reduce their impact and carbon footprint, such as Cosentino.
'Sustainability is something that affects us all. If designers and manufacturers work closely together, we can contribute to a more circular economy and to the conservation of the planet.'
How MUT Design uses Cosentino surfaces in its bathroom designs
'We love the two designs we have created with Dekton.'
In the first space they were inspired by quarries, Roman baths and natural rock pools. As a surface inspired by stone and marble, Dekton helps to create a space that takes us back in time, to a spa, but ancient, something that could be found in Greece or Rome. Materials and technological surfaces combined to perfection.
The second space, on the other hand, is inspired by the brutalist and organic architecture of Torres Blancas, a project in which MUT Design places more emphasis on form than on texture. Taking the curved line as a starting point, they draw the different areas, subtly delimited, but equally interconnected and open to the outside.