Case Study
The sophistication and strength of Cosentino brands for award-winning chef Christophe Hay's new 5-star hotel
Caroline Tissier Interiors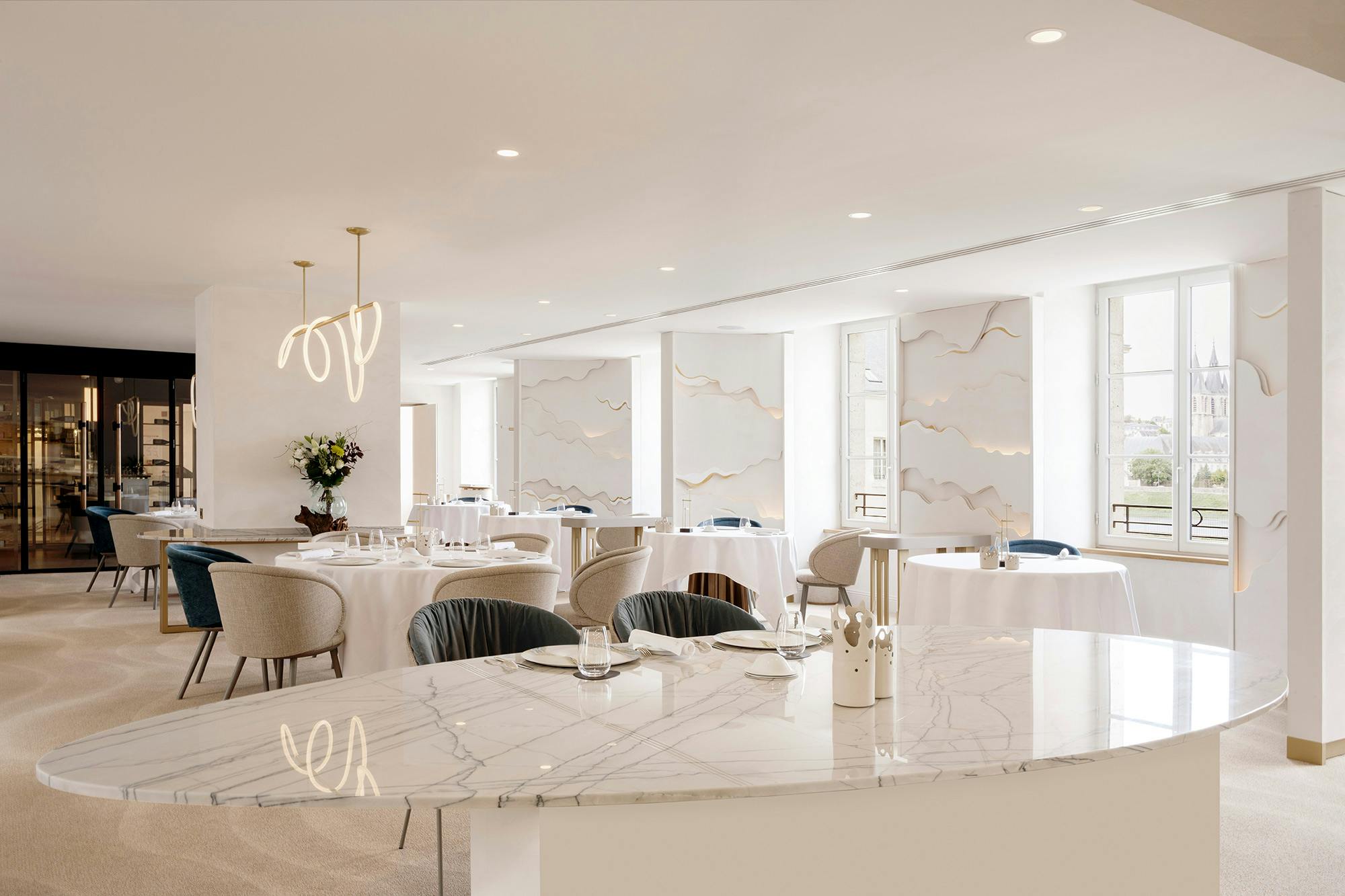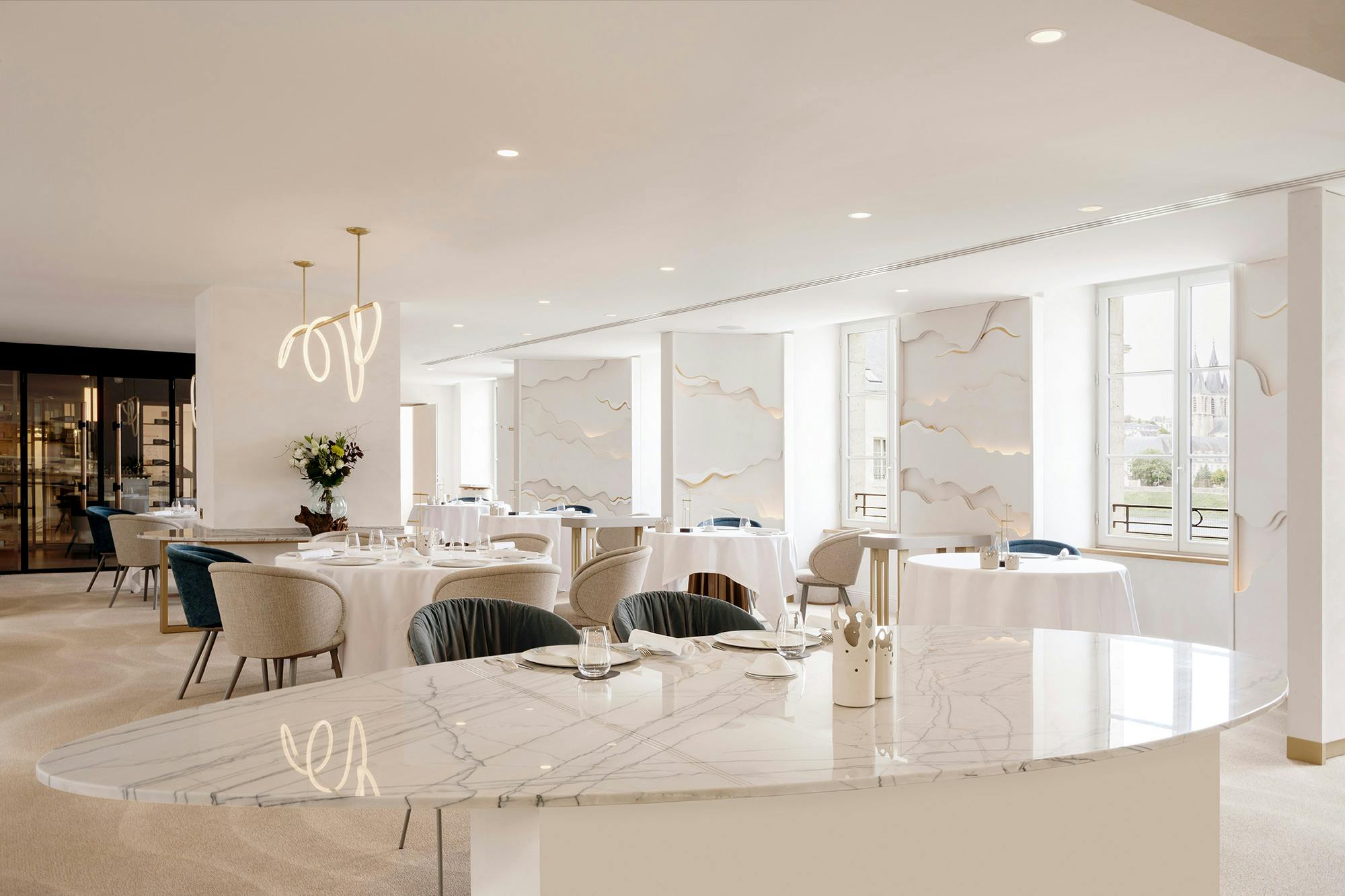 Material
Silestone | Sensa | Dekton
Application
Worktop, floor, table, console table, stand
Architecture/Design
Caroline Tissier Interiors
Color
Ethereal Glow | White Macaubas | Danae
Run by two Michelin-starred chef Christophe Hay, Fleur de Loire is a 5-star hotel that is part of the renowned Relais & Château hotel chain. This hotel, which is the culmination of a lifelong project, is a tribute to the pursuit of excellence and the most delicate art of living, something that can be seen in its carefully designed interior.
Caroline Tissier, an interior architect specialising in hospitality, is behind the design of this complex which occupies a former 17th century hospice and today houses 44 rooms, 2 haute cuisine restaurants, a Sisley spa, an exquisite pastry shop, several lounges… Her greatest inspiration? The near Loire river and its nature. "This natural environment has influenced the whole project, but at the same time we have kept in mind the standards of a luxury hotel", says Tissier.
Together with her collaborator Charlotte Blanc Paque, Tissier designed an exclusive and light-filled interior space with contemporary pieces of furniture and silky fabrics which, in the interest of being as welcoming as possible, was planned as a large family home. A family home with an orchard and farm where the excellent ingredients for Hay's menu are harvested.
A sculptural VIP table made from Sensa
Opposite this space is a very special table, a bespoke table made from Sensa and reserved for VIP guests, where it is possible to enjoy the culinary show while savouring the chef's most special dishes. Unlike the rest of the tables, no tablecloth dresses this table, as its sculptural and dynamic pattern is more than enough to make it the star of the room. In addition, its surface has been treated with a revolutionary stain-resistant treatment that makes it durable despite daily use, making the use of tablecloths unnecessary.
The Sensa colour used embodies the overwhelming force of nature and brings visual richness to the room. Specifically, the colour chosen was White Macaubas in a bright polished finish, which was also used on a custom-made console table located elsewhere in the restaurant.
"Christophe Hay's restaurant is the perfect place to discover the mastery of the chef. Located on the first floor of the main building, facing the river, its cosy and refined atmosphere welcomes guests, while its open kitchen allows them to watch the chefs at work", says Tissier.
Dekton, the perfect ultra-compact surface for a professional and demanding kitchen
In addition to Sensa, other Cosentino products were chosen for the hotel's culinary area. The kitchen worktop features Dekton Danae, a colour reminiscent of sand swaying in the desert thanks to the different shades of beige that cross its surface and capture the essence of the movement. It is also a very convenient surface, as it is resistant to abrasion, scratches, impacts, stains, liquids, extreme temperatures and even fire.
Last but not least, the floor, stand and shelves of the beautiful pastry shop are clad in Silestone Ethereal Glow. Its elegant gold and grey veining blends into a tinged white foundation, running through the slab and bringing colour to every corner.
"I was already familiar with Cosentino's products, which provide a mineral and sophisticated atmosphere. It is its wide spectrum of designs and technical performance that seduces me; its strength, its beauty, its elegance".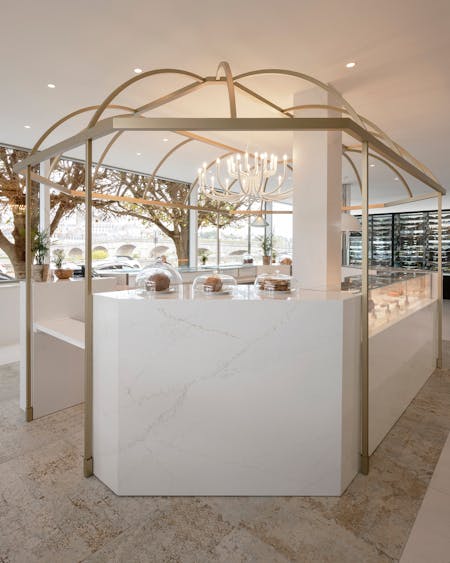 Caroline Tissier Interiors
Interior architect
Cosentino's materials used in this project
Explore Similar Case Studies