Top Homes
The spheric Dome house: how the kitchen with Dekton Kelya moved into this unique house
Izabela Mocak and Grzegorz Mocak, Livolo Bygg AB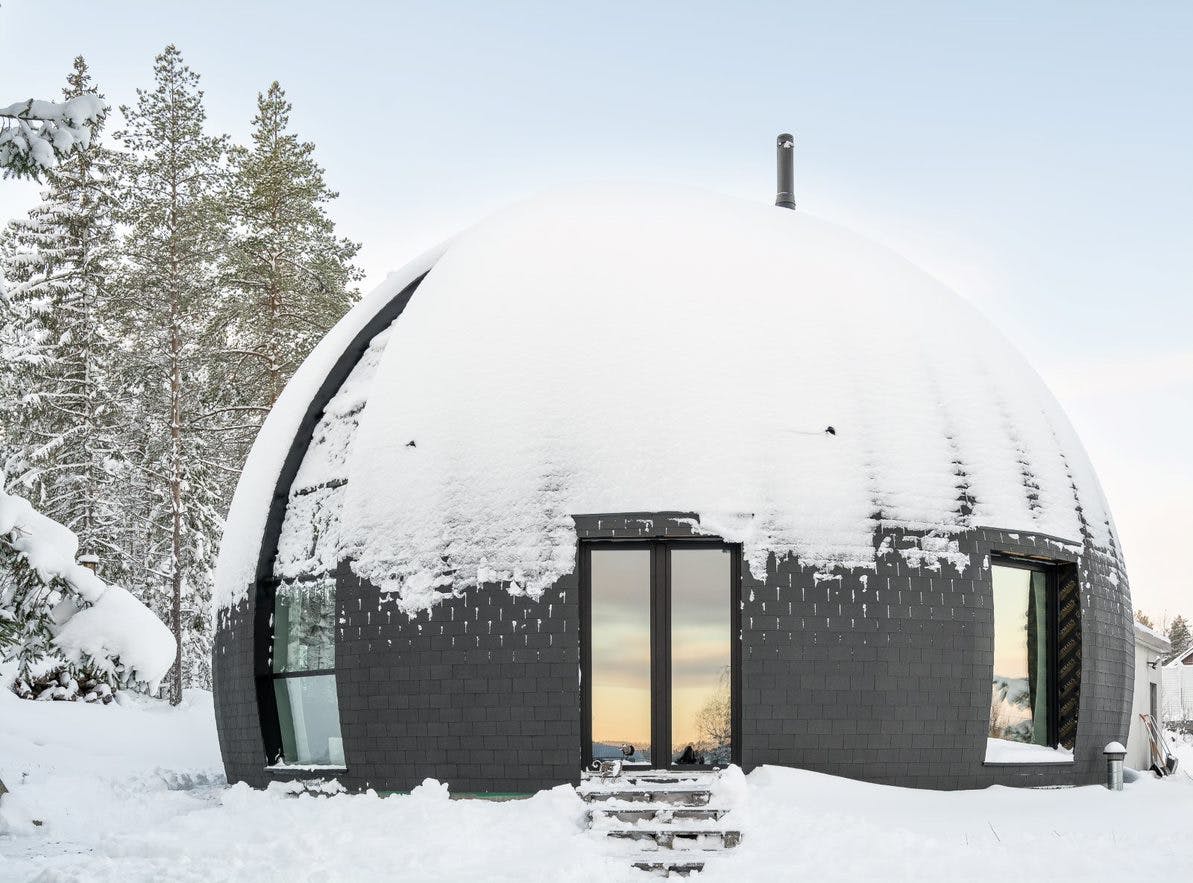 Location
Yttersjö (Sweden)
Kitchen producer
Elon MatsÅkePåTeg, Umeå
Application
Kitchen countertop
Architecture/Design
Izabela Mocak and Grzegorz Mocak, Livolo Bygg AB
Producer Dekton
Norrsten AB, Steny Ab
The Dome House from Livolo Bygg AB is a new way of living and building houses. The house's spherical shape and innovative construction is striking. The couple Izabela and Gregor Mocak's business concept is a dome house that, through an innovative method with spherical shape and innovative construction, enables lower construction costs and energy consumption. The team completed this construction just before Christmas 2021 and it is their first real dome house.
Gregor and Izabela Mocak with their two children live in Yttersjö outside Umeå, Sweden, but have their roots in Poland. As a recent graduate, Gregor worked abroad a lot. The first time he came to Sweden as a guest worker, he had no plans to stay, but in 2011 the family moved to Sweden.
The Mocak family recently moved into their dome house. They set up a 43 square meter apartment in the garage on the plot under construction and it became easier to build in the evenings, after they had finished working for the day. Gregor has several educations in the construction industry and Izabela has learned a lot along the way. Izabela and Gregor have thus built the entire dome house themselves. "I think it's great fun to do something unique," says Gregor. Many have come by with encouraging words during the construction. "It was nice that they didn't think we were crazy," says Izabela, laughing.
Gregor is a painter, bricklayer, and salesman in Poland, where he ran his own construction company in turnkey contracts. He is also a tiler with Swedish wet room permission. Interest in construction is shared by the two. In Livolo Sweden, the couple sells switches with touch function, electrical outlets, and glass fronts. In the construction company, the couple mainly performs services such as bathroom renovations and tiling, but also other things such as moving walls, remodeling, and renovations.
Soon they begin a new branch of the company, namely, to build dome houses for customers. They have already received the green light from a couple of customers who have decided to hire them for dome houses. "We love what we do and would like to build an entire area with houses like this in Umeå. We've already started looking for plots of land," they say.
It all started when they were looking for a house in the Umeå area, but nothing they looked at felt exciting. Then, when they saw a round house online, they got hooked right away. Many "googlings" later, they had decided—they would draw, design, and build their own dome house. After four years of work, the entrepreneurial couple Gregor and Izabela Mocak have now moved into the "construction of their lives" all built with their own hands, only with the help of an excavator operator in the village.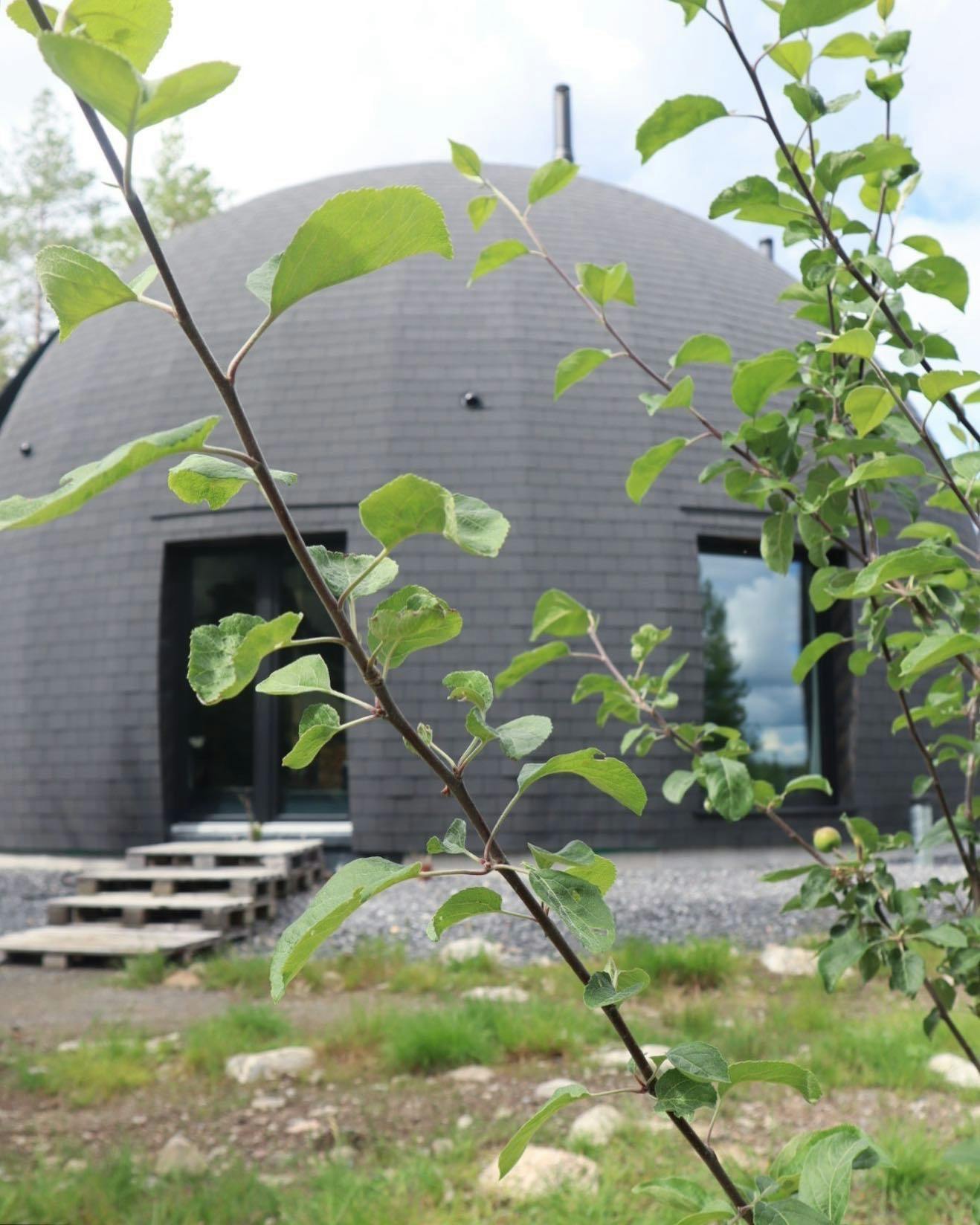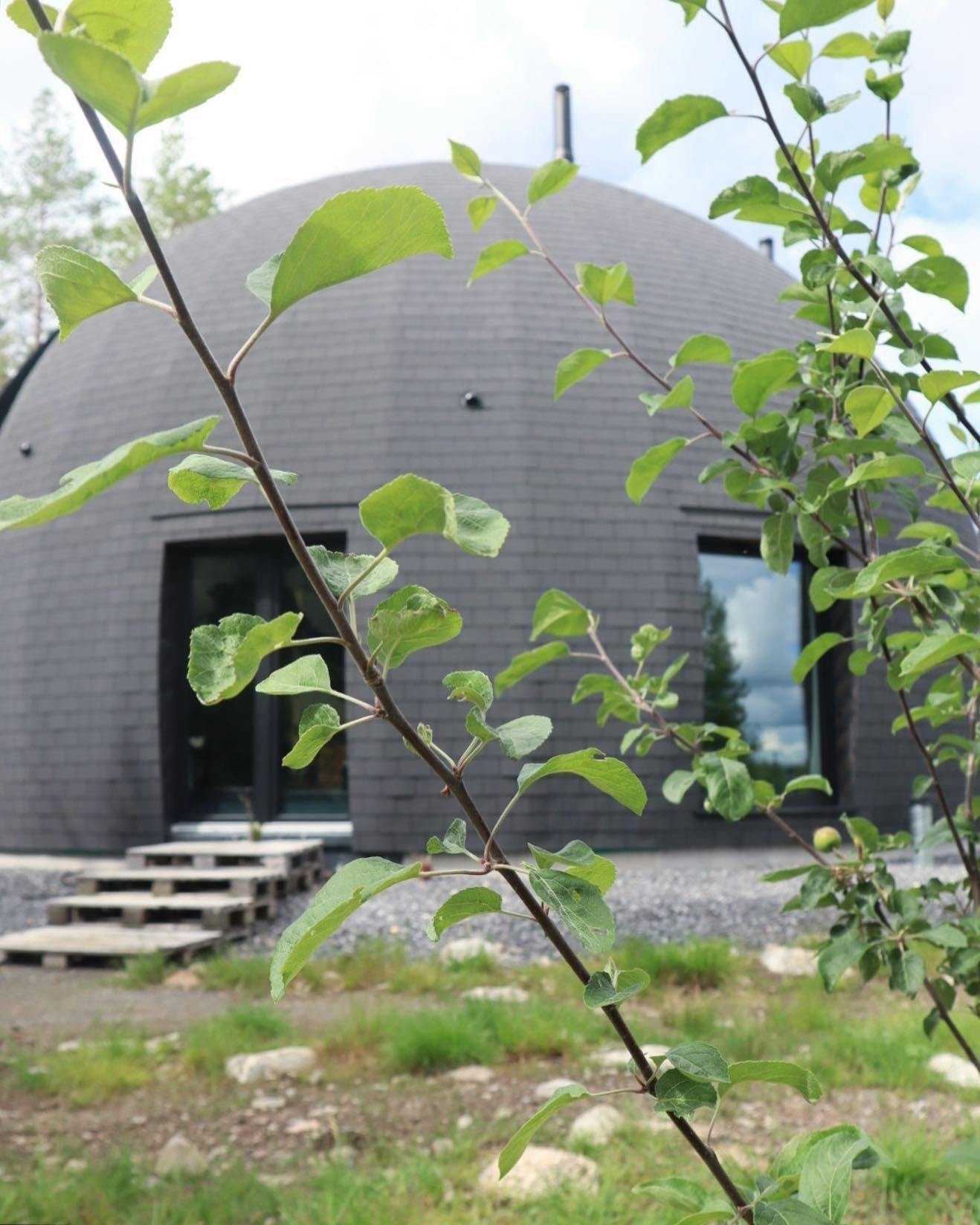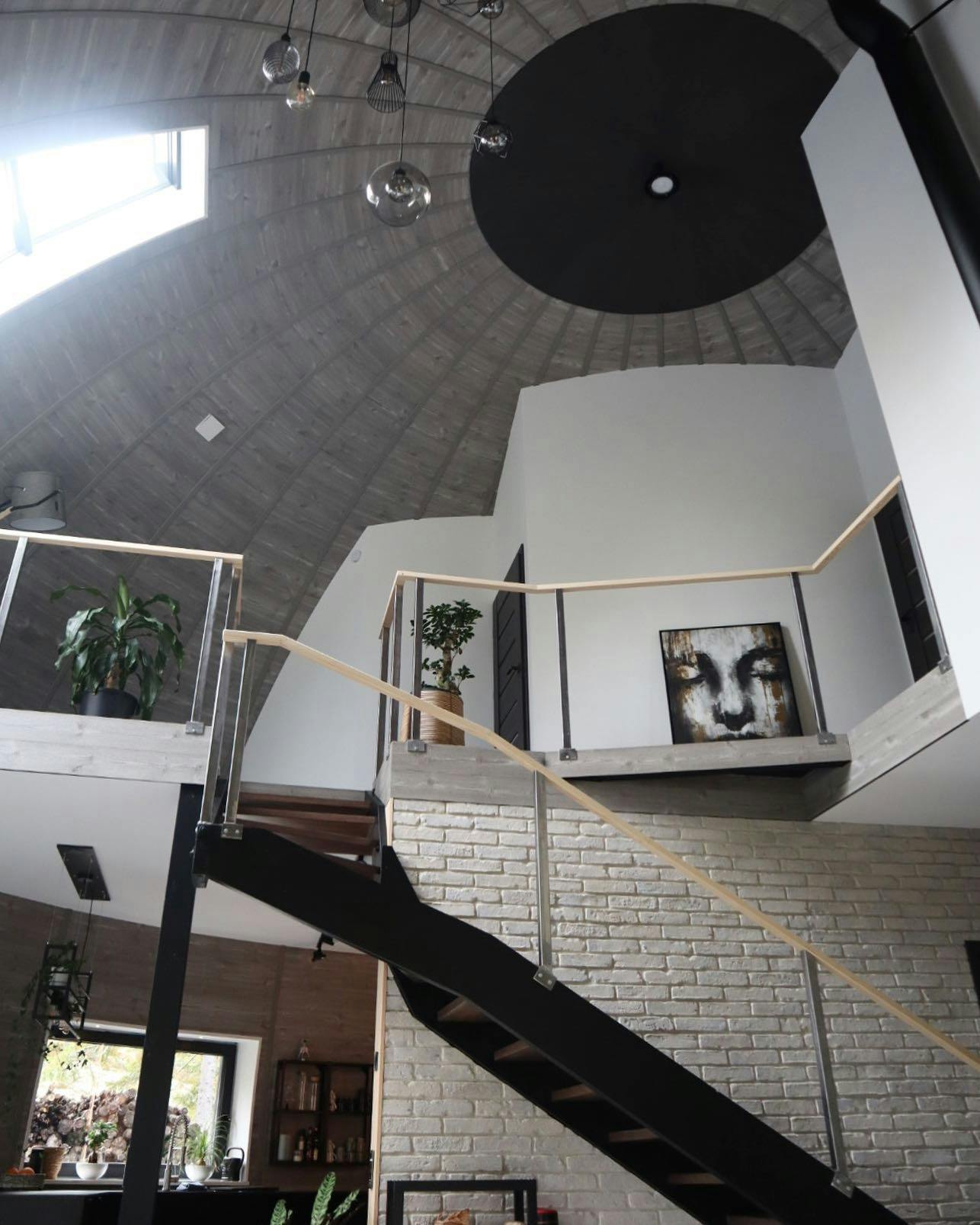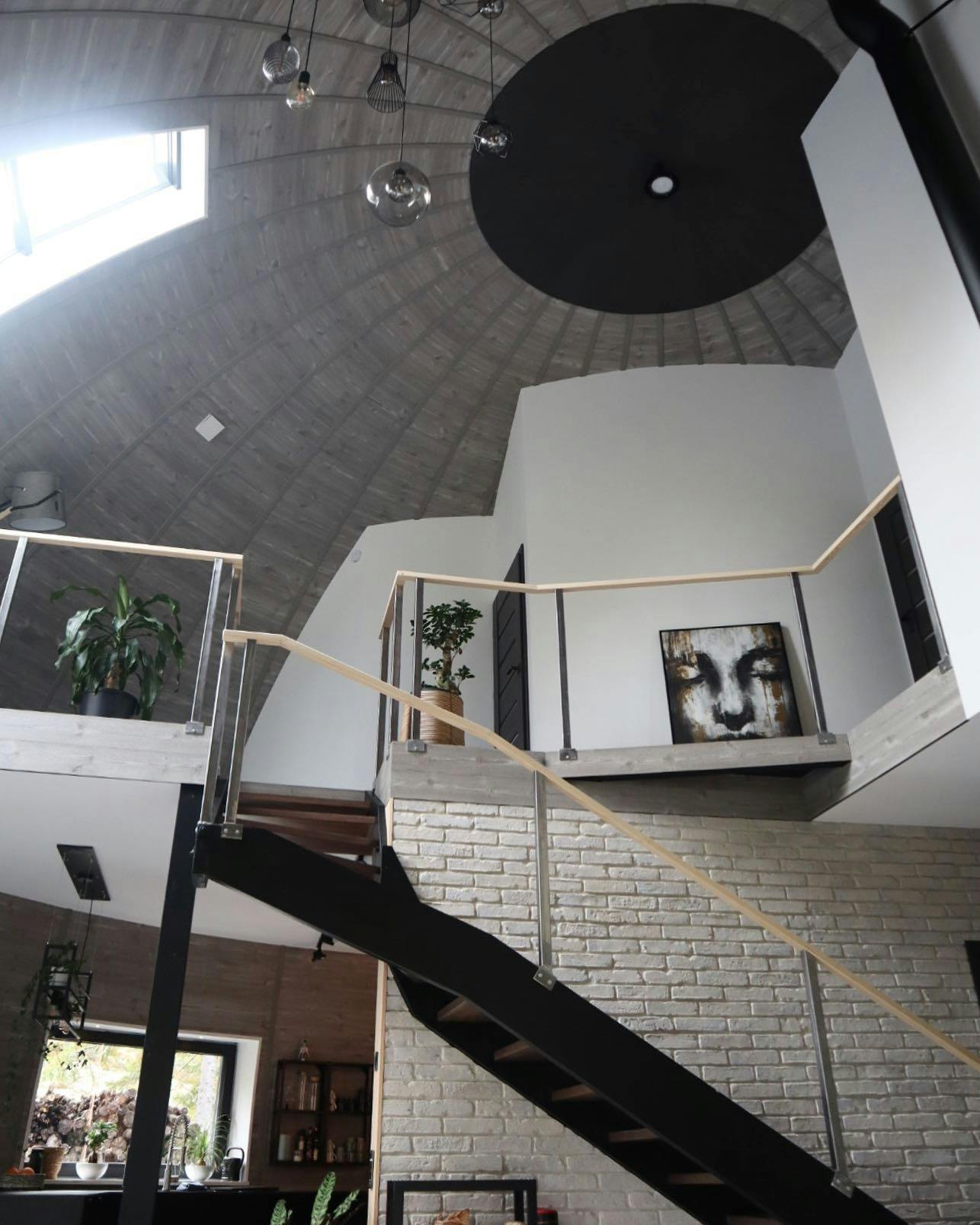 The house is built with 72 glulam arches, 36 p on the inside and 36 pon the outside. The boatsare made in Poland. The Mocaks contacted local manufacturers in Västerbotten, but the large radius could not be manufactured here. Instead, they were transported from Poland in a truck. — "I designed the house so that everything would fit on a truck. We also packed other building materials into the delivery," says Gregor.
They tell us that they are very happy in their new home. "We have the best view. We like forests and mountains," said the Mocaks, who have the lake on the other side of the house. "I've worked with a lot of ordinary houses, but this is a lot more fun," says Gregor, who has now realized a life dream.
Like a dark gray igloo, the dome house stands by the forest. It almost looks a bit fairytale-like and brings to mind Elsa Beskow's book about a hat as a cottage. "I think the house fits well here, it blends in. A lot of people actually miss it when they drive by," says Izabela.
Most things in nature are round as shape. According to research, people who live in rooms with rounded arches have a better sense of humor, are more creative, and develop better awareness and intuition. The dome shape creates a sense of security," says Gregor.
Many in the industry now focus on environmentally friendly and ecological materials, but the Mocaks are surprised that more people are not investing in reducing material consumption. It can be lowered dramatically if you build a round house, they say. "Here we can get the same living space as a normal house, but with 30 percent less material. The design is comparable to the shell of a turtle. The turtle builds the shell from its own blood and therefore the material must be minimal", says Gregor.
The couple thought about buying rounded windows but chose ordinary squares that were placed on top of each other in a wedge shape. Since the house is built in wedges, with boards of about a meter at the bottom that then narrow towards the top of the house, all the timber could be used, even the shortest stumps. "We calculated spills like a normal house but got so much left over. We had to sell and give away to neighbors," Gregor said.
They are now very happy in their new home, but at the same time have learned a lot during the trip and know what adjustments they would make before a new dome house construction. After four years of construction work in your spare time, what are you going to do now? Maybe go on a real vacation? That was five years ago," Izabela said.
Look into the unique dome house, where you enter, you get to experience the space in the center of the house, with close to seven meters in ceiling height. At the top of the ceiling is a 90-watt LED lamp that can be dimmed to be strong almost like a sun.
The team in the kitchen department at Elon MatsÅke påTeg contacted Cosentino and asked if we wanted to be part of this exciting project via the kitchen. Creating a kitchen and countertop in a round house was an exciting challenge.
Dark and stylish it turned out with cabinet Verona from Creoform lacquered in NSC S 8500-N along with the worktops and peninsula in Dekton Kelya which also dresses the side of the island. Norrsten AB as part of Steny AB produced its countertops, a challenge they coped with gallantly. Att mix oven and microwave with dark display adds extra elegance to the kitchen which is in part of the open plan area closely connected to the dining room. The bar stools are from our partner By Crea
Cosentino's materials used in this project
Explore Similar Case Studies