Case Study
This Michelin-starred Danish restaurant uses Dekton on its façade to withstand the harsh marine environment
Billund/Hansen Arkitekter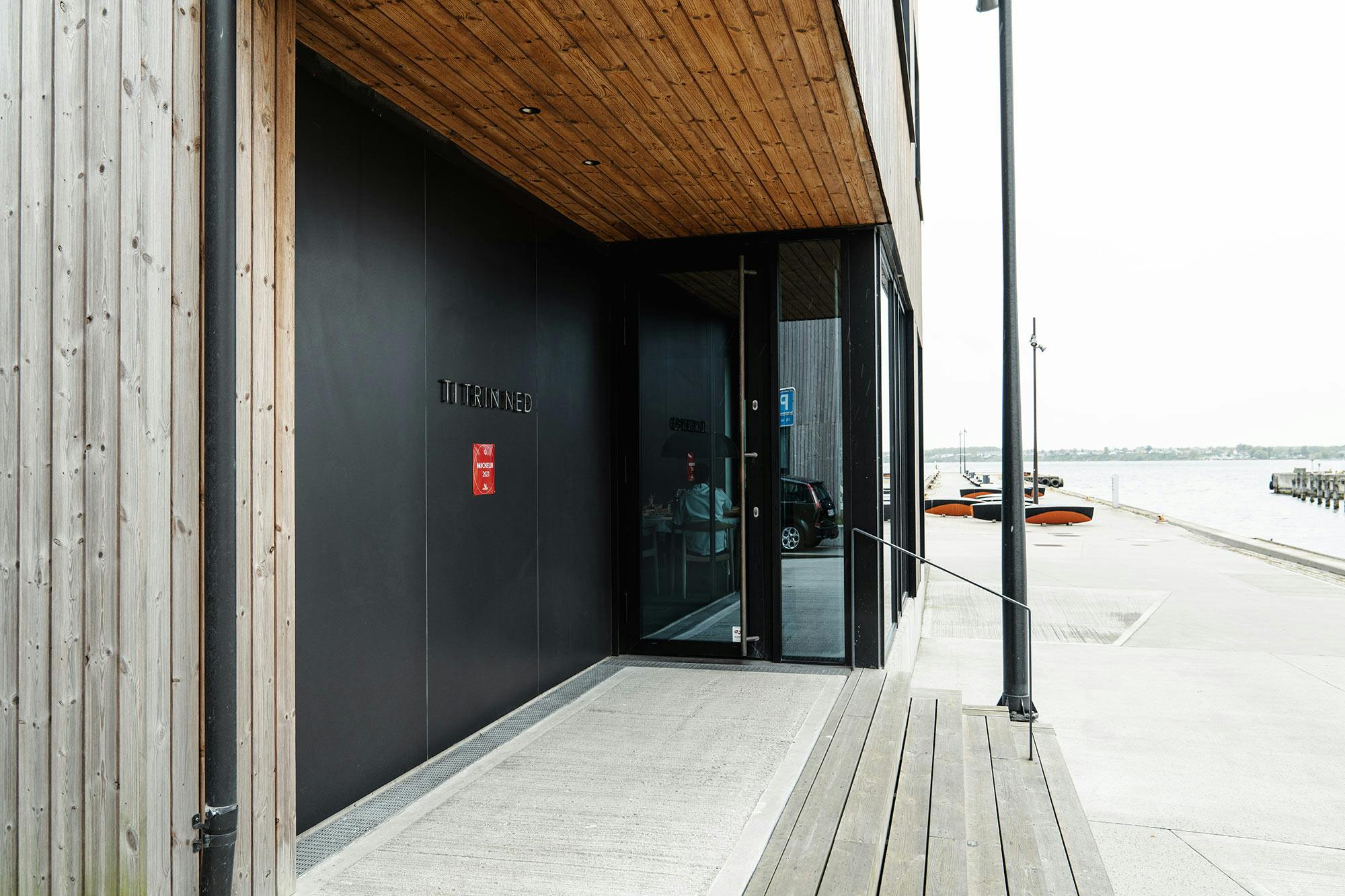 Location
Fredericia (Denmark)
Architecture/Design
Billund/Hansen Arkitekter
Ti Trin Ned's cuisine is original, sensitive, sustainable and based on humble ingredients, which always serve as a source of inspiration for its chef, Rainer Gassner. Thus, herbs from the forest, the nearby beach and the restaurant's own fields in Himmerigskov (Denmark) are combined with ingredients from small local producers which, in the words of the restaurant's managers, "shape a gastronomic agenda that invites you to explore and perfect the endless steps towards the ultimate culinary experience". "To this we add our own personal and unique touch that is inspired by our history and passion".
Thanks to this approach, the restaurant, which started its activity in 2001 in a small basement, has become an elegant, world-famous Michelin-starred restaurant. However, just like any other success story, this establishment – always at the top of Denmark's demanding culinary scene – has also suffered setbacks.
For the construction of the new premises on the Fredericia waterfront, which enjoys beautiful views towards Lillebælt, the team of Billund/Hansen Arkitekter chose to let the atmosphere of the harbour next to the restaurant and the rugged nature of the surroundings determine the building's materials: Corten steel and natural wood, together with the distinctive black windows typical of the area. It was decided to go for a steel façade which, at the entrance, served as a backdrop for the restaurant's logo and the Michelin plaque.
However, a year later, the salty environment of the location had rusted and worn away the wall, giving the establishment a neglected appearance. But given the hardness and exceptional durability of steel, what other material could possibly be just as sturdy and, at the same time, withstand the harsh weather conditions of the environment?
Rainer Gassner, the owner and chef of Ti Trin Ned, had it clear: only the ultra-compact Dekton by Cosentino stone could successfully accomplish the task. Having tested its performance on the restaurant's worktop and front and on the kitchen wall cladding, the establishment's managers were well aware of the unique properties of this material, which resists abrasion, fire, scratches, impacts, stains, liquids, extreme temperatures, UV rays...
Dekton, a material that remains unaffected by weather conditions
So, as an extension of the restaurant's design parameters, Gassner decided to use Dekton slabs for the façade. Specifically, the colour chosen was Domoos, the same elegant, sober and refined graphite black used in the kitchen.
"The small windbreak supporting the entrance is the first impression that our guests will have of our restaurant and, although we liked the idea of bringing our 'distinctive lines' to the façade, we did not lower our standards when the large metal slabs began to rust and wear after just one year. Instead, we replaced them with heavy-duty Dekton slabs, a surface already used inside the restaurant, the service kitchen and the production kitchen; we now know that the façade we have, will remain intact for years", Gassner concludes.
Cosentino's materials used in this project
Explore Similar Case Studies