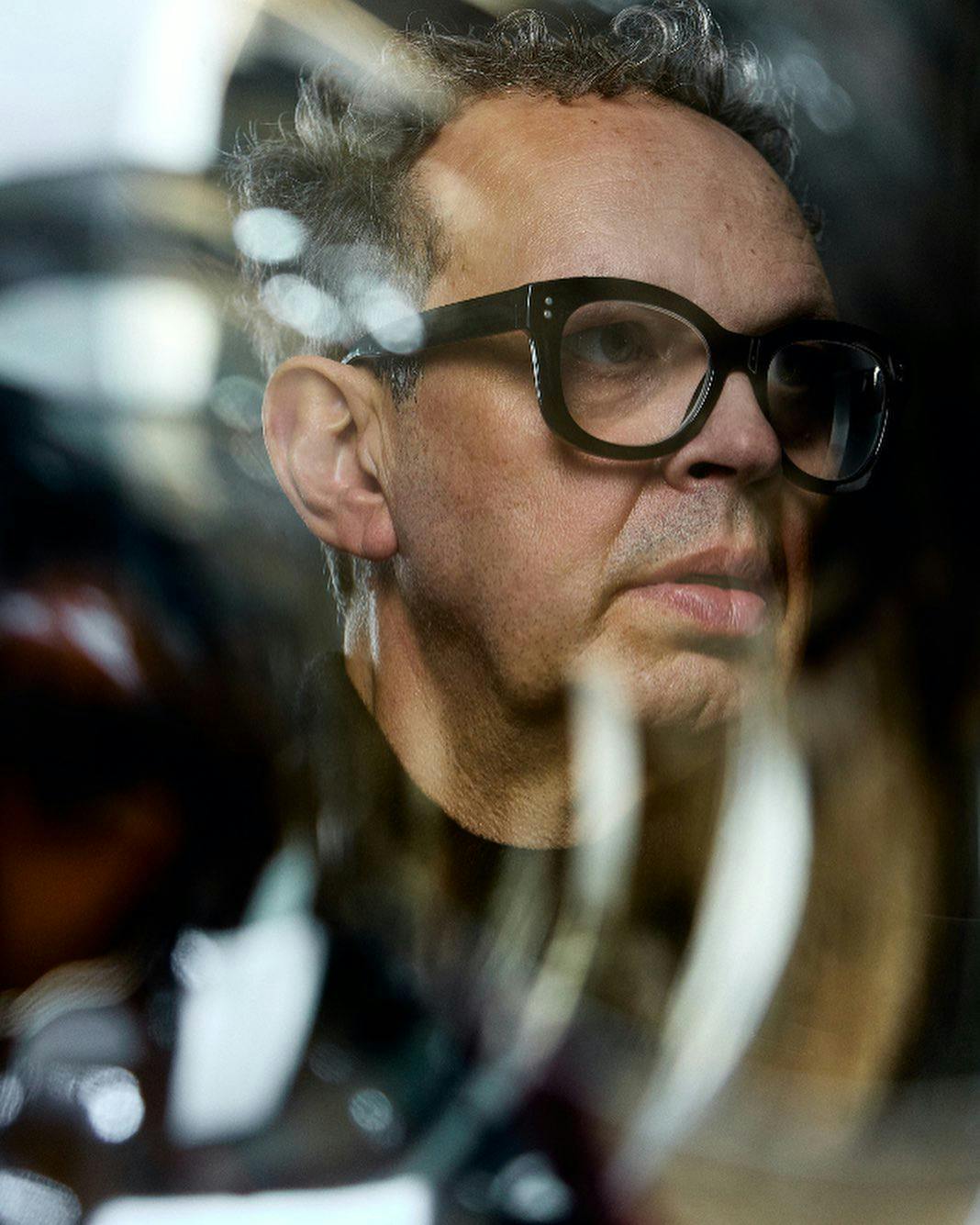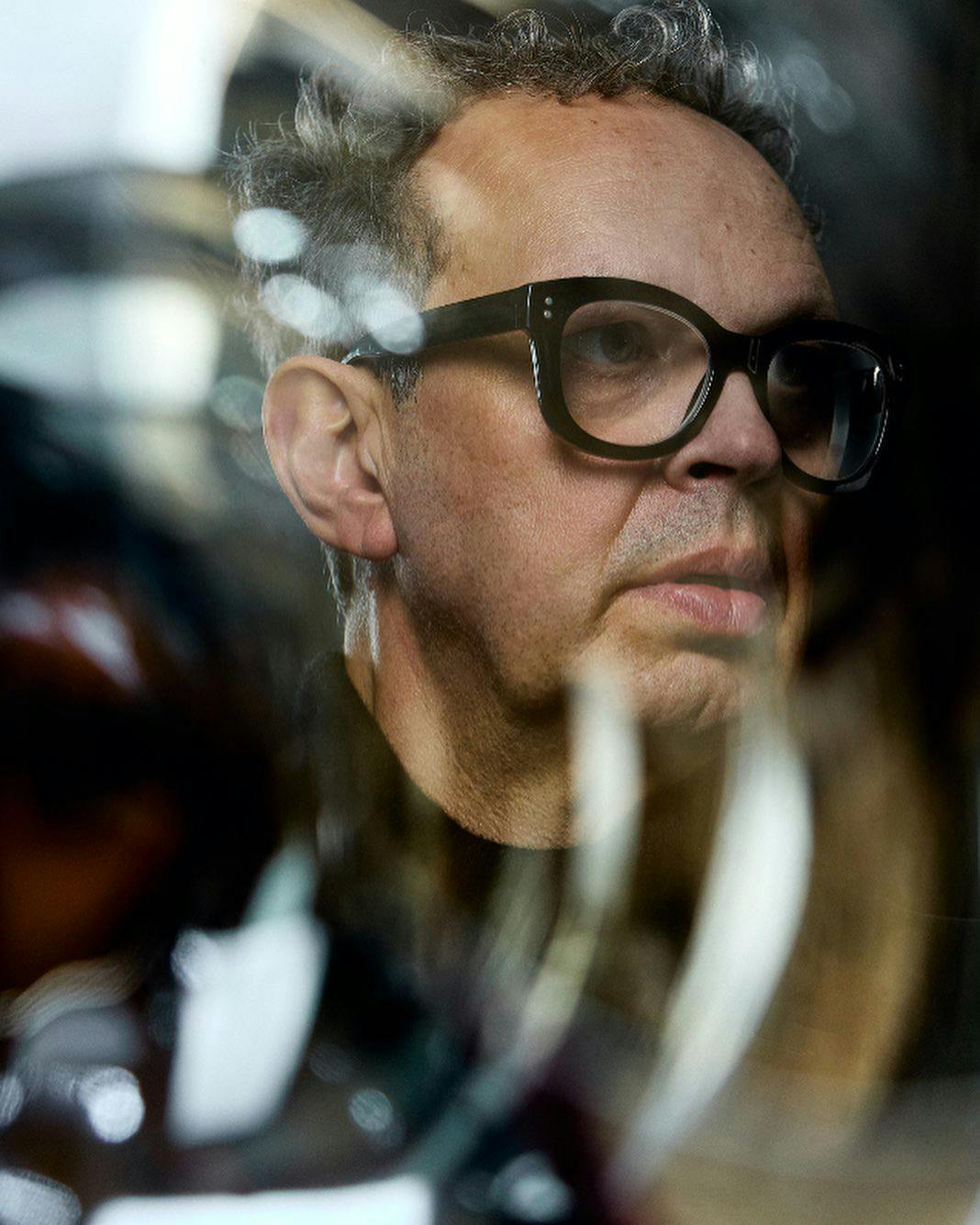 "The bathroom is still evolving from a purely functional, hidden space to an essential unit for privacy, for pleasure, and for wellbeing."
Designer, design editor, successful entrepreneur and brand, Tom Dixon's name means everything in a world of design that he has masterfully revolutionised. From his London studio, Dixon (Tunis, 1959) plays with geometric shapes to create smooth forms and innovative, technological designs which are appreciated across the globe. In his latest work, he has made a special collaboration with Cosentino for the Fuorisalone in Milan. In the Metamorphic installation, located in the Brera district, Dixon reinterpreted the concept of the bathroom and its functionality. He was inspired by the new trends and uses for this type of space, creating a monolithic, compelling bathroom designed for wellbeing, using water and Dekton as the only elements.
I always like to start projects with a factory visit
For me it's really important to get to understand the material, how it's made its potential and also projects. So what was interesting was going all the way to the Deep South of Spain and seeing an ultra international massive global business that was still a family run business and seeing the scale of the commitment to innovation and industrial development and investment in machinery and even in the region as well with a global outlook.
So I was fascinated by that. The efficiency of Cosentino, the sustainability was very credible. The commitment to the long term rather than the short term and really the development of new materials, which is my passion.
An unmissable design event
There's a lot of fairs, there's a lot of events surrounding design in London and all over the world. But Milan remains the kind of crossing of all paths. It's like Rio Carnival for design and it's your one chance to address the whole globe in one go. Whether those clients or architects, opinion formers, the competition, or even your friends, you'll meet them in Milan.
The evolution of the bathroom
We've been actually doing a lot of projects which require a lot of bathrooms. And it's been interesting to watch the evolution of the bathroom from a purely functional space to being really a place of refuge. Cleanliness becoming very high on the agenda because of COVID and pandemics and respect, but also, you know, washing as a kind of healing thing as well and a wellness thing as well.
The bathroom remains a kind of, you know, hidden behind a wall. It remains a very small room in most houses. And I think that's going to change. I see an analogy with the kitchen, which is made from being hidden to being really the centre of the home. And I'd like to see the bathroom being more heroic and speak more visible in the space.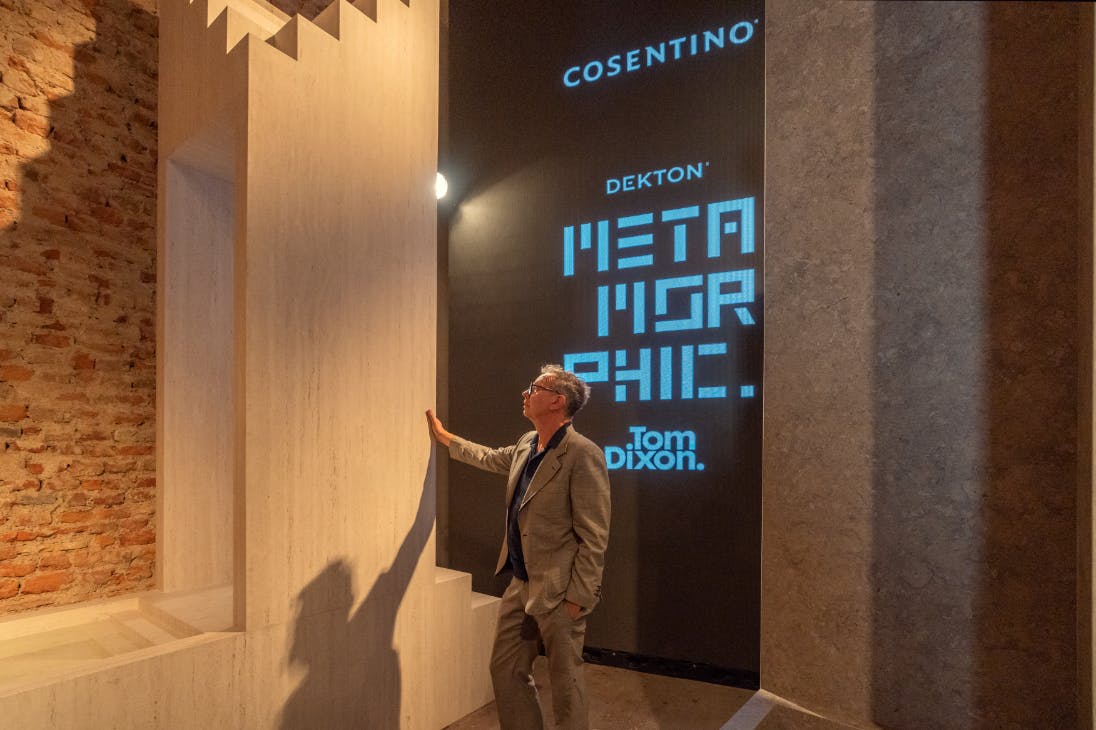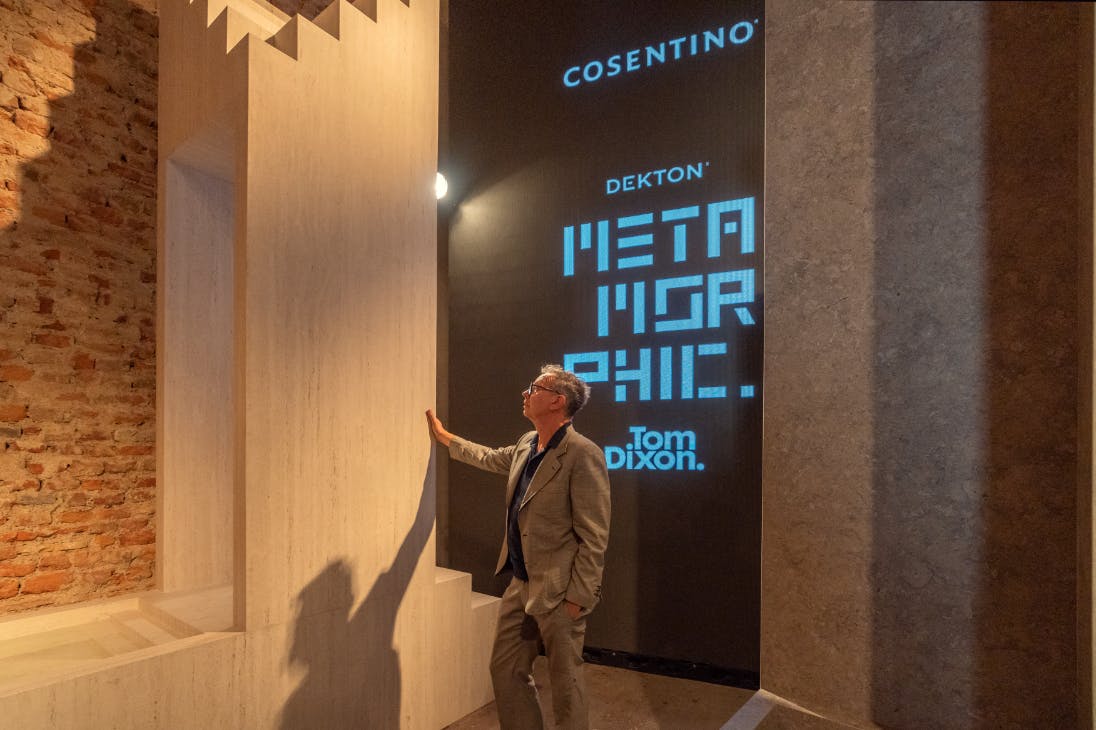 Join C·Top Design!
Register now to become part of our community of interior designers and gain access to a wide range of exclusive benefits.
Metamorphic, our bathroom in Milan
I was inspired mainly by the the future of manufacturing of bathrooms, which tends to be now module is going into prefabricated modules, going into, into apartment buildings, into hotels where the factory made units and they get craned in one piece into an apartment though.
And it struck me that that might be an opportunity really to do some sculpture, actually, and actually have a bathroom block which where the functions were part invisible and partly hidden according to what the function was, and to really turn the bathroom inside out and use those volumes to create monumental sculpture. And of course, with the Dekton material, I can make it almost seamless and make it feel like it's been carved out of a block.
The installation challenge
Difficulty has been trying to put all of our ambitions into a relatively compact space. So I think it's almost like the first step of a story with a narrative.
And we're just showing really the basis of the idea, which is that a bathroom should be more visible, a bathroom should be more heroic, and a bathroom can be more sculptural. The challenge is finding a concept that is both extraordinary enough to attract people to show Milan, you have to remember that in Milan there might be 3000 or 5000 events in the city during a very short compressed period.
So you have to have something which is exciting enough. But at the same time, this is a commercial fair. I'm not sure that I want to always do things which are just for show. I think people need to understand that it's possible to use these materials and there's a functionality and commerce attached to the Milan site.
That was the balancing act that we did to try and find something that was both compelling narrative, attractive enough from a visual perspective, but actually demonstrated Dekton on in a new way. So, I think the story was very much to rethink the visibility of the bathroom and also to not do that in a purely literal way.
So there are whirlpools and fountains and rain showers all rotating around these blocks to imply the functions of the bathroom, shower or toilet. I'm hoping that we'll still be in a position to for people to really understand the actual function. But we've played with those functions. I did want the objects to, to read as confident sculpture, but really for those functions as which I find quite heroic of showering or bathing or just washing or looking at stuff in the mirror, quite theatrical. And I wanted to make this almost like a stage for the rituals that surrounds washing.
If you go to a professional spa, all of these activities are really celebrated and I think in a home deserves to have the same heroic nature. It's something that we spend more and more time on and I think the those spaces could be much more attractive. So that was really my objective.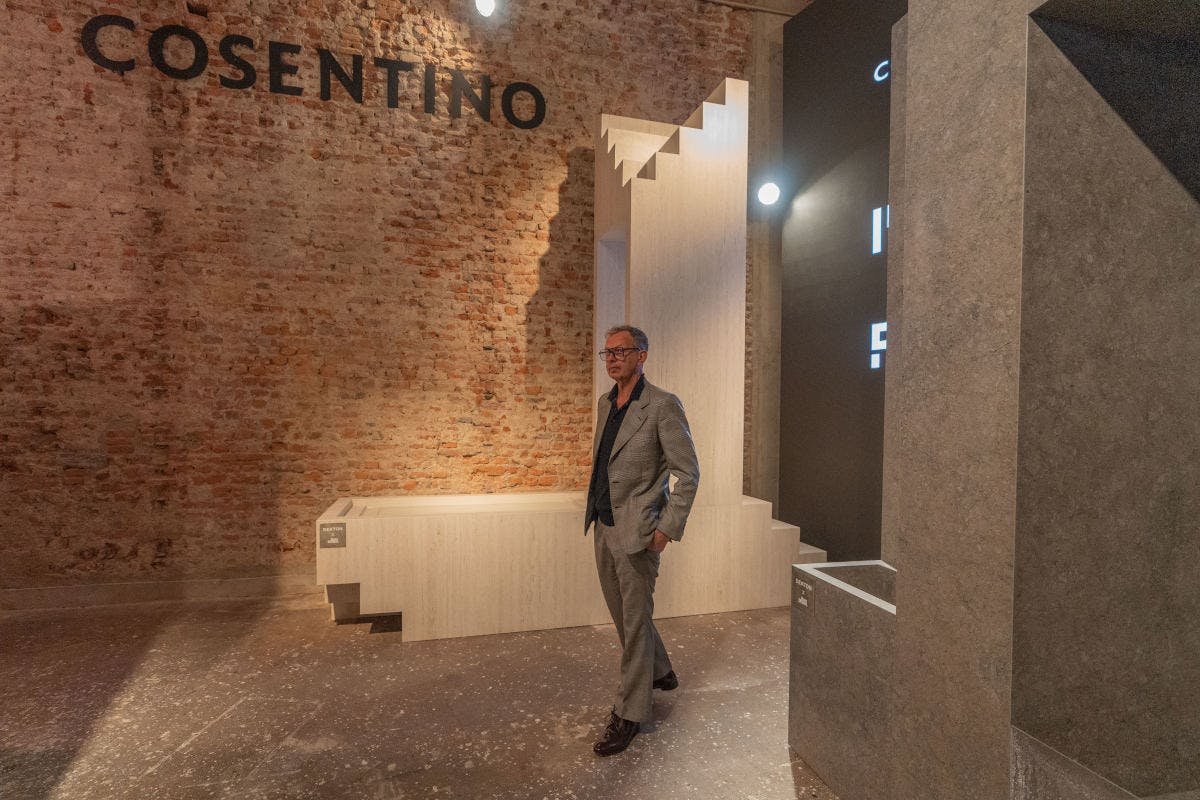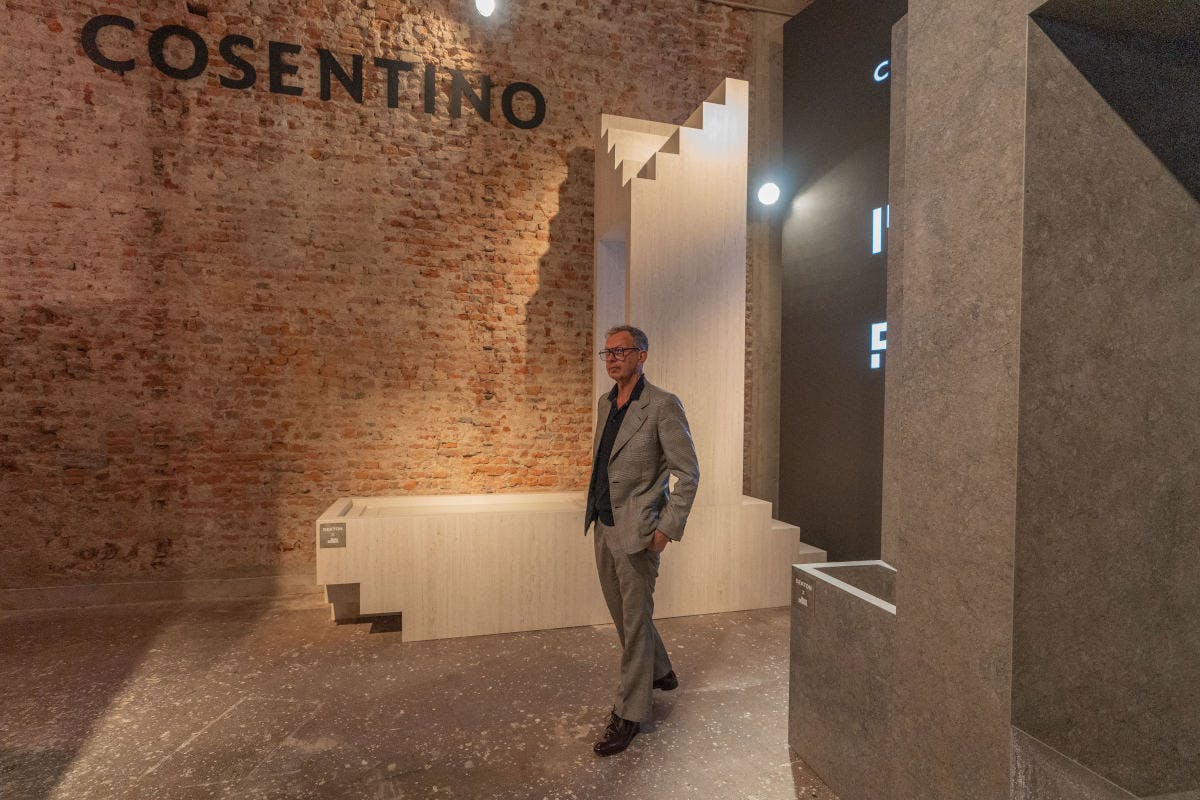 Dekton is not integrated into this installation is the installation
I mean, there really isn't very much else, you know, so it's it's trying to propose it less as a sheet material, but more as a three dimensional material. And where we're dealing with inside surfaces and outside surfaces with the same materiality. So make something really feel unified and solid and seamless it would have been possible to make this out of one huge lump of stone, but completely impractical.
By having a solid engineered material which can come very thin and very consistent, we can give the illusion of carving into a block without the nightmare realities of having to move 18 tonnes of material to Milan.
The future of the bathroom in my mind is that it becomes even more use
I think we've seen over COVID the need for alternative spaces, people locking themselves in the bathroom just to get some peace and quiet. We've seen hygiene becoming hyper important and we've also seen the bathroom becoming part of your leisure time as well, and a place where you can really nurture yourself.
This is unstoppable, in terms of the development of the bathroom, then I believe that the bathroom will start taking more space in people's homes. And it serves to be done in a more unified way, which is what we're attempting here.
In this installation, we challenge this convention and sets off an exploration of an idea of the bathroom liberated, exposed and celebrated and integrated as a kind of architectural and sculptural intervention which can be used to reinvent the position and visibility of the bathroom in interior design.
Join C·Top Design!
Register now to become part of our community of interior designers and gain access to a wide range of exclusive benefits.
"Dekton can be very thin and very consistent, we can give the illusion of carving a block without the nightmare of having to move 18 tonnes of material to Milan."
Tom Dixon
Designer
Join C·Top Design!
Register now to become part of our community of interior designers and gain access to a wide range of exclusive benefits.