Cosentino Flagship Project
't Hooghe Huys, the stunning simplicity of a façade renovated with Dekton
Stramien, architecture and CH space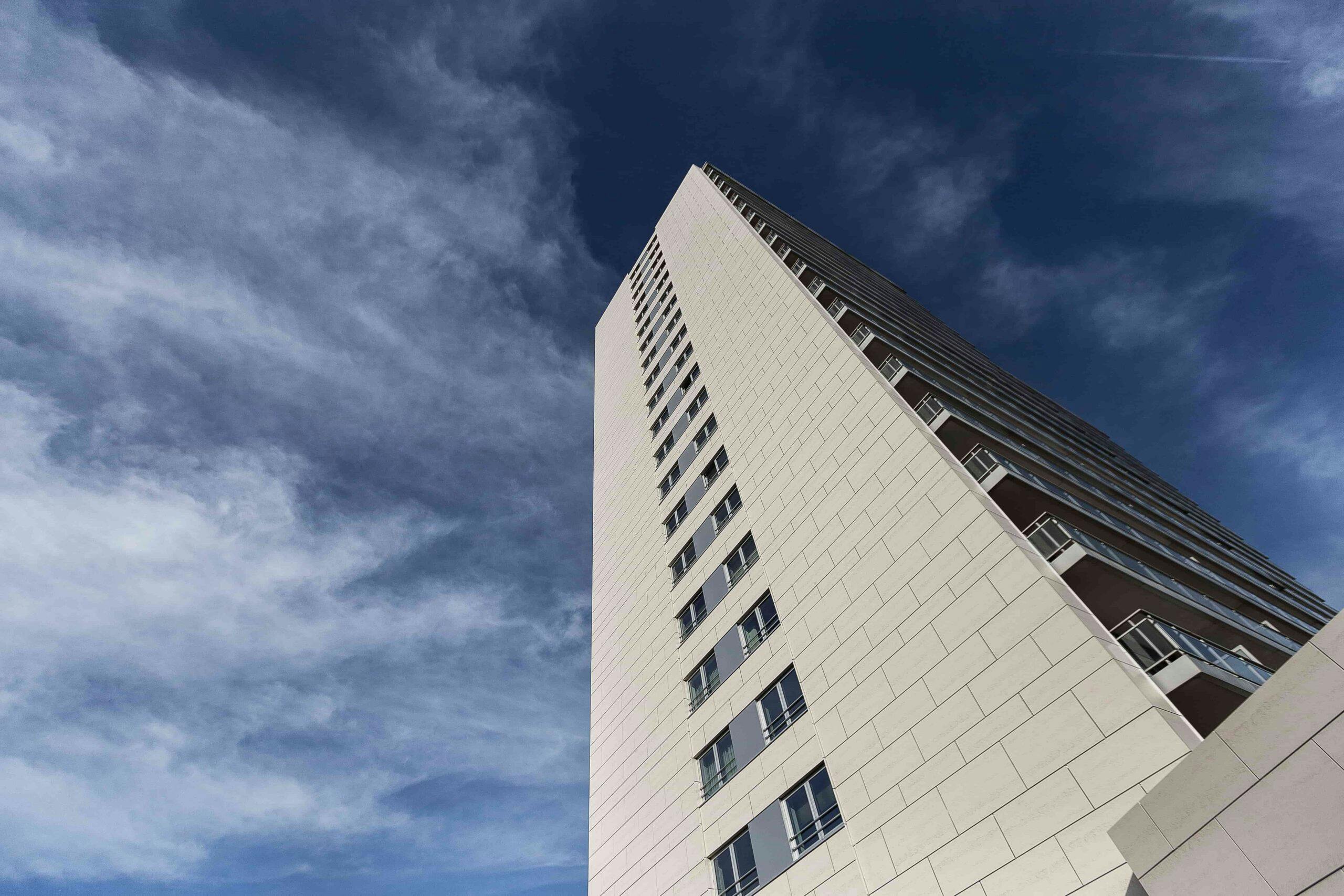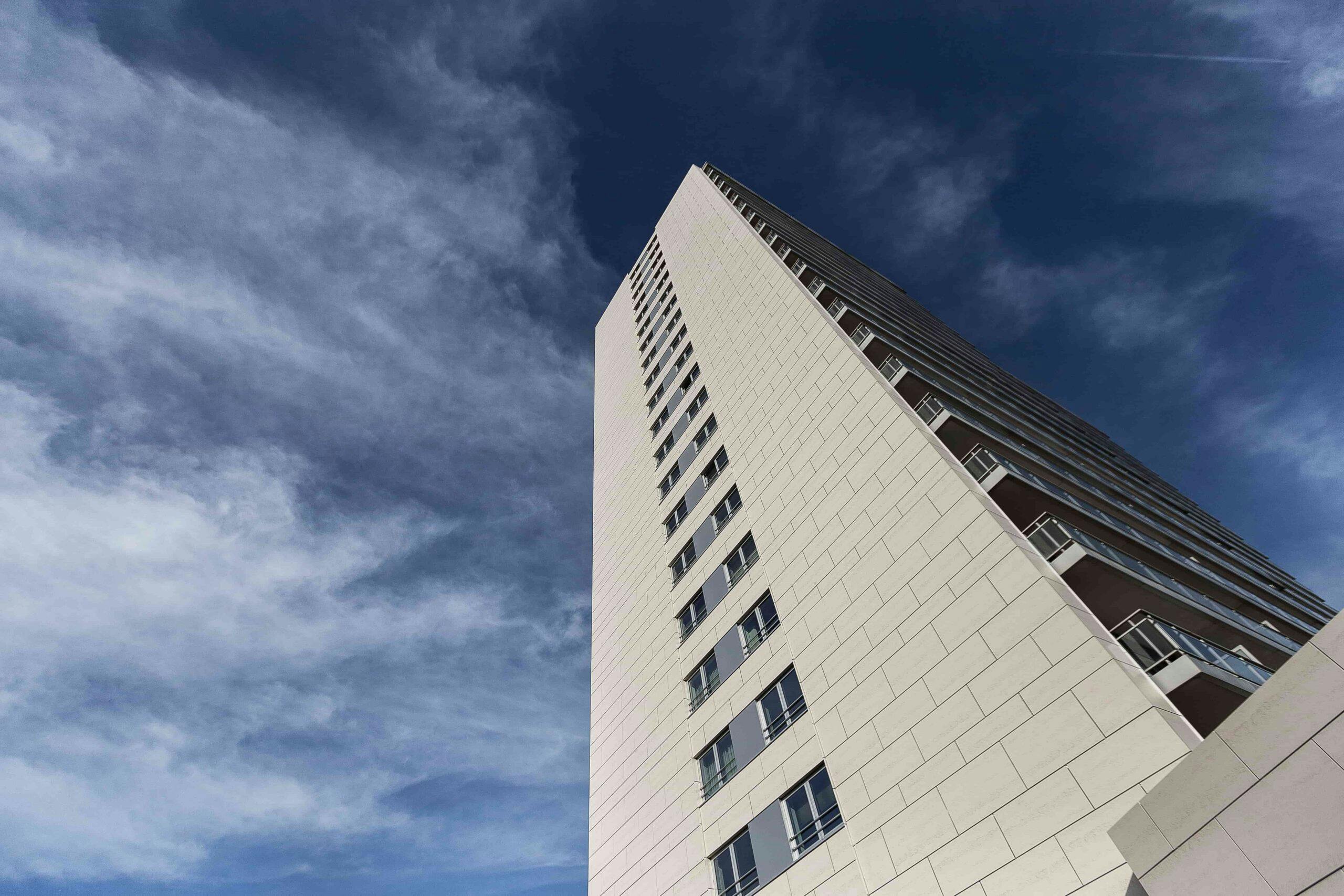 Location
Amberes, Belgium
Architecture / Design
Stramien, architecture and CH space
Collaborators
Natuursteen De Wan bvba | Gevelinzicht ingenieur-architecten bvba
A facade that will last a long time
This building, visible form the De Singel (R10) bypass and leading towards Amberes Sur, will not go unnoticed. The south side of the 't Hooghe Huys building has received a complete revamp, giving it a unique and attractive look thanks to the use of Dekton Danae facade panels from Cosentino. The project, managed by VME Brederodestraat 184, was carried out by the Stramien architectural firm. Throughout the project, the Amberes firm relied on the support of Gevelinzicht, an engineering company specialising in facade renovation.
But 't Hooghe Huys was already a familiar figure for Tine Durnez, designer from Stramien. "I lived in that building until three years ago", she says. "So I completely understood first hand the issues the south facade had experienced for a long time, especially in terms of insulation and waterproofing. The ageing facade, built in the 70s, appeared to be built in natural stone, but further investigation revealed that it was constructed using moulded cement panels stuck to the structure. Problems began to appear relatively quickly, so a metallic cladding was installed on the facade.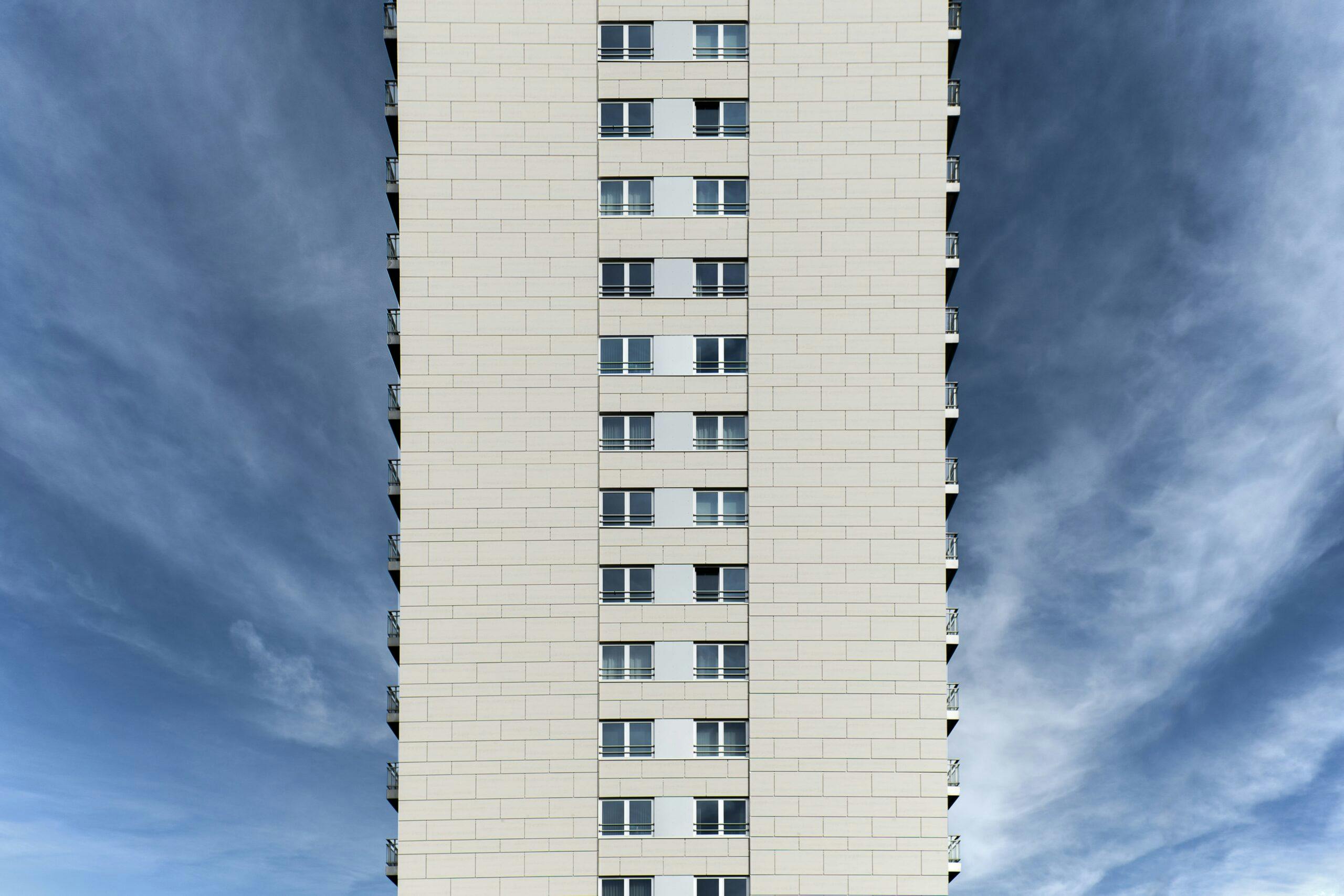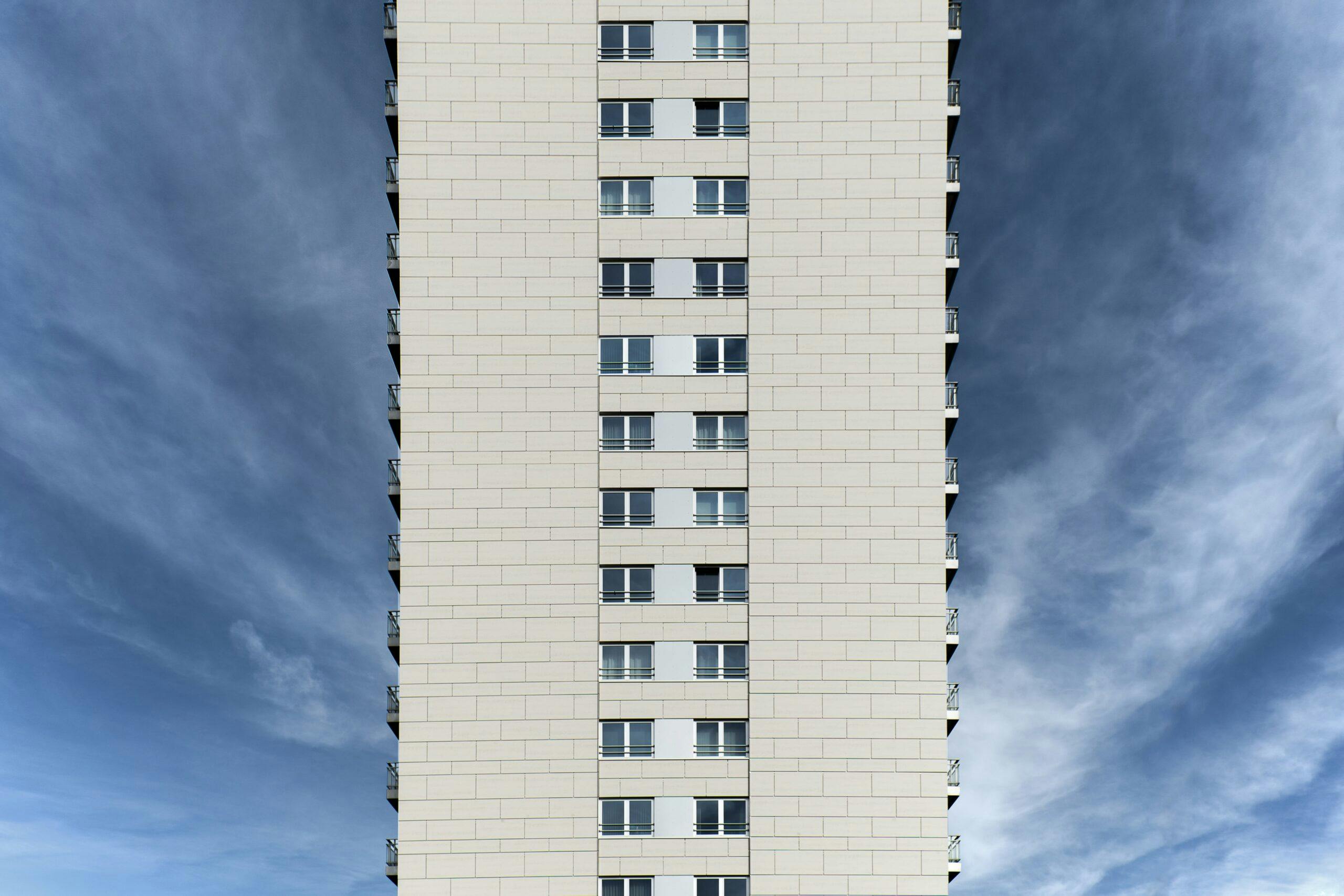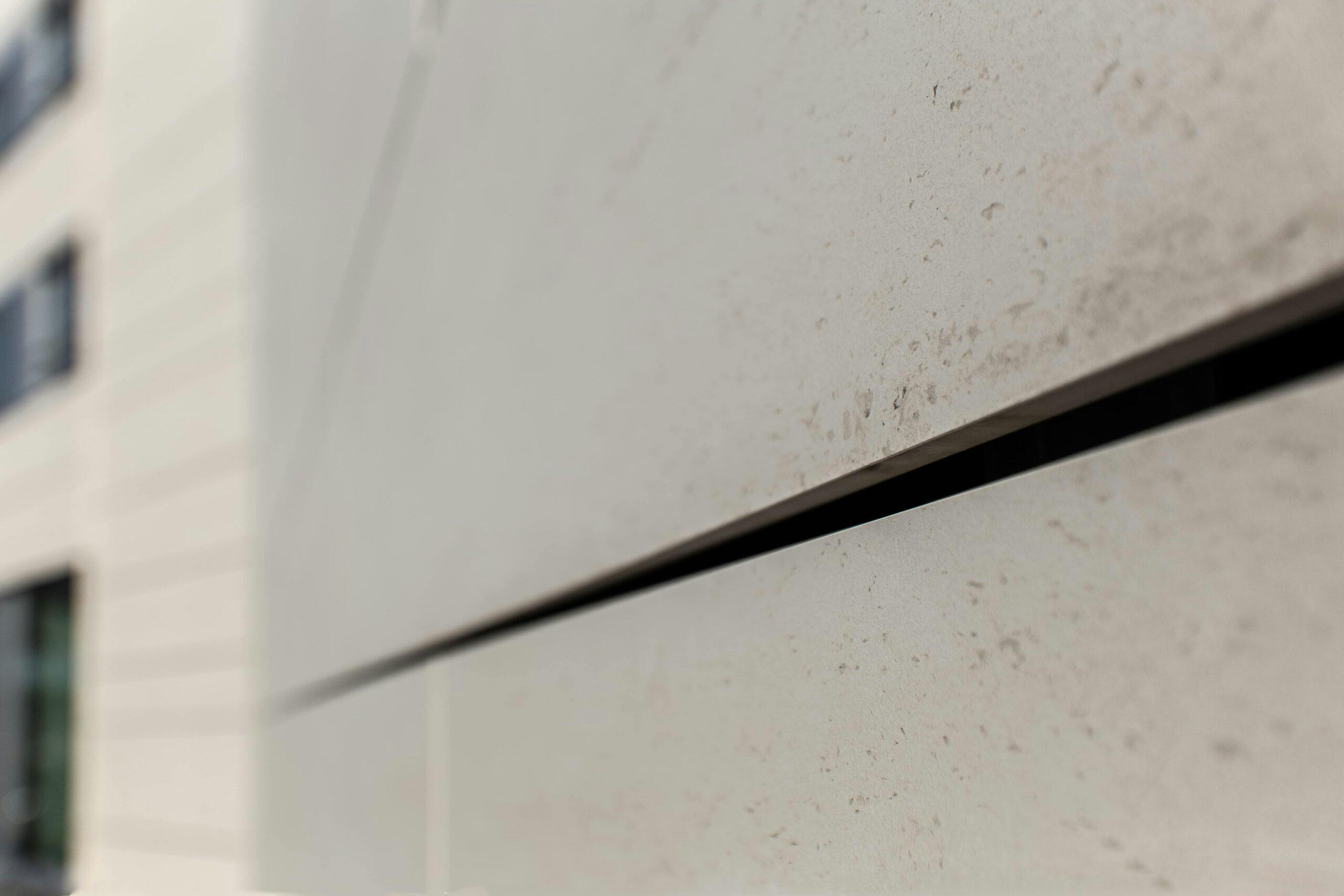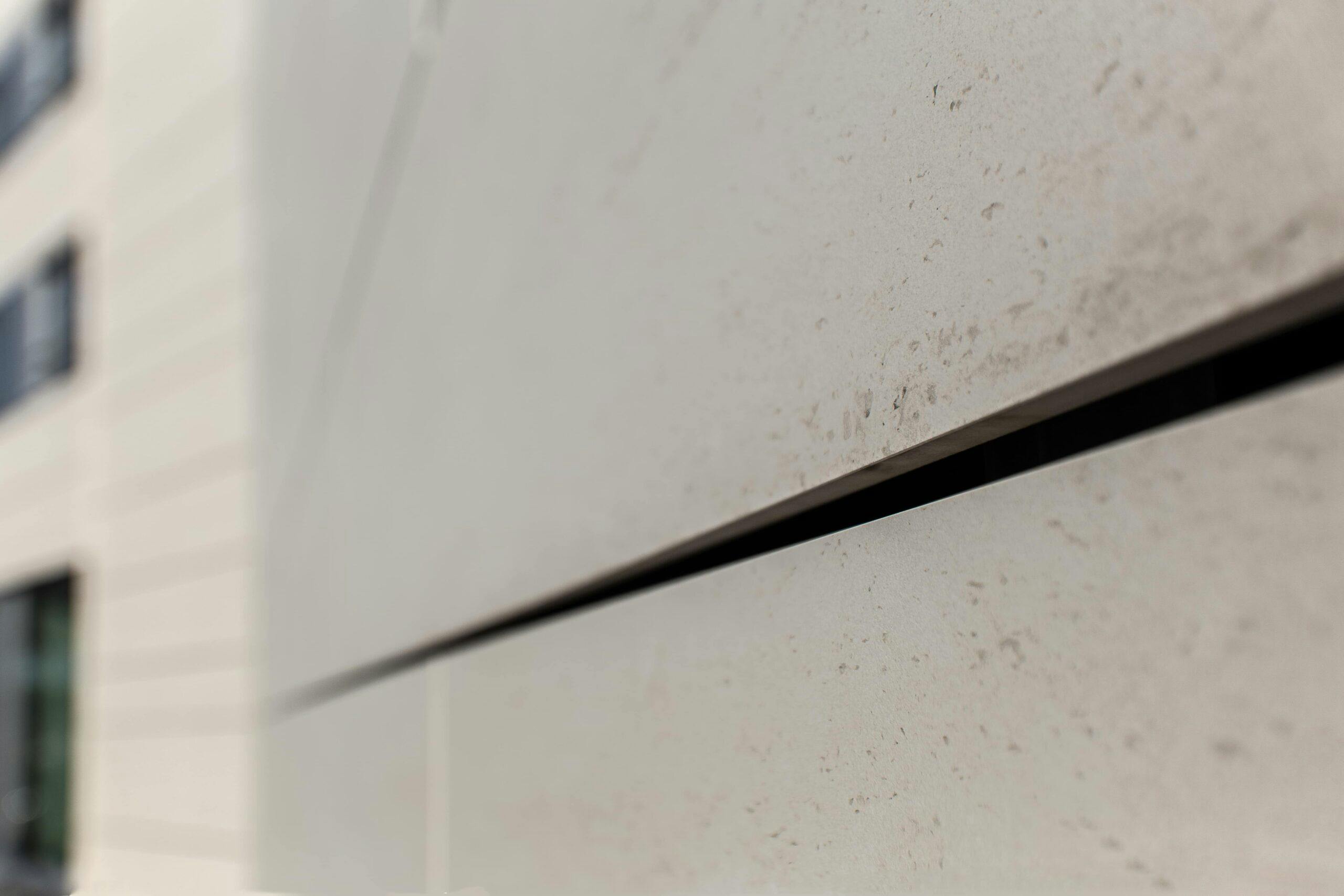 Flexible panels that are easy to install, made by Dekton
Throughout the project to renovate the south facade of the famous residential building, Gevelinzicht offered support to Stramien in terms of technical design and cost management. "A project such as this is precisely what we specialise in", explains Joni Staljanssens from Gevelinzicht. "In the end, we went through an exhaustive process until we reached this really attractive solution. Our first idea was to use a natural stone finish for the facade, with panels pinned to the walls in the traditional way. This was the preferred solution for the customer and one that the Amberes Council supported.
Staljanssens points out, "However, it turned out that natural stone would not be flexible or effective enough. So we began to look for high quality materials that looked like stone but had the technical qualities needed to keep out damp and allow for the building of a facade with elements of ventilation, exposed joints and suitable materials for a building of that height".
A 1,000 m² feat of engineering 
A total of 1000 metres of Dekton® Danae (12 mm) was used. The result is not only a milestone in engineering, but is also visually attractive. According to Tine Durnez: "Dekton is not synthetic stone, so it appears natural both in terms of how it looks and feels. What's more, the panels do not have a prefabricated print, so each one is completely unique. In the end, we decided to work with large-scale surfaces with a width of 158 cm and with three different heights: 45, 72 and 92 cm. We used 141 cm wide panels of varying heights for the surfaces below the windows."
Durnez stressed that "positioning the large panels successfully was like building a giant puzzle, but I believe that we have done a great job of it. In terms of the colour (Danae), we wanted to find a shade as close to natural stone as possible, and we didn't take long to make a decision. For a while, we were thinking about making the central area a different colour, but in the end we went for uniformity in order to reinforce the atmosphere of peace and tranquillity".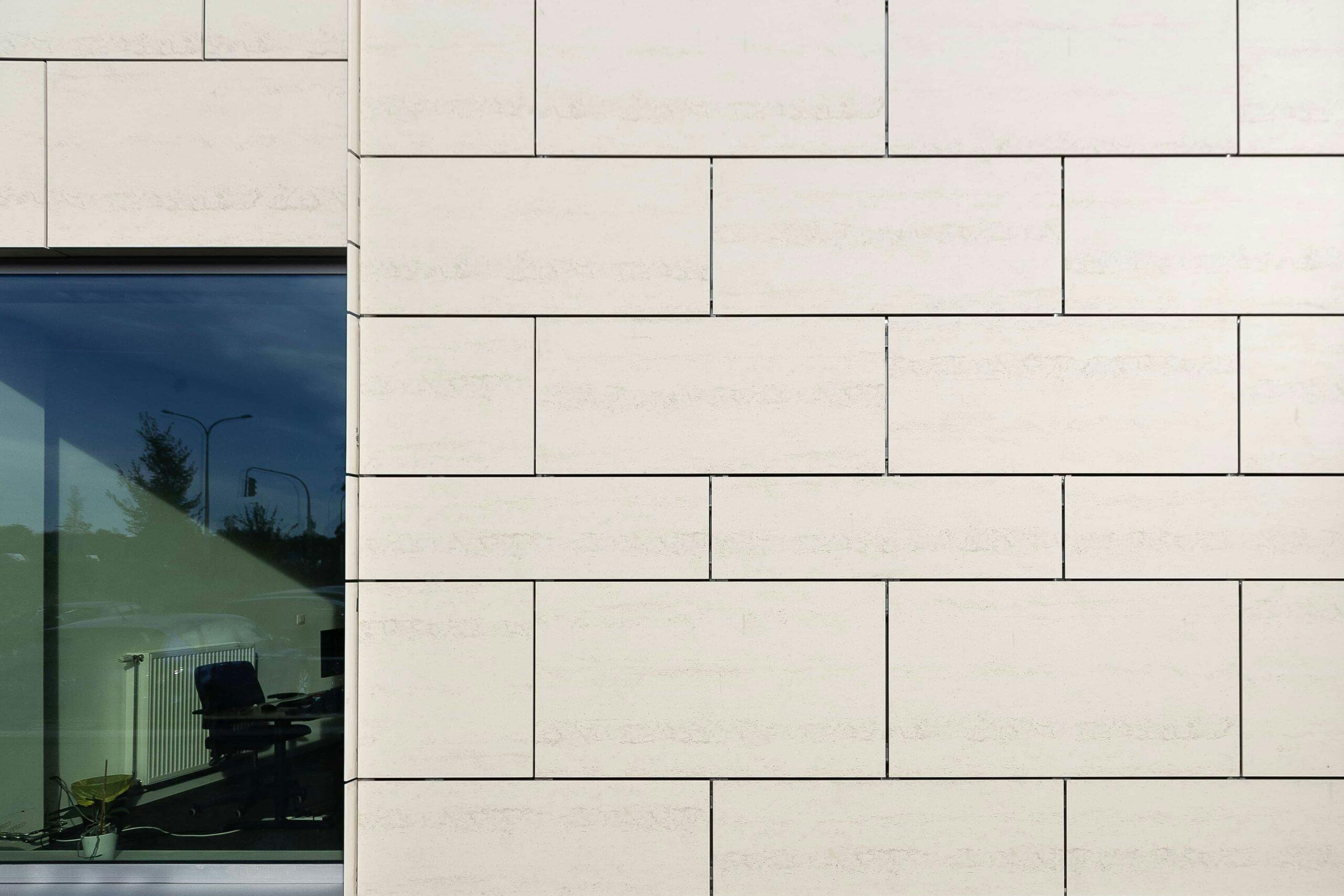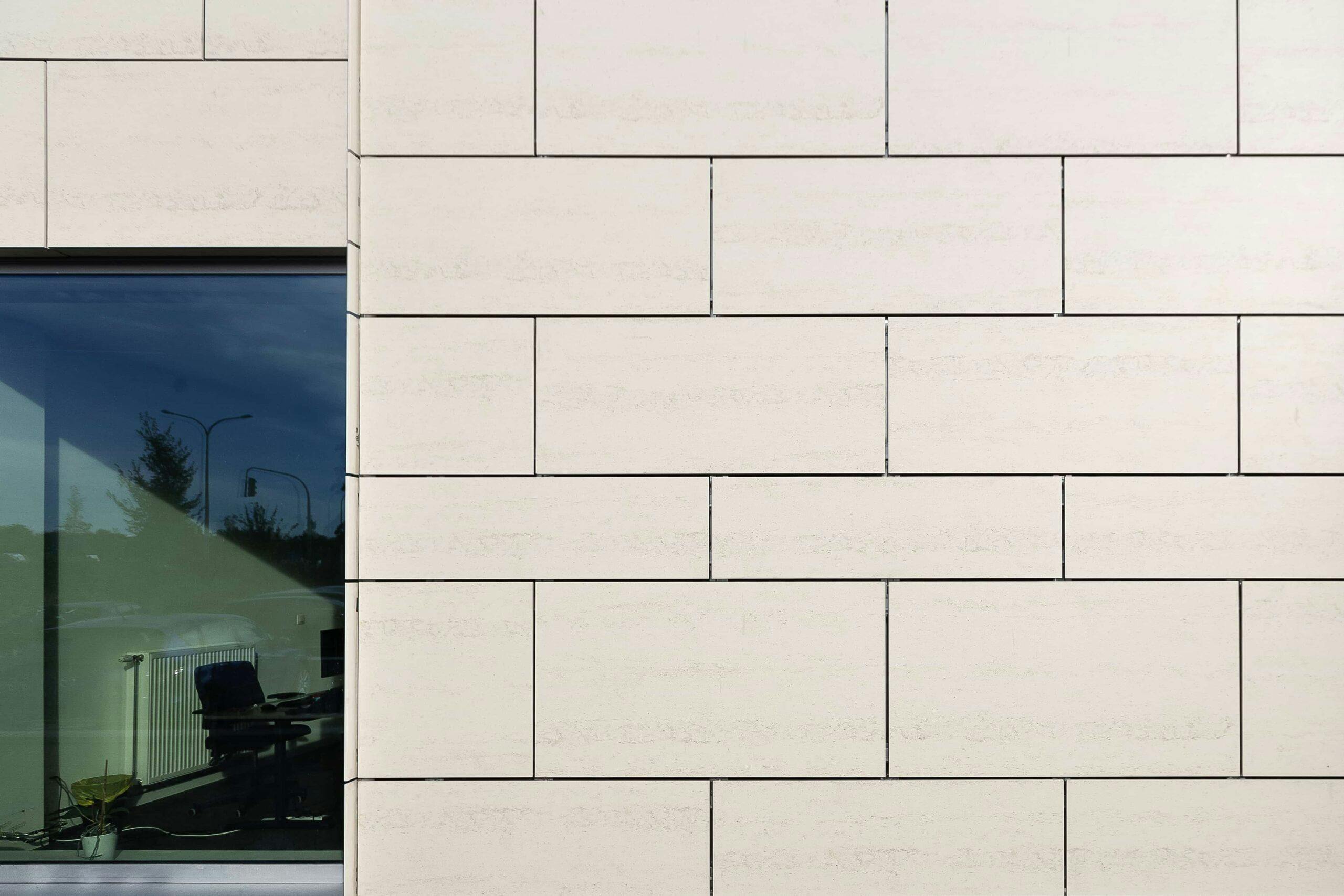 "Dekton facade panels are easy to install"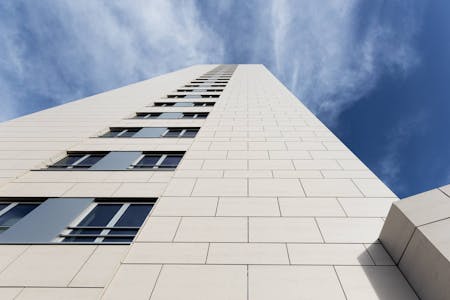 Joni Staljanssens
Architect
Do you need help with a project?
Contact our specialists for advice
Do you need help with a project?
Contact our specialists for advice
The perfect material to fast-track projects
Through this project, Stramien and Gevelinzicht acquired a deeper understanding of the aesthetic, practical and engineering qualities of Dekton. According to Joni Staljanssens: "Designing, installing and adjusting the aluminium scaffolding took some time, but thanks to the precision of the structure, we were able to position the panels onto the facade in just a few weeks".
Tine Durnez agreed. "Dekton is a very attractive material when it comes to refining each detail. For example, we were able to create a light contour ledge from the same material that the windows are made from. We will definitely keep the fantastic experience we've had with Dekton in mind for future projects. We also found that a holistic strategy is crucial with this kind of refurbishment. It's not enough to simply replace one material on the facade for another. Every aspect should be considered, including the insulation materials and even the carpentry ones. What's more, you must ensure that it's waterproof and thermal bridges were not an option. That's what we've managed to achieve, thanks, in part, to Dekton".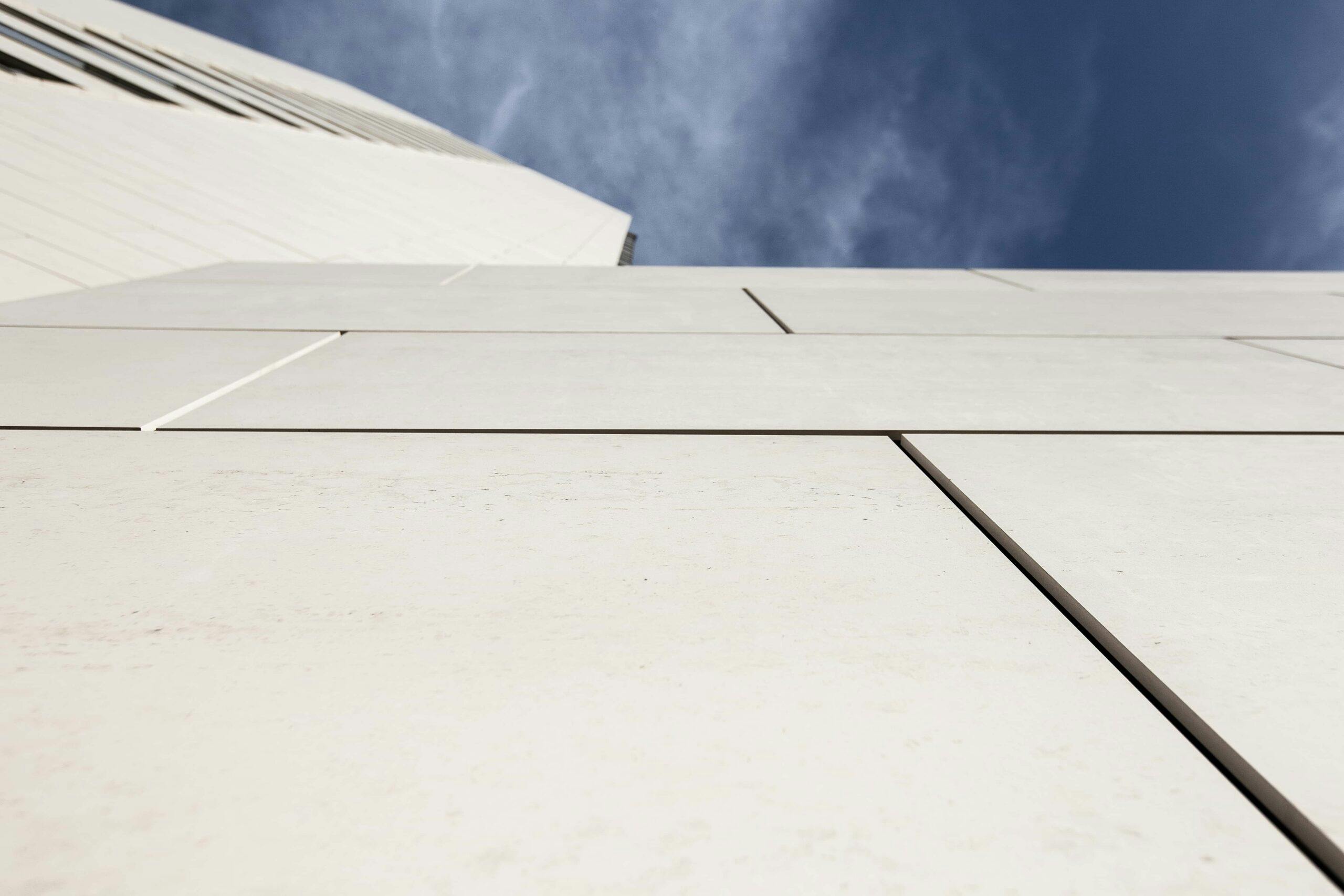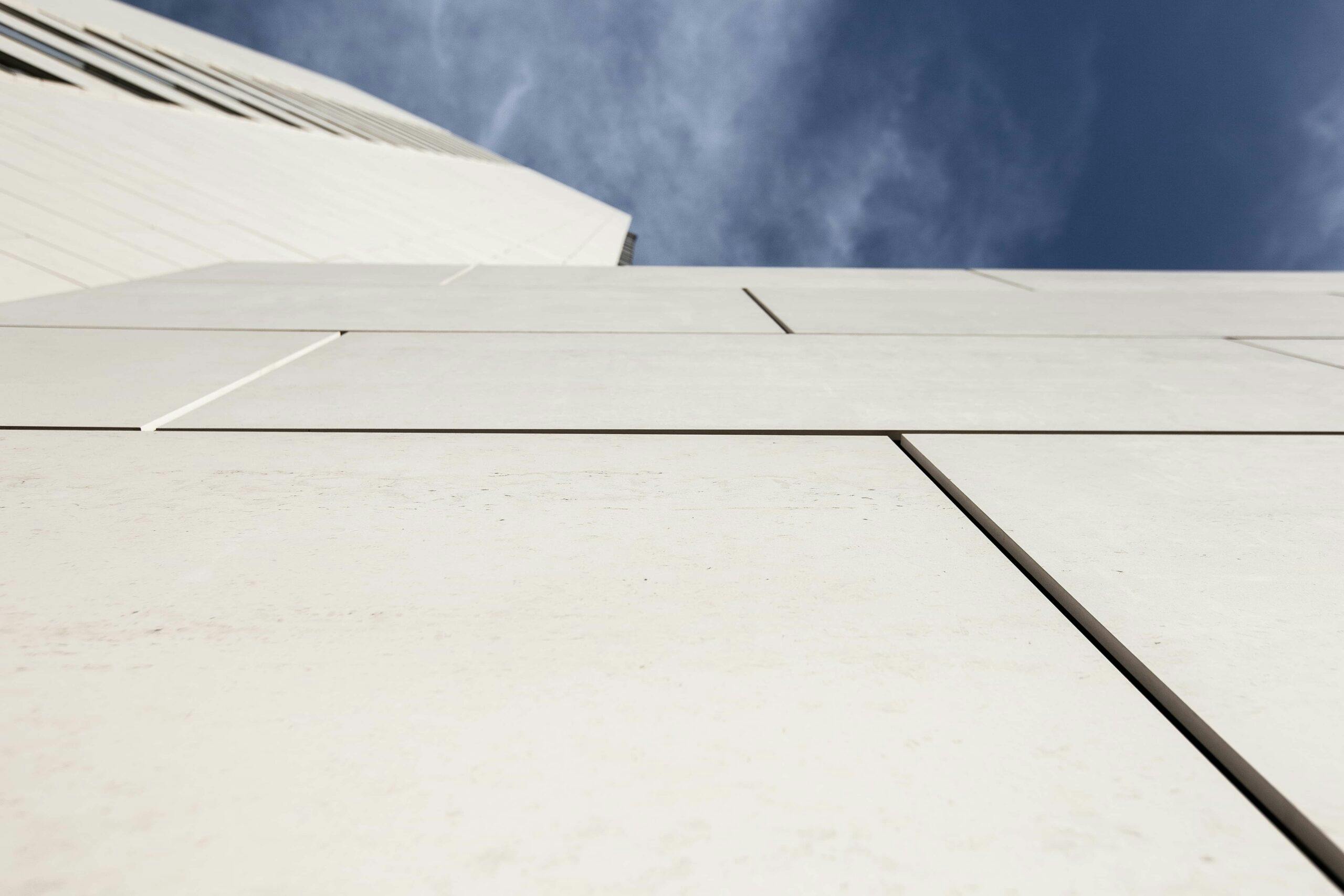 Cosentino's materials used in this project