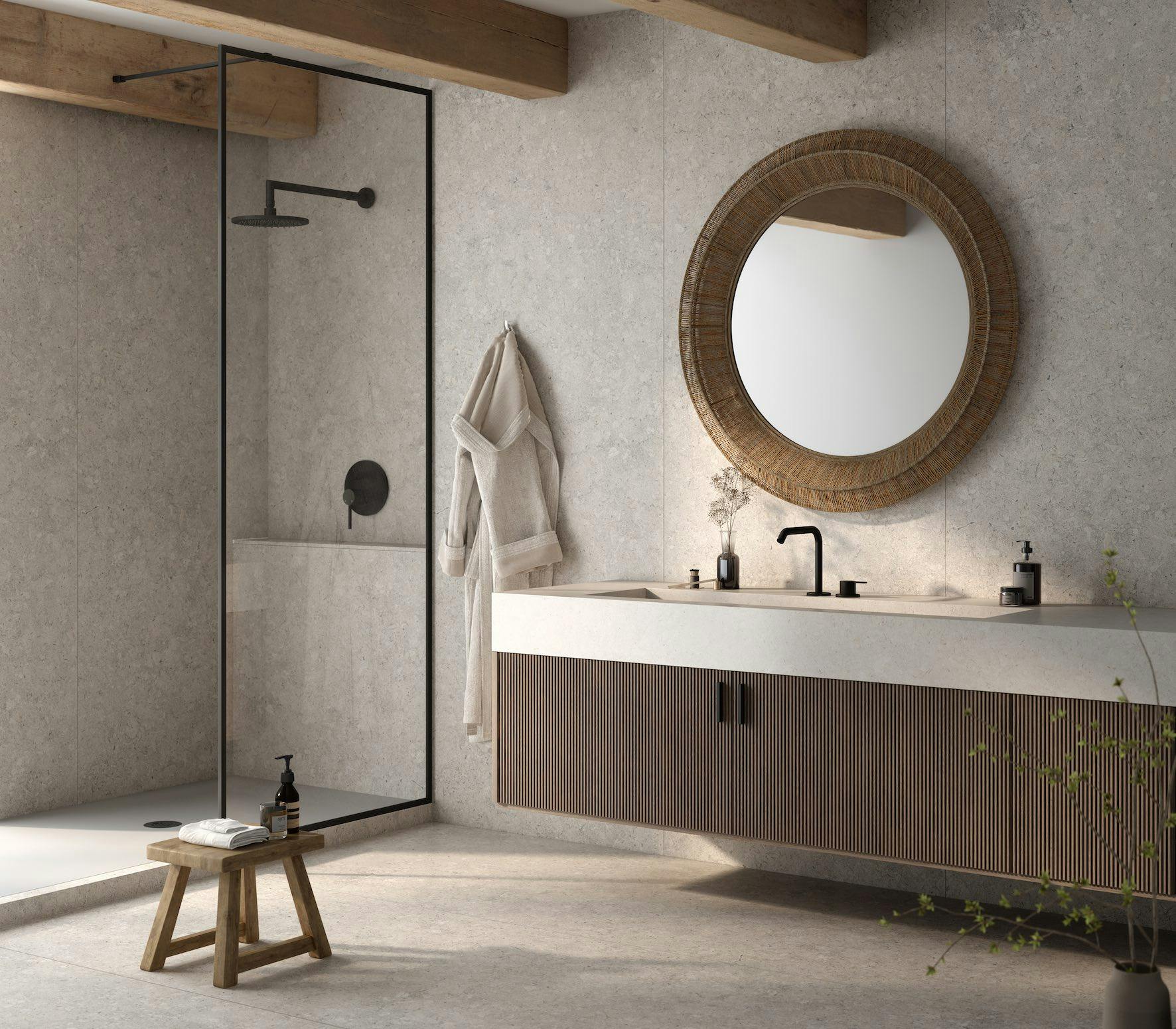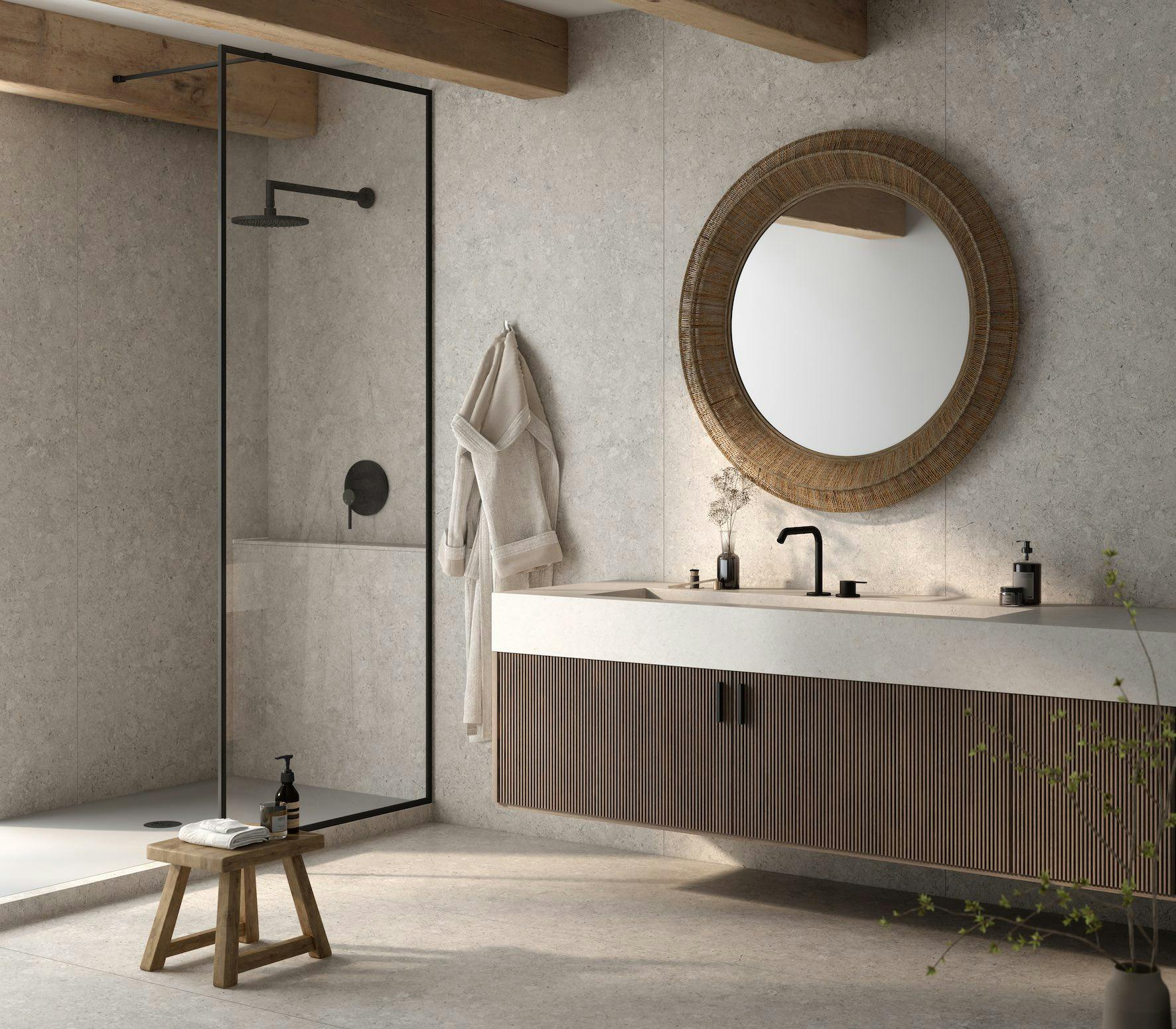 Vicenza stone, recoded for the new architecture
We draw inspiration from the stones that dazzled the architects of antiquity to create surfaces that meet the needs of contemporary architecture and design. It is a material with its own history, timeless and very versatile that goes beyond trends and has endless design possibilities.
For this reason, Cosentino decided to decode it together with other classic natural stones such as Travertine and Ceppo di Gré. In collaboration with architect and designer Daniel Germani, creator of the new Pietra Kode collection, all these stones have been recoded with the beauty, strength and durability of Dekton technology.
Among the 7 colors in this brand new collection is the Vinceza Kode range: Dekton reinterprets the code of the classic Vicenza stone by reimagining the material that brought to life the villas and palaces of architect Andrea Palladio in the Cinquecento, a staunch defender of the principles of architecture established by Vitruvius. Beauty, firmness and usefulness are the three principles that have guided the evolution of architecture up to the present day and that make up Dekton's DNA.
Thanks to Dekton technology, some of the disadvantages of natural stone, such as its high porosity and the wear and tear caused by the passage of time, are eliminated, resulting in surfaces that retain their beauty unchanged.
Discover the colors of the Vicenza Kode range
We have developed four warm and versatile designs to suit all decorative styles. They are ideal for both indoor and outdoor cladding, providing naturalness and continuity to spaces through neutral colors that evoke the earth and coexist in perfect harmony and blend with cream, wood or taupe colors. 
VK01 Nebbia: the character of Vicenza stone in a creamy white full of nuances. With a fine-grained white creamy base dotted with warm taupe hues, this versatile color – ideal for façades, floors and any interior and exterior cladding – is a reinterpretation of the texture of Grigio Alpi, a variety with macrofossils of the Vicenza Stone which has been quarried since Roman times.
VK02 Avorio: serenity in light beige to bring naturalness to any space. With a light beige shade and an extremely natural finish, VK02 Avorio is inspired by the eponymous Avorio stone, an Italian material characterised by the presence of fossil shells.
VK03 Grigio: a grey shade with warm nuances reminiscent of the timeless beauty of Palladian architecture. With a grey colou scheme with warm nuances, this color blends perfectly with cream, wood and taupe tones. VK03 Grigio draws its inspiration from Grigio Alpi, a variety with macrofossils of the Vicenza Stone made popular by the Renaissance architect Andrea Palladio, who used it in his villas and palaces in the Veneto region, mainly in the province of Vicenza.
VK04 Grafite: its dark background, a mix of black and grey interspersed with whitish and reddish cloud-like patches, reinterprets the texture of dark, fine-grained limestone.
Why choose Vicenza Kode to design your home
The grey and beige tones of the Vicenza Kode range bring a palace-like feel into the 21st century and allow you to create restrained, sophisticated and timeless atmospheres, as you will never get tired of their subtle patterns and colors.
Another advantage of choosing Vicenza Kode is its availability in large format slabs with different thicknesses, which create a sense of continuity by minimising the number of joints. Meanwhile, its matt finish gives it a pleasant and warm texture that is more resistant to stains.
Furthermore, Vicenza Kode colors feature all-over decoration, making them ideal for applications where edges are exposed.
How to combine the new Vicenza Kode colors
We love the Vicenza Kode range for its versatility when it comes to combining it with other materials and finishes, as they are neutral colors that go well with everything.
Outdoor kitchens to enjoy the good weather
This kitchen completely clad in VK01 Nebbia is a delight for lovers of the Mediterranean style with its cream tones, natural fibers and accents of light colored wood. This color combines perfectly with other natural stones and colors from this collection, such as Ceppo di Gré in this floor cladding.
You can use this color in combination with other neutral Dekton and Silestone colors, such as Dekton Albarium or Silestone White Zeus, or go for contrast with Dekton Umber and Dekton Micron.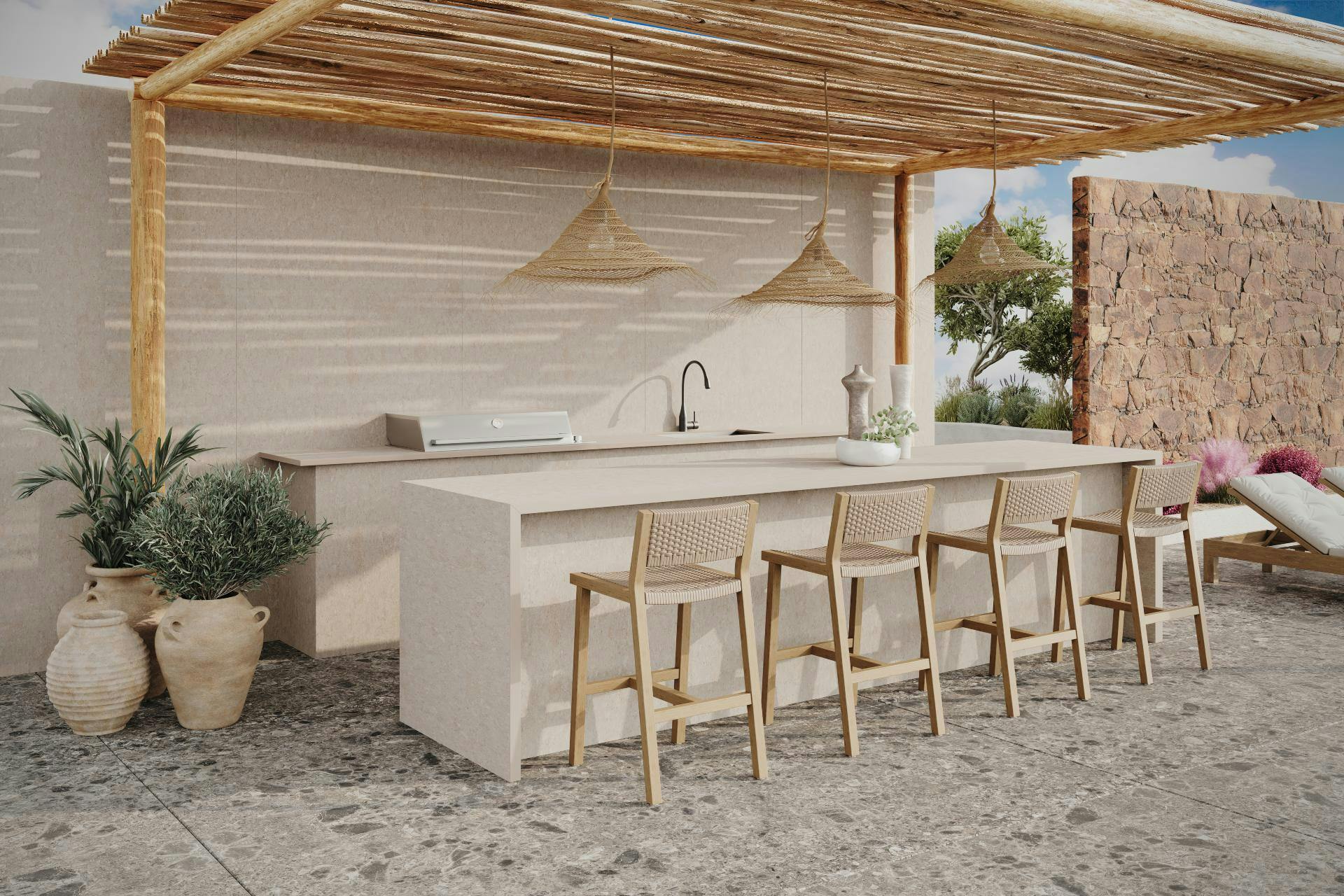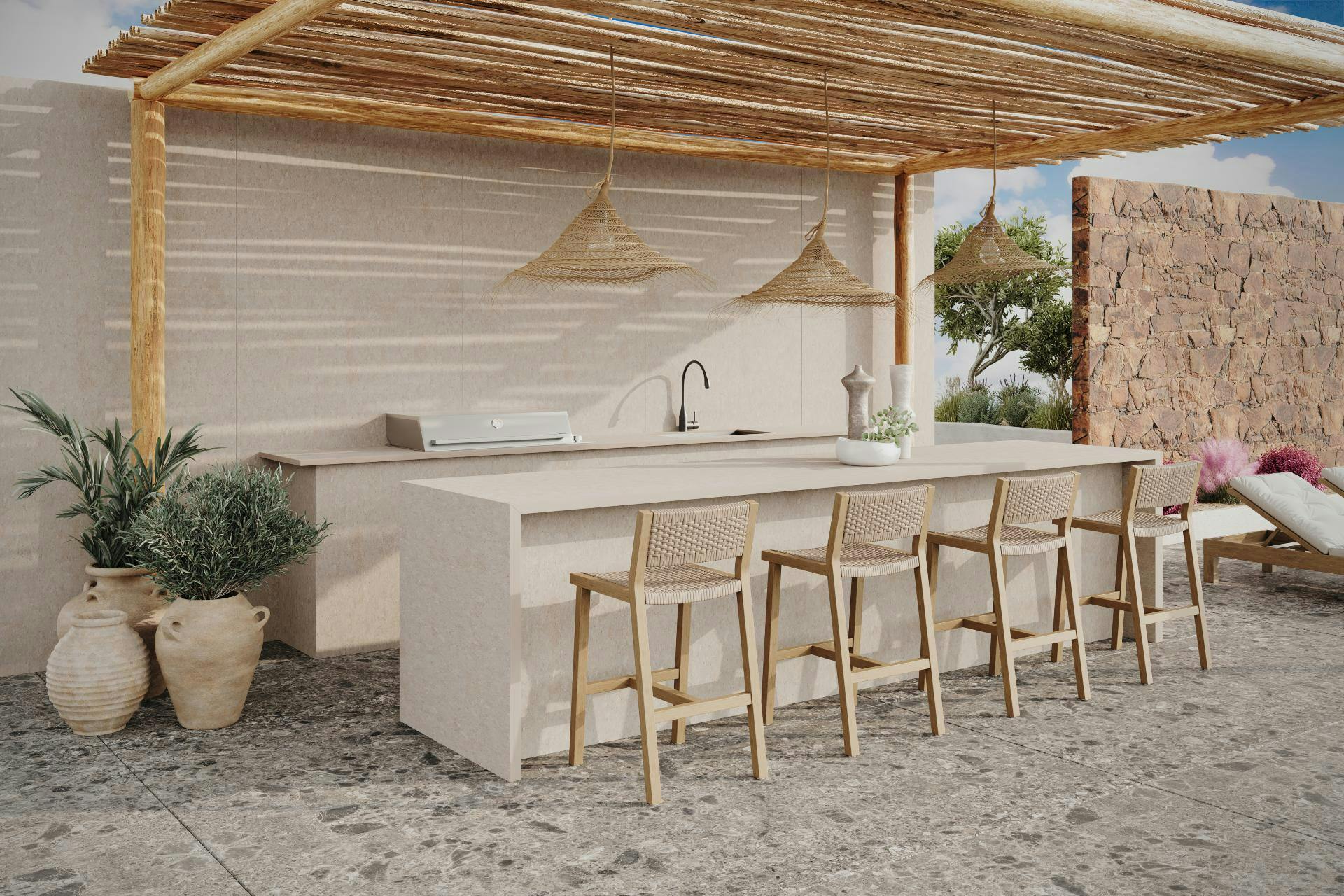 A swimming pool that matches the exterior of the house
With its grey background reminiscent of cement, VK04 Grafite is ideal for cladding façades, outdoor floorings and swimming pools, achieving a uniform appearance with hardly any joints. Thanks to its no-slip Grip+ finish, Dekton is suitable for wet areas such as this swimming pool, both on the inside and out. To bring warmth to the outside, you can go for natural fiber furniture and greenery.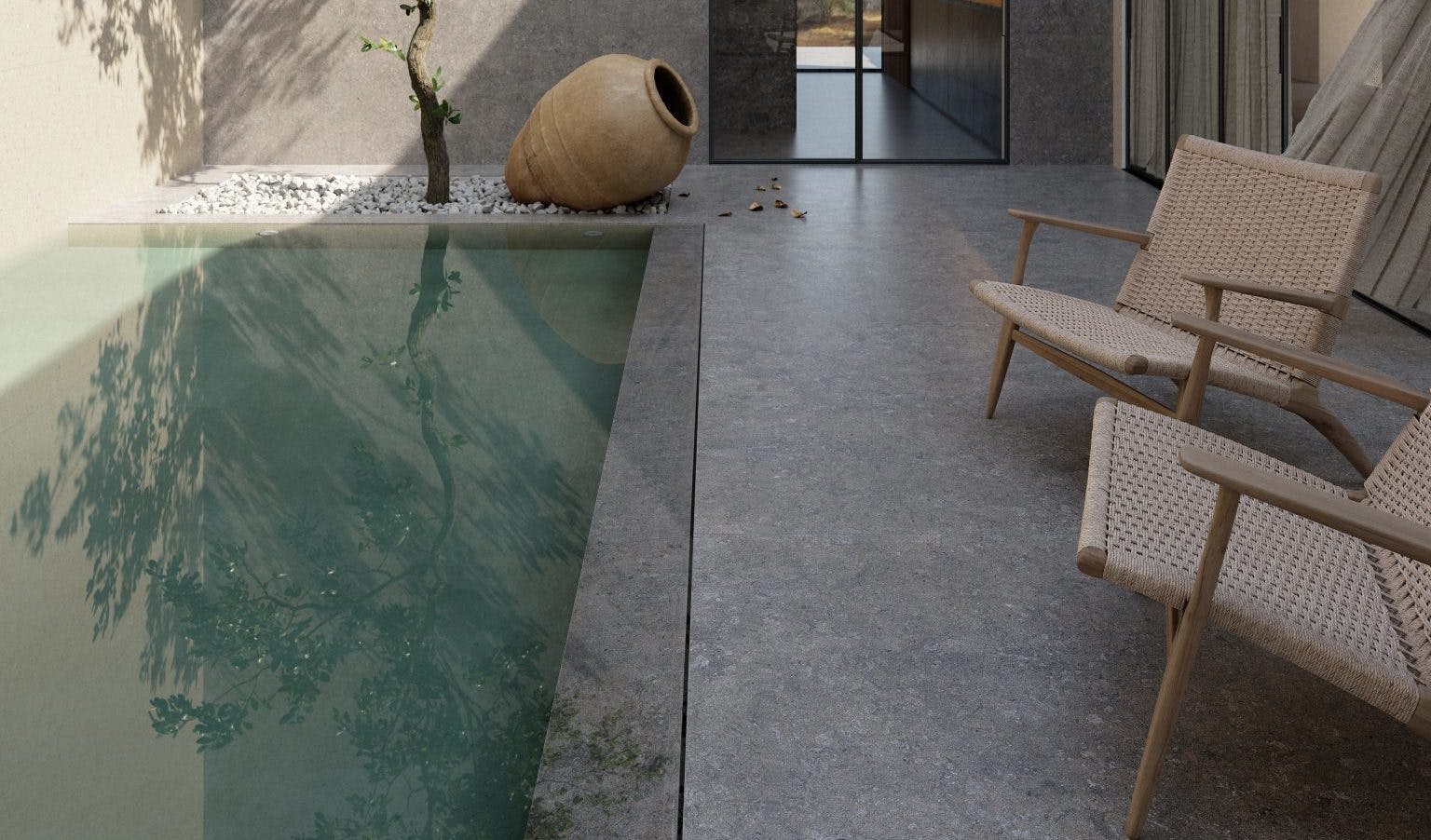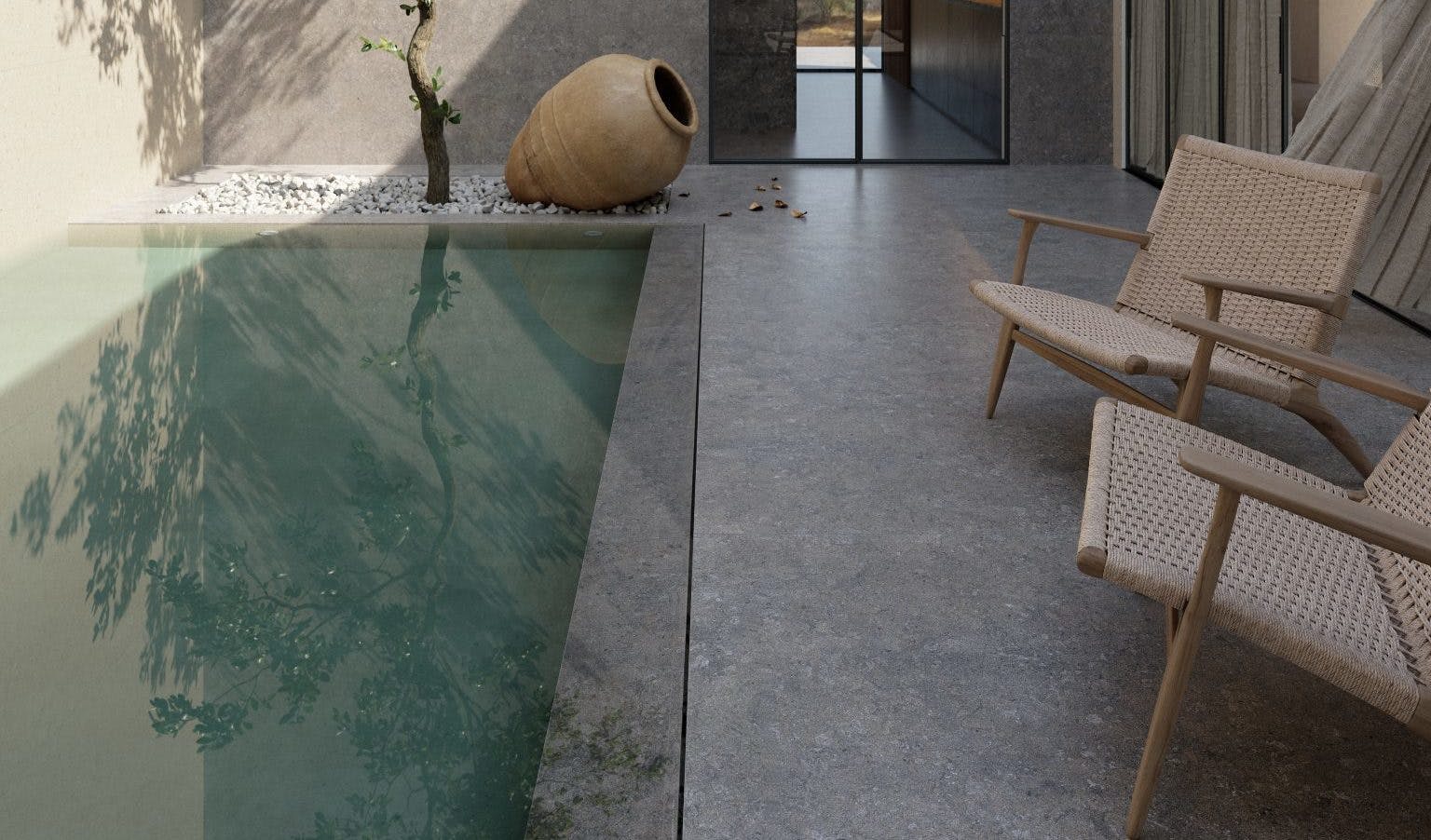 A rustic and modern kitchen is possible
With timelessly beautiful colors such as VK03 Grigio we can create long-lasting, functional and cosy spaces by combining its grey tones with wood and terracotta shades, such as the exposed brick used for the ceiling. Thanks to Dekton, this palace style stone is reinvented and brought into rustic spaces with a modern twist, fitting in perfectly.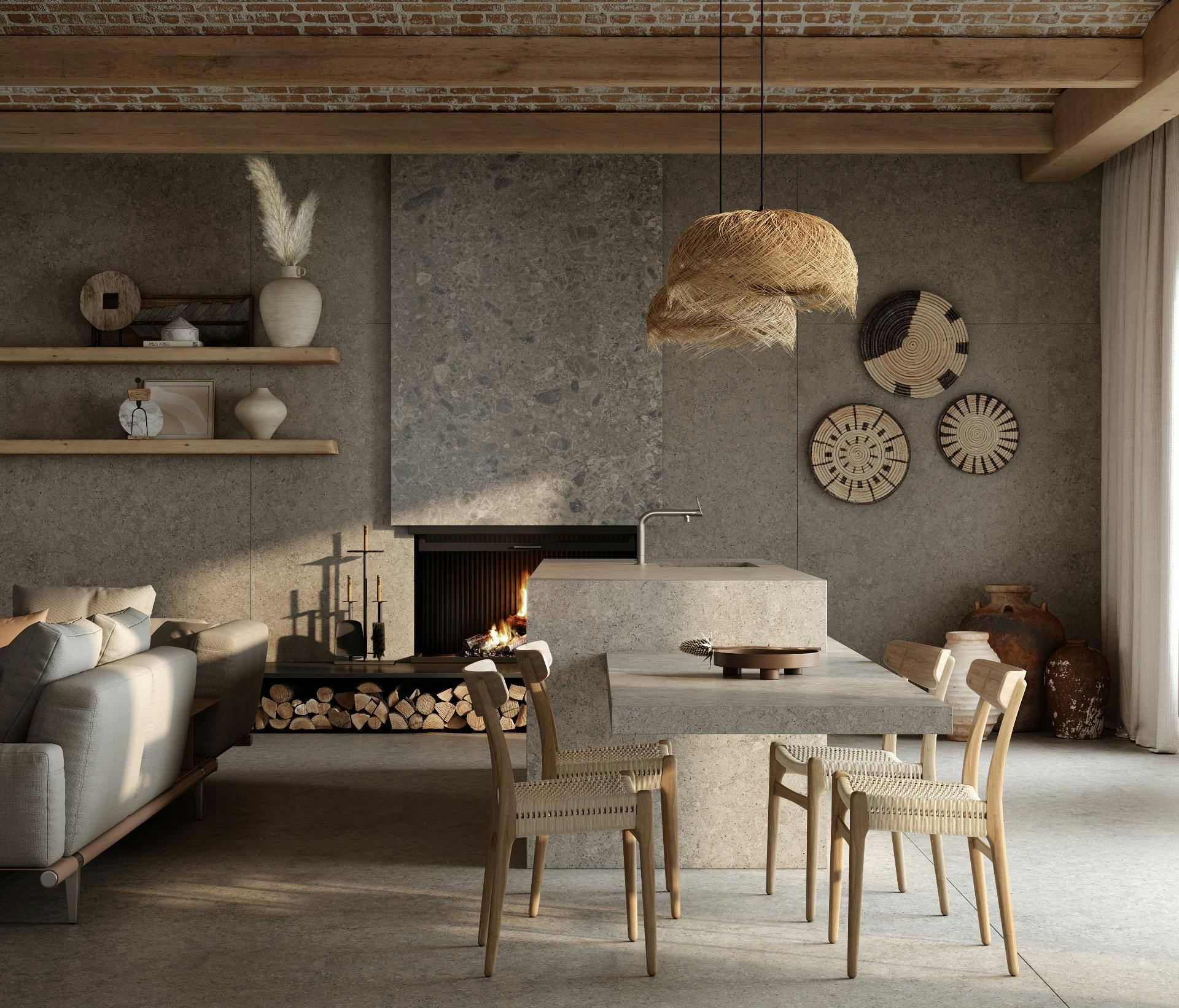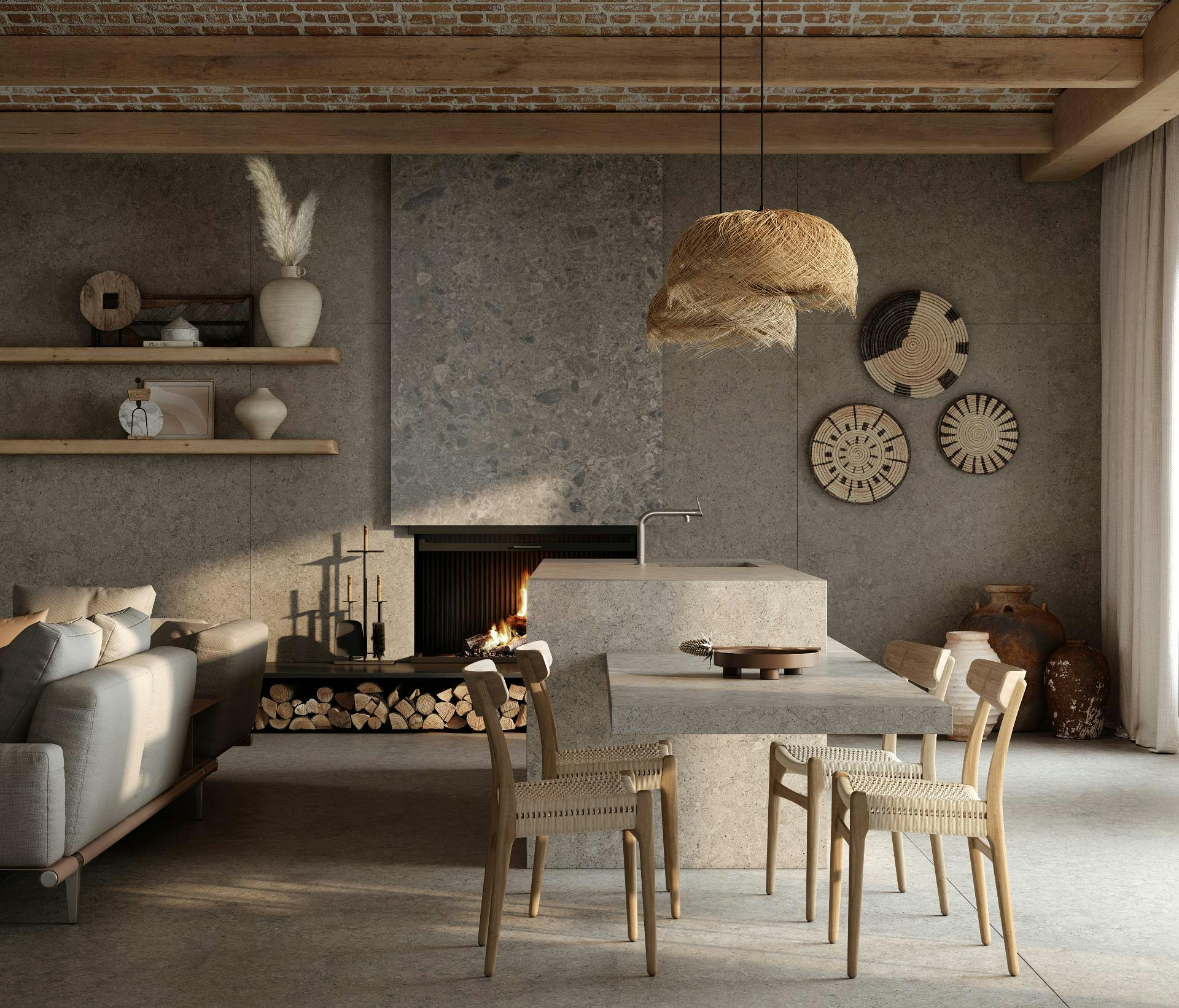 Bespoke furniture for your home
Last but not least is VK04 Grafite, the darkest and most characterful of the four colors, which we recommend combining with wood, as in this desk. In addition, given its high ceilings and good natural light, the same color has been used for the wall cladding, creating warmth with the decoration in light neutral tones and wood. We love being able to use the same material for cladding and furniture to give a sense of continuity to the design of a room.
Modern and minimalist outdoor kitchens
By combining VK02 Avorio and VK04 Grafite we can create outdoor kitchens with straight, minimalist and modern lines. VK02 Avorio has been used to clad the worktop, front and built-in furniture. In addition, the 4 mm Slim format makes it possible to clad drawers and doors, enhancing the design and facilitating maintenance. Indeed, thanks to Dekton's properties, Pietra Kode colors are perfect for outdoor kitchens, as they are resistant to high temperatures and weathering.
Check out all the colours of our new Pietra Kode collection in our colour finder and remember that you can visit one of our Cosentino City to get inspired and choose the colour that best suits your project.
Discover the new series Dekton Pietra Kode