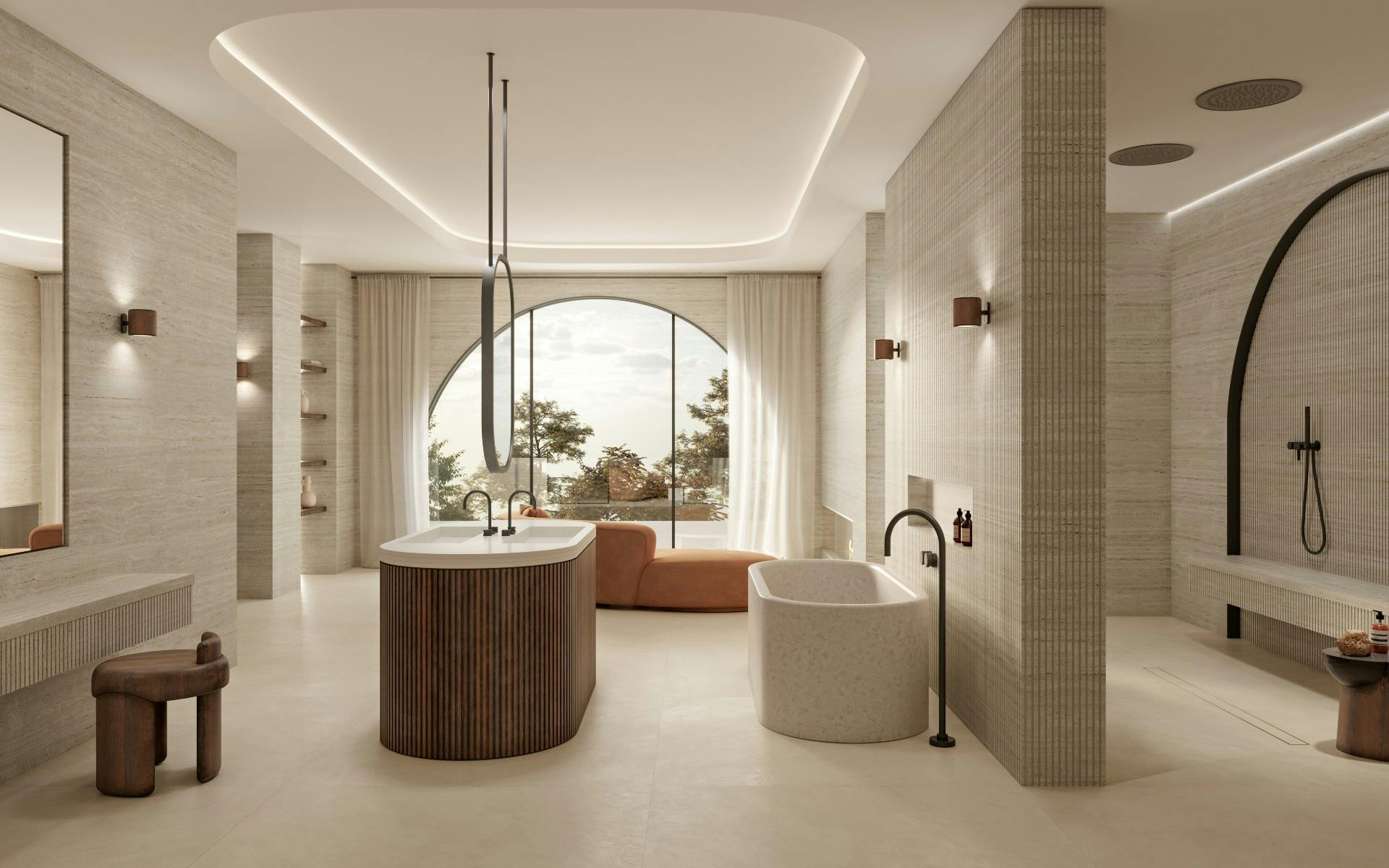 Washbasins and shower trays are set to revolutionise your bathroom
A major trend emerging in bathrooms for 2023 is the customisation of the bathroom washbasin and shower tray, using natural stone-inspired finishes that create a 'wow' effect. The bathroom is no longer the forgotten area, but has become a fundamental space for well-being in the home, where we are dedicating more and more time and resources to take care of ourselves.
At Cosentino we offer you a comprehensive solution to revolutionise your bathroom: C·Bath, a programme with a wide range of designer shower trays and washbasins, made with our Dekton and Silestone surfaces. Discover all the options available to design your bathroom.
Choose from different types of bathroom washbasins
When designing your bathroom, the washbasin is one of the features you should pay the most attention to. Spectacularly designed washbasins are no longer a purely functional piece but a trend that elevates the feeling of luxury in the bathroom.
Depending on the space available and the style you desire for your bathroom, you can choose between different types of washbasins:
Wall-mounted washbasins: they are lightweight and modern, give a feeling of spaciousness and are very suitable for guest bathrooms with limited space. In C·Bath, Cosentino's bathroom programme, there are many different designs made with Dekton and Silestone that fit into any space.
Freestanding washbasins: they can be a real work of art in your bathroom. They are available in sculptural shapes as well as in natural stone and marble. You can also opt for our HLine Urban washbasin on a pedestal designed with Silestone or Dekton.
Under-countertop washbasins: they are fully integrated with the countertop, remaining underneath it, so that only the countertop, and not the washbasin itself, takes centre stage.  We recommend that you design your under-countertop washbasin with a Dekton or Silestone countertop to create a unique, modern and functional piece.
Countertop washbasins: they rest on the countertop and often feature eye-catching shapes made from natural stone, porcelain or other materials. High spout taps are recommended for this type of washbasin to make it more comfortable to use. In this case, it is important to choose a sturdy, low-maintenance countertop that will not be damaged by soap and water.
Built-in washbasins: the washbasin and countertop form a single piece of the same material, resulting in elegant and highly functional pieces. For this type of washbasin we recommend our ultra-compact Dekton surface, ideal for contact with water thanks to its low porosity.
Types of shower trays
In recent years, large-format showers have become more popular and in many cases have replaced bathtubs as they are more practical and safer for the whole family. This part of the bathroom is gaining in sophistication with water jet systems with various features and chromotherapy.
At Cosentino we have developed shower trays in both Silestone and Dekton, offering a wide variety of colours and sizes that can be customised to suit any project.
In the case of Silestone, you can choose from four models of shower trays: Wakka, Wakka Brim, Exelis and Kador Suite.  These models have a smooth sandblasted finish for safe use and are available in all Silestone colours.
Our Dekton Rainfloor shower tray is another great option, as it is manufactured with Grip and Grip+ treatments, which provide the highest degree of non-slip protection. With an 8 mm thickness, this shower tray has the perfect slope to ensure the correct flow of water, making it ideal for walk-in showers. It can be supplied in all Dekton colours with a thickness of 8 and 12 mm.
Advantages of walk-in showers
The walk-in shower tray is the most popular choice in modern bathrooms because of its minimalist, clean and light look. Furthermore, given the ageing population and the need to create accessible spaces, many families prefer to install these shower trays flush with the floor. Here are some of their advantages:
Bathrooms are easier to clean because there are fewer joints.
Architectural barriers are eliminated thanks to a continuous floor, which means greater safety for the whole family, especially for the elderly and younger children.
It visually enlarges the space and provides a more uncluttered and minimalist aesthetic.
No building work is required.
There is an extensive selection of materials and colours available on the market.
How to design bespoke washbasins and shower trays
With Dekton and Silestone you can create bespoke washbasins and shower trays in the colour and shape that best suits your bathroom. For a clean, simple and minimalist look, you can opt for a wall and floor cladding in the same colour as the shower tray and washbasin, with our surfaces.
Alternatively, you can add a splash of colour to your bathroom with the Sunlit Days collection by Silestone, where you can choose from Mediterranean colours such as Cala Blue, Arcilla Red or Posidonia Green.
For lovers of marble designs inspired by natural stone, we recommend one of the veined patterns that make up the Onirika and Silverkoast collections.
Check out all the design possibilities for your bathroom washbasin and shower tray in our colour finder and feel free to visit one of our Cosentino Cities to get inspired and select the finish that best suits your project.