Case Study
An exotic combination in Turkey
Pinar Çağatay Kizil, Pera Design İç Mimarlik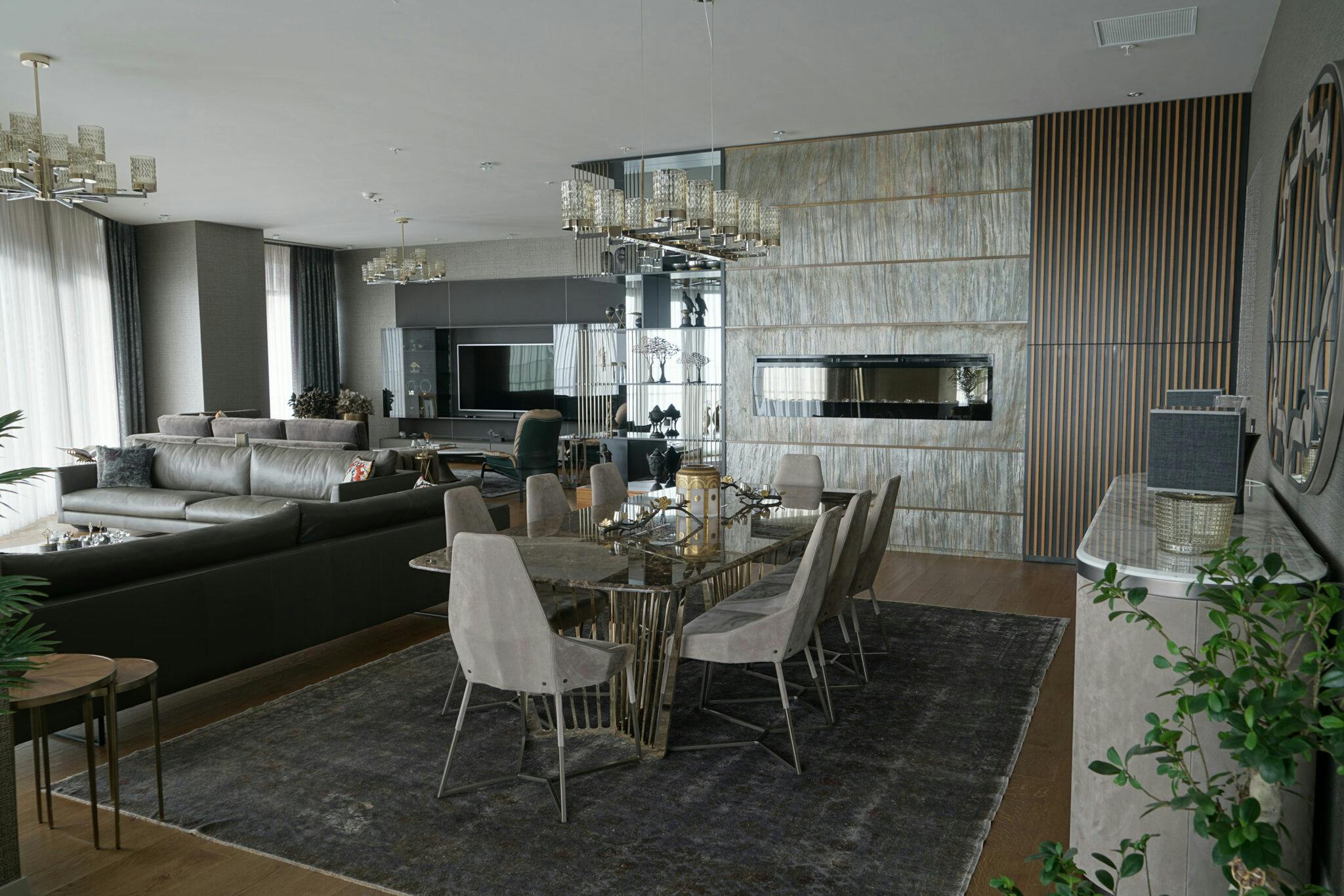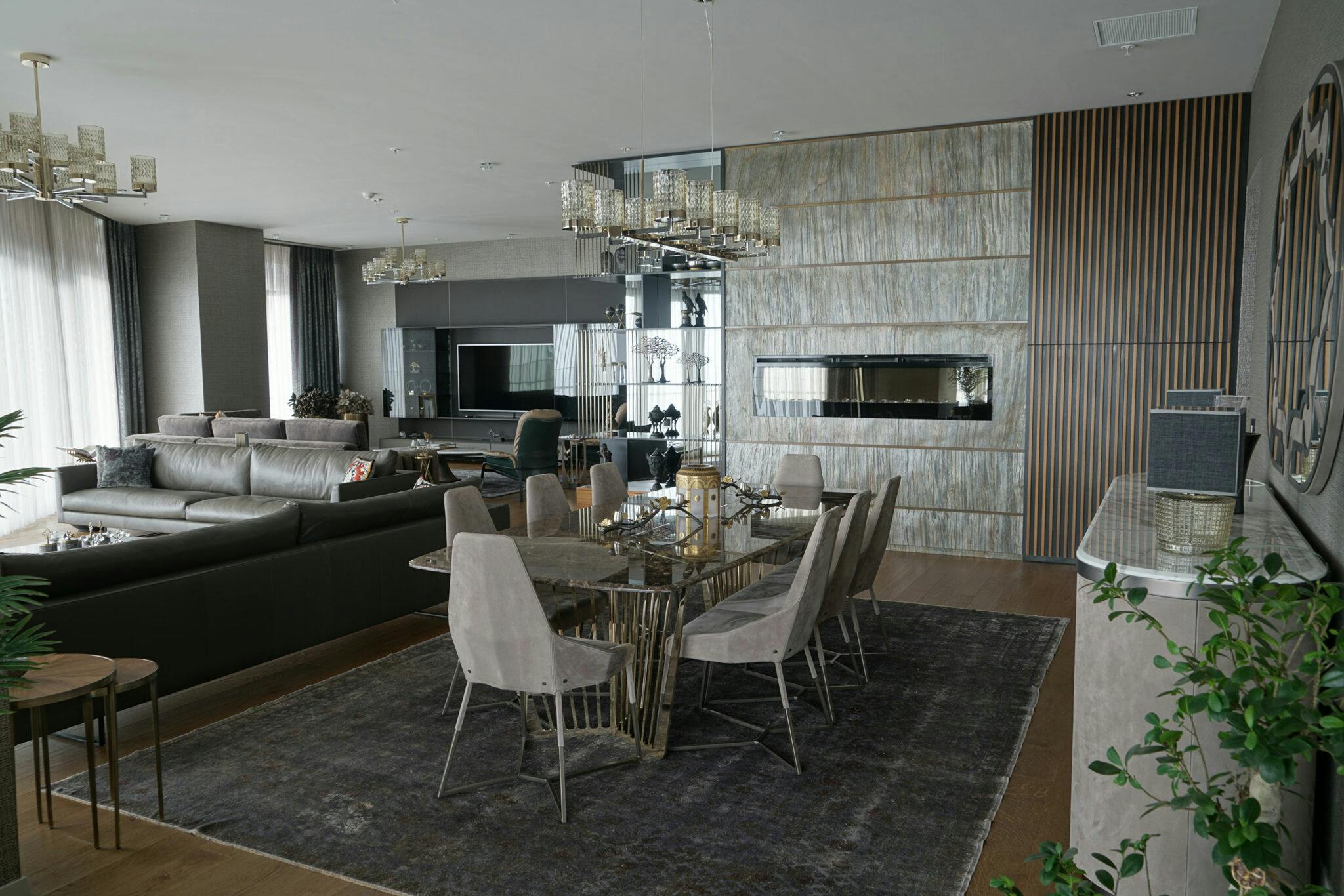 Material
Dekton / Prexury
Color
Dekton Radium / Prexury Wild Agate
Quantity
1,076 sq ft / 53.82 sq ft
Architecture / Design
Pinar Çağatay Kizil, Pera Design İç Mimarlik
Application
Flooring, Kitchen countertop / Wall cladding
A bright flat combined with dark colours in Turkey
The architectural project for this flat in Turkey, designed by Pinar Cagatay Kizil from Pera Design İc Mimarlik, posed an ambitious challenge. The aim was to link two flats of the Kuzu Effect mixed-use building in Ankara. The result is a 105 square metre area with plenty of light that has been balanced by a design with dark colours.
One of the most striking aspects of the project was the creation of a virtual corridor with mirrors and partitions that allows spaces to flow, all aligned on a single façade. 'The kitchen is the only area where we could not intervene, since the plumbing work had already been completed. We only enlarged the size of the island a little and gave it continuity by using Dekton Radium for the countertop, which is also found in the entrance and corridors of the house,' the studio explains.
An aesthetically powerful material
This is how the architecture studio defines Dekton Radium – as a 'striking and functional' material. In their own words, it was chosen for cladding, flooring and corridors 'because it is easy to clean, hygienic and has a great visual effect'. Being a high traffic area it was necessary to add a durable material that would give a consistent look and feel, something that is perfectly achieved with Radium. The rusty steel plate look of this colour also offers an aesthetic that blends perfectly with the ochre and brown used in the interior design of this flat.
Do you need help with a project?
Contact our specialists for advice
Do you need help with a project?
Contact our specialists for advice
In the bedroom, a very exotic and attractive decorative solution was chosen using Prexury next to the headboard. Like an artistic canvas behind the bedside tables, the Prexury Wild Agate colour makes the space sparkle with its conglomerate of semi-precious stones in shades of turquoise and cream. Especially at night, as the pieces are backlit. 'It is an incredibly elegant solution. The daytime look is very different from the night-time one, but both are striking. After the client approved the use of this colour, the entire design of the space was shaped around these slabs,' the design studio explains. The result is a very personal and sophisticated space that receives warm, indirect lighting during rest time.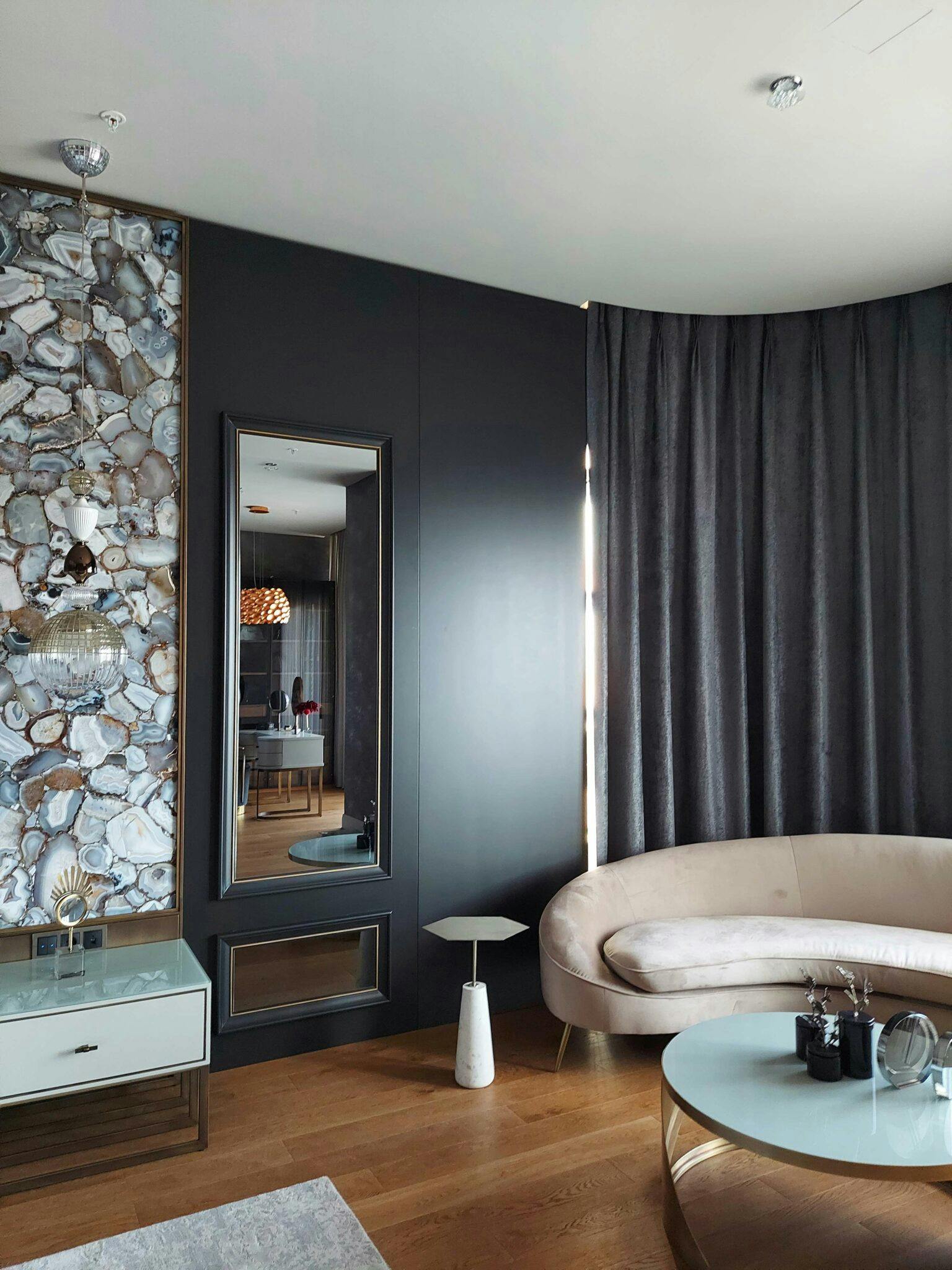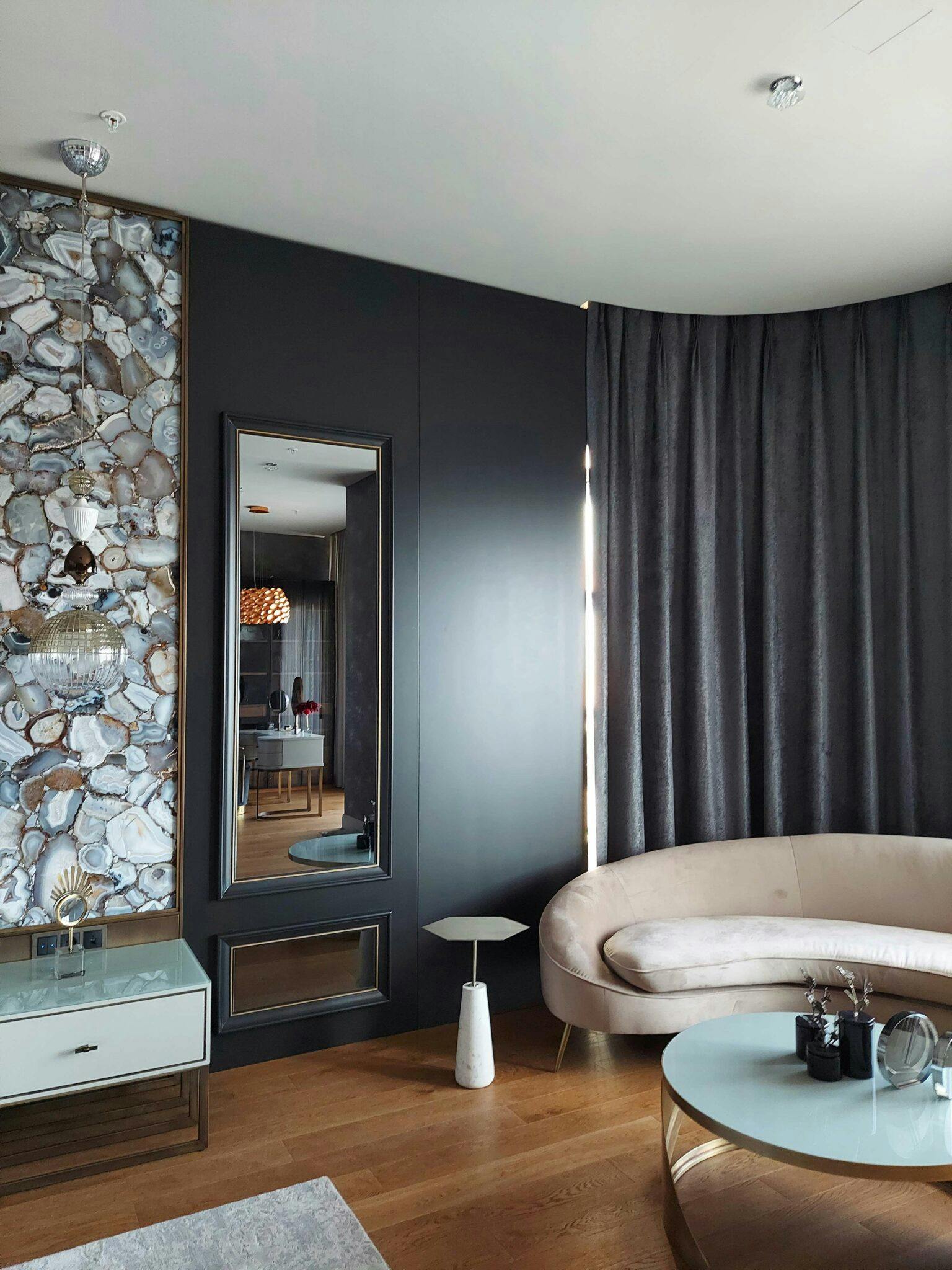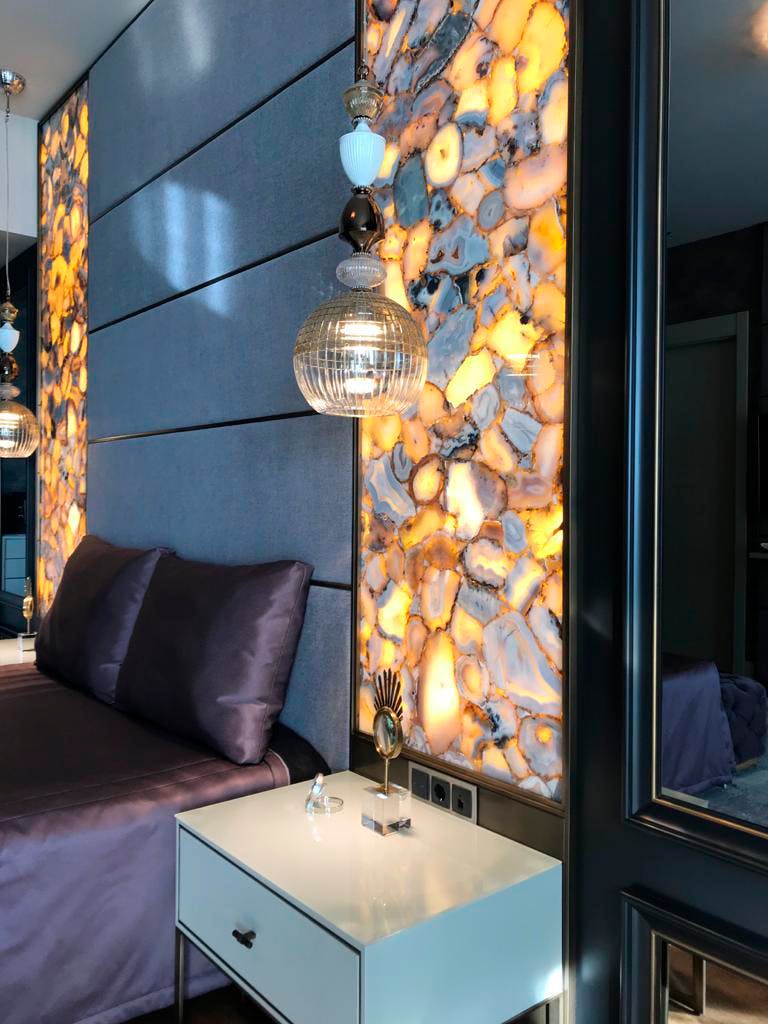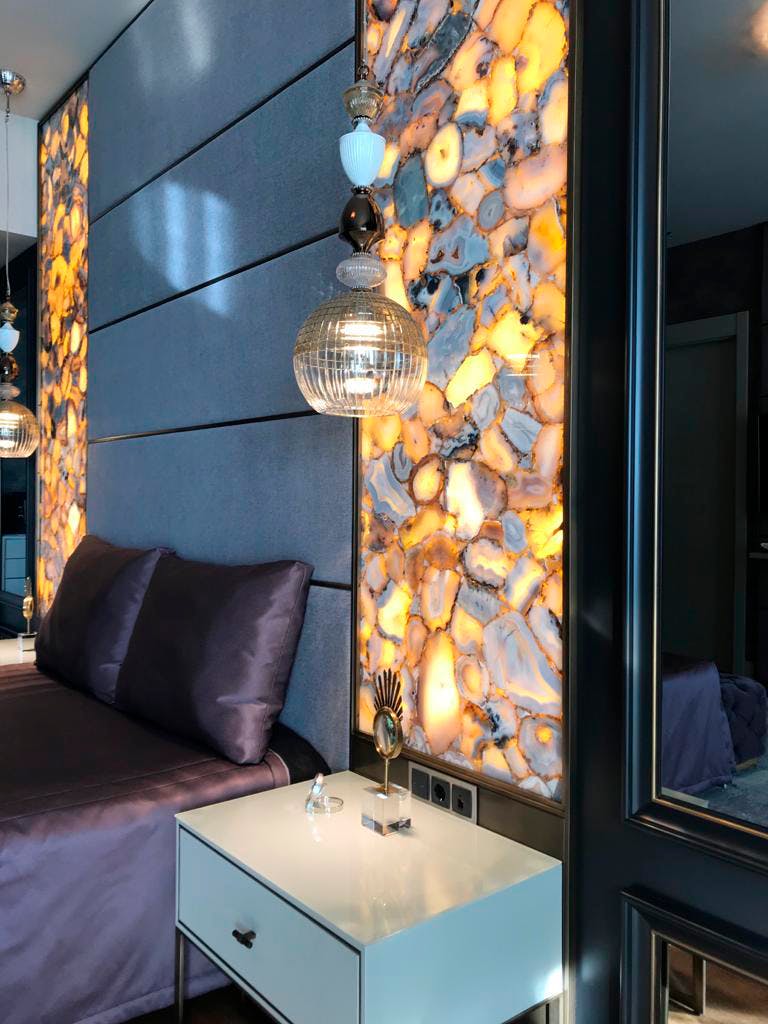 Cosentino's materials used in this project