Top Homes
A durable kitchen and dining area for an arty family with children
Emma Rapala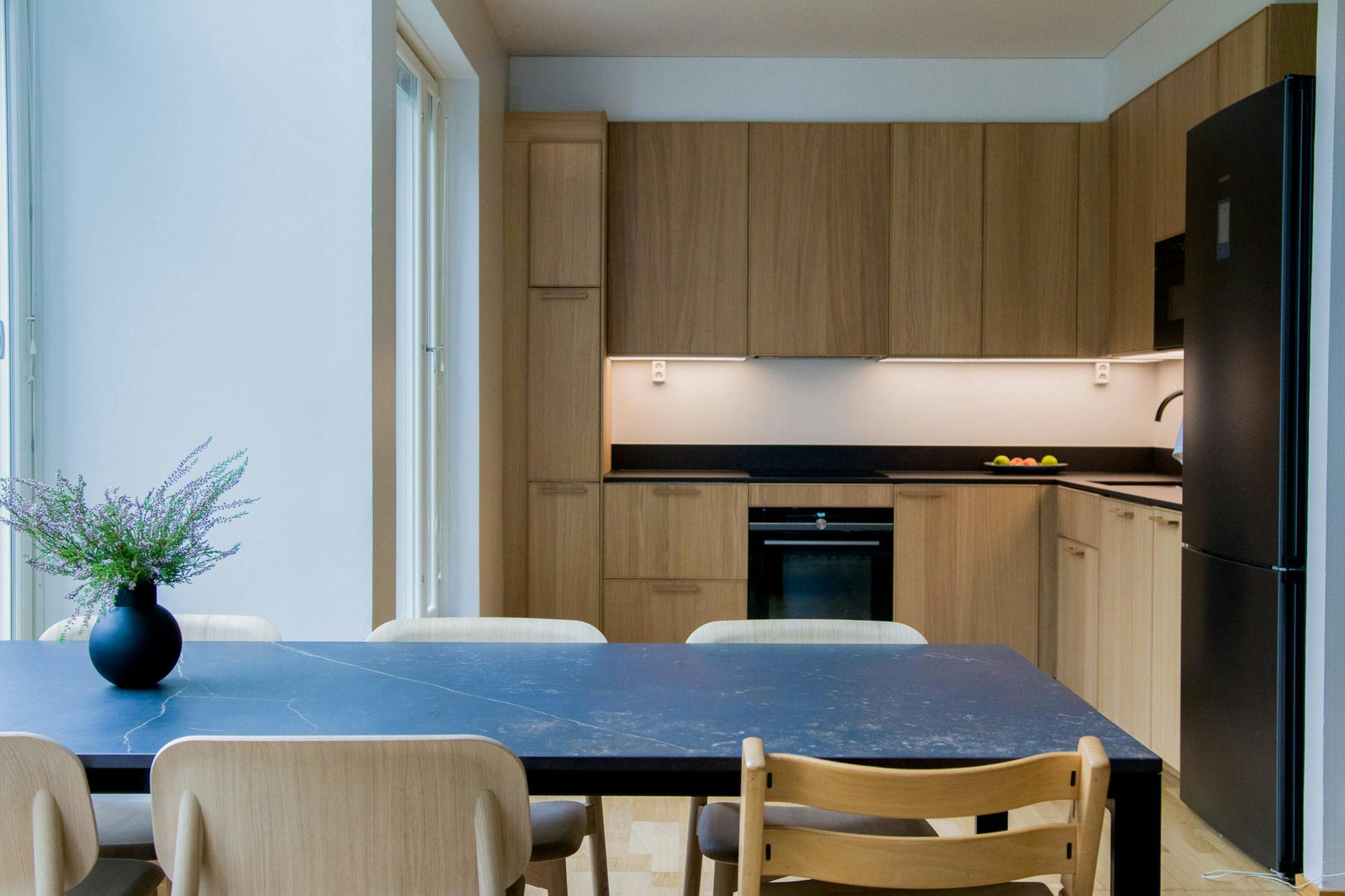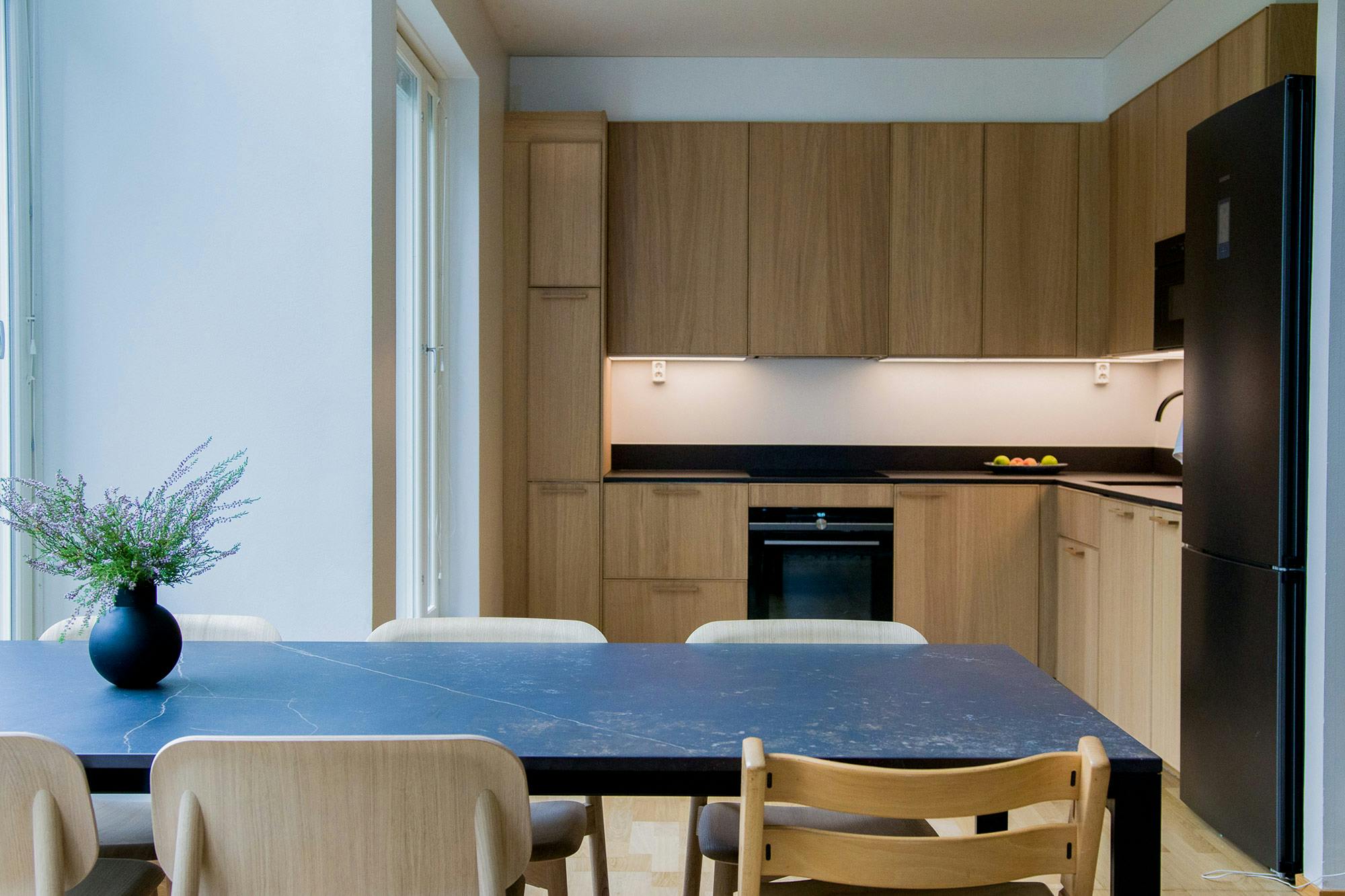 Anwendung
Kitchen worktop, dining table
Architektur/Design
Emma Rapala
When Emma Rapala (@leikkileikkina) started designing the kitchen in her new home, her main priorities were its practicality and durability. In a family with children, the kitchen has to withstand the pressures of constant cooking, mess, water spills and bumps. Rapala's family wanted to have a kitchen that they didn't have to worry about damaging.
This starting point made it easier for them to limit the number of possible materials, which seemed endless at first. The matte lacquered cabinet doors and marble worktop in the family's previous home were immediately ruled out, as they didn't want the kitchen in their new home to have any materials that were delicate or difficult to maintain.
"Dekton is the perfect material for a family with children. Every day, I'm genuinely happy with our choice of material! Cooking is easy, as I can take hot ovenproof dishes from the oven and place them directly onto the worktop surface without having to worry about staining or damaging it. Dekton is an extremely durable and non-porous material, which means that I can spill some wine on it or even use it as a chopping board if necessary. The same surface material extends from the worktop to a 15 cm backsplash. We had this same practical solution in our previous home, and I find it calm and simple."
"IKEA's oak veneered Ekestad doors are timelessly elegant and natural while also easy to maintain. We wanted to have a kitchen that stands the test of time in terms of both its appearance and quality."
The choice of kitchen worktop is one of the most important in designing a new kitchen. Rapala's choice for her kitchen was a black, textured 20 mm thick Dekton Sirius worktop.
"The dining table in our home is used for much more than dining. Sure, our family eats at the table five times per day, but our dining table is also used for activities such as arts and crafts, reading, painting, or moulding plasticine almost daily. Sometimes the table can take a beating from our children. Fortunately, the table we acquired for our new home is extremely resistant to wear and tear. Our dining table is truly perfect for a family with children!"
"Our dining table has a Dekton Kelya worktop. Everyday dining and arts and crafts are now more carefree than ever. The worktop's beautiful design is on display in all its glory. Most food stains can be removed with water alone, or, if necessary, a mild all-purpose cleaner. The stains left by our children's water-soluble paints are easy to clean, and, thanks to the material's impermeable surface, even acrylic paint stains and lacquer stains can be removed effortlessly. 16JUIN provided a perfect black metal frame for the table. The stand-alone worktop wasn't lifted onto the frame until both were in our dining room. Combining a worktop with a separate table frame was a great alternative to purchasing a ready assembled table, allowing us to have exactly the kind of table we wanted."
Cosentinos Materialien, die in diesem Projekt verwendet werden