Top Homes
A Mediterranean style home with a contemporary character thanks to Dekton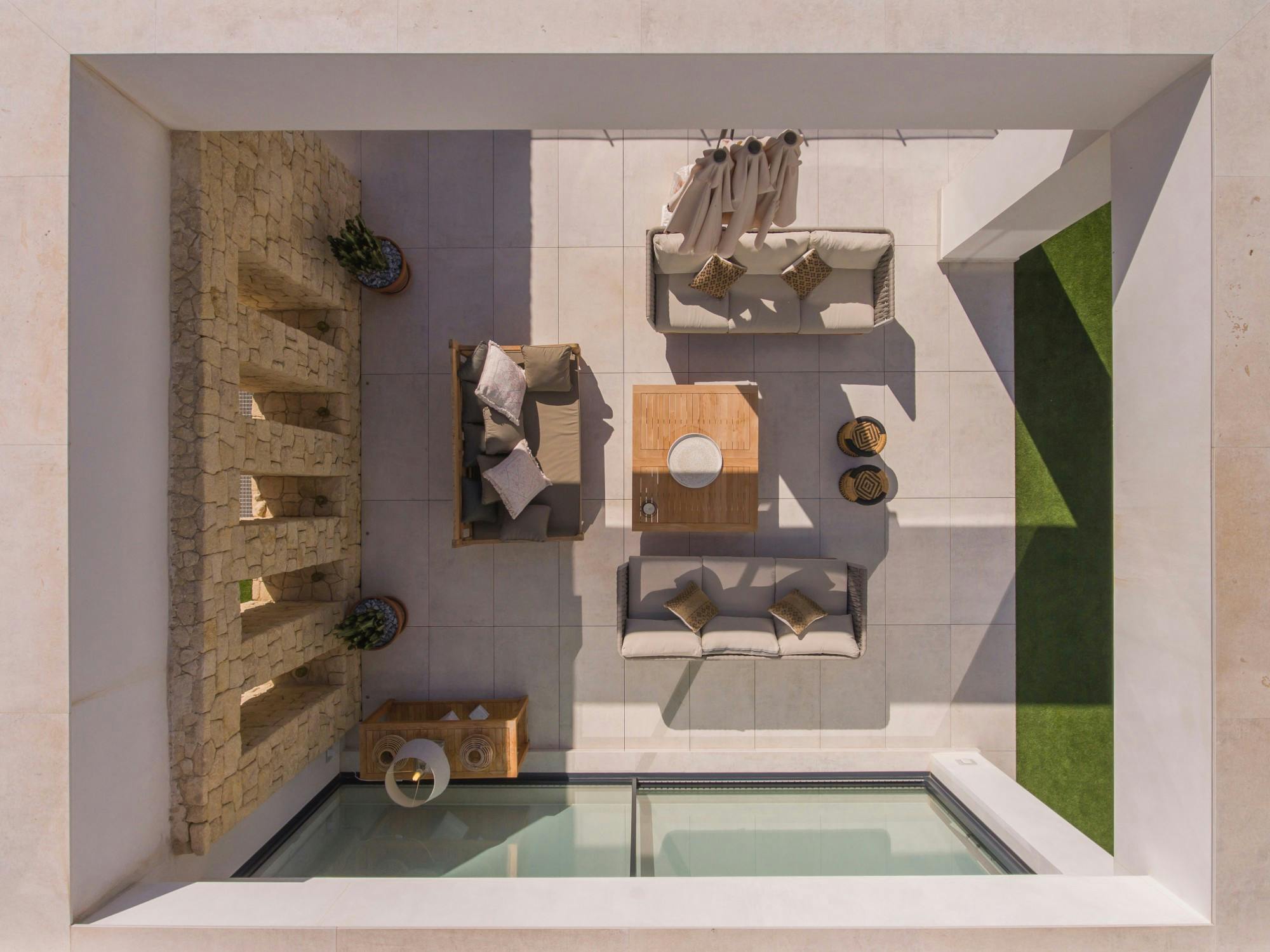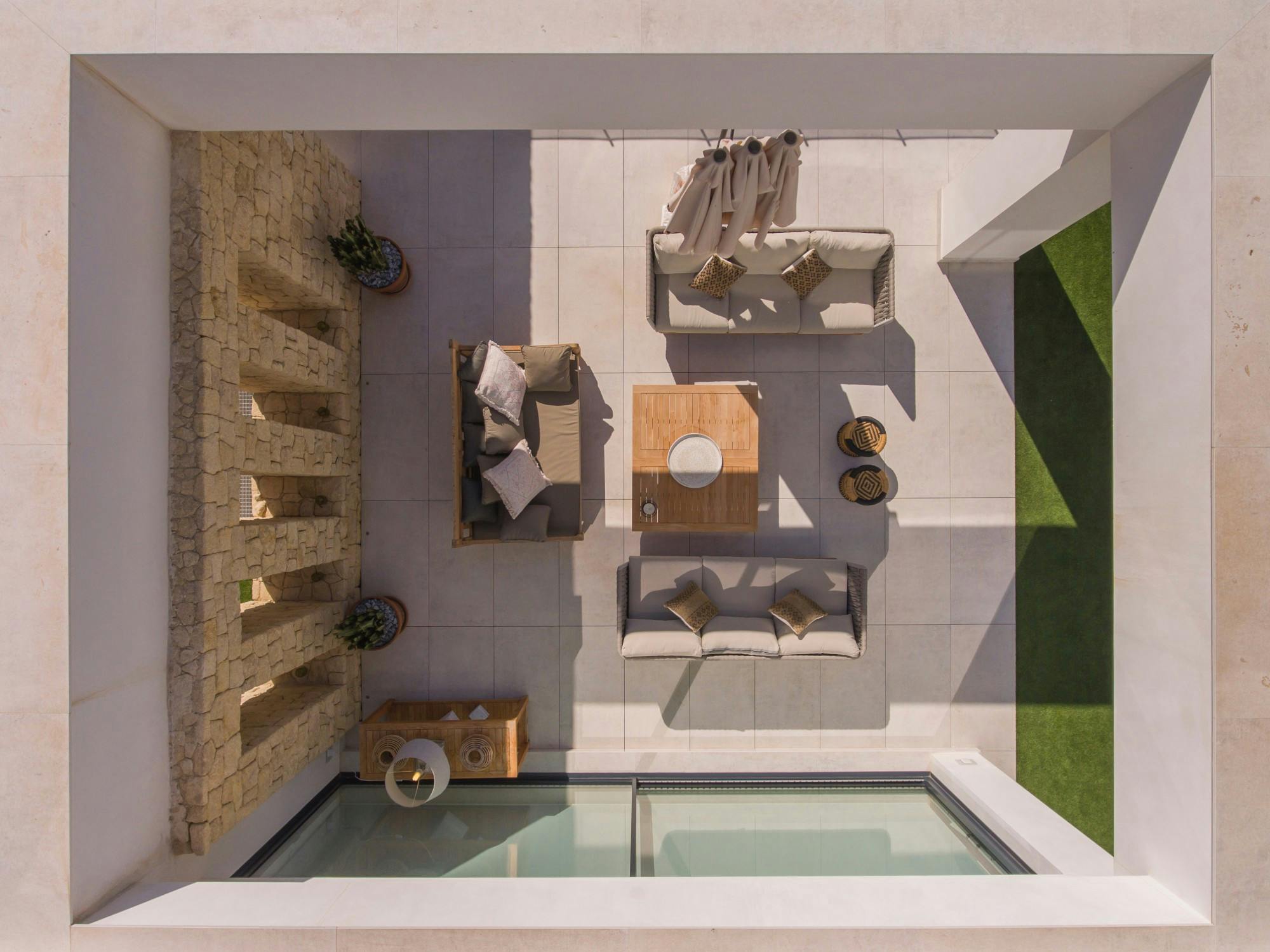 Ort
Vera, Almería (Spain)
Farbe
Laos | Bergen | Entzo | Opera | Micron | Vera | Lunar | Soke
Anwendung
Kitchen island, flooring, cladding, shower trays, worktops
"We were looking for a mix of wood, stone and ceramics to give the house a Mediterranean touch", say the owners of this modern house in Vera (Almería, Spain). After buying the plot in 2012, it was not until 2021 that this couple with children decided to start building their 250-metre home (plus basement), planning the project requirements together with the architect. They chose the finishes and decoration themselves.
"The house has Dekton everywhere", they say. "It is a very clean, non-porous material, which is great now that we have a puppy. We don't have to worry about what might be left behind, as is the case with marble! Besides, we love its wide range of colours".
Regístrate en C·Top Design
Podrás formar parte de nuestra comunidad de diseñadores y acceder a multitud de servicios exclusivos.
Indoor-outdoor connection thanks to a very versatile flooring
All the floors feature Dekton Lunar, a reinterpretation of conventional cement inspired by industrial design with an off-white background that makes it very trendy. The outdoor flooring is also made of the same material, creating an indoor-outdoor continuity which is very much on trend.
The terrace features a combination of Lunar and Soke, a colour also inspired by classic cement flooring with a realistic veining in an attractive range of greys and which was used for the large table and outdoor shower tray. The same colour scheme is used for the swimming pool, clad in Lunar, while its fountain features Soke.
Inside the house, the refined island kitchen stands out, made by Proyecto Cocina Studio. Dekton Bergen has been applied to its spectacular island, inspired by natural Portobello stone. The beauty of its greyish veins, with a sculptural pattern on a whitish background with delicate filigree, makes it a trendy design full of character and elegance.
In addition, the island has an office area also in Dekton. Specifically, the colour chosen was Micron, a dark gradient on a black background. A timeless design reminiscent of the most outstanding microcements on the market.
Four bathrooms with distinctive character thanks to Dekton
The ultra-compact surface, which is available in an endless range of designs and colours, also plays a major role in the bathrooms. For the hall bathroom they chose Dekton Laos, a dark, weathered colour with a very contemporary soft matt finish.
"We saw this colour in the Almería showroom. It was outdoors and, as we got closer, the indirect light on its surface reminded us of our honeymoon in Vietnam and Cambodia", says the couple. Following this inspiration, they designed a bathroom with Asian touches.
There are three other bathrooms in the house. The first is next to their son's bedroom and is clad in Dekton Vera, "in honour of the place where we live", in the words of the owners. Its cement background makes it a fusion between the natural and the industrial, while its pale veining break with conventional colours and brings an innate delicacy.
For their daughters' bathroom they chose Dekton Entzo, a flagship colour inspired by Calacatta Gold marble. This colour is well known for the realism and naturalness of the random pattern of its golden veins. 
Last but not least, the couple's bathroom is clad in Dekton Opera, a colour inspired by fine Italian Carrara marble. In addition, the new Dekton Velvet Texture gives it a velvety finish that is sensational to the touch. 
"We love Cosentino products", say the owners of this spectacular house. "Recently, we have even used Dekton to clad an aluminium shed near the swimming pool and it has turned out beautifully".
Regístrate en C·Top Design
Podrás formar parte de nuestra comunidad de diseñadores y acceder a multitud de servicios exclusivos.
Cosentinos Materialien, die in diesem Projekt verwendet werden