Top Homes
An exceptional modern haven facing the Aegean Sea that uses Dekton to blur the boundaries between inside and outside
Dermice Norms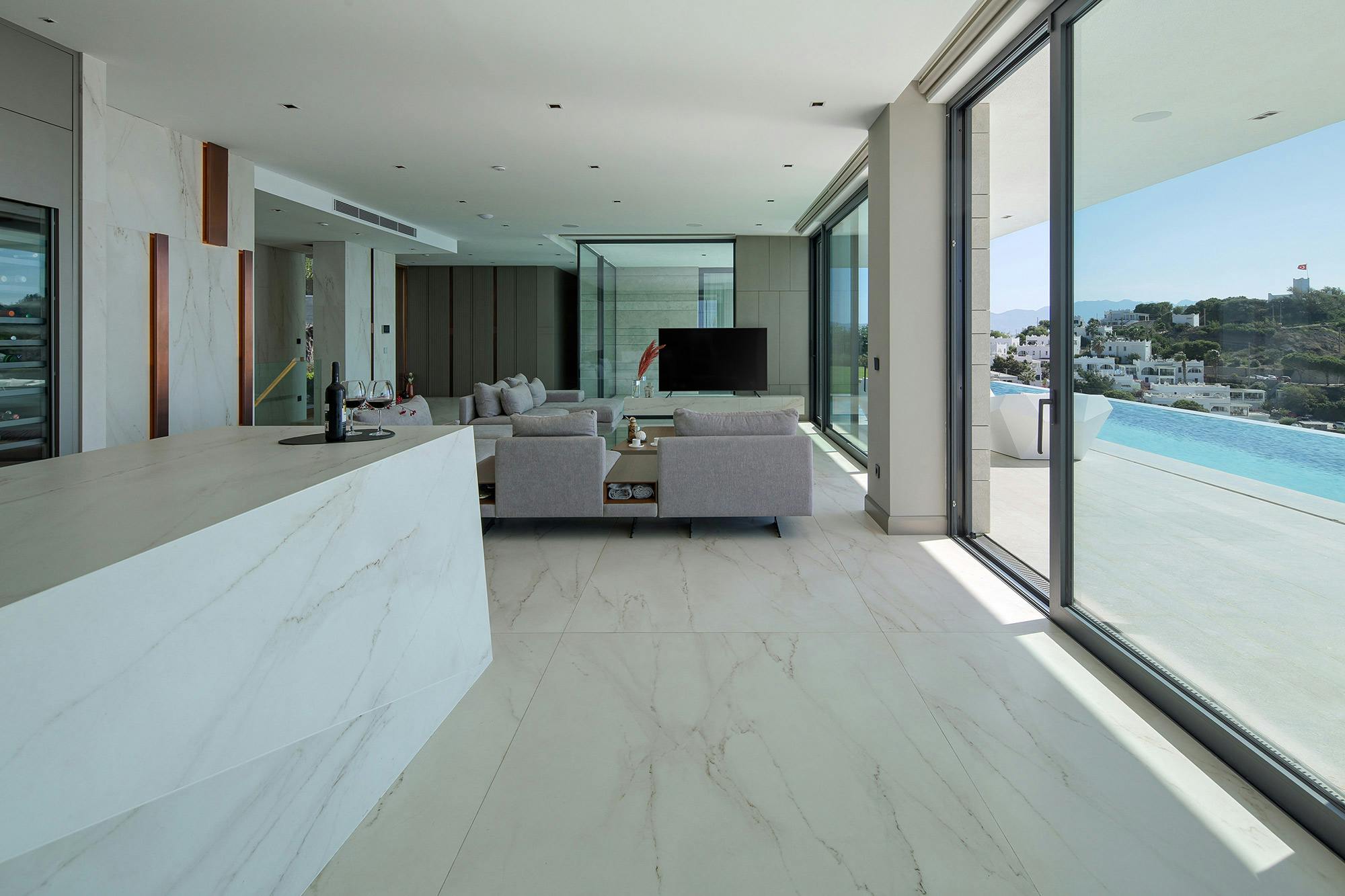 Anwendung
Wall cladding, flooring, furniture, kitchen worktop and island, outdoor applications
Architektur/Design
Dermice Norms
There are houses with a design that takes your breath away. Perched high on a hill overlooking the sea, this is clearly one of them. Its open plan design, fully oriented towards the sea, its common areas and even its master bedroom stand out for their ability to blend indoors and outdoors through the use of glass and similar materials in these spaces of neutral and warm shades.
However, what is more striking about the architecture of this modern villa is, without a doubt, its vast swimming pool, which borders the entire front perimeter of the house. In addition, to enhance the feeling of indoor-outdoor integration, water is 'brought' inside, making it accessible from the living room through a large glass door.
According to its architects, this dream home in Bodrum, a small coastal town in Turkey known for its spectacular scenery, "dances with the light".
"The house was designed to let all its colours dance inside and out, to cool them with a calm and simple atmosphere", the studio says. "The material to provide this feeling had to be high quality, so that it could be used for floors, walls, wet areas and furniture cladding, from the barbecue area to the living areas in the garden".
The marbled look of Dekton Rem for an elegant and refined finish
The studio found the answer to their wishes in Dekton, Cosentino's ultra-compact stone made from an innovative blend of more than 20 minerals extracted from nature. Indeed, its versatility and durability make it perfect for all types of applications, and its availability in a wide range of colours ensures finding the ideal colour for every project.
For this project, the studio chose Rem, a colour inspired by one of the most elegant white marbles on the market. The detailed design of its brown and grey veins with touches of gold enhances the sobriety and almost linear structure of Calacatta marble throughout this sophisticated villa.
This way, Dekton Rem was used to clad different walls, floors and pieces of furniture, as well as the kitchen worktop and island. Even the outdoor furniture was clad with this high performance material, giving the house a homogeneous appearance.
Dekton, the material chosen for its perfect resistance to moisture, sea salt and UV rays
"To achieve the desired effect, we needed a large, long lasting, useful and natural material. We also appreciated its ability to remain as good as new for many years, despite the wear and tear caused by UV rays and sea salt. The fact that Dekton is a durable material, which does not stain, was a key aspect of our decision", the studio explains.
And they go on to say: "Thanks to Dekton Rem we achieved our dream architectural effect: the possibility of using it both indoors and outdoors allowed us to achieve the integrated design that we wanted. The result satisfied both us and the customer."
Cosentinos Materialien, die in diesem Projekt verwendet werden