The industrial style of Modern Times
The Industrial Style has its origin in the typical architecture of the late 19th-century factories that takes us to New York neighbourhoods such as Soho and the Meatpacking District. It was also inspired by the first cast-iron structures like the Eiffel Tower in Paris or the Grand Central Station in New York. Charlie Chaplin in Modern Times conveys very well the industrialised world in which the new century began.
The industrial style is still very present over a hundred years later and it can be seen in many examples of architecture and design. Modern versions of industrial design can be found when recovering the original features of homes – e.g. demolition elements, pipes, fireplaces, flaws – and finding beauty in imperfection. This is what the Japanese call the wabi-sabi aesthetics, which is basically an updated version of the late 19th-century industrial style.
Best-selling colour of the industrial series
Silestone Loft, inspired by the industrial style
The industrial decoration follows urban aesthetics. The raw materials used are unpretentious, in black and grey, reminiscent of the iron and concrete of those early factories. Exposed bricks and large glass skylights are also characteristic features of the industrial style. The only exception to this is the brown colour of the tobacco-coloured leather and untreated wood.
All these colours and shades are present in the new Silestone Loft collection: from the worn black of Corktown to shades that imitate grey concrete -as in Seaport- or sand -as in Poblenou. In contrast, Nolita is an evocative creamy white that completes the colour range of this journey through the world's most cosmopolitan cities.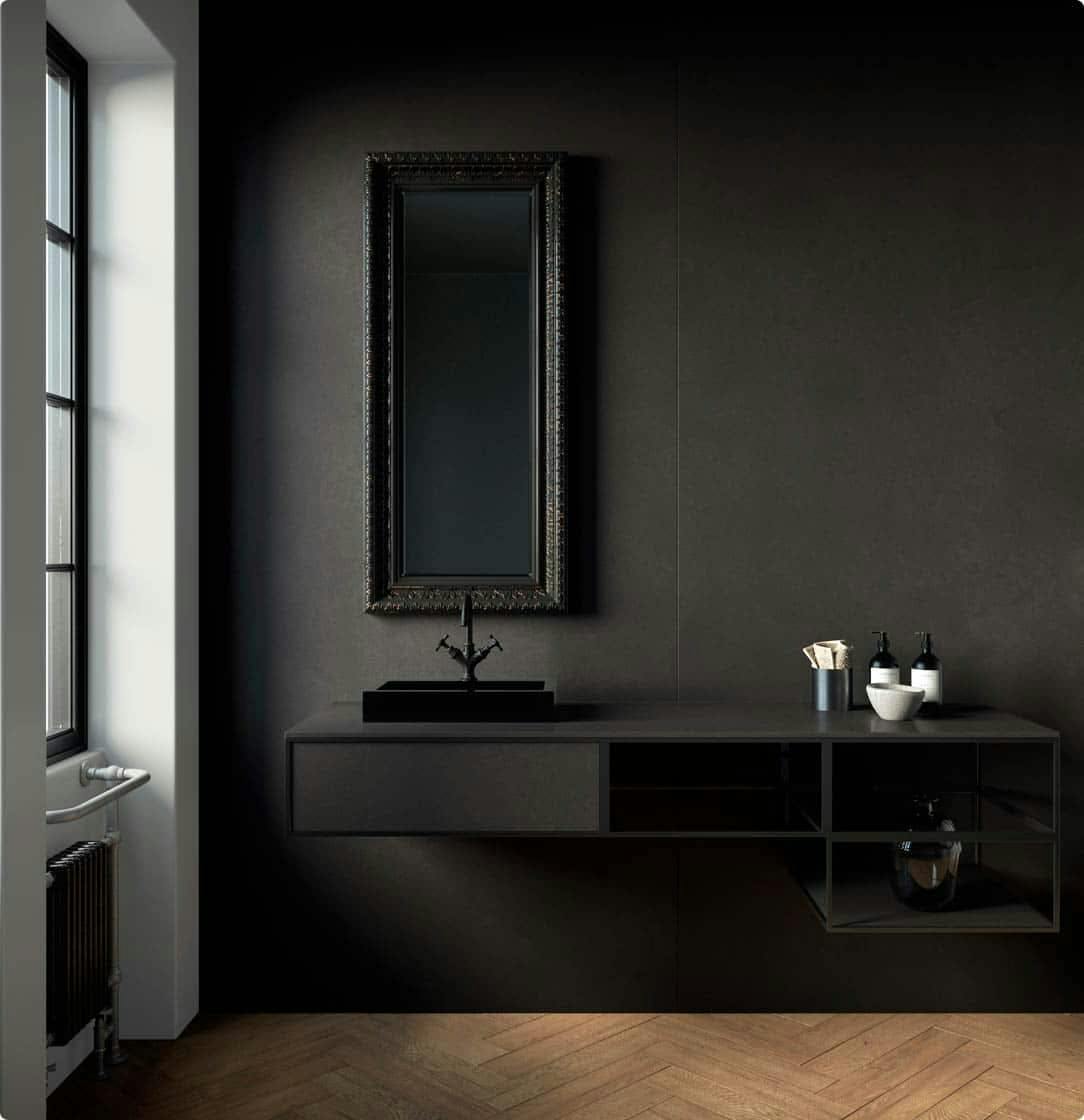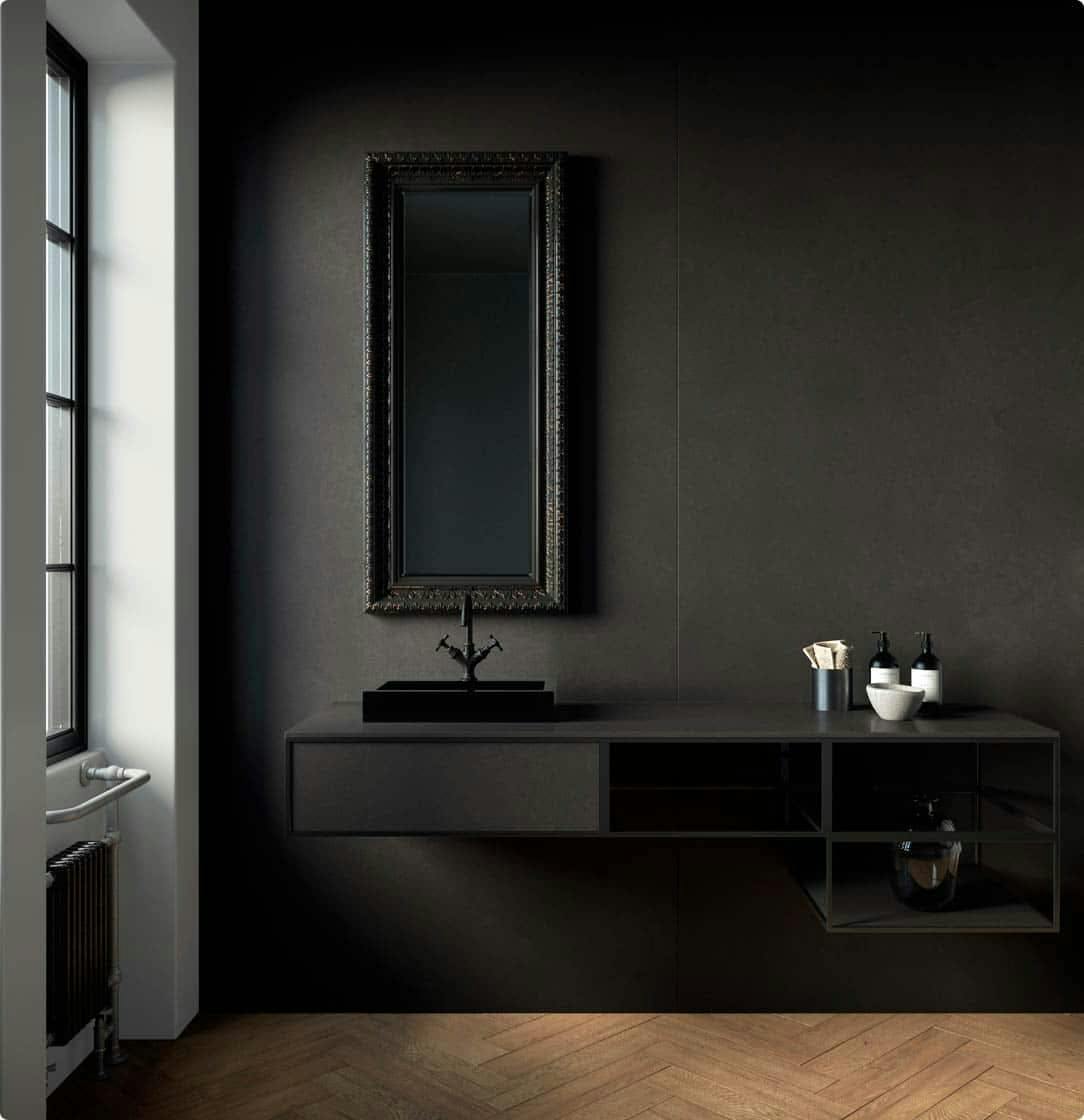 Even black
Black is the flagship colour in the industrial style. It is perfect for floors, wall cladding, kitchen and bathroom worktops. Dekton has introduced its own Industrial Collection to remind us of the beautiful imperfections of metal and stone in their aging stages. Discover the Dekton 'rusty' black colours of Milar, Laos or Radium.
The mixture of volcanic stone, grey and black colours of Trilium, created with 80% recycled material, is also very interesting. Or the flowing dark background with metal shades of the Dekton Embers surface, from the Liquid Collection.
Grey in the industrial style
If your space is small or you don't want to use a lot of black, grey is another very interesting choice in industrial decoration. You can opt for graphite shades such as Silestone Cemento Spa, choose Niebla grey or one reminiscent of aluminium. There are also taupe coloured materials such as Dekton Soke from the Industrial Collection, which fit perfectly with any decorative idea.
Discover Dekton and Silestone grey shades and use them in your industrial style project.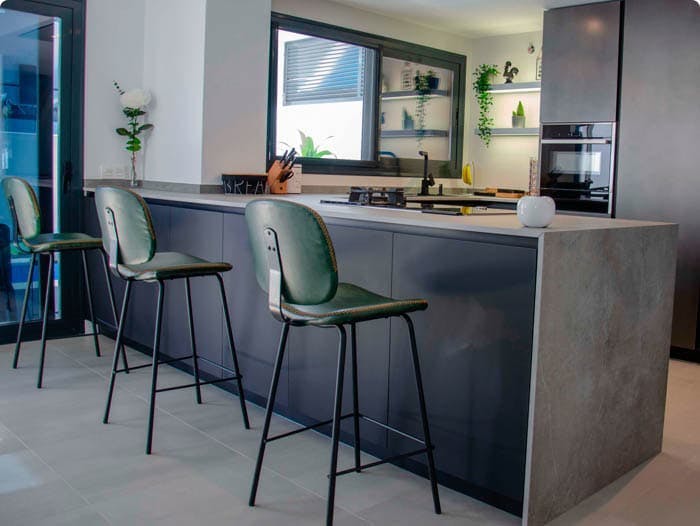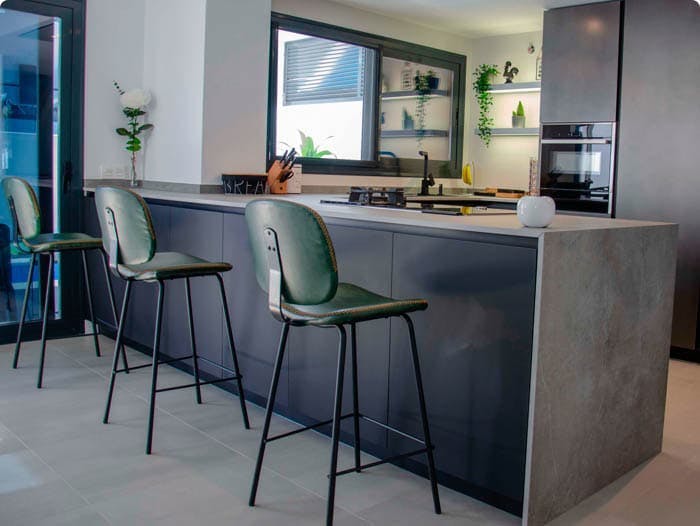 Orix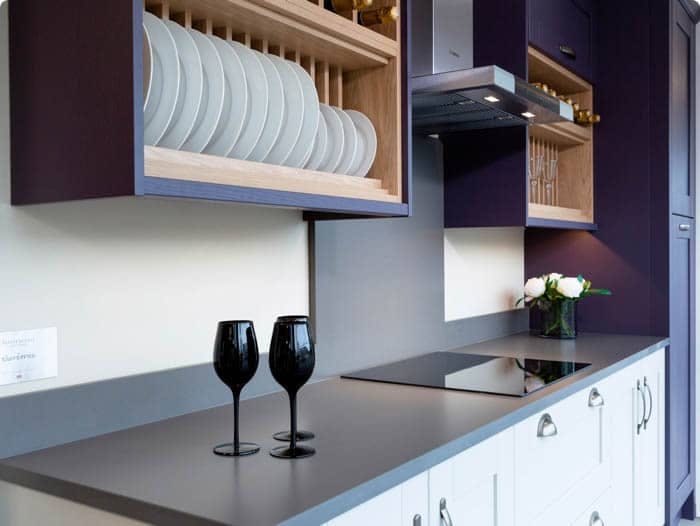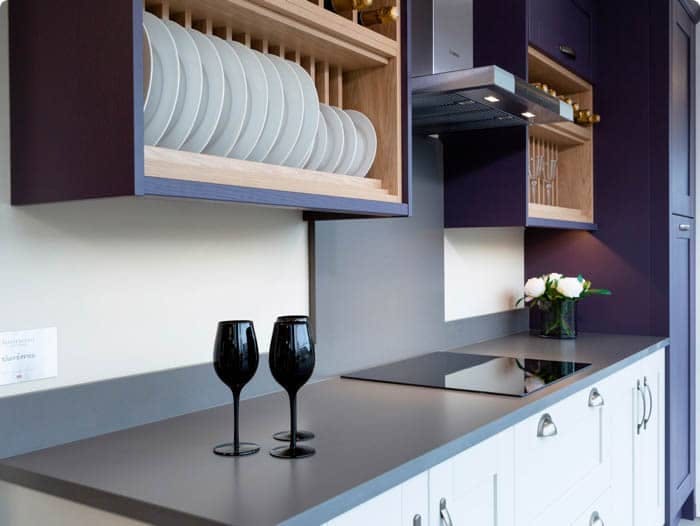 Cemento Spa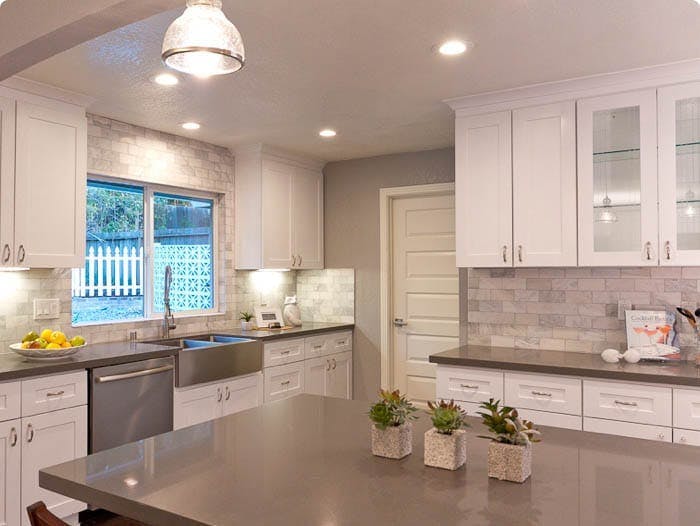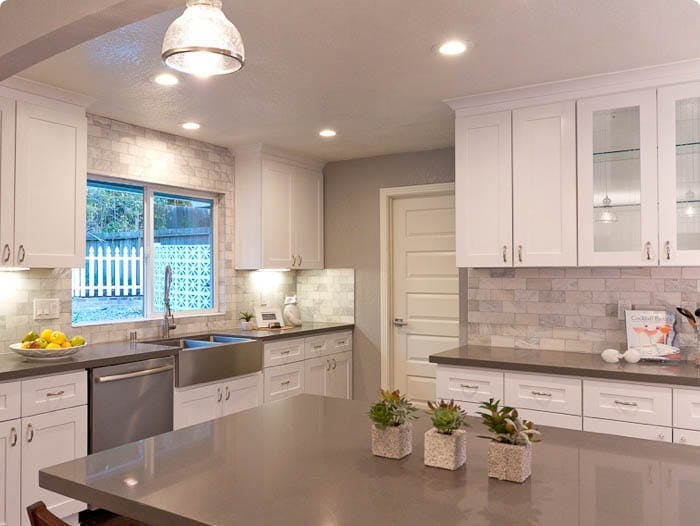 Aluminio Nube
Industrial style decorating tips
Cosentino offers you many options to achieve an industrial décor in your living room, kitchen or bathroom, from cladding to worktops, washbasins or shower trays:
Remember to use black or grey as a base and brown or copper as secondary tones.
As for the finishes, the volcanic or ultra-textured finish is the most suitable. But do not overdo it. The key is to combine them to achieve a distinctive industrial decoration.
Unify your space with a single material for the floor so that you achieve the loft effect. Opt for the large format to create an infinite and seamless space that reminds us of polished concrete.
For wall cladding, there are several materials to choose from. Combine black and grey and leave an unfinished wall, with exposed bricks and imperfections.
When you choose taps, lighting and furniture, remember that iron and black are your best allies.
For a bolder style, add some features in brushed copper, for example on taps or handles.
In line with brown shades, tobacco-coloured leather is ideal for kitchen stools, chesterfield sofas or armchairs. If your space also features an antique finish, the industrial effect will be more than guaranteed.
Embrace the charms of the industrial style by finding inspiration in a good film… in black and white!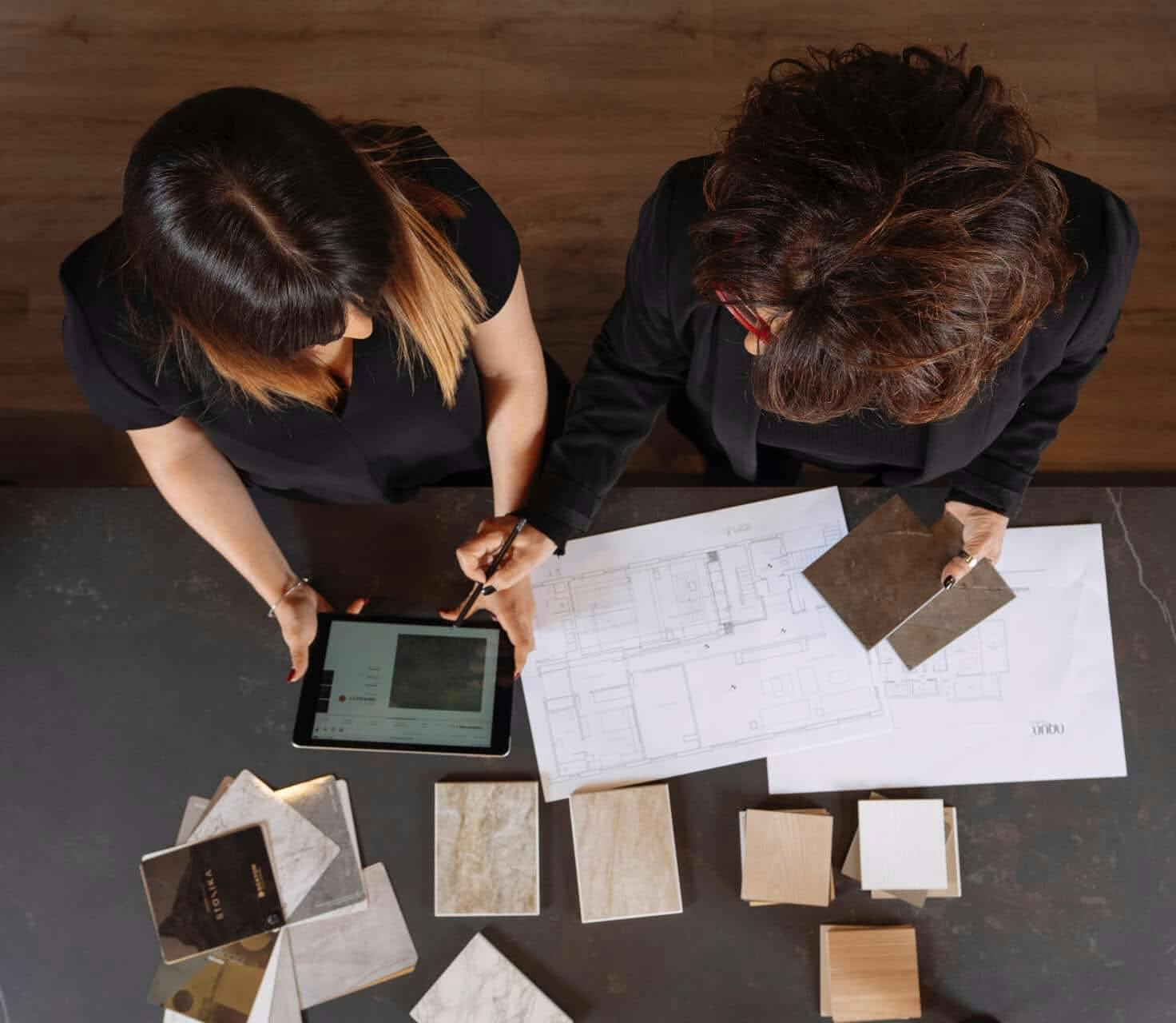 Find your closest Cosentino Dealer
Locate the Cosentino-certified shops and fabricators nearest you!
Go to locator