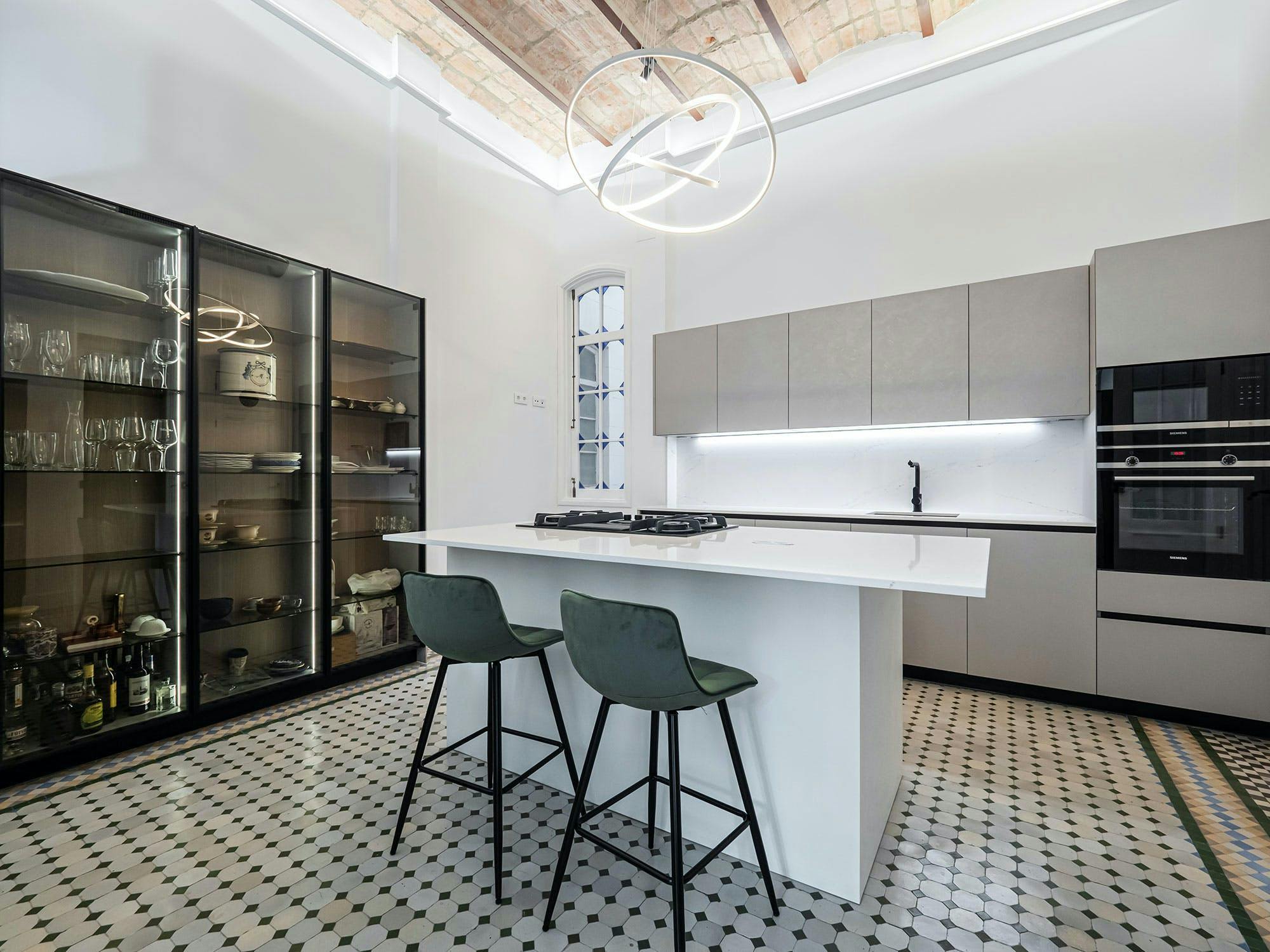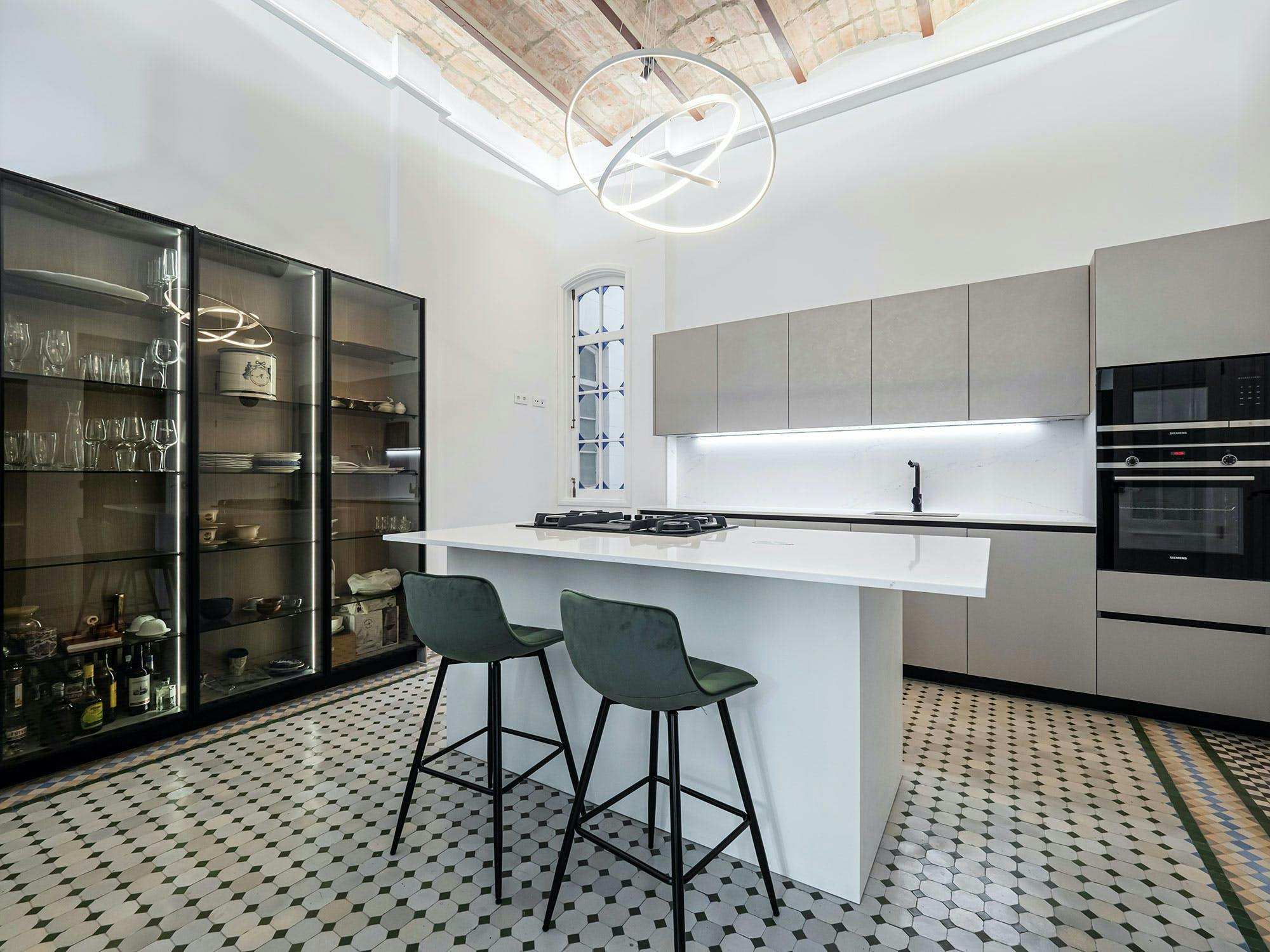 Choose a white worktop that will never go out of style
Who hasn't dreamt of having a kitchen with a stylish white worktop? Spacious, bright and timeless, a white worktop is one of the most popular choices among interior designers and homeowners worldwide.
It comes at no surprise. At Cosentino, we also have a crush on white colours, from marbled designs to plain and textured whites. Our Dekton and Silestone brands offer a complete range of white colours, in all styles and for all surfaces and projects. There are more than 60 shades of white available in our colour finder.
Advantages of choosing a white worktop for your kitchen
The advantages of choosing a white worktop for our kitchen are many and well known, but it is always a good idea to point them out to all those who are not yet convinced of this option:
White brings light and airiness to any space, which is specially useful when it comes to small, dimly lit kitchens.
White conveys hygiene and cleanliness. As all the details of the worktop are clearly visible, special care must be taken to keep it clean. However, with just a little maintenance it will look spotless.
White worktops are timeless and outlast all fashions and trends. If you choose this design, you will never get bored of it and you won't need to renovate it again in a few years' time.
White goes with any material. A white worktop is therefore totally versatile. You can combine it with wood, natural or industrial stone, metal or cement.
White Silestone and Dekton worktops are resistant to stains, impacts and scratches. Depending on the use you are going to give to your kitchen and whether it will be an indoor or outdoor kitchen, we will recommend one option or the other, but in any case, with the best technical performance.
White is perfect for integrating the kitchen with the rest of your home, facilitating the interconnection of spaces thanks to its versatility and neutrality.
White worktops highlight accessories and other decorative elements that can vary depending on the season or trend, allowing you to bring your kitchen up to date without making a big investment.
Different veining to suit any style
As already said, Cosentino offers a wide range of whites for worktops and other surfaces in the home, such as bathrooms, floors, swimming pools, façades and pieces of furniture, among others. As part of our latest collections, we have launched different marbled whites with very original and varied veining. Here are some of our highlights to inspire you in your choice of a white worktop:
Malibu and Laguna, Silverkoast collection
These versatile colours feature a white background with short veins running through the entire surface. Its uniform and delicate structure makes it easy to incorporate into any design. It is available with a velvet or polished finish.
Marina and Salina, Silverkoast collection
With a design inspired by the classic beauty of Carrara marble, but reinterpreted through the lens of Dekton, these colours combine the beauty of natural stone with state-of-the-art technology and cutting-edge performance.
Neural, Onirika collection
A light cream-toned base with fine, pale veins that run through the marbling, creating a fascinating neural network that moves in the same direction.
Vigil, Onirika collection
This colour recreates a strong Calacatta structure with thick veins in gradients of light and dark grey combined with a subtle touch of gold.
How to combine a white worktop
The answer is… as you wish! If there is one thing that characterises white worktops is that they adapt to any decorative style and can be combined with any type of material.
We have a wide range of designs waiting to inspire you and make you find your own personal style through these kitchens clad in Silestone and Dekton.
White worktop with wooden furniture
This combination results in modern, warm and welcoming designs that are always a hit. This minimalist Scandinavian style is on trend and brings calm into the home.
Total white look
Kitchens with white worktops and furniture are bright, spacious and modern. The key to success is to break up the look by adding wood or gold details that add character to the kitchen.
Black & white look
The black and white combination is a constant classic that is updated year after year. Elegant, sober and modern, it adds character to the whole room.
White worktop with brightly coloured furniture
Another big trend in recent years is the use of bright colours in the kitchen. In this case, we recommend combining white worktops with green or blue furniture.
How to keep your white worktop clean
Thanks to the excellent properties of our Dekton and Silestone surfaces, the maintenance of your kitchen will not be a headache, as following these simple cleaning tips will suffice:
Apply neutral soap to the affected area and gently rub in a circular motion with a damps microfibre cloth.
Leave to work for a couple of minutes. Then, with a cloth, wipe off any soap residue. Finally, dry it with kitchen roll.
You can also use Q-Action, a cleaner specially designed for the hygiene and disinfection of kitchen worktops that contain self-drying components and natural soap.
To remove stubborn stains such as wine, coffee and food colouring from your Silestone surface, you can use a 15% bleach solution in water, leaving it to act for no more than 2 minutes. In the case of Dekton surfaces, simply apply some detergent and rub gently.
Check out all the white colours of our new collections in our colour finder and remember that you can visit one of our Cosentino Cities to get inspired and choose the colour that best suits your project.