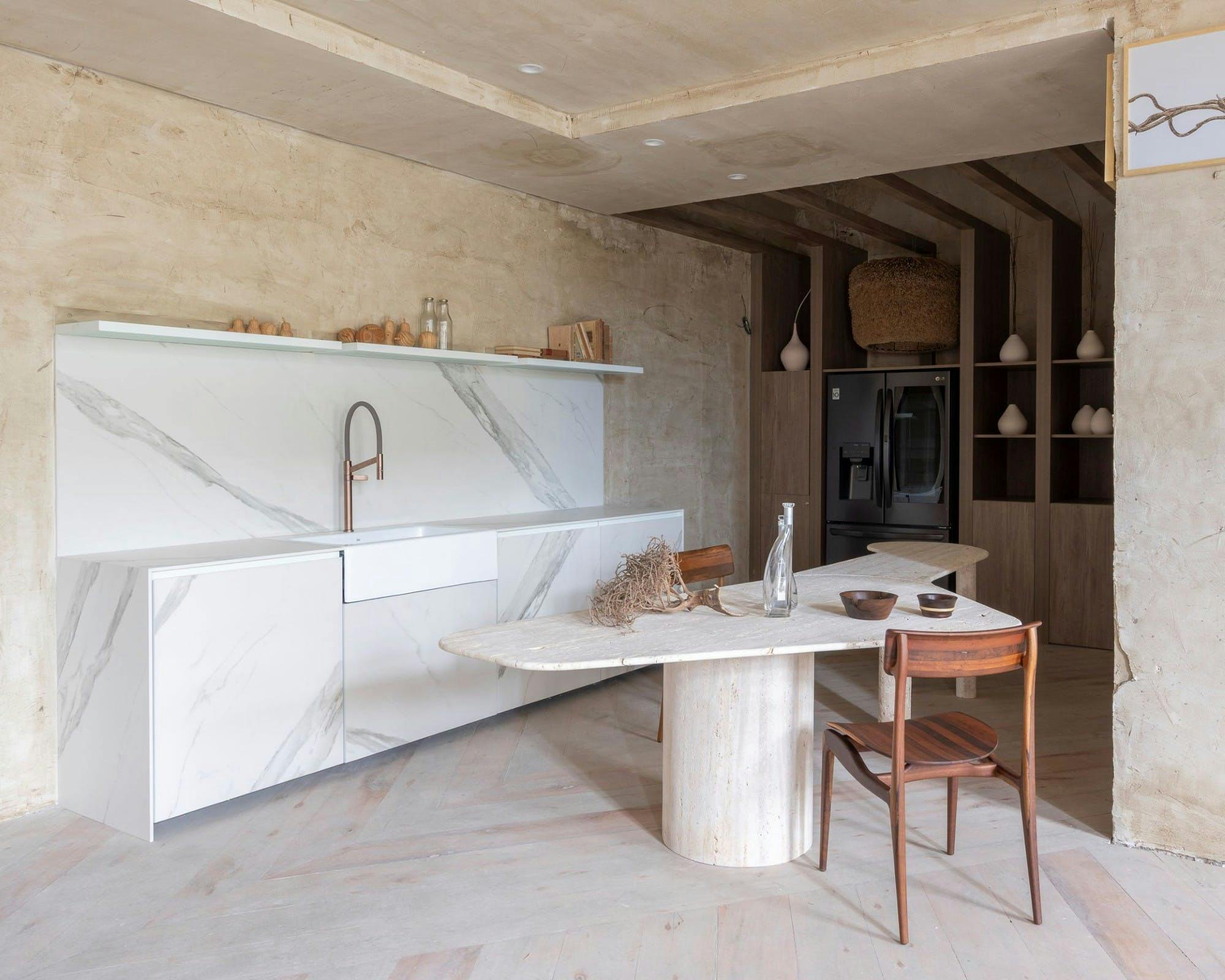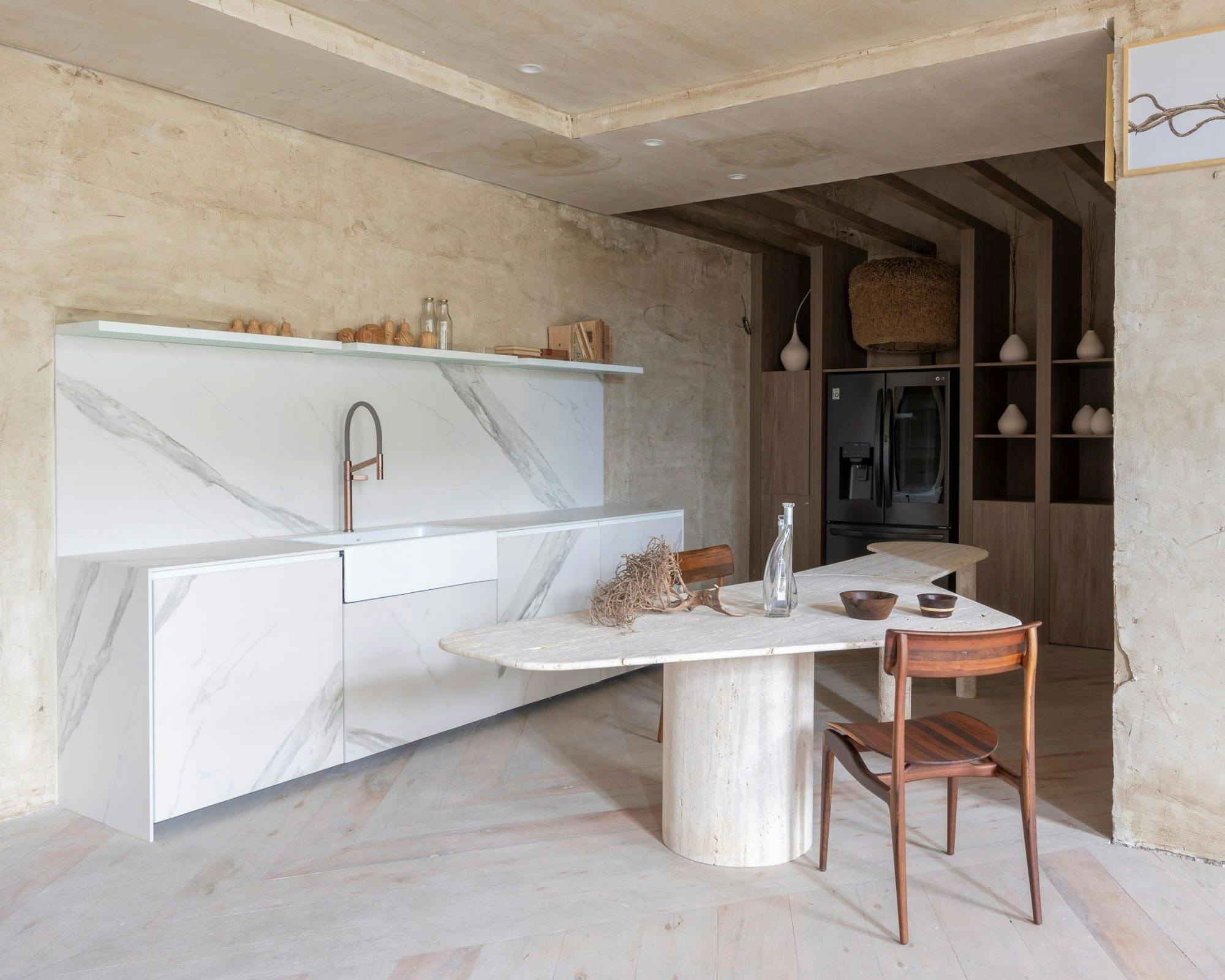 Keys to a natural-style home
The natural style is a trend that has been on the rise for some time now and is here to stay. No wonder, as more and more people are looking to create spaces of calm and tranquillity in their homes, and this style is all about just that. It is a trend that connects us with nature, using handmade products, natural materials and raw, imperfect finishes. It is, in short, an update of the rustic style, which mixes country elements with more modern ones, but always featuring organic materials, soft tones and natural fabrics.
Read on to find out how to embrace a natural look in your bathroom and kitchen with the help of Cosentino's design surfaces.
Why the natural style is on trend
The natural style is and will remain in vogue because it is linked to two major trends in interior design, which have been growing in recent years.
Interiors that convey calm and well-being
In the aftermath of the pandemic, people are looking for interiors that induce a sense of well-being and calm, as opposed to the stress and uncertainty of the outside world. Our homes become sanctuaries filled with natural light, neutral colours, uncluttered and tidy spaces.
Specifically, this trend is dominated by materials such as cement and wood,
natural fibres and Mediterranean-style décor with soft textures.
Biophilic design, the basis for a natural look
Biophilic design is based on the concept of biophilia, the human need to connect with nature. This innate attraction has prompted architects and designers to introduce elements of nature into building construction and interior design.
The highlights of this trend are natural stone, rounded, organic shapes and a warmer, more vibrant colour range that evokes nature.
The natural style draws inspiration from these two macro trends and permeates the interiors of homes, restaurants and hotels all over the world.
Furthermore, this style has local nuances in each region, as local materials and decorative features are used to give each room its own character. For example, in the natural Mediterranean look you would expect to see turquoise blue accents, whitewashed walls, wicker furniture and esparto grass decoration.
Natural-style kitchens
Cosentino offers you the most innovative surfaces to design your kitchen with a natural look. One of our latest collections, Kraftizen by Dekton, inspired by traditional Venetian stucco, brings texture and a natural feel to surfaces, with an imperfect touch. It can be used for wall cladding, kitchen fronts and worktops, as well as for furniture cladding with its 4 mm thick Slim format.
Another Cosentino collection ideally suited to achieve this look is Wild by Dekton, with colours inspired by natural wood. As you know, wood is an essential material in this aesthetic, but its use is not usually recommended for surfaces such as kitchen worktops. That is why Dekton Valterra brings together the best technical features with the warmth and texture of wood.
You can combine our surfaces with natural style features to get the result you are looking for. Here are some tips to help you achieve this:
Use wooden tableware, such as cutting boards, trays and platters. Bamboo is one of the most popular choices.
Combine wooden chairs and tables with natural fibres such as rattan or wicker. Feel free to experiment with different types and shades of wood, you will be overwhelmed by the result.
Use locally sourced natural stone and complement it with sustainable surfaces inspired by nature, such as Silestone or Dekton by Cosentino.
Light up the rooms with large lamps made from natural fibres, which will add the finishing touch without overpowering the space.
How to achieve a natural look in your bathroom
The bathroom is another of the spaces in the house where you can get it right by opting for a natural style, as you can achieve that atmosphere of relaxation and unwinding that you so desire.
In recent years, continuous surfaces, such as microcement, have been widely used to create this natural, raw look, although these materials can be slippery and unsafe. A good alternative to maintain this seamless and continuous appearance, which makes the bathroom look very attractive and hygienic, can be more resistant and large-format materials such as Dekton and Silestone. This, together with the wide range of designs and colours on offer, make them the perfect choice for achieving a natural look in your bathroom.
In addition to having the best design surfaces for your bathroom, consider these decorating tips for a complete natural look:
Use natural fibre baskets to store towels, toilet paper and other utensils. These will not only decorate but will also be very useful for keeping your bathroom tidy and clean.
Choose cotton towels in white and nude tones in line with this aesthetics.
Painted walls or wall coverings with an imperfect touch will give a more natural feel. Remember that our Kraftizen collection is perfect for this purpose.
Strategically place natural indoor plants in the bathroom to bring nature into this space. Minimalist, non-flowering plants are preferable.
Consider using furniture and décor with rounded, organic shapes, rather than lots of straight lines.