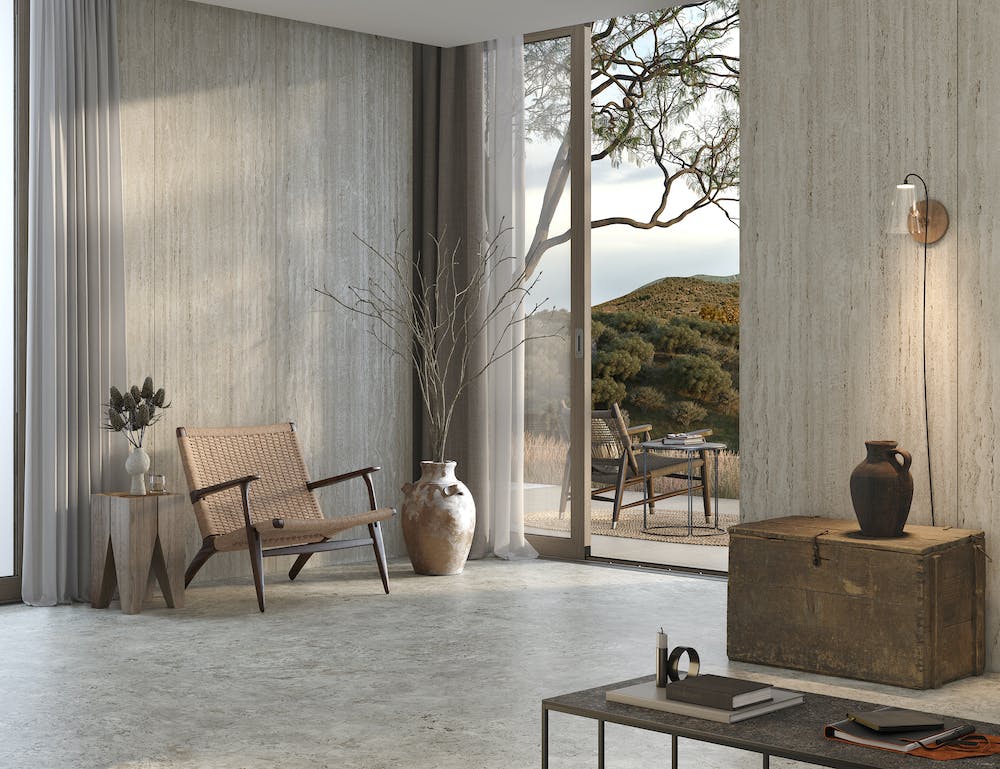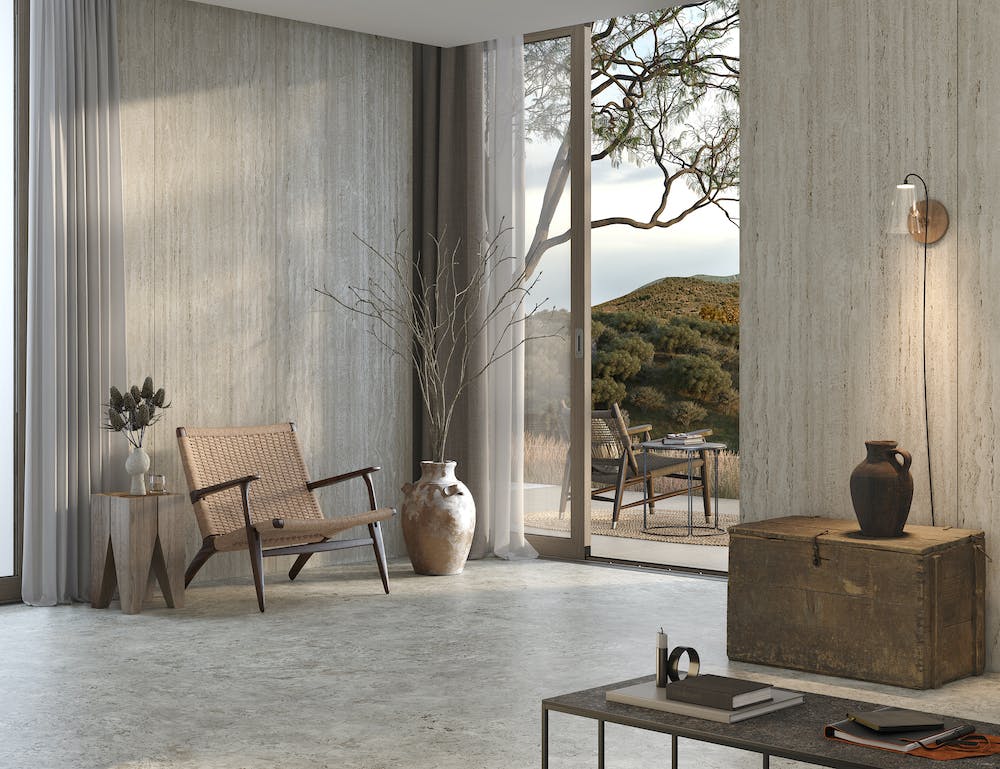 The latest in flooring for homes 2023
Our trend analysis team has put together the most important home flooring trends for 2023, which are all mostly based on the need to connect the outdoors with the indoors. This has been seen in an increase in the use of natural or naturally inspired materials, which help us to create these types of environments in our homes.
Whether you are selecting finishes for your latest home renovation or are undertaking a brand new project, flooring is one of the most important decisions that you will have to make. In this article we will help you with that mission, and, as a little teaser we can already let you know that light and wooden tones are definitely in this year.
Multifunctional homes
Homelife has changed over the last few years. Before the pandemic, we spent our days out of the house and hardly enjoyed any time there at all. We just used to come home in the evenings to eat and relax, but everything else we did was elsewhere.
Since having to stay home, we learnt about just how many things we could actually do there and started to rediscover some forgotten spaces. We started to spend more time in our house's rooms, and home DIY, furniture sales, and home decorations all dramatically increased.
In March 2020, our homes became our offices, gyms, restaurants, beauty salons, games rooms… and that meant that we had to reconfigure our spaces to adapt them to our new way of life. A way of life that allowed us to enjoy our home more, and now we have new habits and lifestyles.
Two of the spaces that have seen the most attention over the last few years are the kitchen and bathroom, as both are vitally important to our daily lives and in many homes they needed updating, both in terms of design and practicality.
Bathrooms steal the show in 2023
The bathroom has long been a forgotten space at home when it comes to design and decor, but of late it has become our own private spa, where we can pamper ourselves, wind down, and relax… That's why bathroom renovations have shot up dramatically and there is much more focus on their design.
These are the bathroom flooring trends that will be seen in 2023:
Highly characteristic marble flooring: this material is a given when it comes to bathrooms because it gives a sense of elegance and grandeur that makes us feel as if we were in an expensive hotel, without having to leave the house. At Cosentino we have Scalea, a range of wonderful natural stones with endless possibilities when it comes to colours, textures, shapes, and sizes. Due to its porosity, natural stone needs special care and attention for stains, unlike the other innovative surfaces with marble finishes that we have available, such as Silestone or Dekton.
Neutral tones inspired by nature: if there is one thing we want in a bathroom it is to be able to relax and disconnect from the outside world, which is why neutral tones are perfect. They are timeless and give a sense of serenity and peace, effortlessly combining with natural materials such as wood and raffia. Beige, sand, cement, and cream colours all follow this trend.
Large format floor and wall tiles: large format floor and wall tiles are the latest trend in interior design. Materials such as Dekton and Silestone, which combine the beauty of natural stone with high quality physical properties allow for continuously smooth surfaces to be created with minimal joints thanks to their large format, making them more hygienic with a clean design and finish.
Wood inspired materials: natural materials such as wood or bamboo are ideal to add a touch of quality to your bathroom and to get that much sought after natural finish. However, in spaces with so much humidity, it is best to use water resistant materials with a wooden inspired design to prevent the materials from deteriorating over time.
A perfect option is Dekton Valterra, a colour that takes its inspiration from natural wood patterns, with a colour range which goes from cream to red, with every shade of brown in between.
Kitchen flooring trends in 2023
Kitchens are becoming ever more important, setting the trend for the rest of the home. It is a space that we spend most of our time in when at home, whether it be cooking, eating, hosting, doing homework with the kids, or working. The reality is that our kitchen is where memories are made, and it must be designed accordingly.
This space has also been the focus of a lot of updates since 2020 and we have seen plenty of trends related to kitchen flooring:
Sustainable materials: these are a trend and now a necessity when building. Just as in other areas, we all want to consume consciously and opt for long lasting and high quality materials that withstand the passing of time without losing any of their aesthetics or qualities.
In this regard, at Cosentino, we have been working for years to ensure that our products are pioneers when it comes to sustainability, and we have delivered.
Dekton is our ultracompact, high performance surface made from highly resistant minerals. Its main features are its high scratch, stain, and temperature resistance.
It is also highly resistant to impact, abrasion, and changing temperatures, and does not absorb water. This means it is ideal for both indoor and outdoor flooring. It is also a sustainable material, as it is the only surface on the market with a Carbon Neutral certificate throughout its life cycle.
Silestone is the most advanced and sustainable surface on the market thanks to HybriQ, our own technology which enables us to create a new mix of high performance premium and recycled materials, such as glass, with the same quality standards as traditional Silestone, all with a production process that is powered by renewable electric energy and recycled water.
It is perfect for indoor kitchen finishes thanks to its high resistance to impacts, scratches, and stains, as well as being easy maintenance.
Neutral colours for a minimalist look: minimalist "monoblock" kitchens are on trend due to their elegance and simplicity. Just one colour is used for the fittings and finishes, combining these with neutral colours on the floor such as beige, sand, cement grey… Some of our suggested neutral tones for kitchen flooring are Dekton Lunar,  Dekton Albarium, and Dekton Nacre. The texture and neutrality of the colour prevent stains and dirt from being seen.
Wood inspired flooring for homes: just as in the bathroom, wood is a commonly used material both for kitchen fittings and flooring. Once again, Dekton Valterra is ideal for any space and means you do not have to worry about humidity or impacts as the warm wooden aesthetics will not be affected.
Overall, for 2023 we would say that naturally inspired neutral and warm colours are in and are best combined with shades of green and blue. The aim is to bring nature into the home and connect the indoors with the outdoors.
Both in the kitchen and bathroom, wooden inspired flooring, light tones, and cement are on trend, creating easy to clean and resistant large format surfaces.