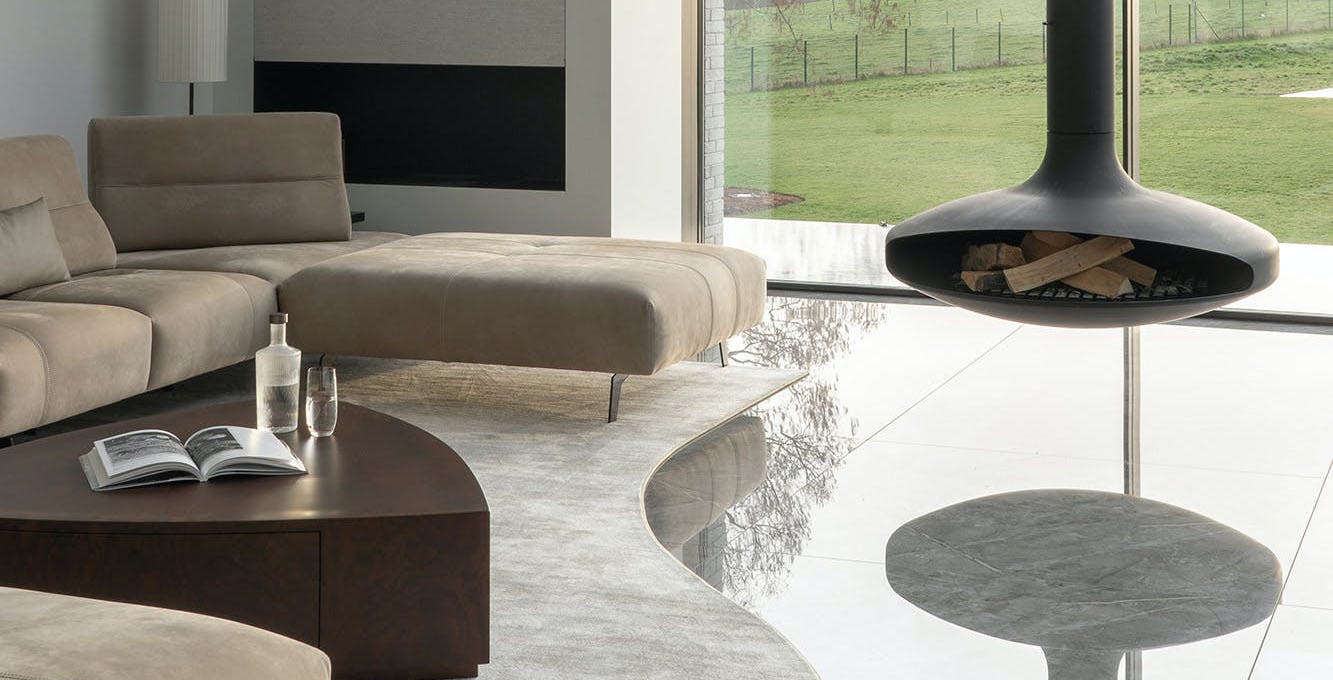 The trend for healthy homes that take care of people
Today, the close relationship between home design and health is a fact. For this reason, the design of healthy homes is increasingly in demand among architects and interior designers.
In the aftermath of the pandemic, there has been a paradigm shift that has put people's health and well-being at the centre of design, as we are now more aware than ever of the time we spend indoors – up to 90% of our day. So how can we not be concerned about a healthy home and workspace?
As part of the trend towards healthy homes, the concept of 'emotional interior design' has been promoted in recent years. We talked about this concept in another of our articles with designer Eva Maraver, in which we highlighted the ability of interior design to stimulate the senses and generate positive emotions.
In this article, we tell you everything you need to know to create a sustainable and healthy home.
What are care spaces?
According to our collaborator Marisa Santamaría, designer and researcher, in 2023 we will witness the rise of care spaces. In her words, these are "spaces that provide wellbeing, comfort and health and are designed to perform a number of functions and combine technology and craftsmanship through design".
In addition to this, care spaces also take care of the environment through energy efficiency, integrated waste recycling and reuse systems, renewable energies, smart technology...
In this article, we tell you all about this and other interior design trends for 2023.
How to design healthy homes?
The great challenge for design and architecture professionals is to create houses that are healthier and, at the same time, sustainable. The construction processes and the materials used need to be reconsidered. To this end, there are different quality standards that are used to certify projects, such as the WELL Standard.
A healthy home must take into account aspects such as the quality of the air we breath, the quality of the water we drink and shower with, the design of lighting, spaces and furniture, thermal, acoustic and olfactory comfort, and the capacity of a space to encourage physical activity and good eating habits, without neglecting the connection with nature.
Below, we will take a closer look at some of the factors that need to be taken into account in order to achieve a healthy home.
Healthy and sustainable building materials
The choice of finishes for interior walls, which are in continuous contact with the occupants of a space, is particularly important. At Cosentino we are all about making surfaces that are safe and healthy. That is why our Dekton and Silestone brands are backed by health and sustainability warranties that meet the highest quality standards.
Dekton is a sophisticated blend of more than 20 minerals extracted from nature. In addition to this, it is the only surface in its sector that is Carbon Neutral throughout its life cycle.
As for Silestone, it is the most sustainable and cutting-edge hybrid surface of premium minerals and recycled materials – a minimum of 20%, such as glass – available on the market, and is manufactured with the exclusive and innovative HybriQ+ technology.
Thanks to their physical-mechanical properties, both Silestone and Dekton ensure maximum hygiene and safety on all their surfaces. In addition, thanks to their very low porosity, they are low maintenance. This allows you to keep kitchen and bathroom surfaces clean and disinfected with minimum effort.
Low VOC paints
Also important is the choice of paints and varnishes that we use inside our homes and offices, where we spend most of our day. These materials may release some of their chemical components, which are harmful to health.
Today, varnishes and paints made from 100% non-toxic components are available on the market, which improves indoor air quality significantly. By limiting the toxins present in our spaces, we also limit the toxins that can end up in our bodies.
Indoor air quality and ventilation
After the pandemic, we have learned how important it is to ventilate enclosed spaces to refresh the air. Good ventilation lowers the concentration of CO2 in the air and ensures an optimal supply of oxygen to the interior of the house.
In addition, good ventilation balances humidity and electroclimate in relation to the outside environment, as closed spaces with synthetic materials produce high electrical charges that affect our well-being.
Biophilic design to reduce stress
Biophilic design is based on the concept of biophilia, the human need to connect with nature. This innate attraction has prompted architects and designers to introduce elements of nature into building construction and interior design.
The main goal of the biophilic design is to reconnect humans with nature, as it is said to promote people's well-being by reducing stress levels. This is why this type of design is particularly useful in urban areas, where contact with nature is often lost and city dwellers spend most of their time indoors.
Chronobiological lighting systems
Indoor lighting is another of the most important aspects to help regulate circadian rhythms in a natural way. For instance, in places of work or study, lighting should be adequate to keep people awake. In this respect, natural light plays a key role and is increasingly valued in the construction of offices and educational centres, as well as housing.
Lights should have a colour temperature according to the time of day, i.e. cooler tones during the day, and warmer and less intense tones after sunset, to help us relax. In addition, flickering and high-frequency light bulbs should be avoided. To this end, home automation systems that allow the intensity and colour of light to be adjusted individually are increasingly being developed.
Proper cleaning to remove dust and harmful micro-organisms
After the pandemic, cleaning and disinfection of surfaces that we come into contact with on a daily basis has also become more important. But it is not only disinfection that we need to pay attention to, but also dust, as its accumulation can affect the health of the growing number of people with allergies.
To facilitate the cleaning and maintenance of the home, at Cosentino we have developed innovative surfaces such as Silestone and Dekton, which have very low porosity, prevent the accumulation of dirt and allow us to use all kinds of cleaning products without damaging them.
Choose active furniture
Nowadays, there is an increasing number of innovative furniture designs that allow us to change our posture during the working day, such as adjustable desks that allow users to choose between sitting and standing. There are also many options for ergonomic chairs that improve our posture and, eventually, our health.
When it comes to customising your furniture, we recommend you use our Silestone and Dekton surfaces to achieve a stunning finish in terms of design and functionality.
Caring for people, not just at home
This new trend is not only focused on housing, but also on all kinds of spaces inhabited by people: hospitals, libraries, schools, hotels, commercial spaces... Everything is undergoing a transformation because new ways of inhabitation, living and working have emerged.
This new paradigm arises from the very recent global pandemic threat – which has made us internalise uncertainty – and from the progressive changes at the beginning of the century, which have accelerated dramatically. All of a sudden there is a substantial need to take care of the environment and to take care of ourselves.
It is about placing people at the centre of design: this is the key to more motivated workers and students, sick people with better recovery, more stimulated customers and, ultimately, happier and healthier people.