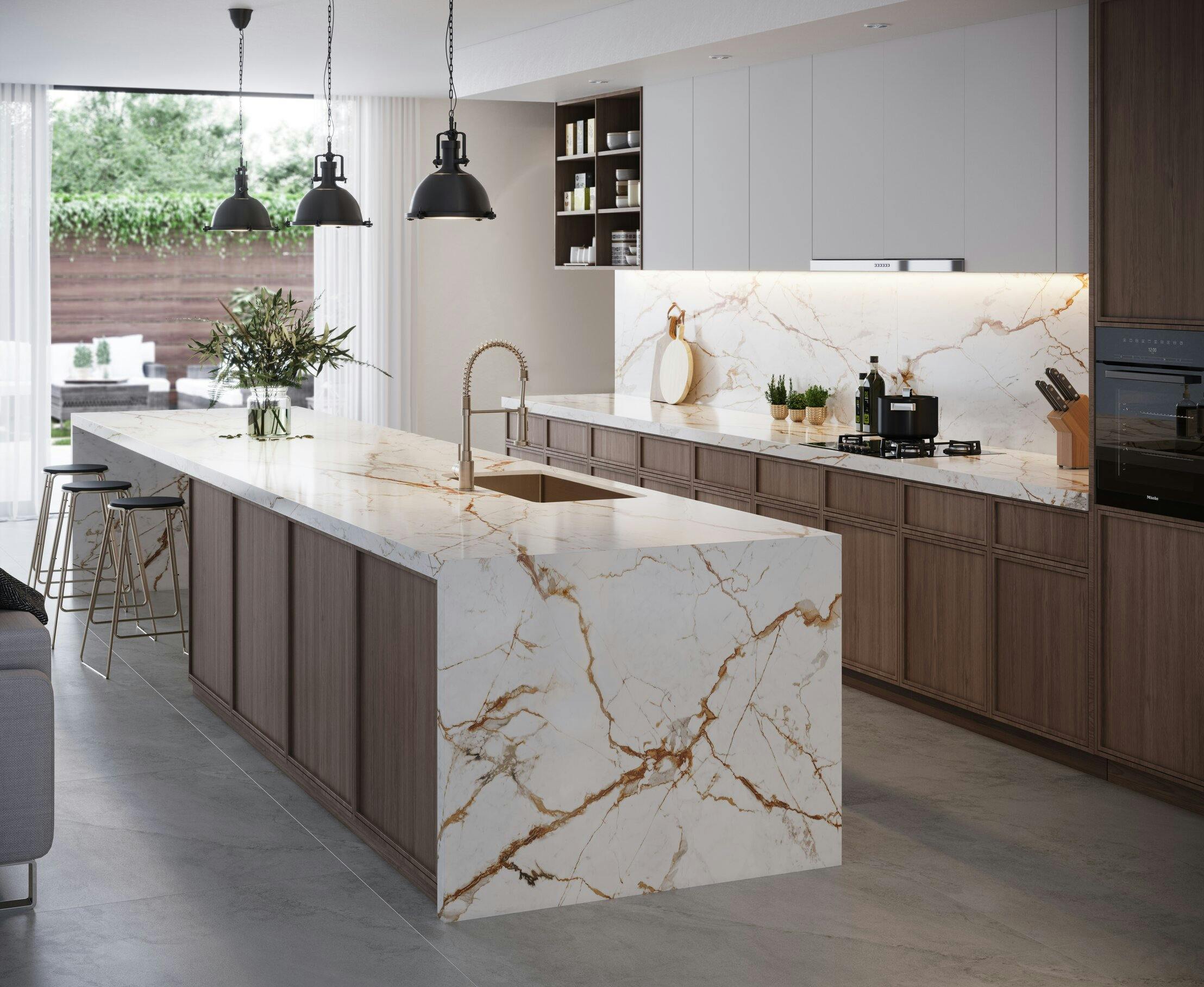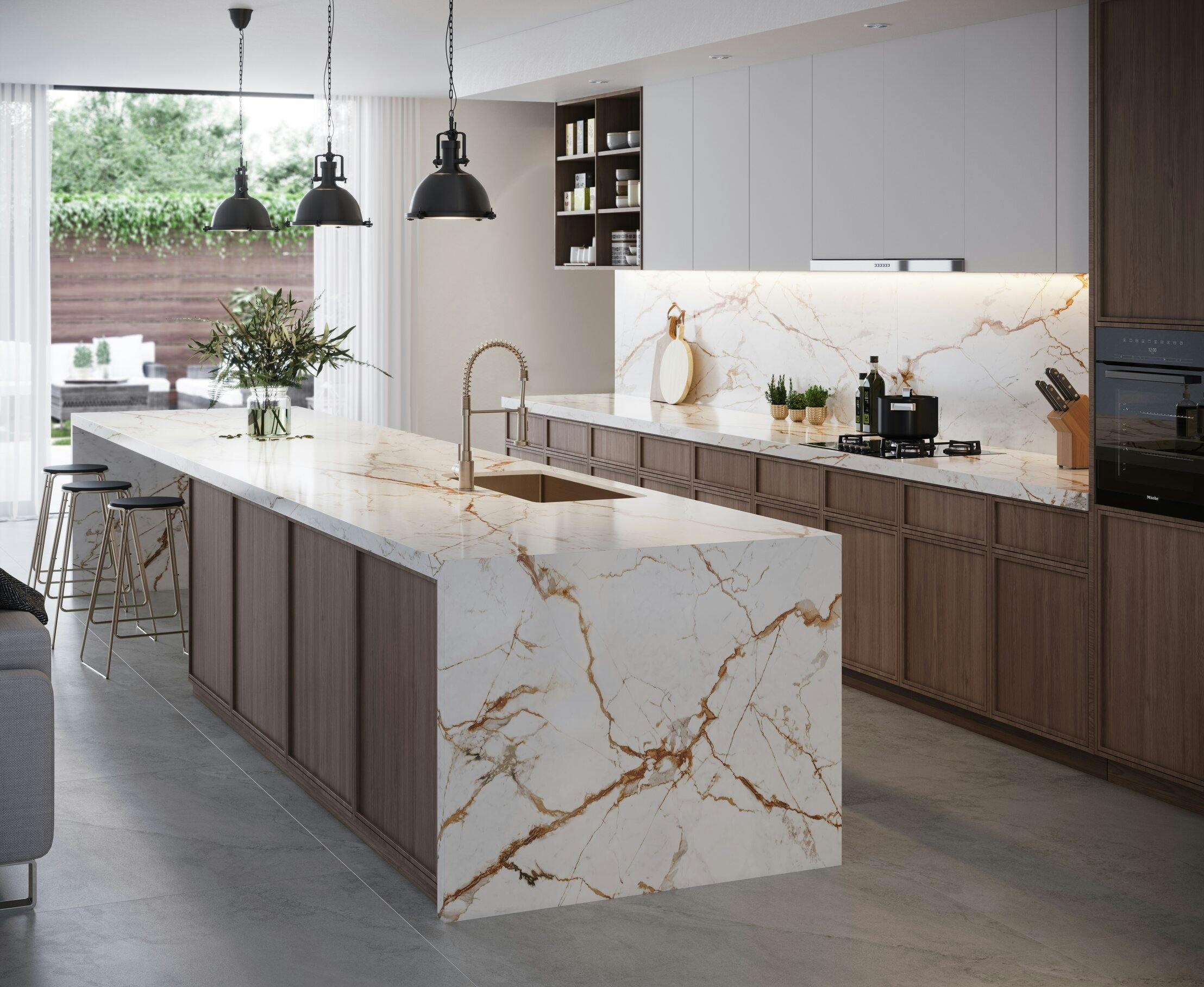 Cosentino launches two new carbon neutral collections from Dekton®: Onirika and Kraftizen
Cosentino launches two new exciting Dekton collections which combines beauty with unmatched technology
Cosentino presents Dekton® Onirika and Kraftizen, the latest collections of its leading innovative ultracompact brand surfaces. Dekton® is an unmatched category in the world of surfaces, not only is it impervious to elements such as scratches, stains, UV rays, fire and heat, it is the only surface brand that is certified carbon neutral from cradle to grave. By offsetting 100% of carbon dioxide emissions over its entire product life cycle, Dekton® is a sustainable material which reduces environmental impact.
Dekton® Onirika
Cosentino has tapped international interior design powerhouse, Nina Magon, to create a one-of-a-kind Dekton® collection that is bold and yet, elegant and timeless. Inspired by marble patterns and immersive living, the stunning series showcases eight daring colours: Awake, Lucid, Somnia, Neural, Trance, Vigil, Daze and Morpheus.
"We are not attempting to mimic any existing natural stone. With the Dekton technology, we are able to create our own colours and structures, bringing to life something that is unique, beautiful and irreplaceable. That is the purpose of Onirika - to showcase the versatility of Dekton," shares the Houston-based designer, Nina Magon.


From Left to Right:
Neural combines elegance and structure to bring peace and joy, calm sensations, and an overall feeling of well-being into a space. With fine, pale veins crossing the marbled pattern, the design creates a fascinating neural network, which teleports one into a white dream. It is best suited for bright, neutral spaces with soft textures, light colours, and wooden or metallic accents.
Lucid displays many shades, reflections, and glints of colour to create an illuminative perception of colours best combined with wood, grey and gold shades, and frosted glass.
Morpheus is the name of this same Lucid tonality but in Dekton® Velvet Texture finish.
Awake is a re-interpretation of the precious Paonazzo stone. It features thick veins of light greys, exquisite oxide terracotta, and a hint of subtle, inky blues. This iteration pairs beautifully with white, neutral tones, lightwood, and golds of any shade.
Trance features warm fine streaks that move between oxides and fade to reddish gold, combining perfectly with reddish oak wood and darker walnut tones. Blue furniture and warm golds in pale finishing bring sleekness to this vibrant colour.
Somnia boasts captivating details of warm oxid browns and whites that merge under a grid of think lines that create a sober texture. Somnia is perfect with warm dark woods, frosted glass and textured metal surfaces such as copper.
Vigil recreates a strong Calacatta structure with thick veins in gradients of light and dark greys, matched with a subtle touch of gold. This is a classic color that is easy to combine with warm and cold hues, wood metal, and clean concrete.
Daze is the name of this same Vigil tonality but in Dekton® Velvet texture finish.
Dekton® Kraftizen
Kraftizen boasts a series of five versatile, beautiful colours with rich, deep textures: Umber, Nacre, Argentium, Micron  and Albarium.  Reminiscent of Venetian stucco, these colours are rooted in minimalism and versatility, bringing serenity into any space.
The Dekton® Kraftizen collection reinterprets craftsmanship perfected over the centuries using the latest digital craft technology. Each trowel stroke from yesteryear transfers onto canvases made of millions of pixels, becoming part of an image and a reinterpretation which will stand the test of time.


From Left to Right:
Nacre is a colour with plenty of movement to engage all senses. Trowel marks bring the colour to life, while the subtle interplay of light and shadow accompanies every inch of the design. The silky finish is pleasant to the touch. Meanwhile, the scattered gradients are highly decorative and reminiscent of sea waves.
Micron is elegant and minimalistic. Its markings and trowelled texture give it depth. This deep, dark grey conveys a comforting sense of calm and serenity.
Albarium is a peaceful, powdery white colour, reminiscent of marble dust. The subtle trowel achieves a rich continuity that makes it easy to apply on large surfaces. Albarium captivates with its fine, elegant texture and the refinement and light it brings to the spaces where it is used.
Umber is a timeless colour with its own personality and a special charisma. The terracotta is warm and cosy, an earthy colour closely connected to nature.
Argentium is a perfect matte grey that can be combined with both warm and cold tones. Its trowelled structure, typical of lime plastering, provides a bold design option to the range. In ancient times, silver was considered a gift of nature created by the influence of the moon. This legend lives on in Argentium.
Dekton® offers endless design possibilities with its multiple applications for both indoors and outdoors spaces. It has won over many architects and designers around the world who chose the high-performance surface for facades, benchtops, floors, cabinetry and claddings.