The technical challenge of bringing an old New York façade back to life
By MZA Architects
Location
New York, United States
Colour
Danae | Edora | Borea
Application
Façade | Lobby floor | Interior walls
Architecture / Design
MZA Architects | Stone Truss Systems as fitters
The three dimensions of a renovated façade
At the end of 2019, the remodelling of an office building situated at 7 W 51st street in Manhattan was successfully completed. The design team responsible for the project, MZA Architects, planned a comprehensive renovation of the façade aimed at achieving a high-impact visual change. At the same time, the project aimed to find a technically feasible solution to the problem of dealing with an old structure in a dubious state of repair.
Both the architect and the developer visited Cosentino City New York to see first-hand Dekton's technical and design possibilities for large outdoor surfaces. That first visit was enough to convince them of the suitability of Dekton for their project. They even chose three colours that matched the desired design concept. For the exterior façade they opted for Dekton Danae, a beige tone from the Natural Collection reminiscent of the sandy beach. For the lobby floor, they chose Dekton Edora, a shade in the same beige colour range as the façade, which creates a visual continuity between the exterior and interior of the building. Finally, for the interior walls of the building they chose Dekton Borea, a material reminiscent of wenge wood, which adds the stylish touch they were looking for in the renovation.
The result creates a balanced and warm look, in tan colours, which contrasts with the coldness of the typical black and white buildings of 1990s Manhattan.
"Dekton is undoubtedly the perfect fit for ventilated façades. It is as if Dekton was invented solely for this purpose"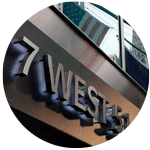 Stephen Falk
Stone Truss Systems
Cut-to-size Dekton versatility
Having solved the first structural challenge, it was time to install Dekton and face the next challenges. For example, all corner details were made using mitres bonded to the panels, so they had to be perfectly manufactured and installed neatly taking into account adjacent panels. The different façade plans required detailed and meticulous manufacture.
Dekton can adapt to any system, and this project was no exception. For this project, Stone Truss Systems used KEIL stainless steel back anchors and placed a carbon mesh bonded to the slabs. They also used TS-179 aluminium horizontal wall rails, which were fixed to the substructure with anchor clips. In short, a masterpiece of construction that made it possible to install Dekton slabs firmly, without compromising the beauty of the original design.
The new façade of this building in the Diamond District, just a stone's throw from Rockefeller Center, gives it an incredible look and makes it the envy of all its neighbours.
Cosentino's materials used in this project
Related Flagship Projects