Cosentino Flagship Project
Dekton defies extreme weather in Chicago
Stone Systems Chicago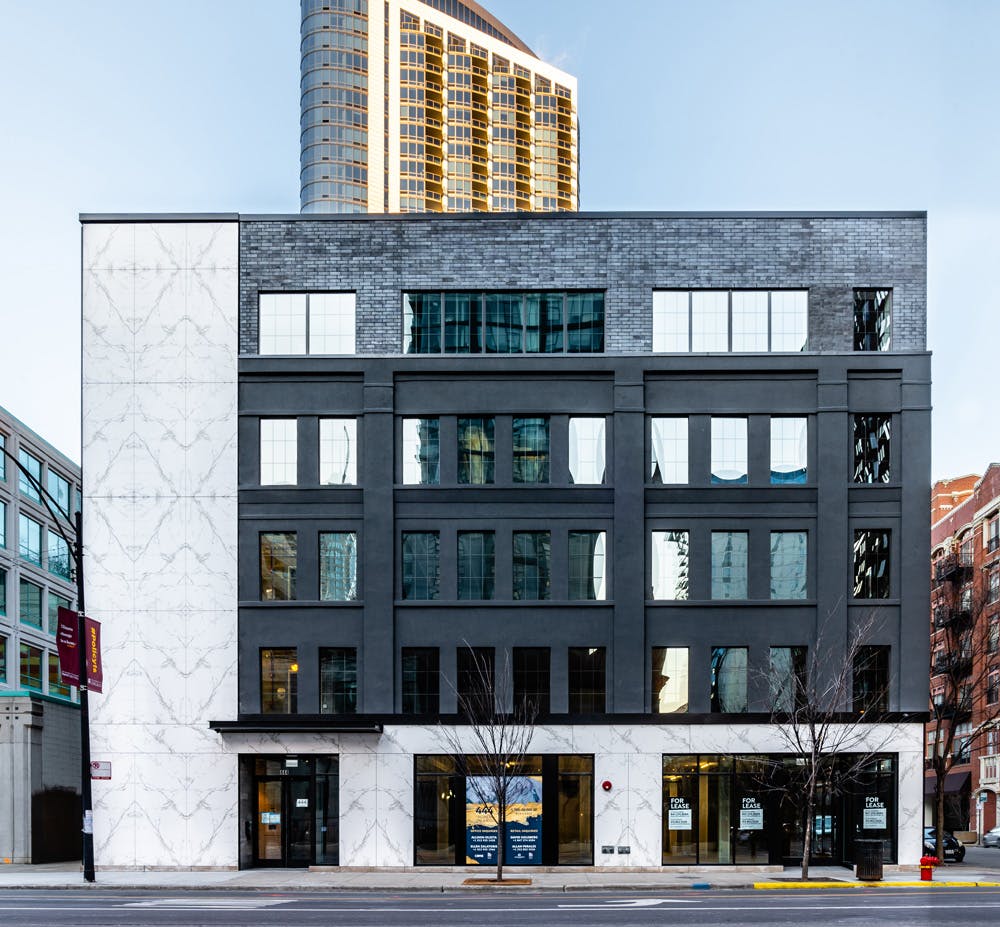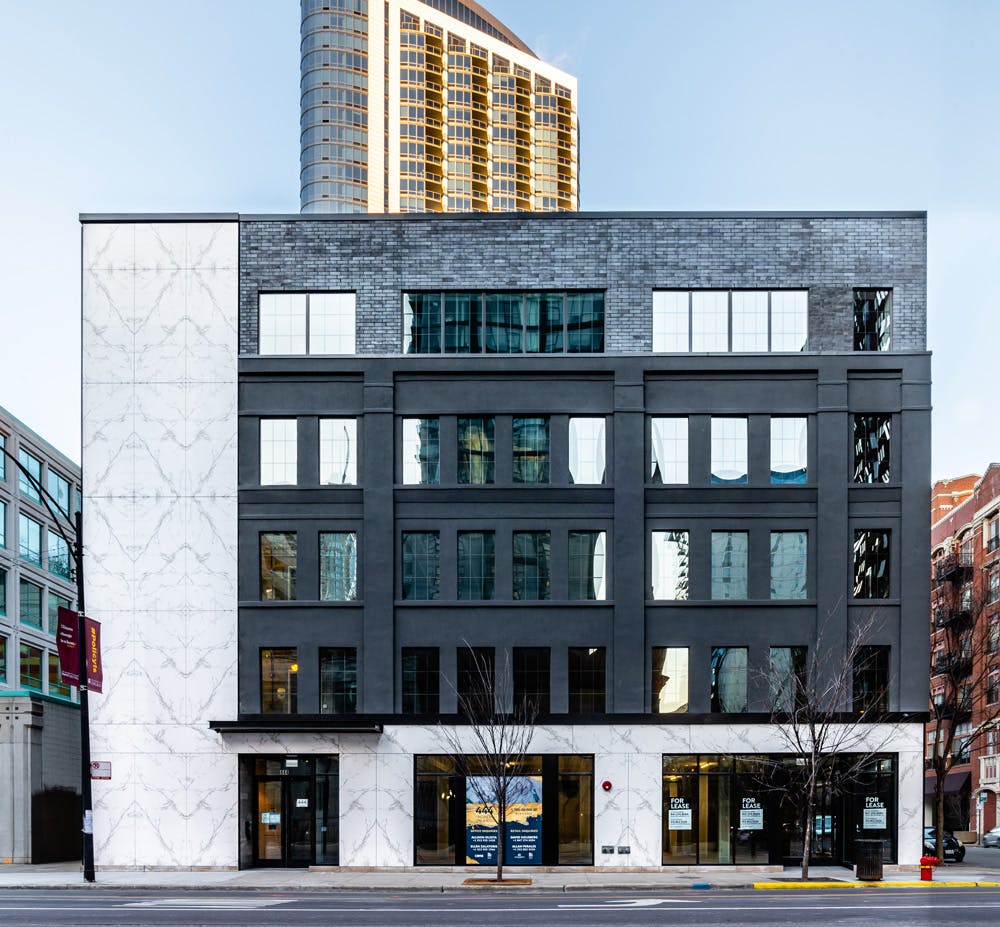 Location
Chicago, United States
Installator
Stone Systems Chicago
Application
Ventilated façade
A design point transforming an entire building
Right in the heart of Chicago, barely a ten-minute walk from City Hall, is 444 N Orleans, a recently refurbished building with a privileged location.
The particularly striking 444 N Orleans is distinctive thanks to an impressive corner fully clad in Dekton, in large-format slabs with an innovative and daring design, in contrast with the classic brick which can be seen across most of the city.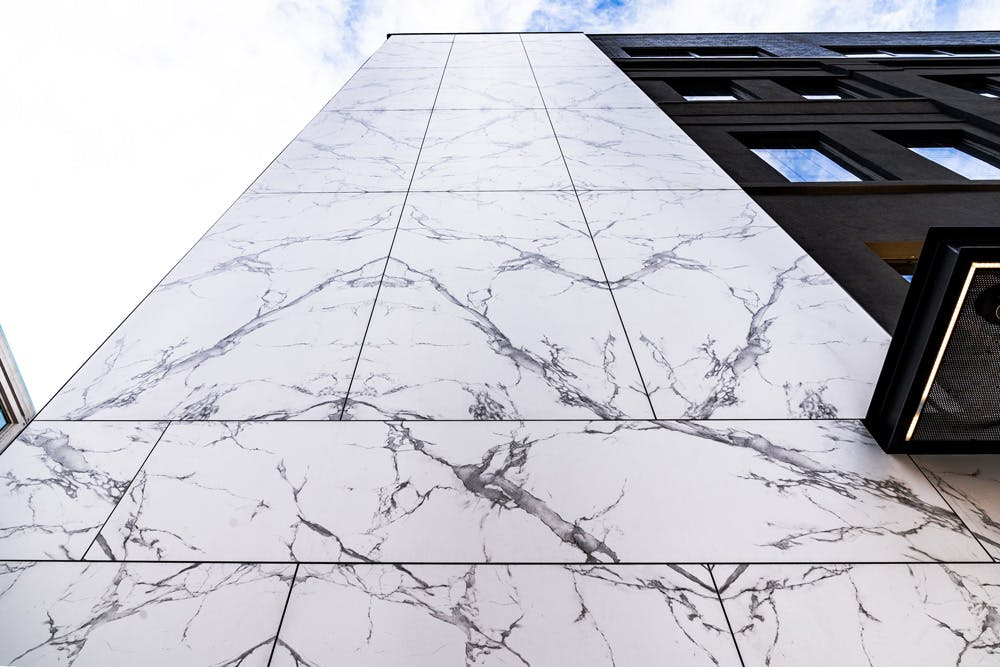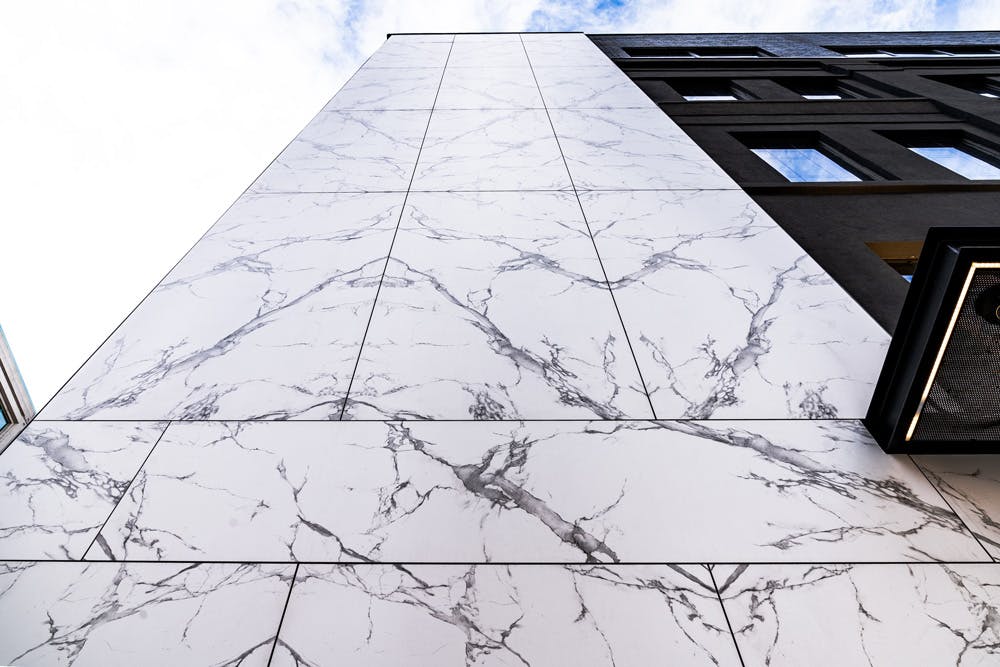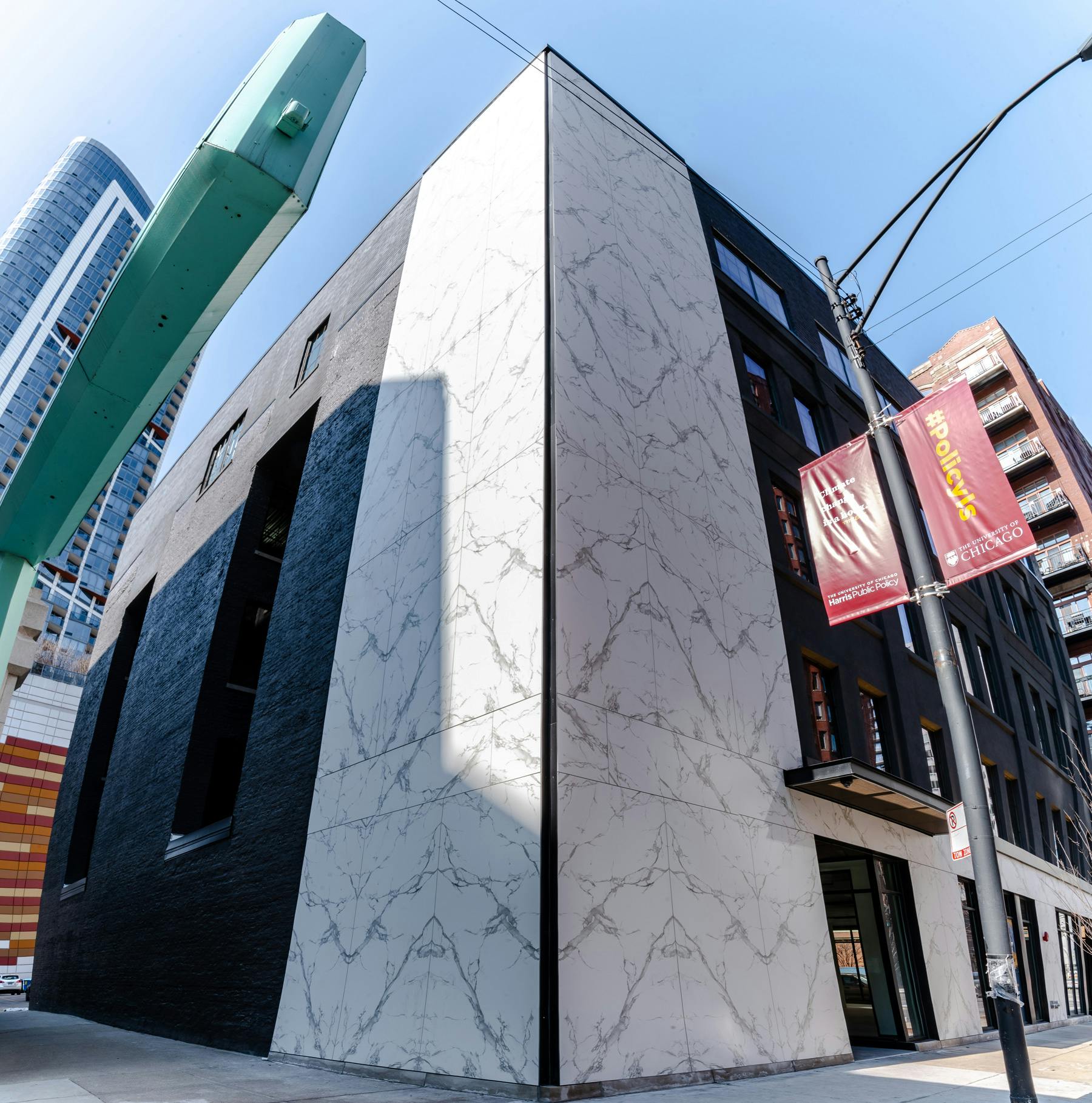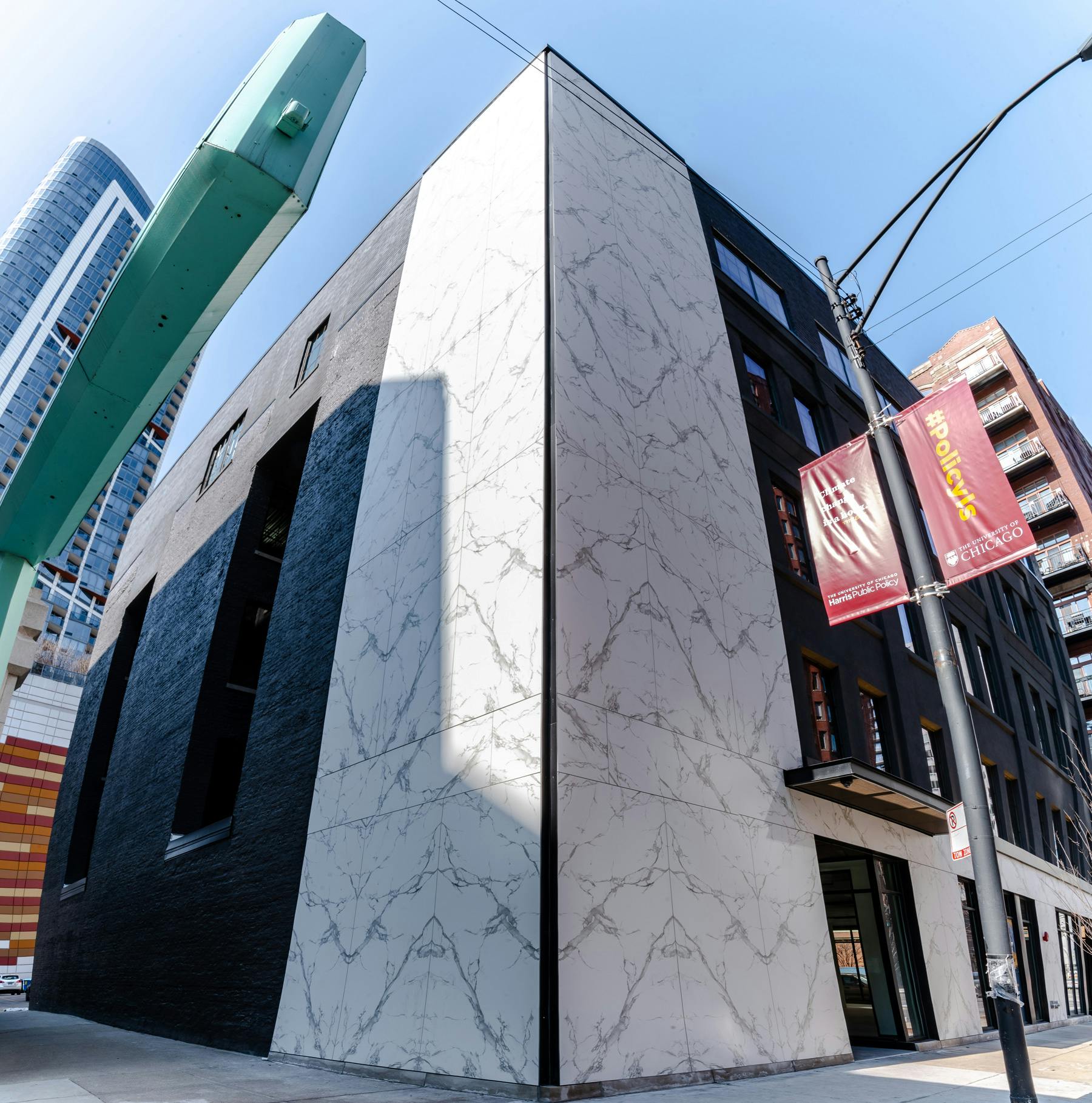 Dekton resists even the most extreme conditions
All architects and designers have to grapple with a major setback to all construction work carried out in Chicago: the unbelievable variations in temperatures that affect the city all year round. In summer, this enormous city, with its almost ten million inhabitants in its metropolitan area, sees temperatures of around 30 degrees Celsius. With the arrival of winter, however, and the Arctic winds coming straight in from Canada, the city turns into a gigantic icebox at -29 degrees.
The snow and the humidity push the materials on external surfaces which are constantly exposed, particularly façades, to the limit. There are few materials that can resist it without losing their properties, including their colour. It was in this context that the architects of 444 N Orleans came across Dekton, Cosentino's ultra-compact surface able to withstand major thermal variations, highly humid environments and high UV insolation.
One continuous large-format streak
To provide a cover for the corner of 444 N Orleans, an elegant colour was sought that would directly bring to mind the city's natural surroundings, on the shores of vast Lake Michigan, which is usually frozen over in winter. With its white tones and greyish veining, Aura 15 is evocative of the whimsical patterns and images which form on the lake during the harshness of winter.
The large-scale effect has been enhanced through the possibility of providing a continuous vein across the façade pattern. This is a challenging aesthetic aspect to achieve, but one which has tremendous impact.
This being a façade, the project leaders also sought out a material that would be well-resistant to staining and, in particular, to graffiti - a universal urban challenge. Dekton met this requirement.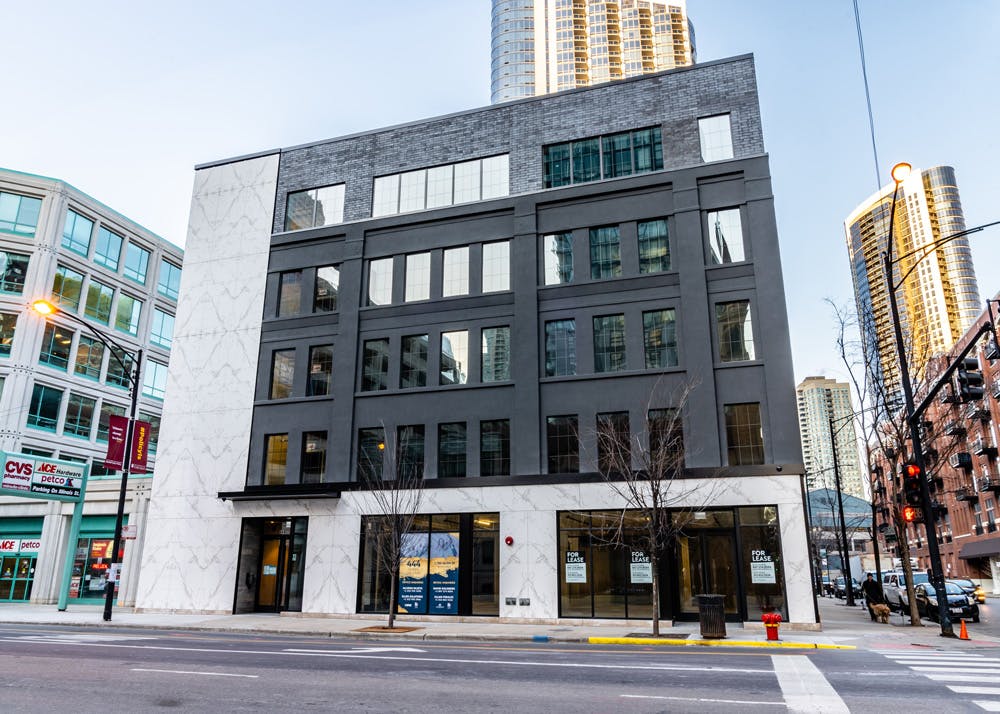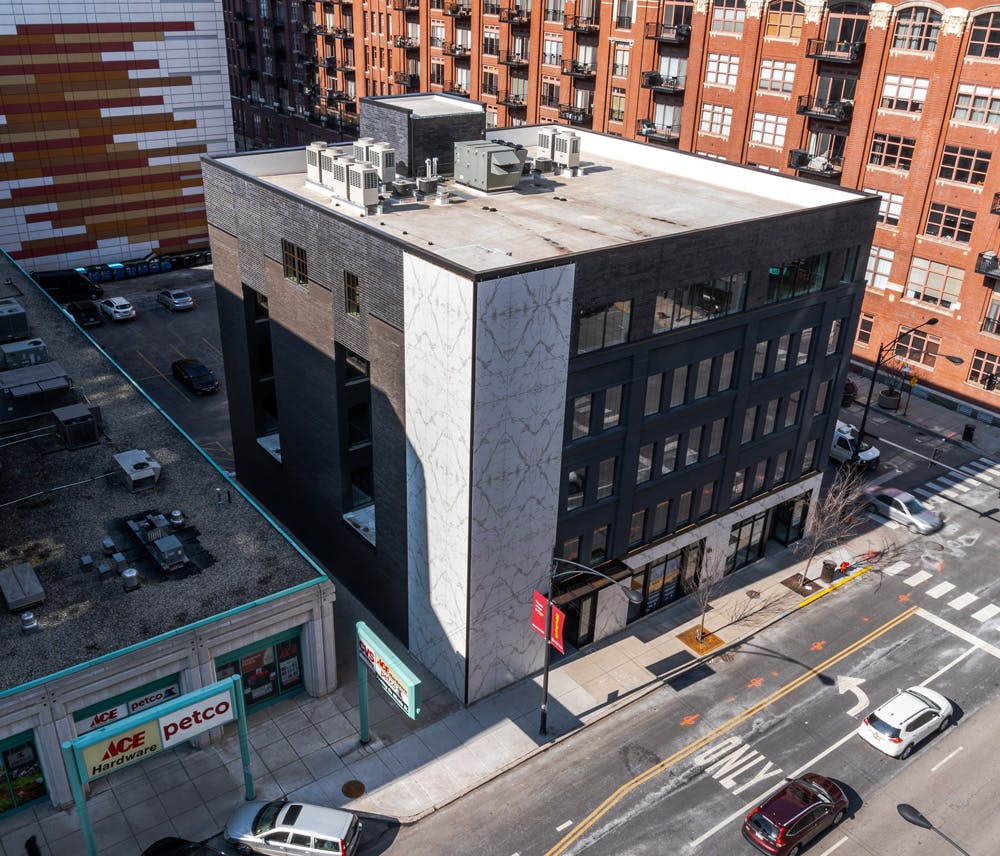 A ventilated façade that was secure and quick to install
To install this façade, Stone System, a company with perfect knowledge of Cosentino's materials, as well as knowledge of how to put them to optimal use, was called upon. In order to achieve 444 N Orleans, it was decided that a ventilated façade would be used because, among other reasons, of the properties it offers to the building in terms of thermal and acoustic insulation.
Do you need help with a project?
Contact our specialists for advice
Do you need help with a project?
Contact our specialists for advice
Dekton has a high resistance to humidity and temperature variations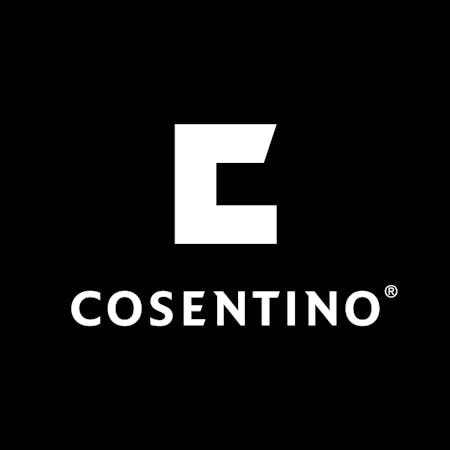 Cosentino's materials used in this project
Related Flagship Projects