Case Study
Dekton, part of the unique experience at the Samsha restaurant in Valencia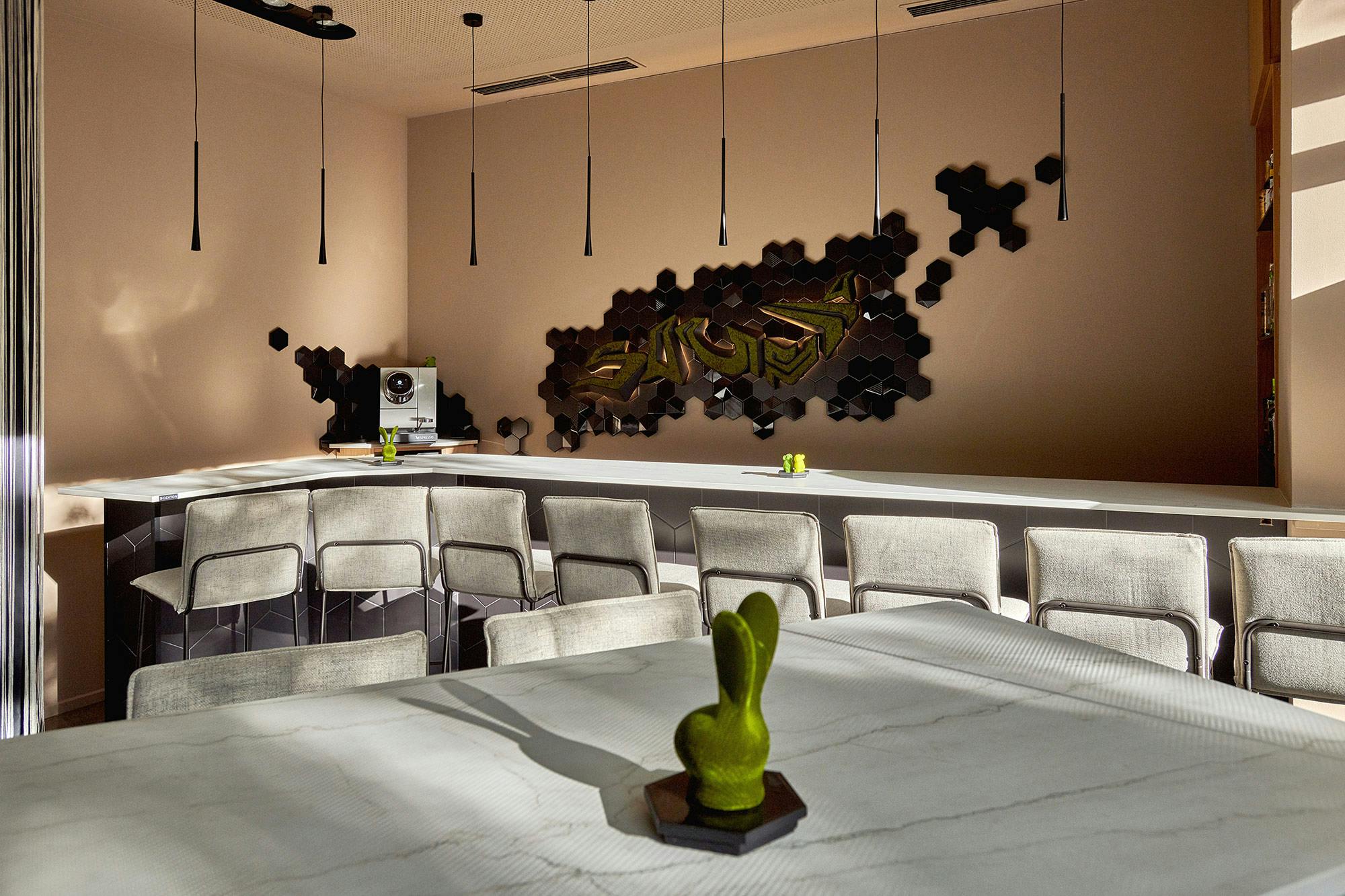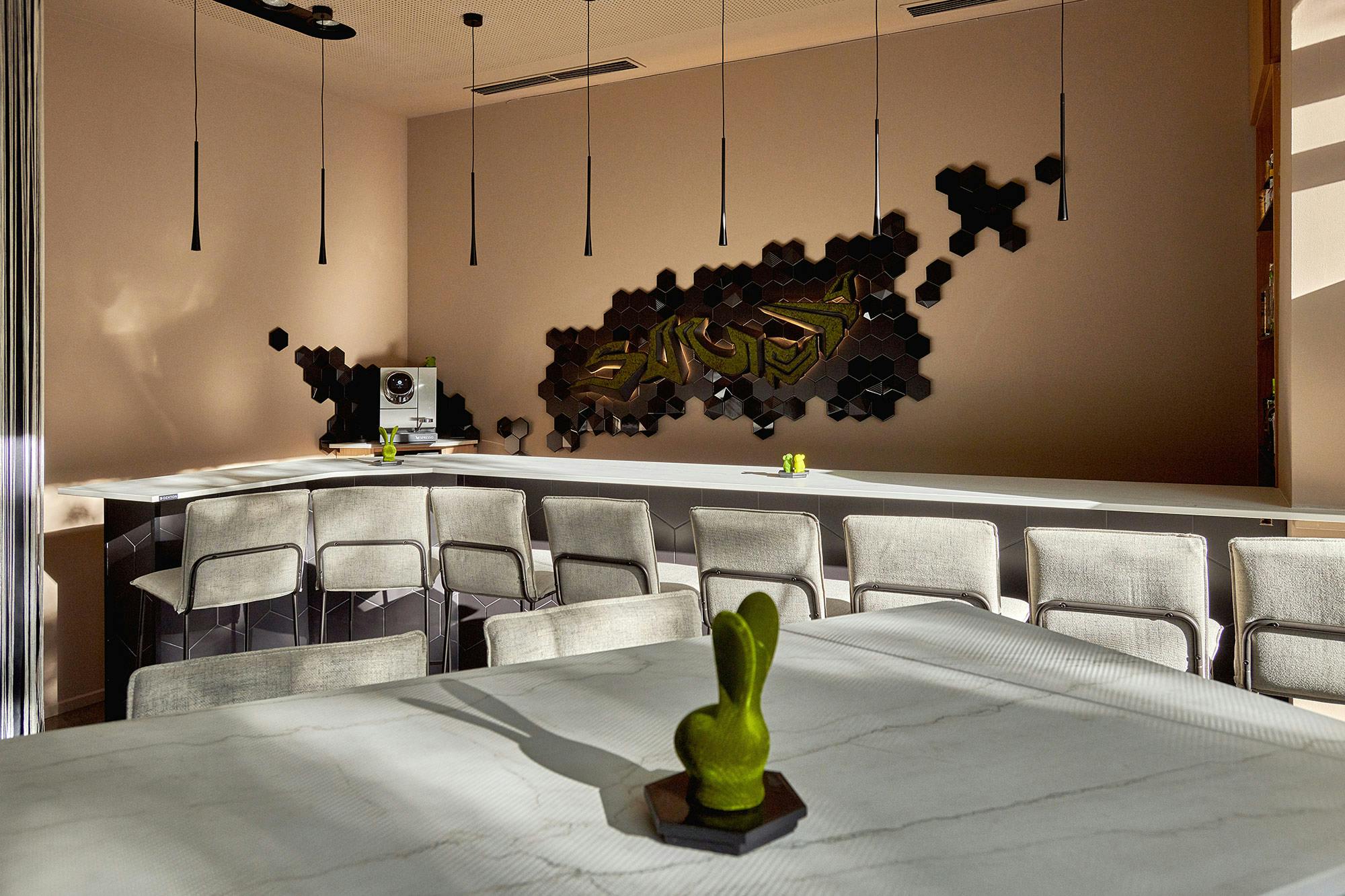 Location
Valencia (Spain)
Colour
Albarium, Neural, Somnia, Kelya, Galema, Aldem
Application
Tables, bar top, worktops, floors, washbasin
Thickness: 8 mm
8 mm, 12 mm, 20 mm
Photography
Craus Fotografía
In 2005, at the age of 23, chef Víctor Rodrigo Alors decided to open his first Samsha restaurant, a concept that has evolved up to the recent opening of the new Samsha Cromas in Valencia. Driven by an interest in technique and in creating a spectacle for diners, the chef has been reinventing his culinary shows over the years. In this new establishment, completely renovated by the owners, the whole context is at the service of the magical experience that takes place every evening.
With seating for 12 diners, the dining experience includes background music, light displays and laser projections on the surfaces. This is where Dekton plays its part, as it has been the surface chosen to create the perfect backdrop for this unique show.
A blank canvas with Dekton Albarium
The restaurant features two separated atmospheres designed for different experiences: a bar and reception area, for aperitifs, and an indoor area where the gastronomic show takes place. The latter features two large separate tables – for 6 diners each – which are joined by a central table. On their surfaces, light and colour transform the atmosphere through unique projections and lighting.
The colour chosen for these surfaces was Albarium, an off-white shade perfect to serve as a blank canvas for the play of lights. Its transparencies and colour gradations brings elegance and exclusivity through its reflections and sheens that simulate marble dust. Meanwhile, the main lounge features several side tables in the captivating black Somnia shade.
An elegant bar top to greet diners
In the bar area, where diners are greeted, another soft and light Dekton colour reigns supreme: Neural, from the Onirika collection. This colour is characterised by a cream-toned base over which fine, pale veins run in the same direction, conveying balance and calm.
For all the Dekton applications spread throughout this very special restaurant, the customers particularly appreciated the technical properties of the material, which are perfect for such a place. "Dekton offers complete peace of mind in terms of hygiene, cleanliness and durability, as well as an eye-catching delicate and careful design", they say.
Other stylish applications
All these technical properties were key to the choice of Dekton as a material for the surfaces in the kitchen as well. Specifically, it was used for the worktop, which features Dekton Kelya – a colour inspired by dark marbles – and the floors, which are clad in Dekton Galema, a brown shade that perfectly matches Kelya.
As for the bathrooms, which have a natural and elegant style, they feature attractive washbasins in Dekton Aldem, a colour inspired by wood that combines beautifully with the green tones used in this room.
Cosentino's materials used in this project