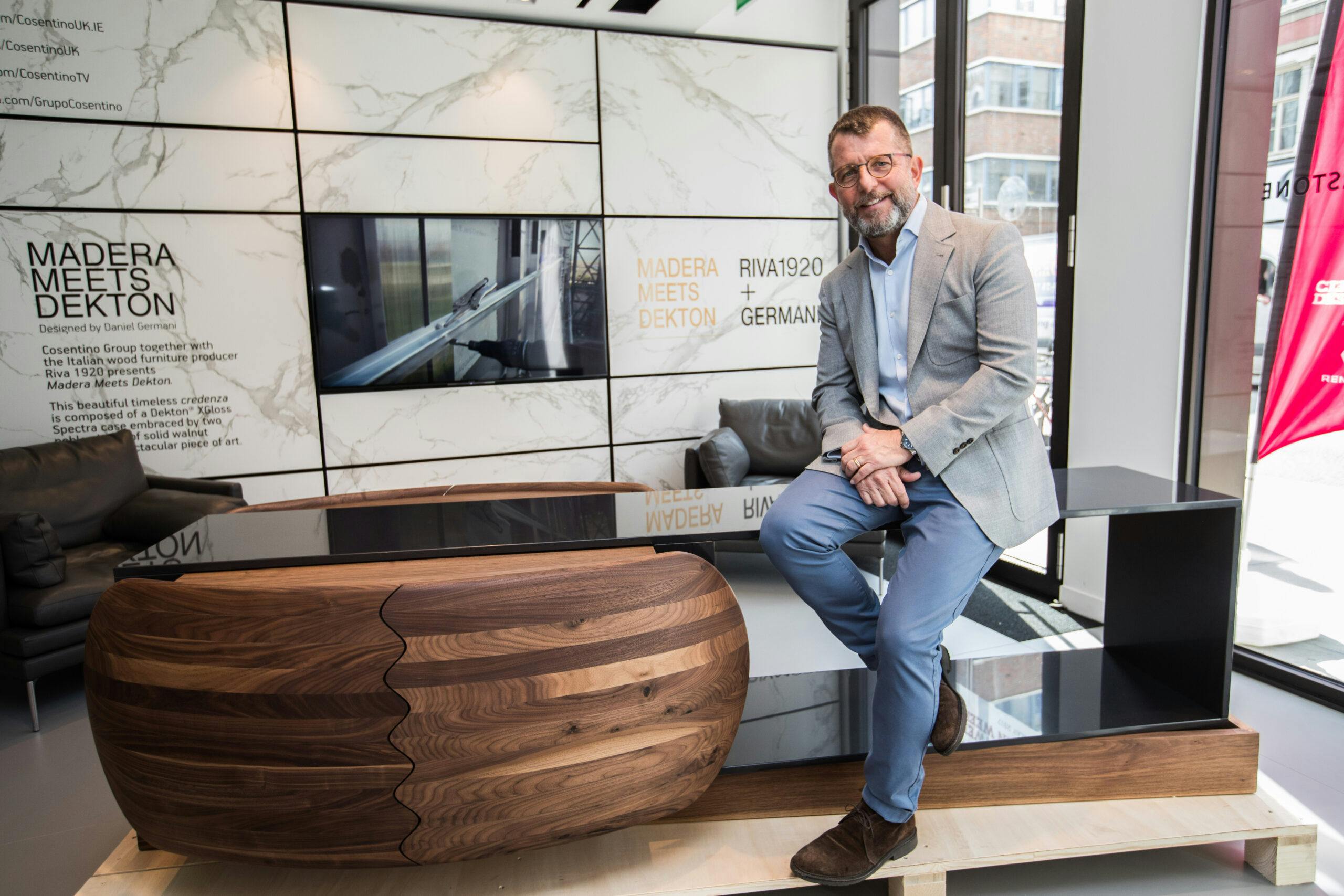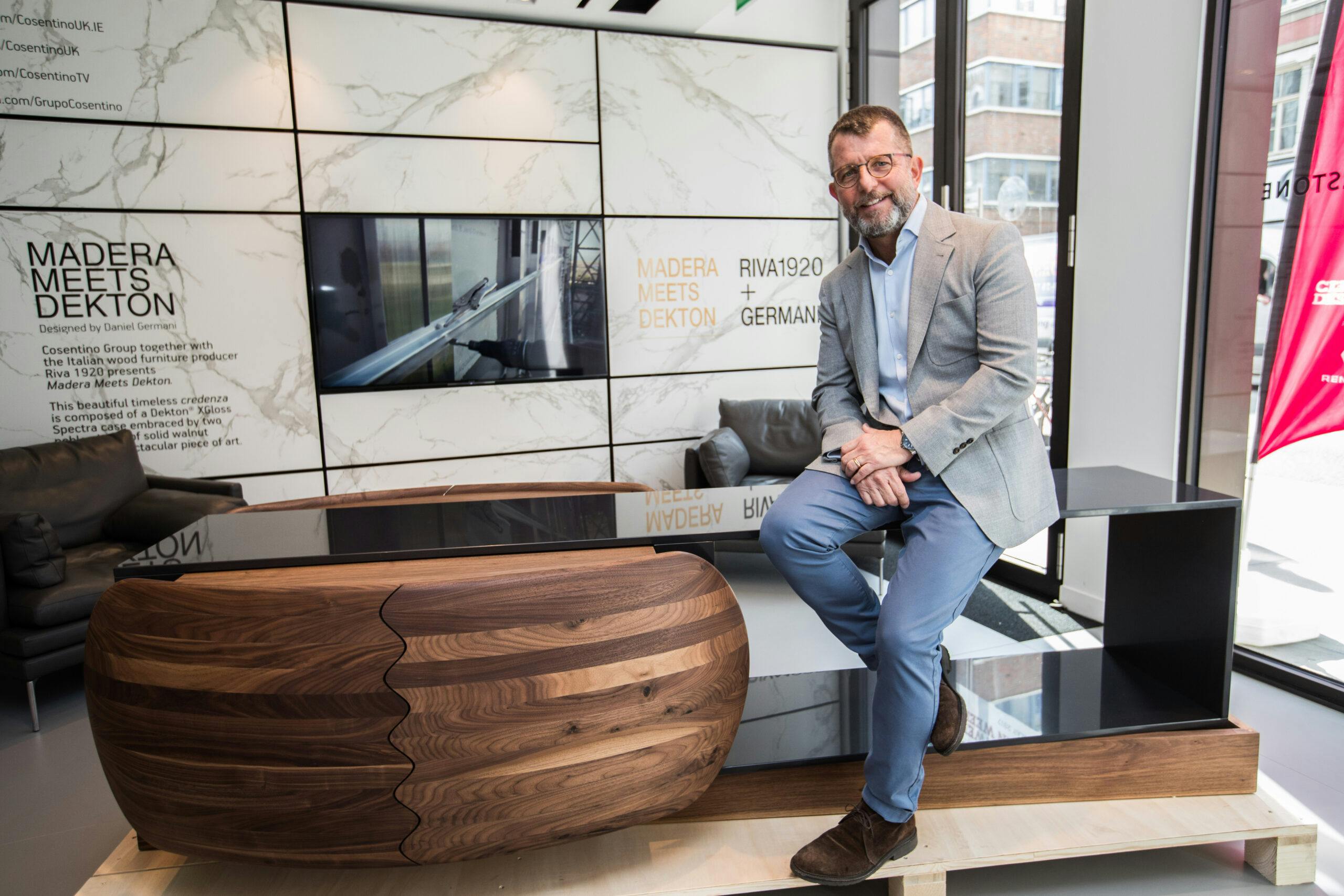 "Madera Meets Dekton®" by Daniel Germani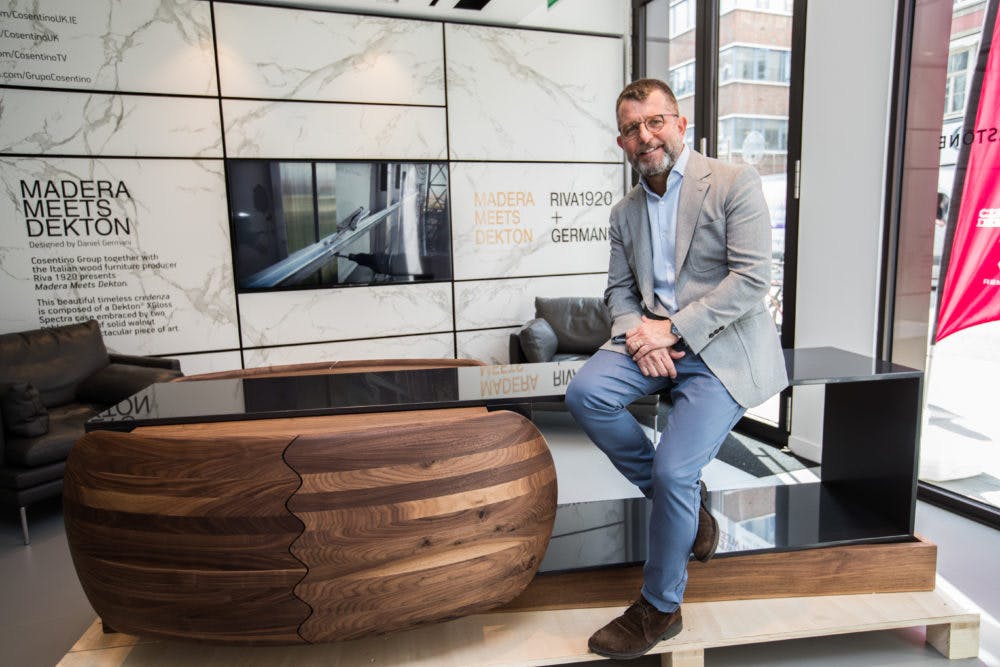 The worldwide leader in the production and distribution of innovative surfaces for architecture and design, the Cosentino Group has partnered with prominent architect and designer, Daniel Germani and renowned Italian wood furniture producer, Riva 1920, on the striking 'Madera Meets Dekton®' piece.
A timeless and unique credenza, 'Madera Meets Dekton®' is comprised of an elegant Dekton® XGloss frame in the high polished black hue, Spectra, embraced by two organic pieces of solid American walnut carved to perfection by the master woodworkers at Riva1920.
"It is an honour to collaborate with Riva 1920 to bring to life Daniel's creativity. The combination of solid walnut and the stunning crystalline shine of Dekton® Spectra result in a unique and spectacular piece of furniture that is a gift to the world of international design", remarks Santiago Alfonso, Marketing and Communication VP for Cosentino.
'Madera Meets Dekton®' reinterprets the essence of wood through its combination with Dekton®, the revolutionary ultra-compact surface by Cosentino, created from a sophisticated blend of inorganic materials using an innovative ultra-compaction process. High resistance to UV rays, scratches, stains and thermal shock are just some of the excellent technical properties that define Dekton®. These benefits ensure its surfaces are durable and very easy to maintain, offering the potential for a range of design and architectural applications. The XGloss collection of colours, including Spectra, offers an extraordinary and illuminating shine.
The beautiful solid American walnut, crafted by Riva 1920, has been sourced from sustainably managed American forests. Finished with natural oils and waxes, the curvaceous design is due to the use of advanced machines, reflecting the ethos of research, innovation and experimentation that is part of Riva 1920's DNA. Sleek, integrated drawers have been fabricated using a handcrafted dovetail joint, which connects the two pieces thanks to pressure. According to Maurizio Riva, CEO of Riva 1920, "With 'Madera Meets Dekton®' it is as if Riva 1920 embraced metaphorically Cosentino under the direction of Daniel Germani."
Designer, Daniel Germani, comments, "I love wood's organic texture, shape shifting abilities and perfect imperfections. 'Madera Meets Dekton®' happened during a visit to Riva 1920's compound… walking the shop with Maurizio and learning about all the processes and techniques was an incredible experience and one that sparked a fire in my head. In that moment, the softness and malleability of the wood and the hard, resilient almost stubborn nature of Dekton® made perfect sense together… almost like a hug or an embrace. The rest is history. At the end, I am so proud that Cosentino and Riva 1920 allowed me to design, play and push the limits of the materials…this is just the beginning because the possibilities are endless."
'Madera Meets Dekton®' is a meeting of handcrafted tradition and innovation design made possible through technology. It is also the result of extensive research into raw materials, respect for the environment, unique creative processes and craftsmanship of the highest standard.
'Madera Meets Dekton®' is 2.5m long x 0.7m high x 0.46m wide and was unveiled for the first time in the UK at the Cosentino City London showroom during Clerkenwell Design Week (23-25 May 2017).