3D Kitchen Planner
Design your kitchen with Cosentino's 3D Kitchen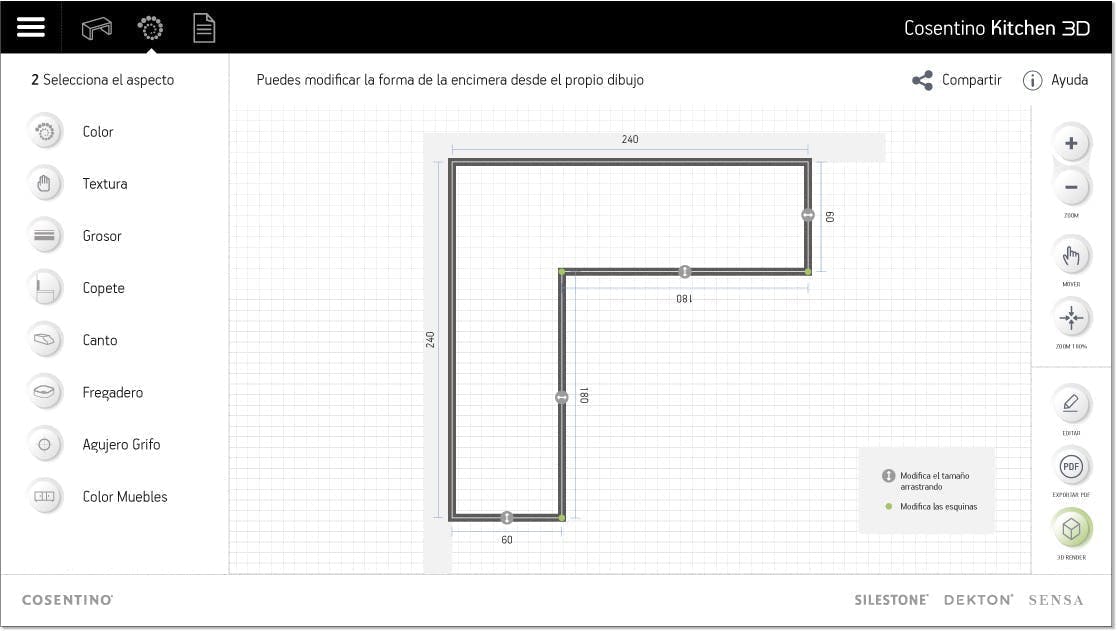 With Cosentino's 3D Kitchen planner you can design your kitchen online and visualise the final result using our products.
Choose what you want for your kitchen
Adjust the size
Change the appearance and features of your kitchen

Access the kitchen planner
Select the type of worktop you want to design according to the layout of your kitchen - L or U-shaped, with a peninsula, island, etc. Use the kitchen designer to shape it.

Take the measurements of your kitchen and adjust the template
All you have to do is move the cursor to set the desired measurements for your 3D kitchen design. You'll be able to transform the shape of the worktop easily, based on your own design.

Change the look of your worktop
You can completely change the appearance of your worktop by modifying its colour, texture, thickness, edges, etc. In short, the most complete 3D kitchen planner for your kitchen design.
Creating realistic images with the 3D kitchen planner
This kitchen planner has been designed to bring this space to life by creating 3D kitchen images, setting and choosing the colour of the worktop, the type of edge and the perfect sink for each specific design. Find out how to use our kitchen planner to design a worktop suited to your needs and your favourite style: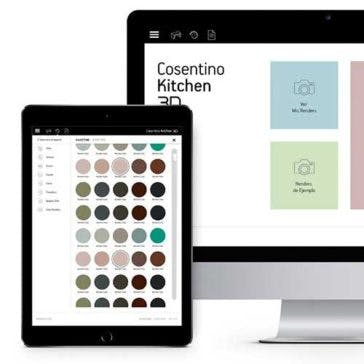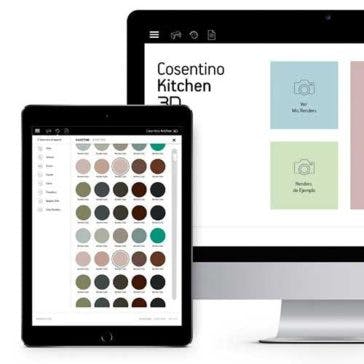 Choose the perfect material in the 3D kitchen planner
You'll be able to choose between Silestone surfaces, a material made of up to 94% natural quartz, which is very hard and resistant, to ultra-compact offerings by Dekton, which are a sophisticated mixture of raw materials used to manufacture state-of-the-art porcelain, glass, or quartz surfaces, an alternative which stands out through its high resistance to stains, scratches, wear, fire, heat, etc.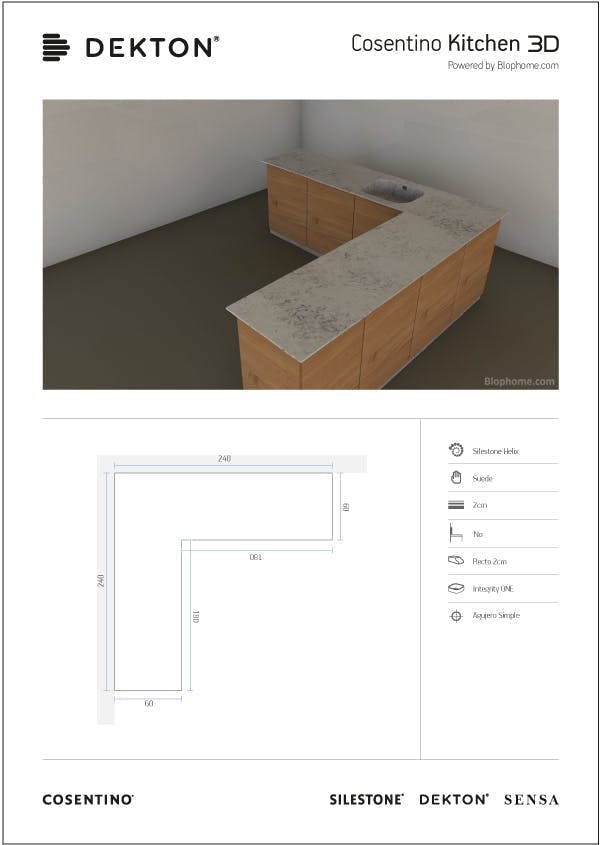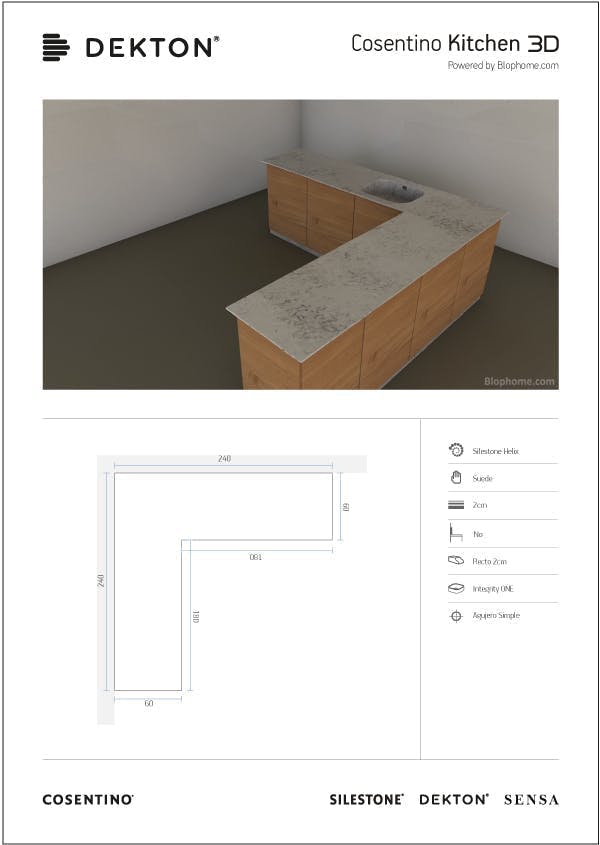 You can then select the thickness of your worktop, choosing from three different sizes: 1.2 cm, 2 cm or 3 cm. Design your kitchen in 3D with different worktop thicknesses.
Change the design of your kitchen trim. You can choose between a baguette-moulded, straight, bevelled, topless or cladding trim, a solution allowing you to cover the wall perpendicular to the worktop to protect it from stains and splattering, at whatever height suits you, using the same type of material selected. This kitchen planner allows you to modify even the smallest detail of your 3D kitchen design.
Pick the edge shape from the range of options you will find in Cosentino's 3D Kitchen app gallery..
Details such as the location of the sink and the holes for the taps, as well as the type of worktop, will allow you to achieve a more realistic look. Choose between a range of Integrity sinks, with different dimensions and formats, which are made of the same material. This alternative will increase the sense of continuity in the kitchen many times over, removing almost all joints. Design an impeccable kitchen.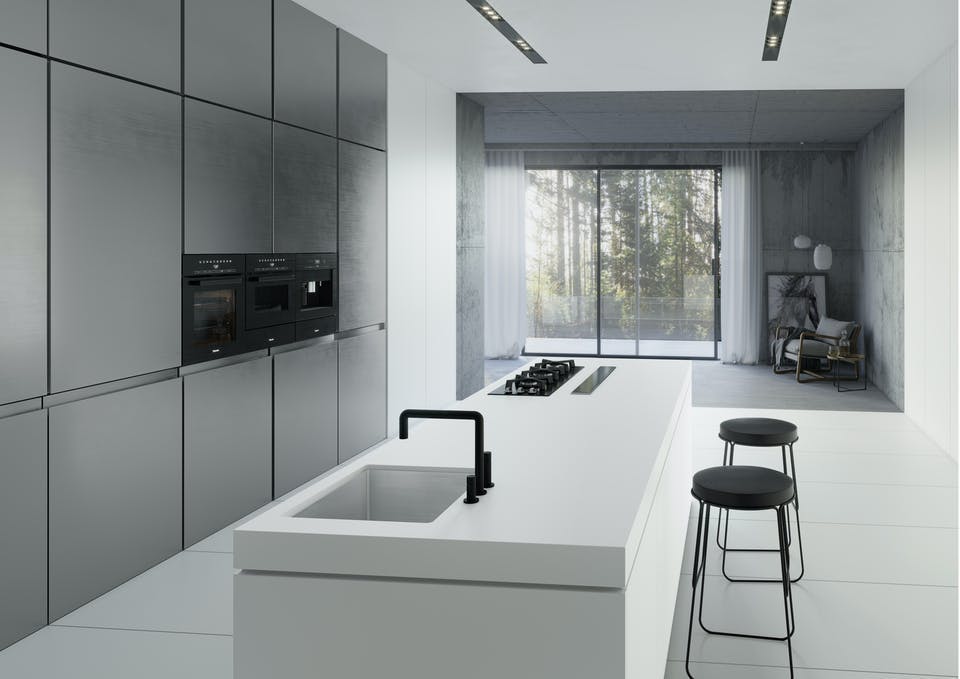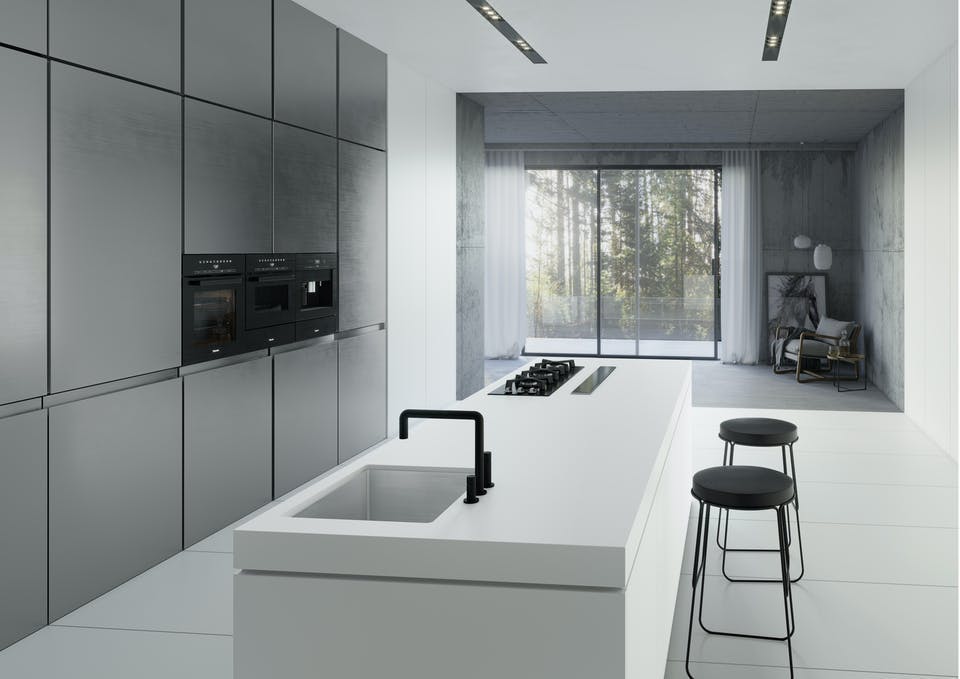 See your design in 3D in the kitchen planner
If you want to preview the progress of your 3D design, all you need to do is double-click on the image. To return to publishing mode and carry on with your changes, double-click on your image again. Finally, thanks to this kitchen planner, you will be able to change the appearance of the furniture for it to look like the furniture you have chosen As soon as you have finished setting up your kitchen, you can generate a 3D rendering that will allow you to visualise a perspective of your 3D kitchen design that includes all the selected elements. If the end result is not satisfactory, you can make as many changes as you like, at no cost, until you get the perfect design: colour of worktop, measurements, shape of the edge, type of sink, etc.
Request your 3D kitchen design by email
If you would like us to send you the design by e-mail, simply enter your e-mail address. A pdf with the specifications, layout and 3D rendering will be generated. With this document, you can request your shop or marble supplier to design your kitchen according to your own design.
With this tool you can change the colour, texture, thickness, edges, etc., as many times as you like and design a totally customised project, quickly and easily.