"Good design should always be honest and inspiring".
After graduating in architecture in his native Argentina, Daniel Germani spent almost a decade in Europe working on different creative and business projects. Today he runs his own studio in Phoenix (Arizona), specialising in product design, design consultancy, interior design and architectural renovation. He also works as creative director for different international furniture and design brands and has created numerous pieces and collections for Cosentino, including the latest launch of the ultra-compact Dekton stone range: Pietra Kode and two designs for The Bathelier, the C·Bath ideas laboratory, Cosentino's comprehensive bathroom proposal.
Good design should always be honest and inspiring. Our aesthetic is influenced by the Bauhaus, Neimeyer, Le Corbusier, Mies and Wright.
Between Europe and America
Although our studio is based in the United States, I am constantly travelling to partner with companies around the world. It is this middle ground between different cultures that has earned us worldwide recognition.
With the Dekton Industrial collection (2017), we reflected on the beauty of metals and cement in all their stages; it was a tribute to the incredibly beautiful imperfections of the processes of oxidation and degradation that certain materials undergo. Dekton's unrivalled technology provided us with the necessary tools to explore and design. The result was a collection of four colours (Nilium, Radium, Trilium and Orix) that highlight the richness and depth of a natural, organic process.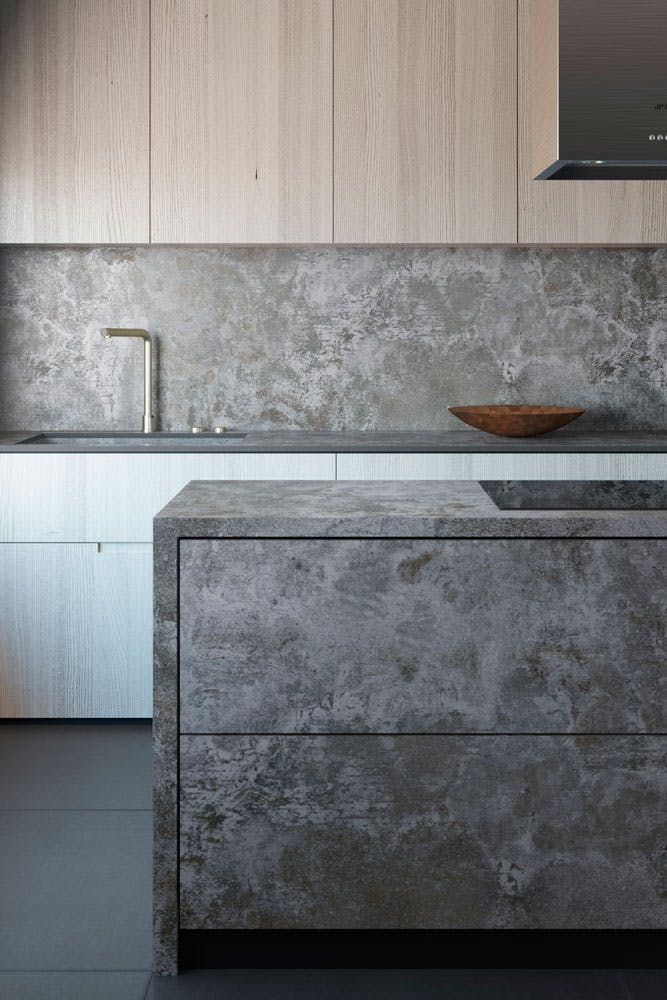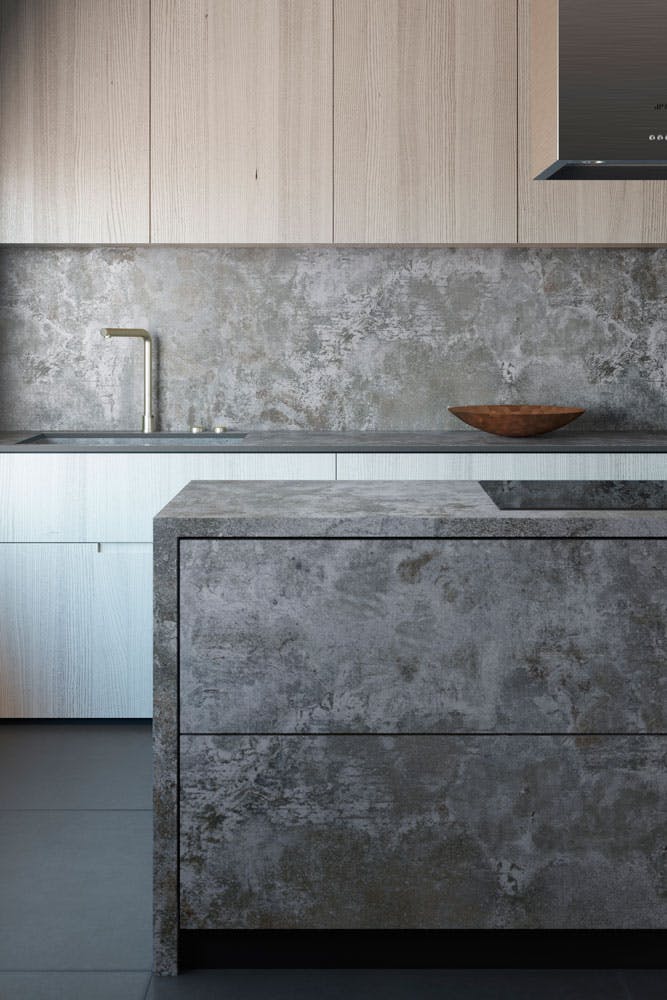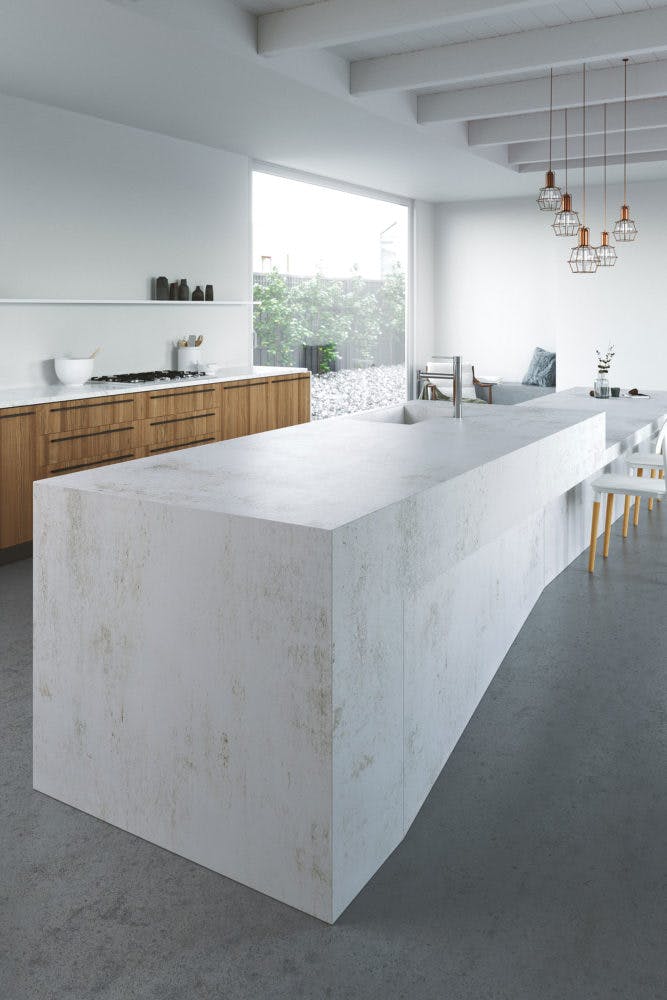 The same collection was also a milestone in terms of sustainability. Launched a year earlier than the other colours in the collection, Trilium was designed to incorporate up to 80% recycled content in its manufacture, becoming the first ecological Dekton colour.
It was a demonstration of how beauty and strength can go hand in hand. Created for the Milan Design Week 2017, this spectacular sideboard reinterpreted the essence of wood through its combination with Dekton. 'Madera Meets Dekton' brought together the exclusivity of the solid walnut wood of Riva 1920 furniture with Dekton Spectra in its highly polished XGloss finish.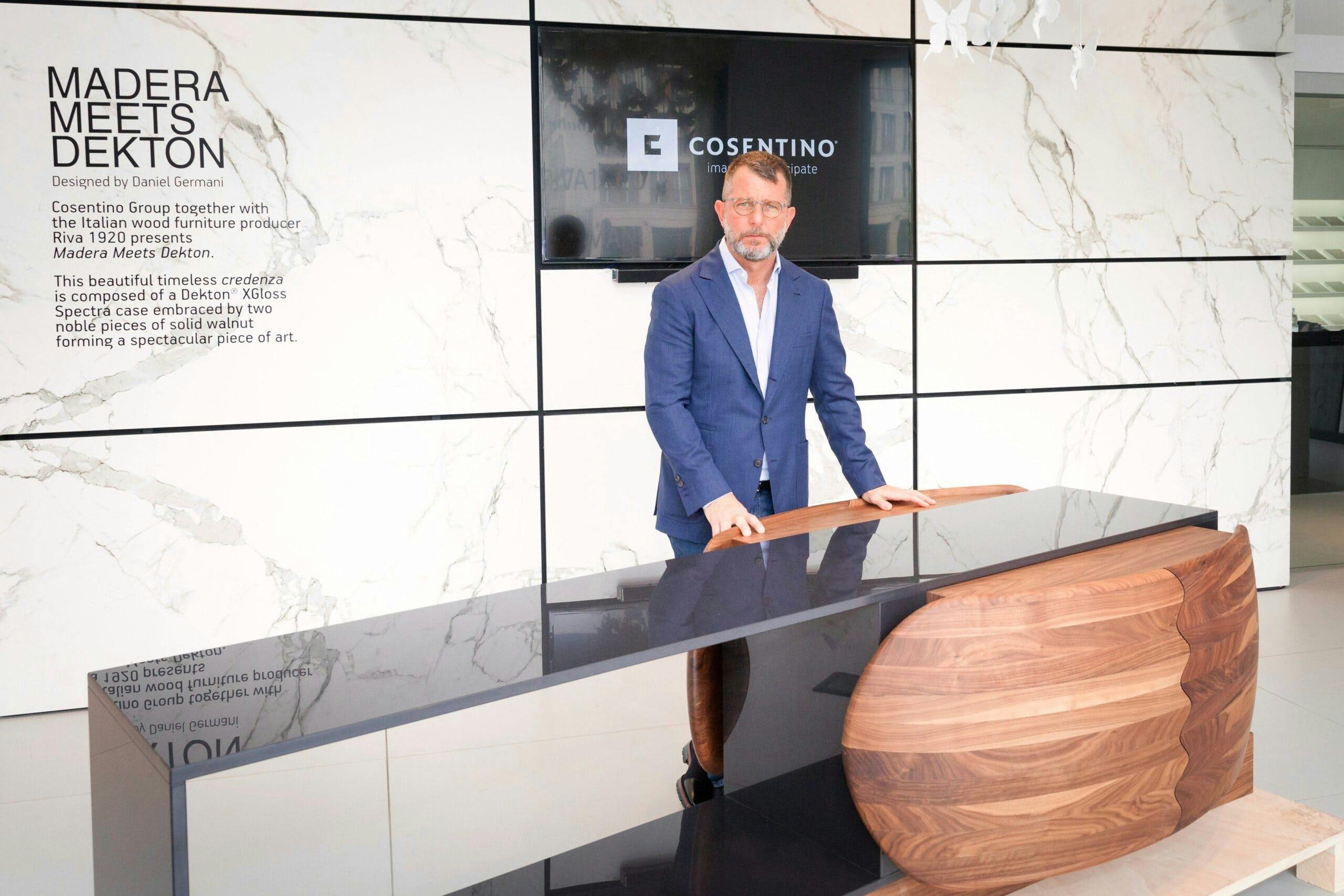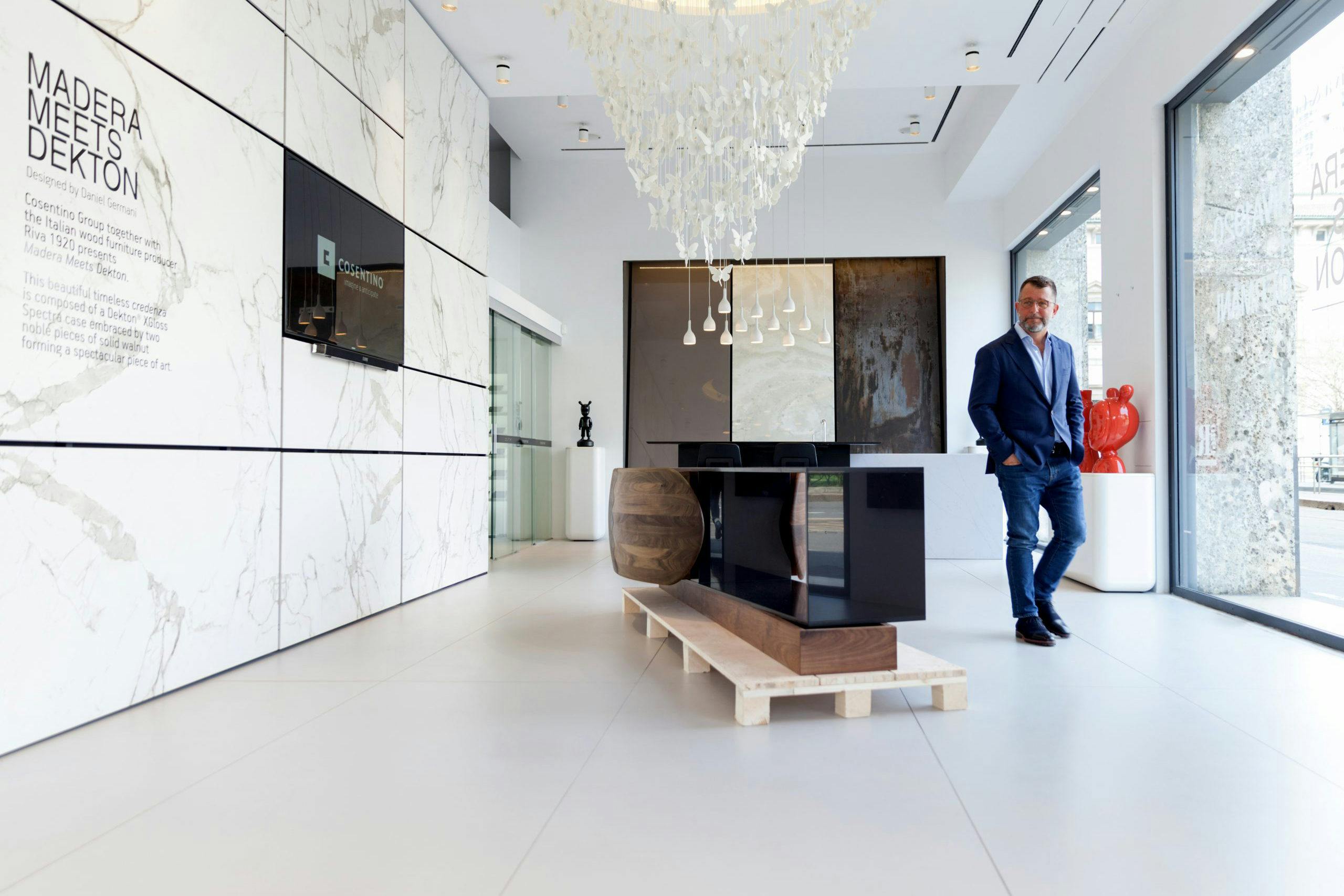 Conquering outdoor spaces
In 2018 we launched Solanas, an evocative collection of outdoor furniture featuring Dekton and created in collaboration with GandiaBlasco. This collection of outdoor furniture pays homage to Solanas, a beach in Uruguay where I used to spend the summer, an idyllic place with endless beaches and never ending sunsets. We worked with materials that remain unaffected even in the harshest weather conditions, combining extruded aluminium profiles with Dekton, which has outstanding technical properties: resistance to UV rays – so that it keeps its colour very well –, scratches, stains and thermal shock, as well as very low water absorption.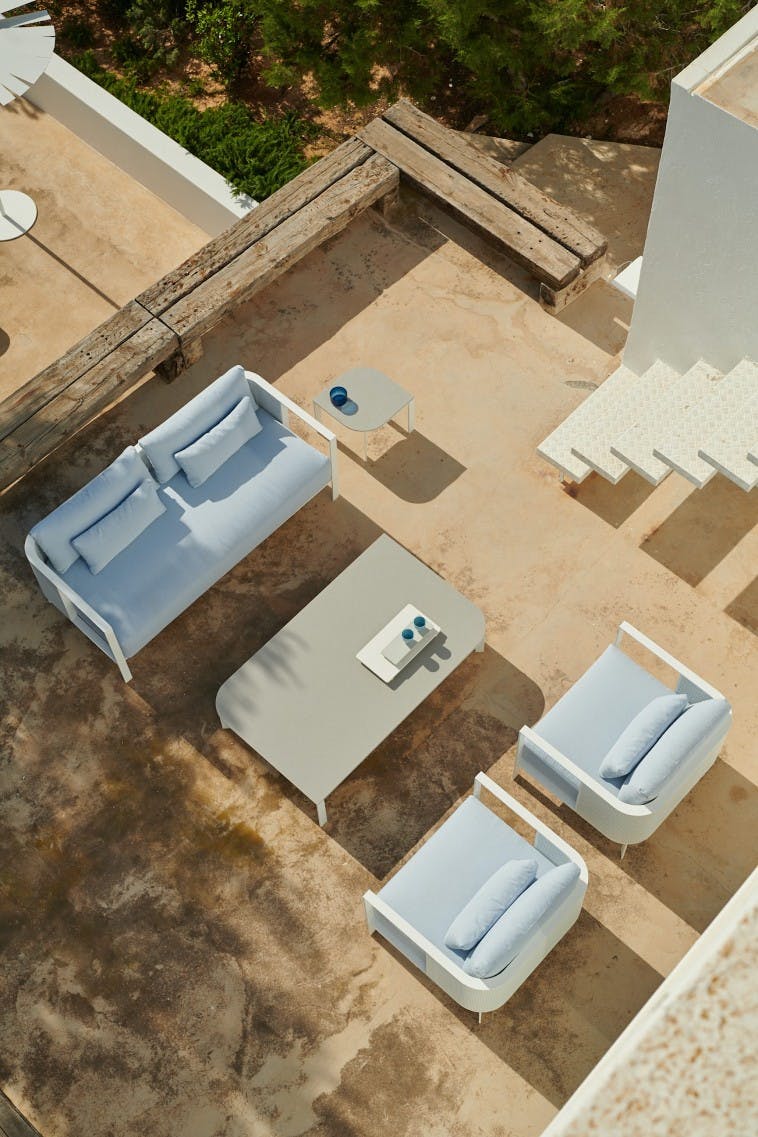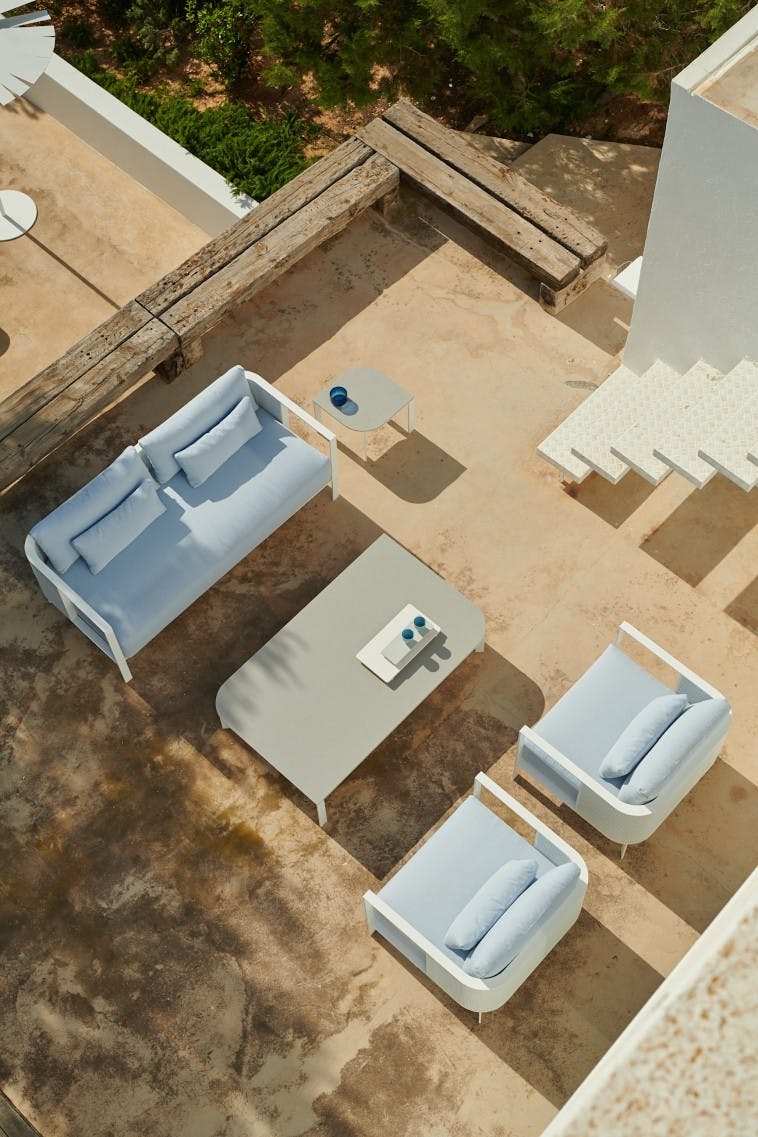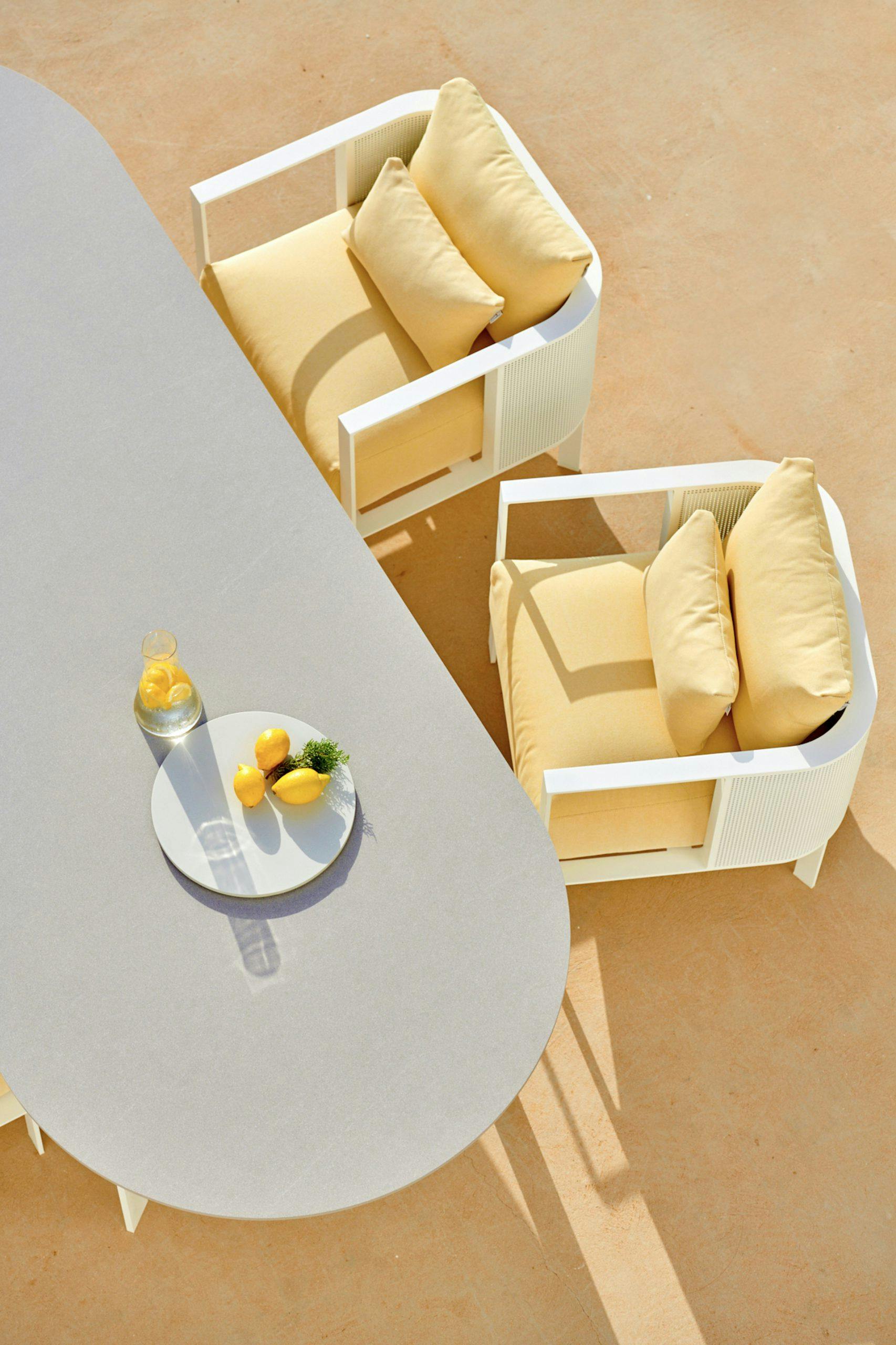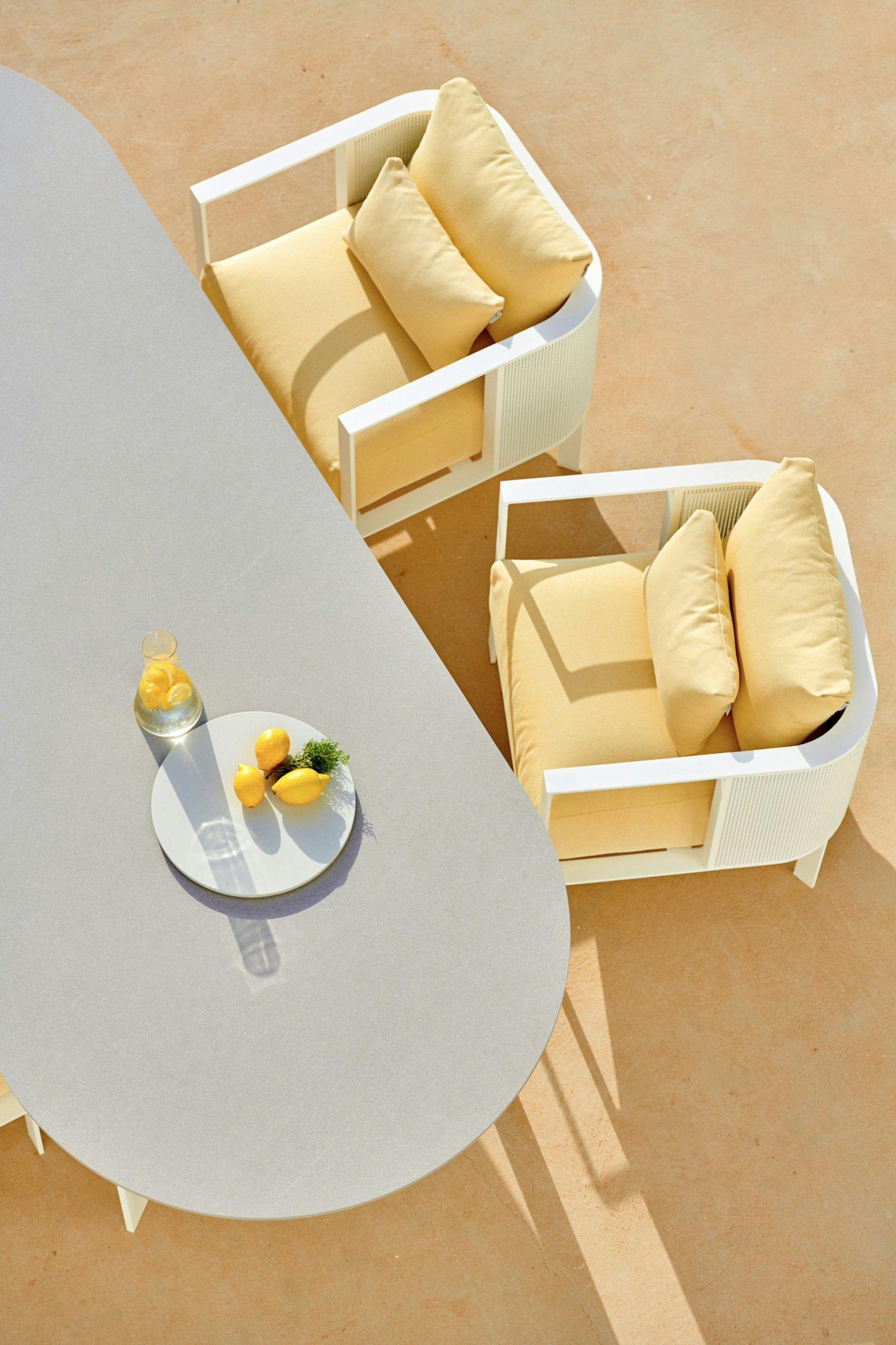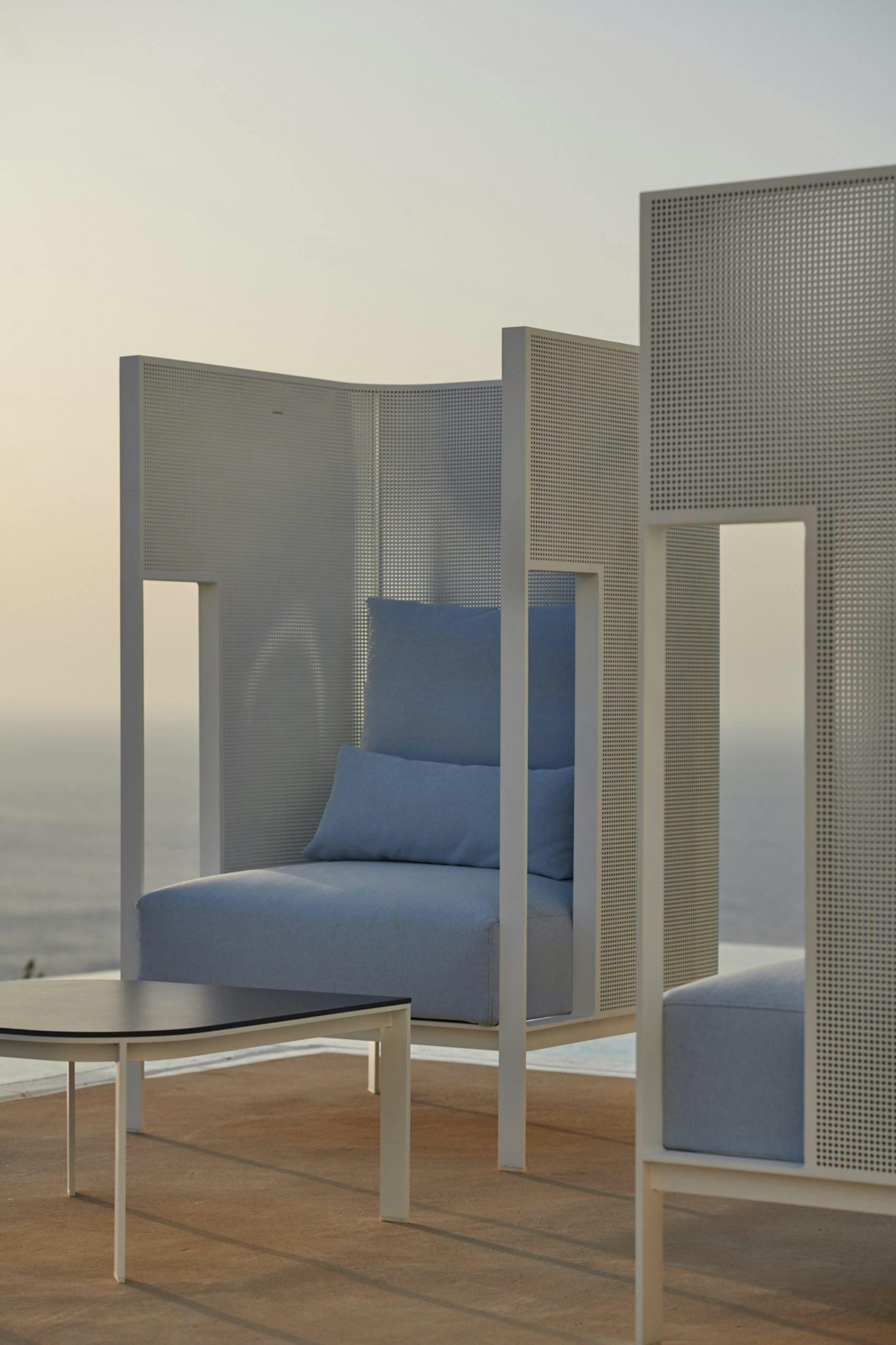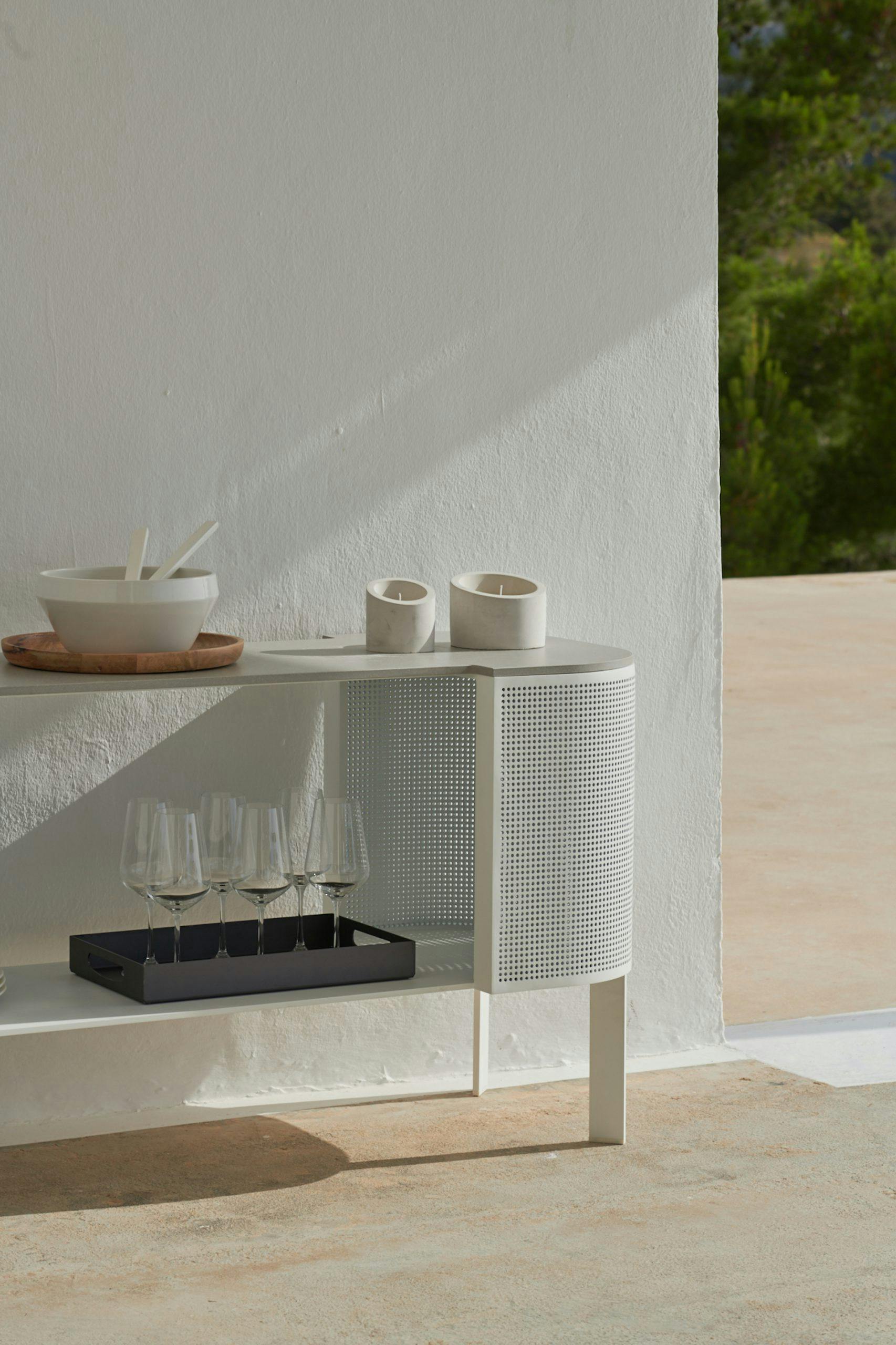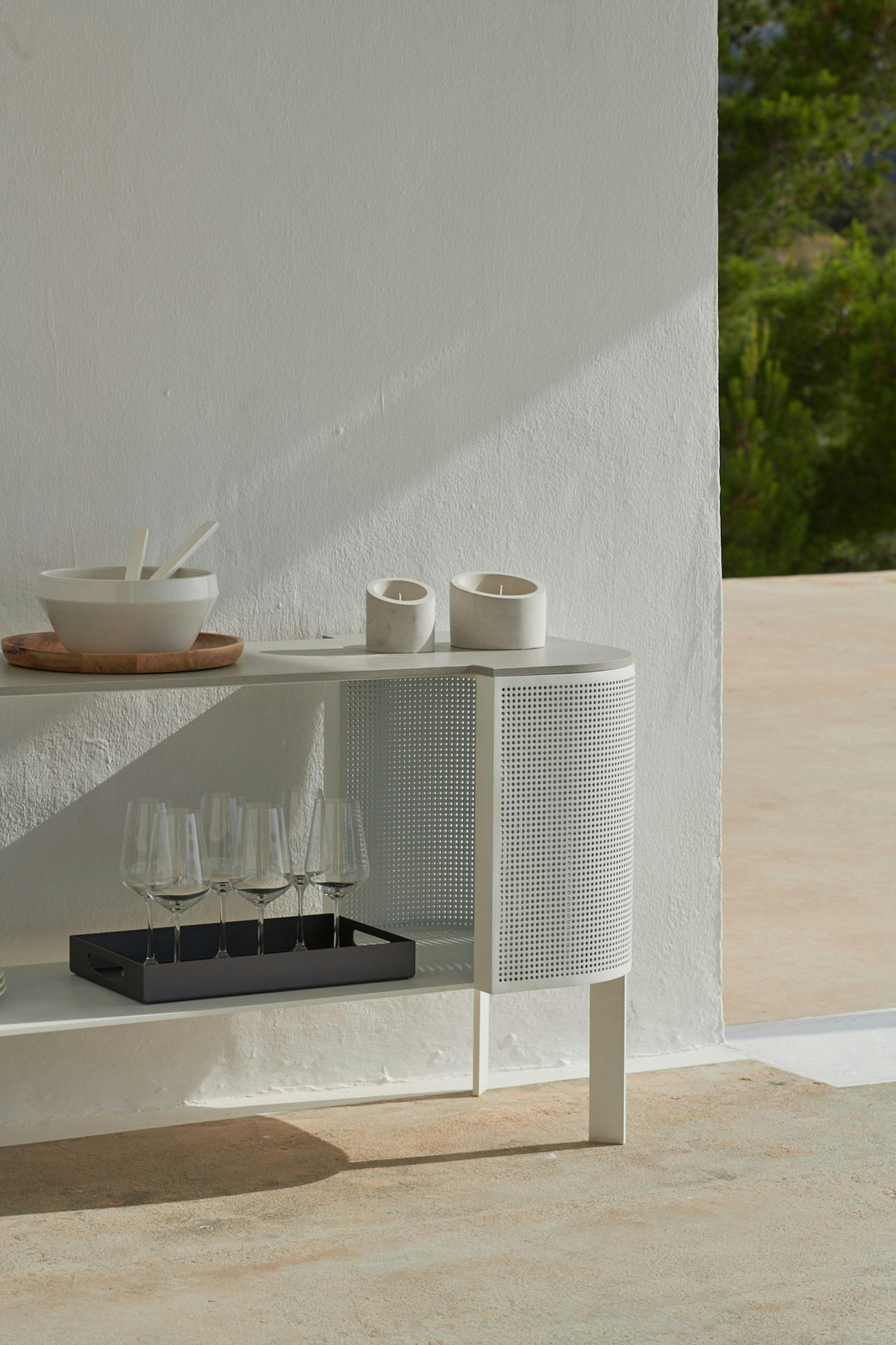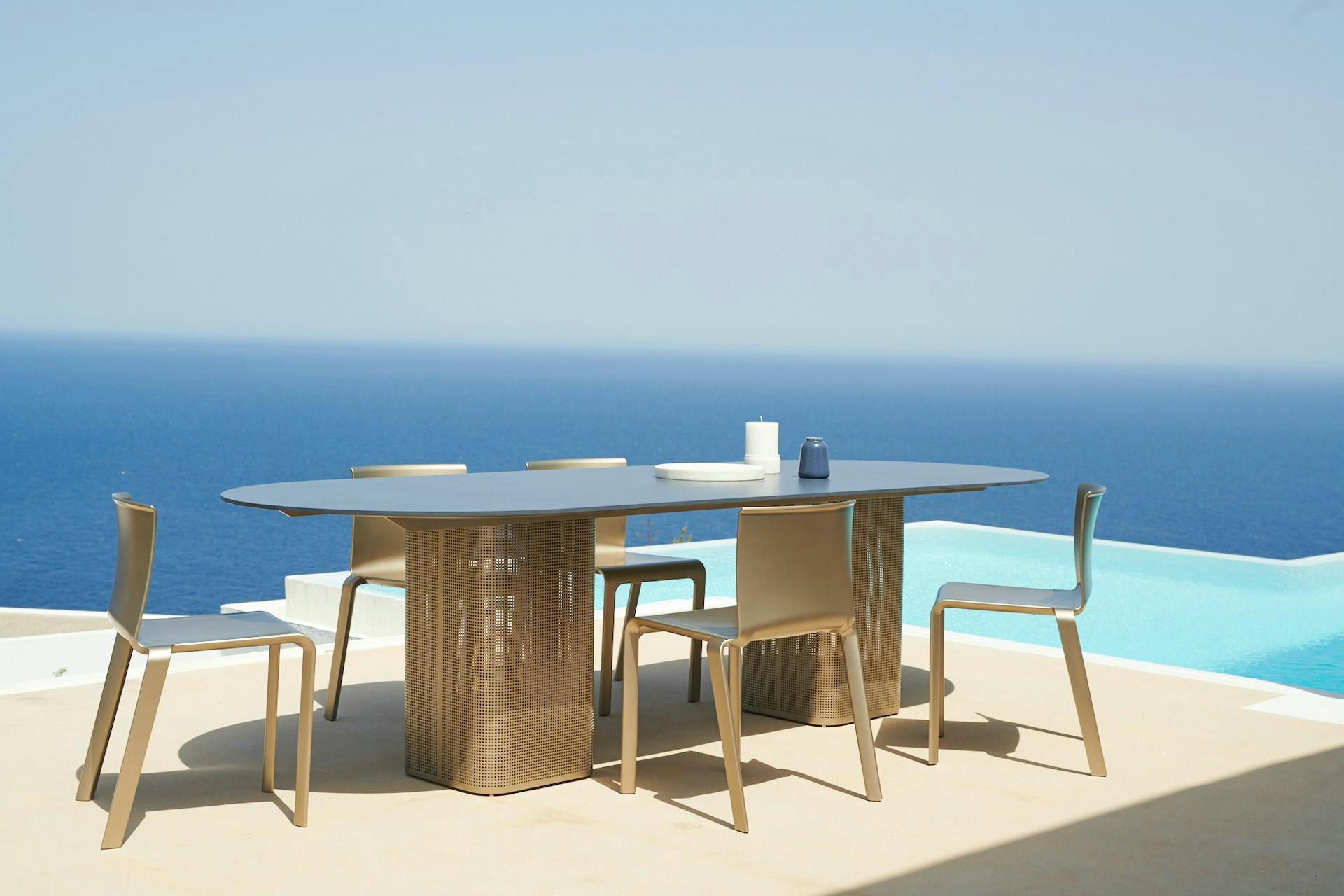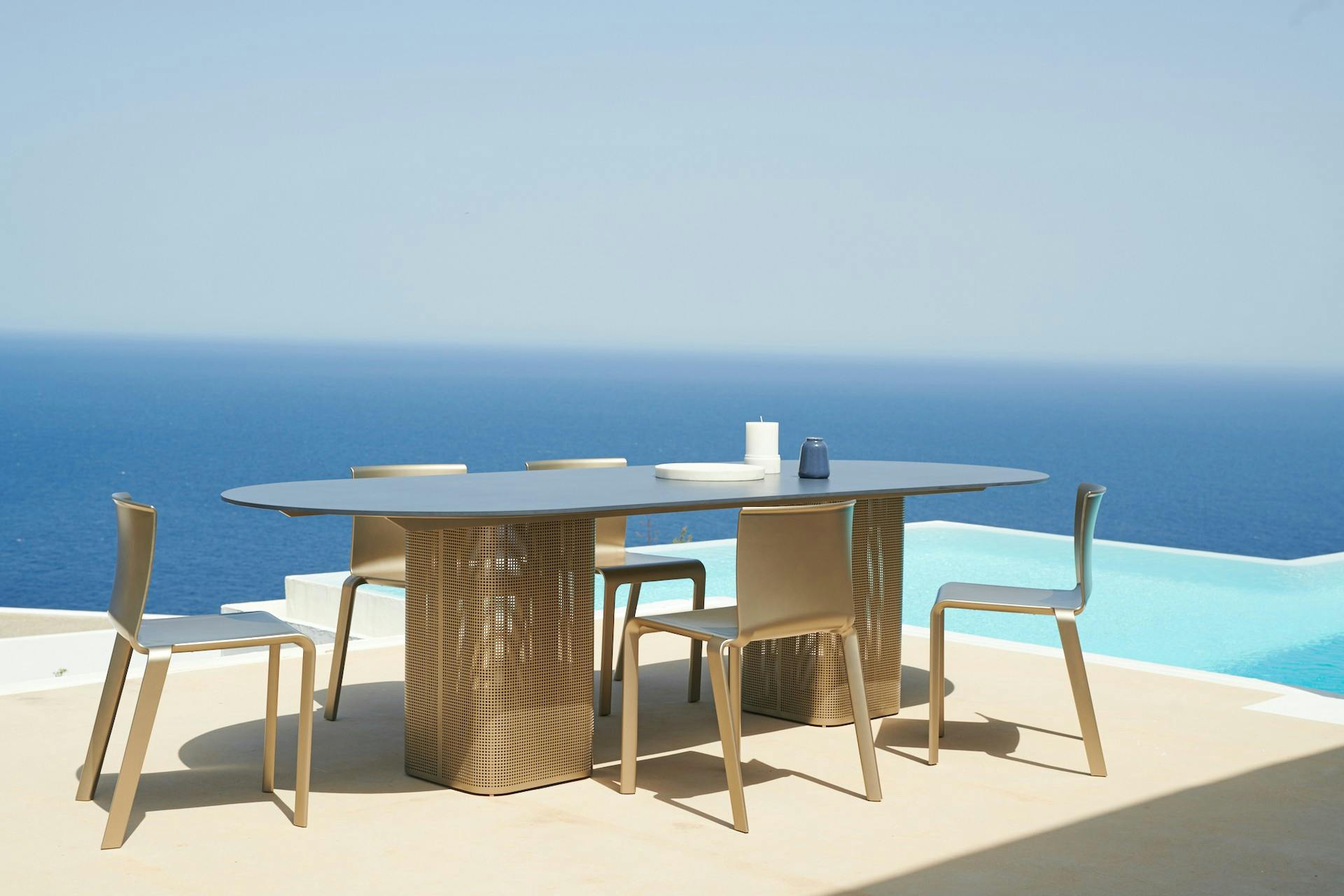 When it comes to the kitchen, we always find great, innovative and clever design solutions to hide and store everything, but that is not the case with bathrooms. I realised that bathroom storage has remained the same over time. That is why I designed the bathroom credenza DeKauri, which was made of Dekton and 50,000-year-old Kauri wood, exclusive to Riva 1920. The piece was selected from over 5,400 entries as the winning project at the German Design Awards 2019. DeKauri turns the essential parts of the bathroom into something incredibly beautiful. It makes us forget that we are in a bathroom. I can easily imagine it in a hotel master suite, or even in an open concept bedroom where the sleeping space and bathroom flow into each other.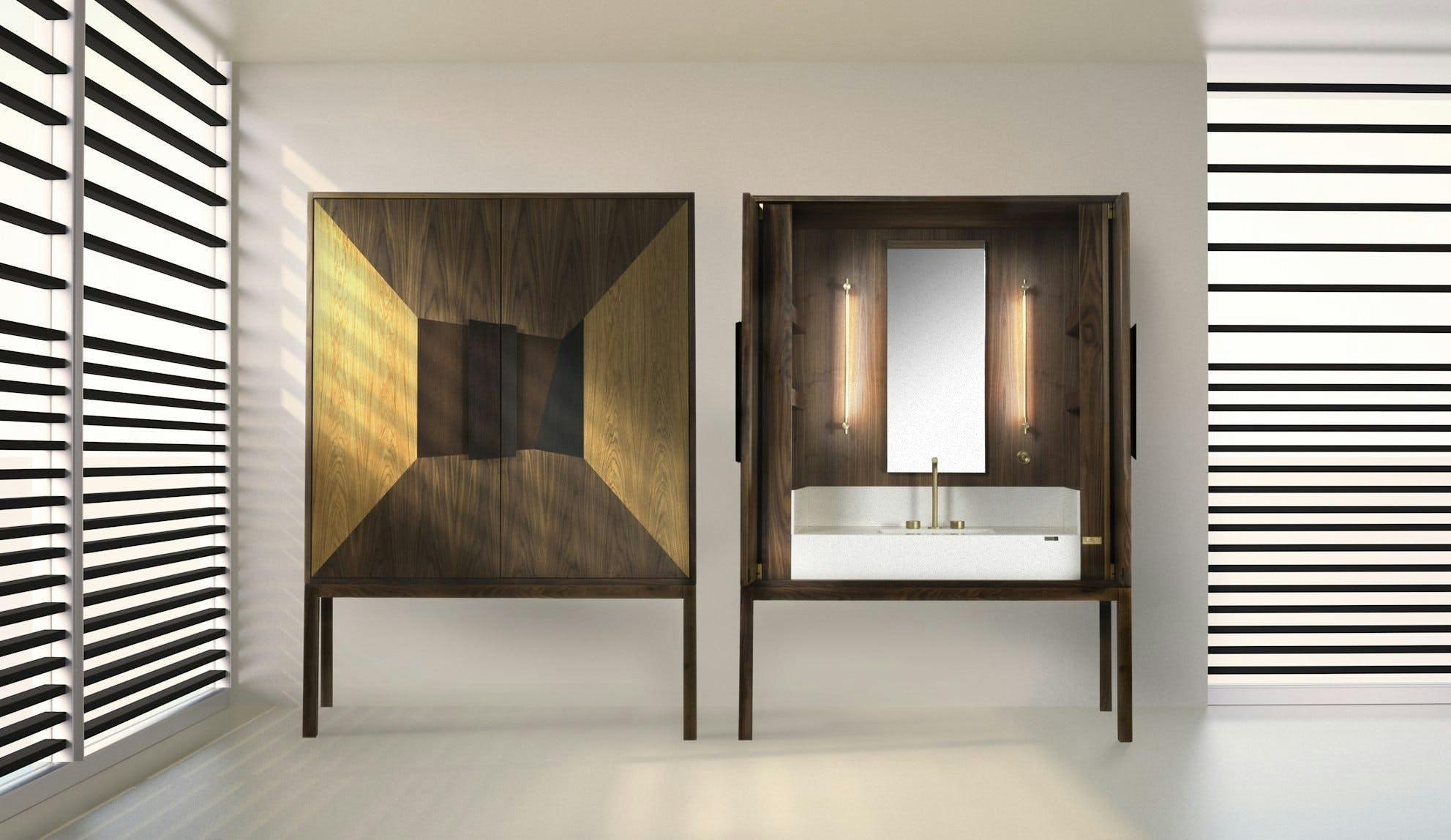 In 2019, we launched the Dekton Chromica collection. When looking for new shades that could be used with both organic and technical materials, I realised that the answer was right there: dark shades of blue and green. These two similar colours (the bluish Baltic and the greenish Feroe) go very well with each other and also with many other colours of the colour wheel. The difficult part of the process was to find shades that were both timeless and modern, that would fit well in both traditional and contemporary spaces and that could be used both indoors and out. It was a very intuitive process and collaborating with Cosentino's R&D department made it a breeze.
When someone is looking for outdoor furniture, they expect to find the same quality of design and functionality that is found in indoor furniture. With ASA-D2, we offer extraordinary and sophisticated features thanks to the advanced technical and aesthetic properties of Dekton and the high quality of Brown Jordan Outdoor Kitchens' stainless steel applications. It is available in four Dekton colours: Trilium, Spectra, Aura and Halo.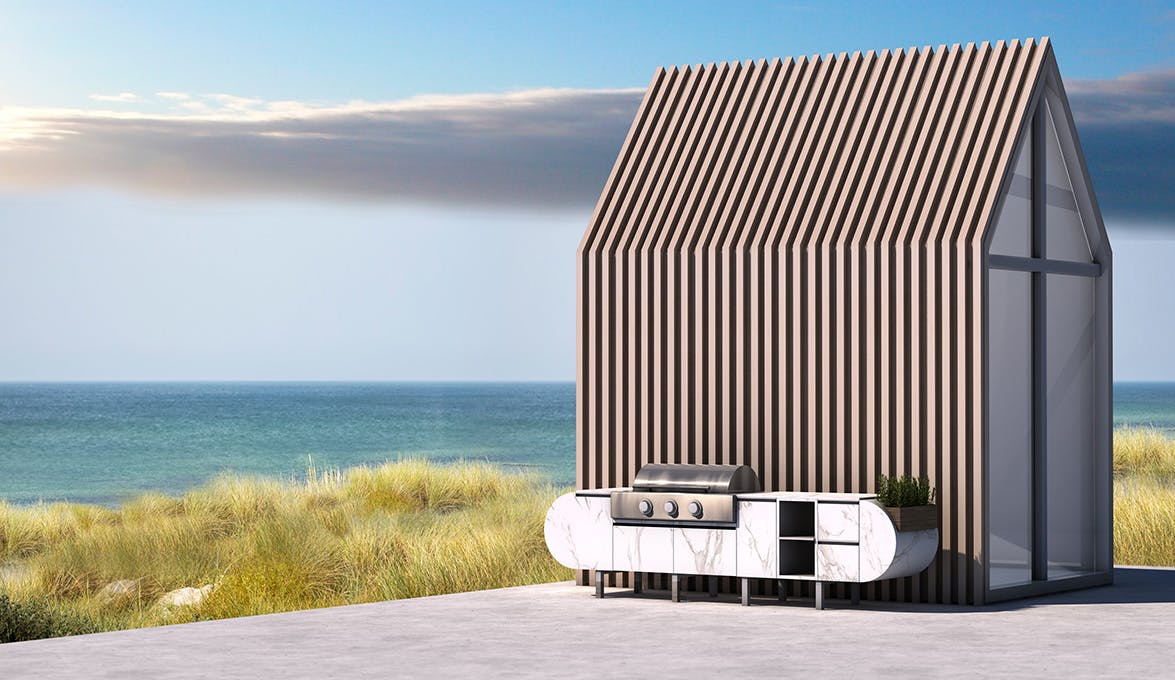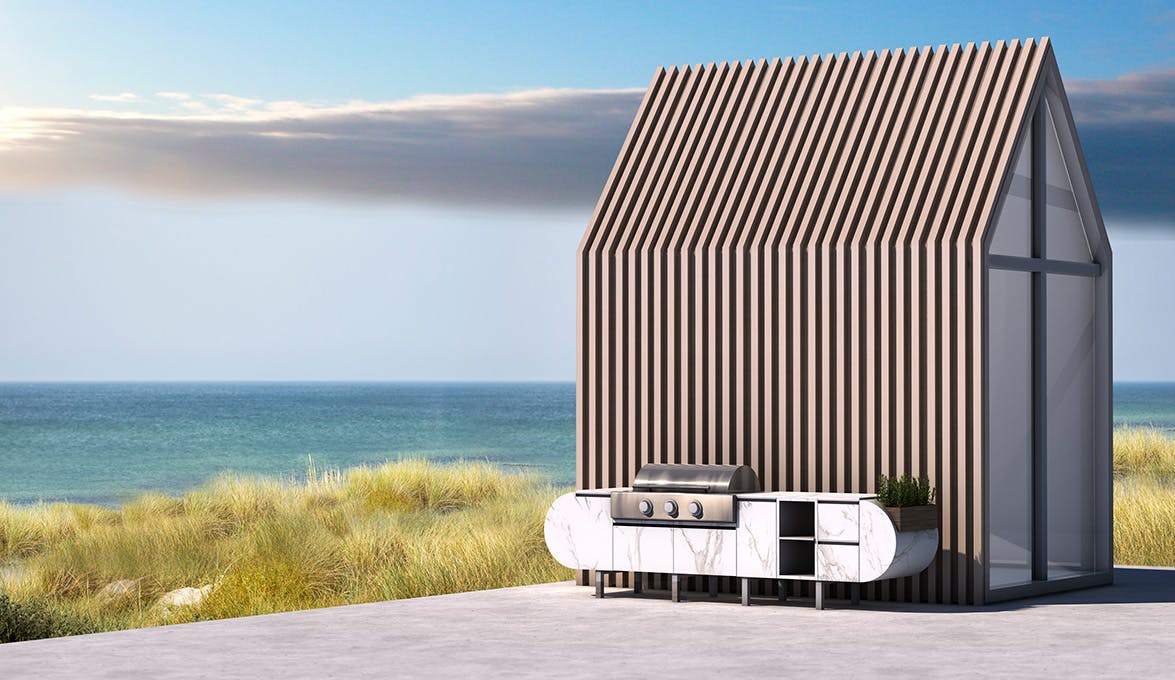 Research is at the centre of everything we do. We analyse the market behaviour in order to understand its demands and try to stay one step ahead. In this search, we travelled to Italy and asked ourselves: how to create a collection that perfects nature's masterpieces? How to capture and reuse all their wonderful imperfections? Pietra Kode revolves around three timeless stones, Vicenza, Travertine and Ceppo, drawing on classic Italian architecture, but with a vision for the future. This collection fits perfectly with the codes of contemporary design, combining beauty, strength and usefulness in the same product.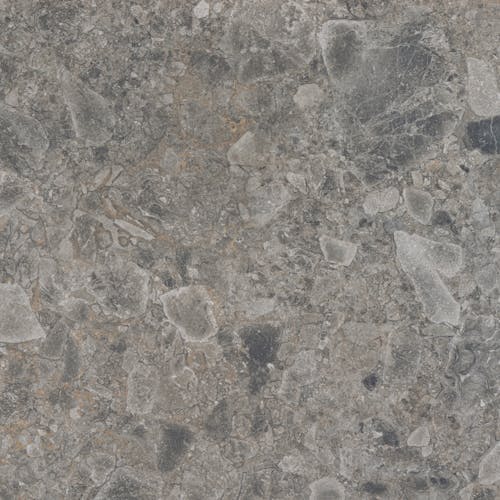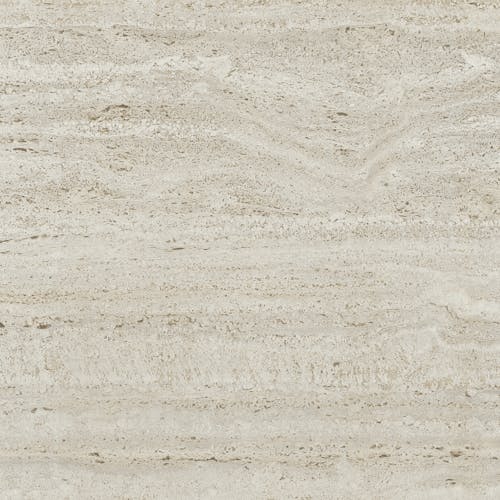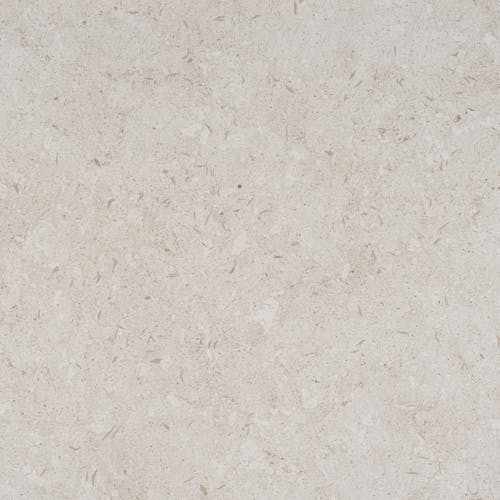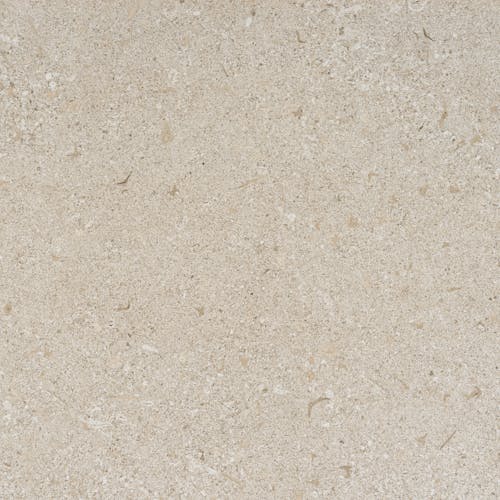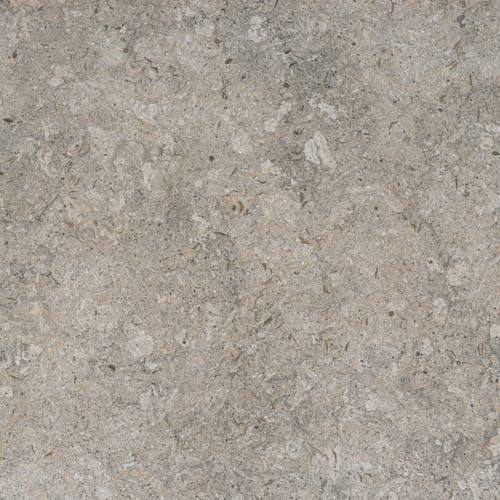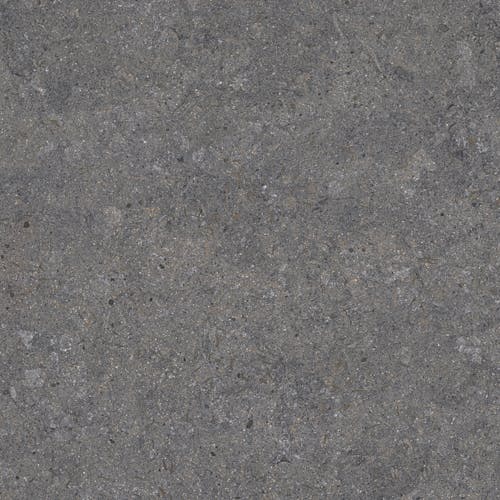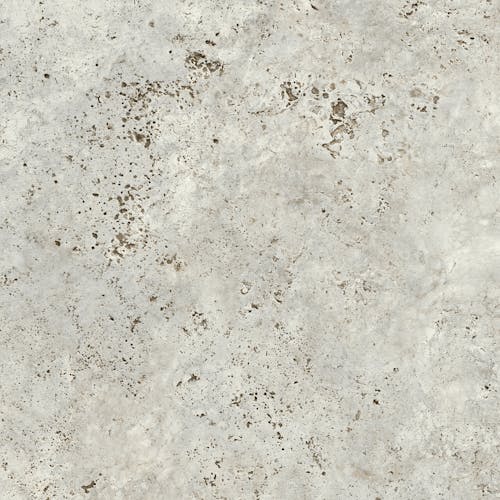 Cosentino and I have launched a global bathroom proposal for which I have used Fantini taps and, of course, some Pietra Kode colours. My designs for this space focus on achieving an attractive and holistic space, capable of generating multisensory experiences that revitalise the mind and body.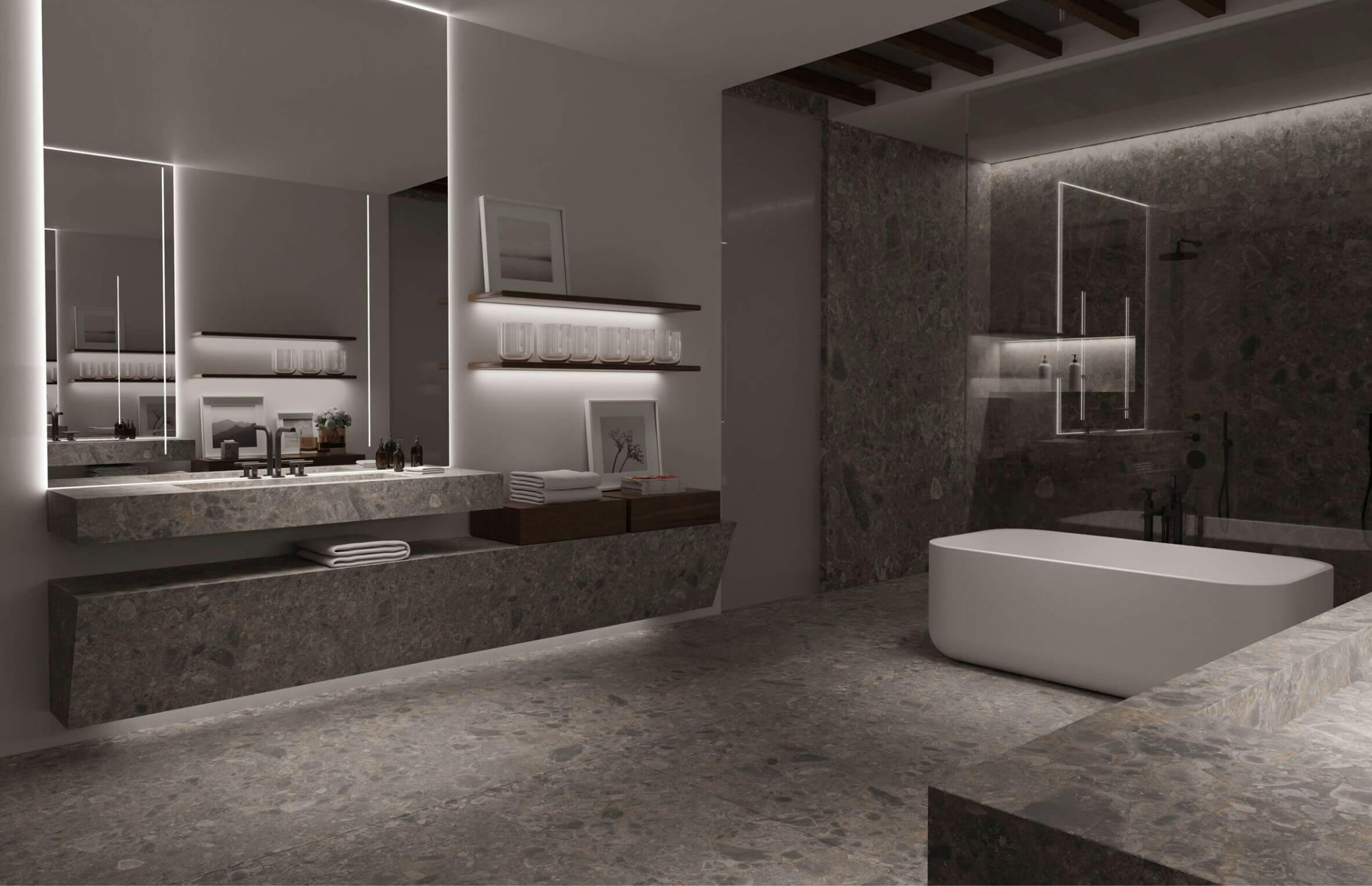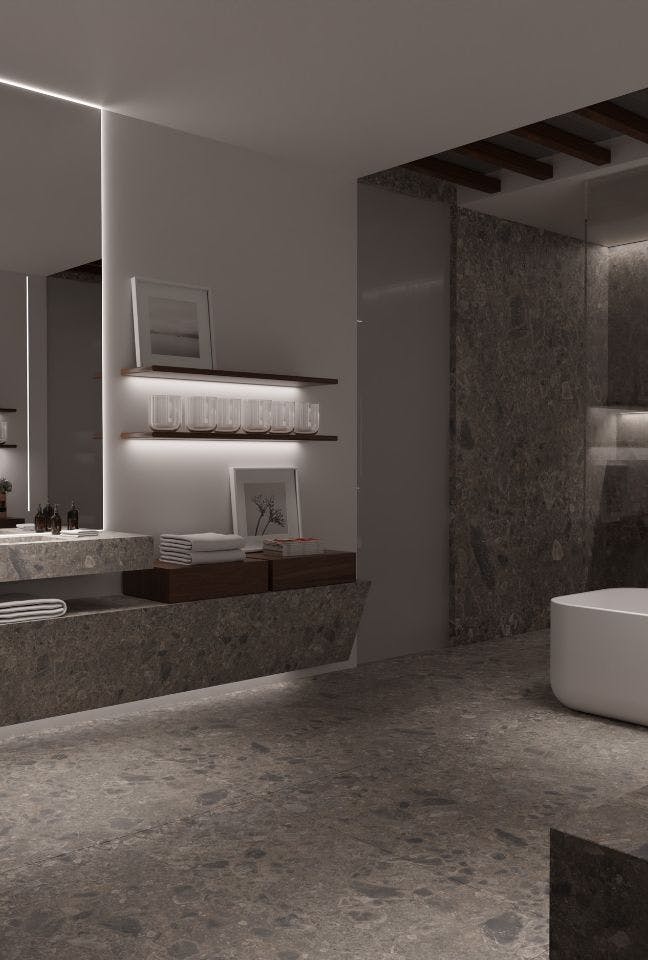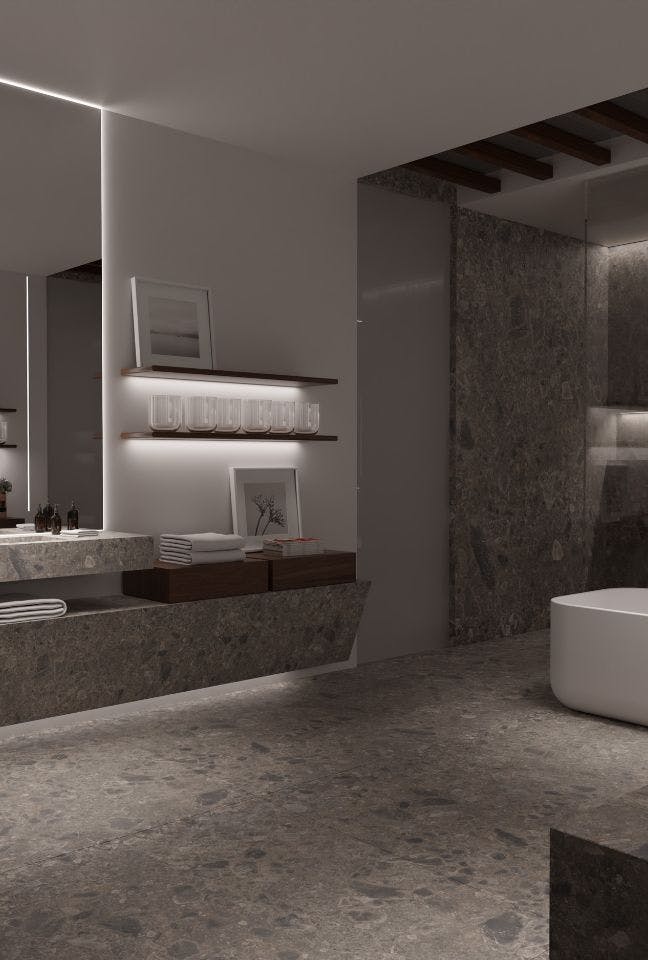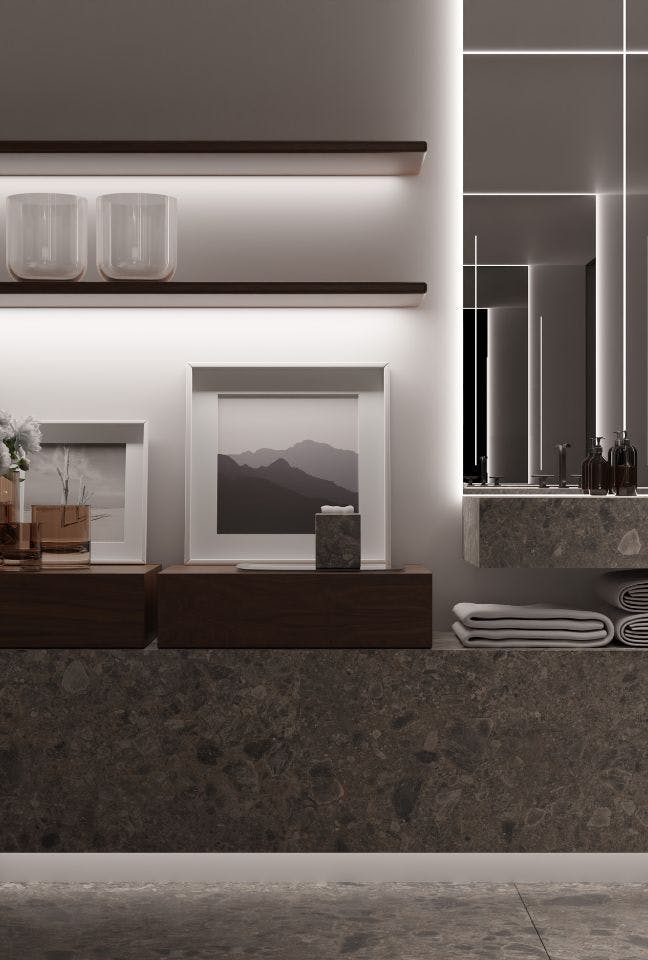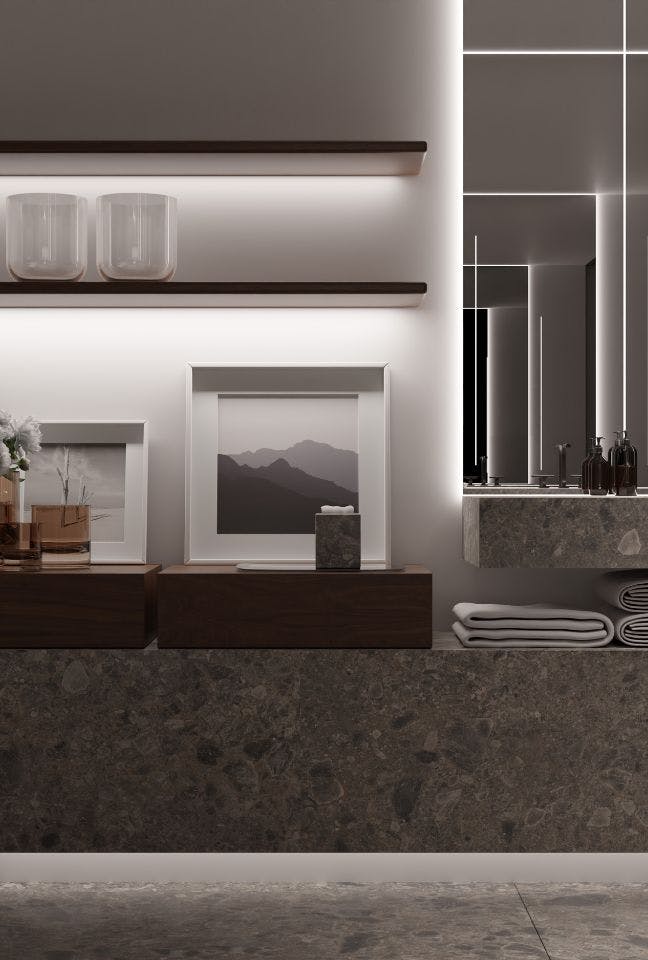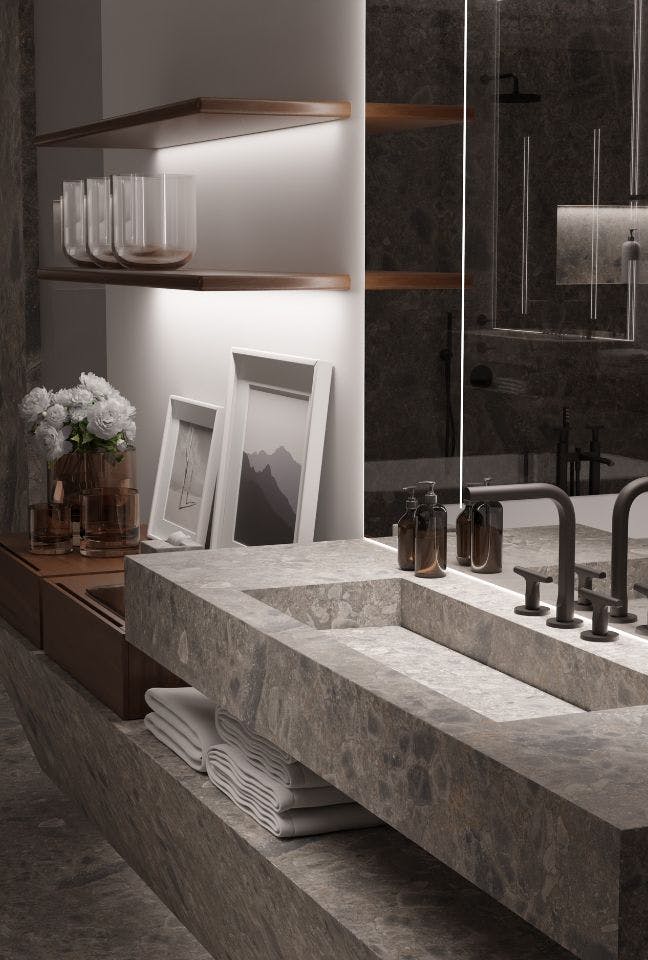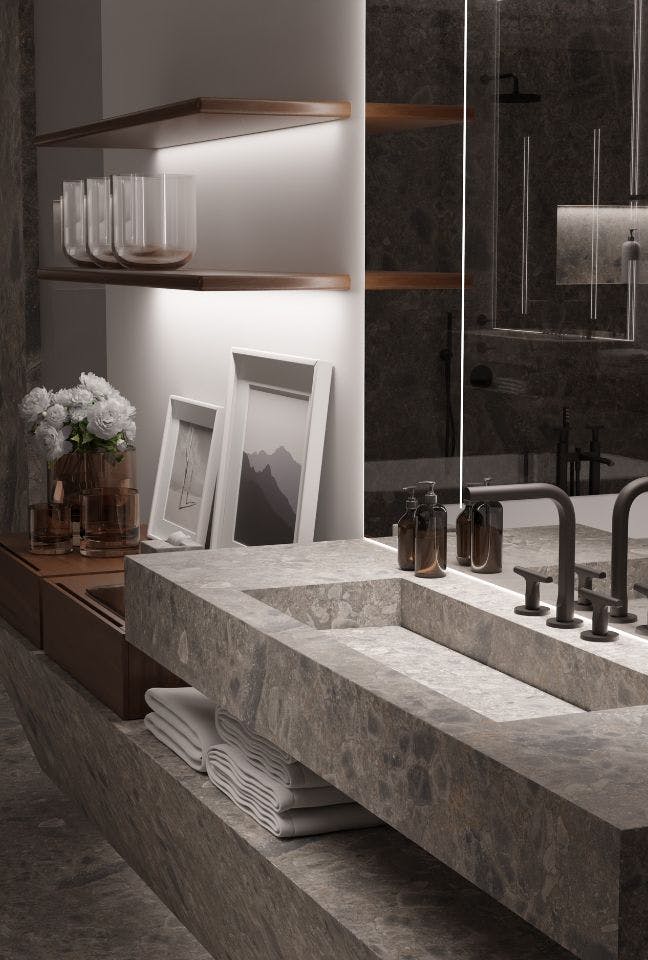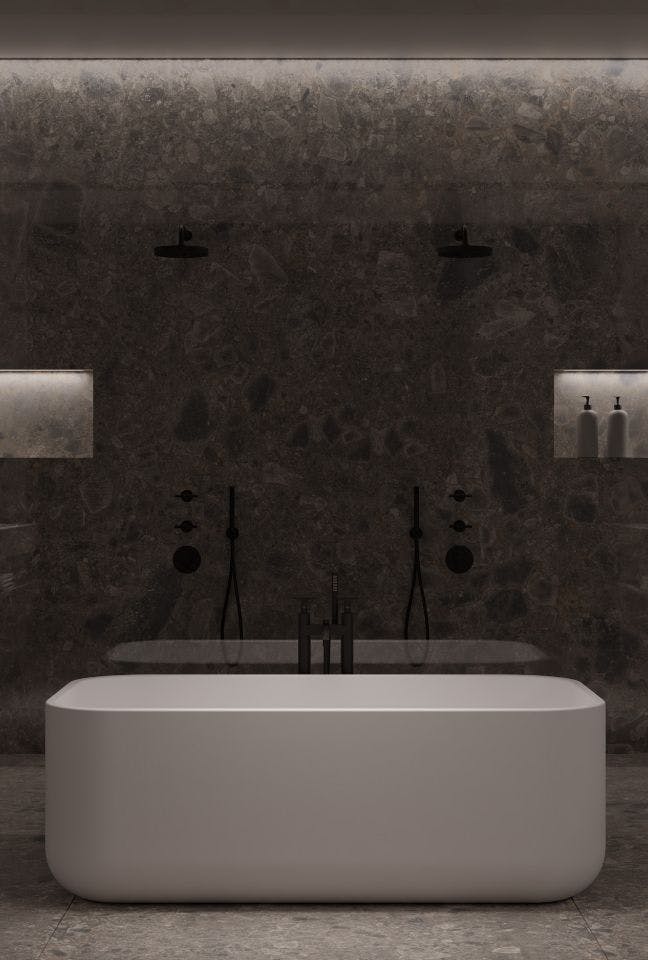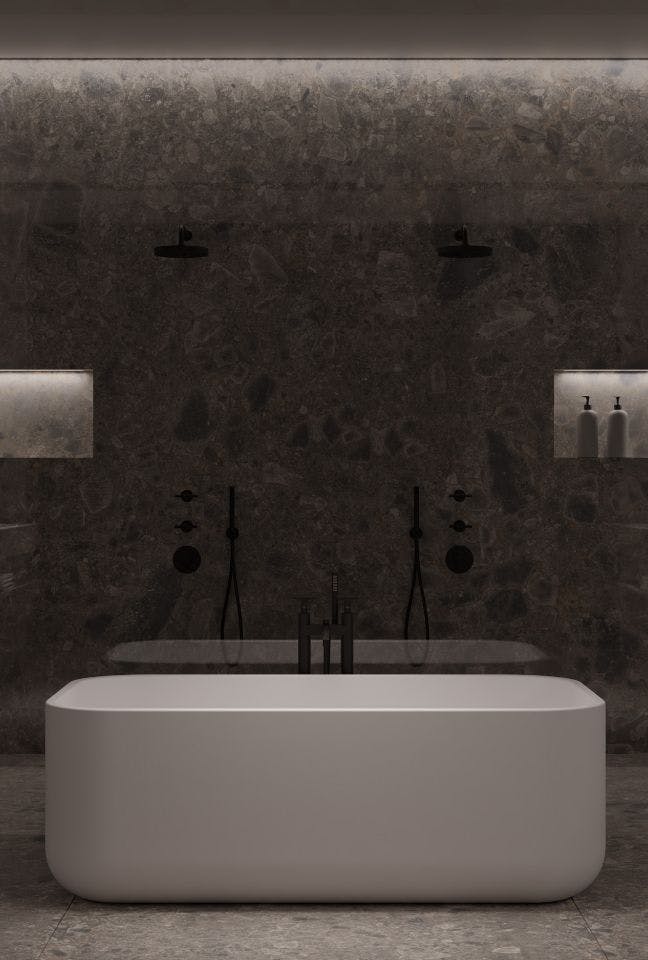 In this project, Germani develops two separate vanity areas to adapt to the different needs of the users of the space. At the same time, it creates a more pleasant and playful feeling in the shower and bath area. With a deep respect for the materials, Germani achieves a calm and serene space of large dimensions, in which the bathroom takes centre stage.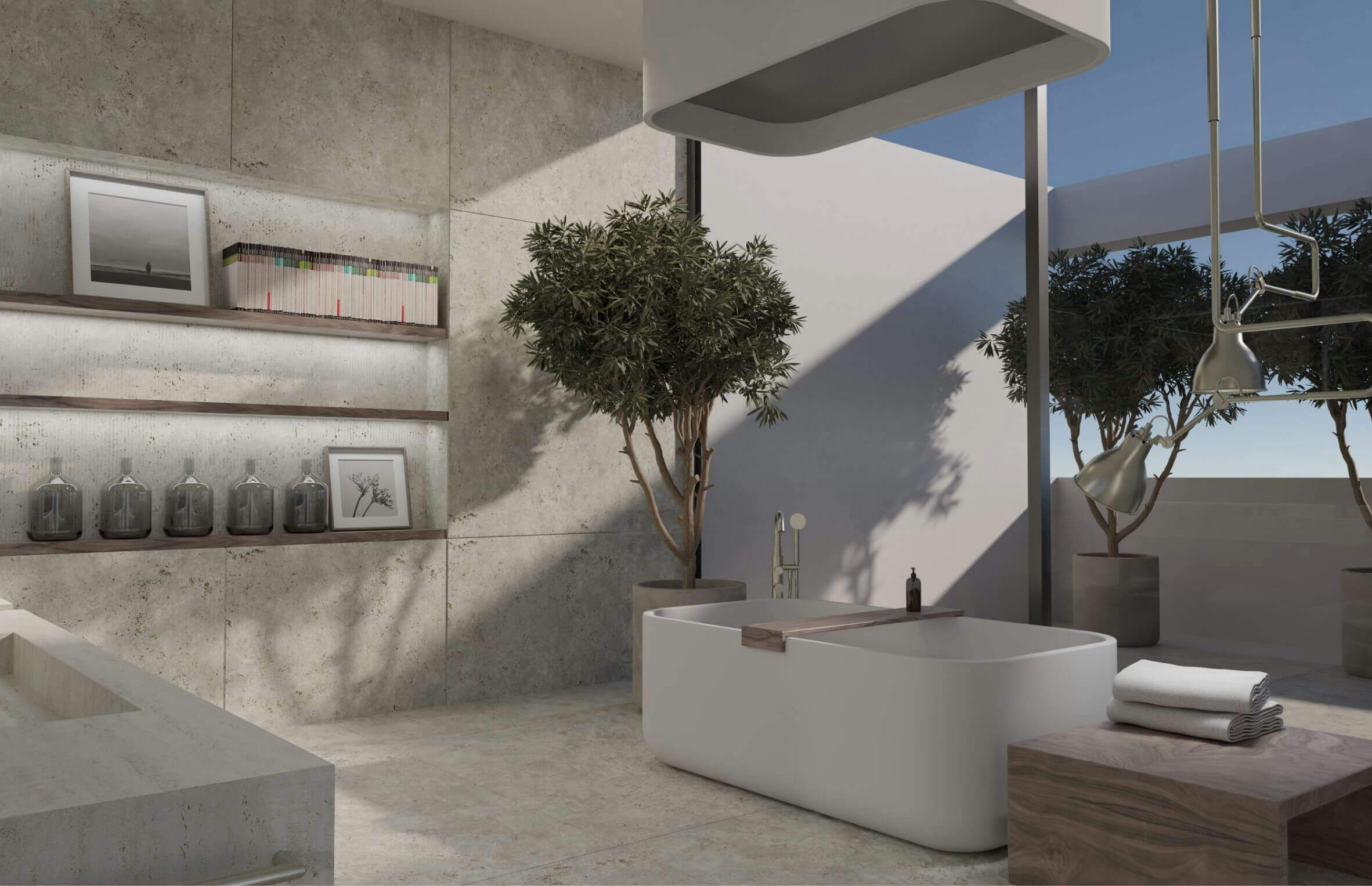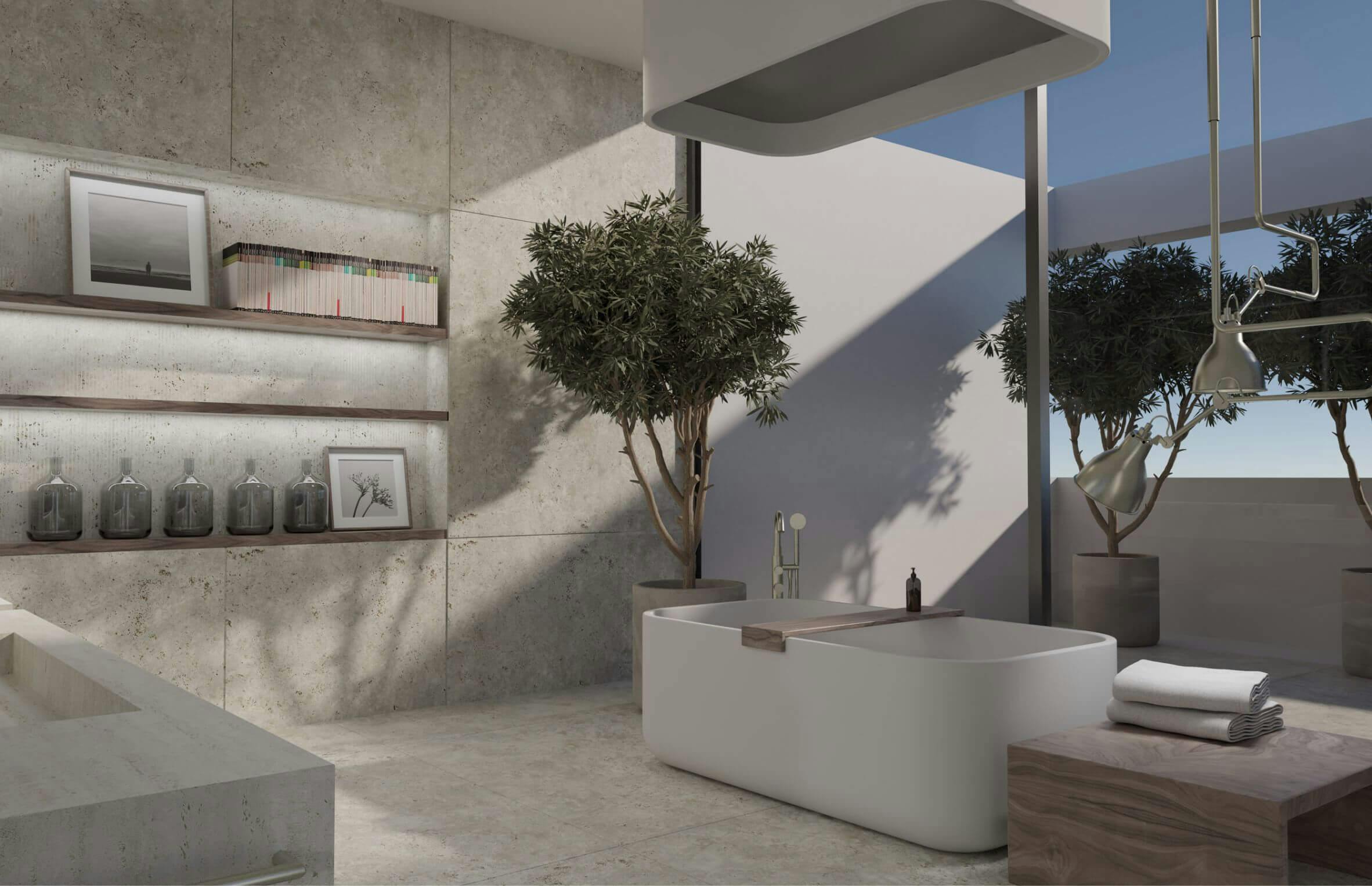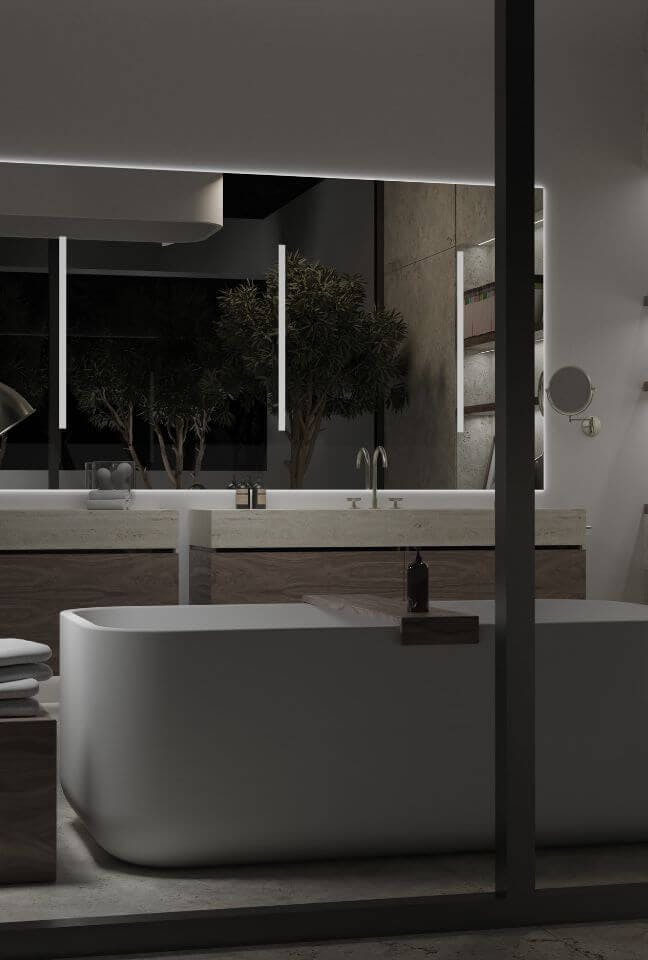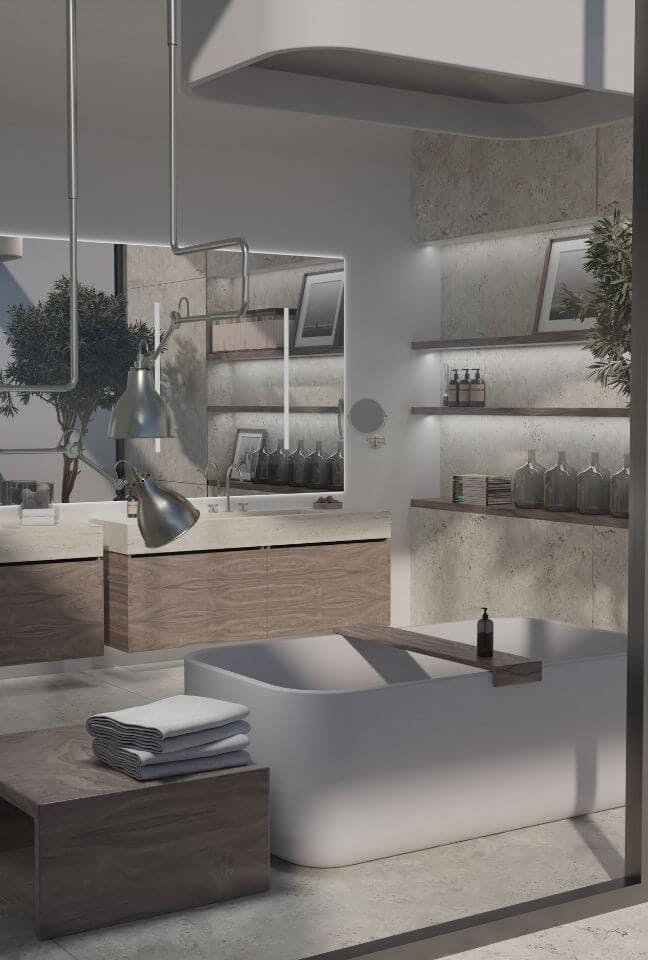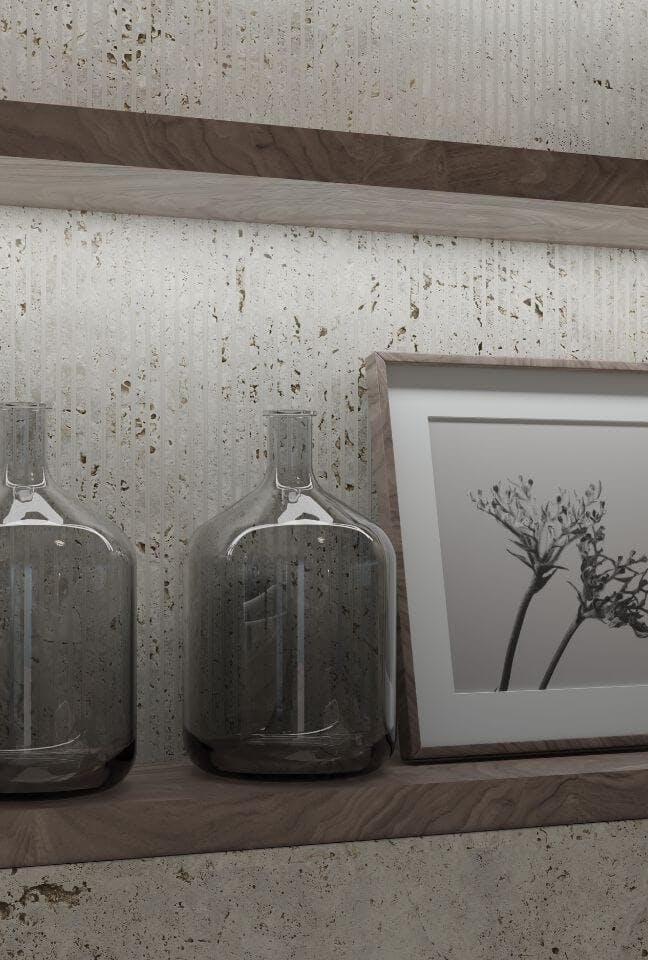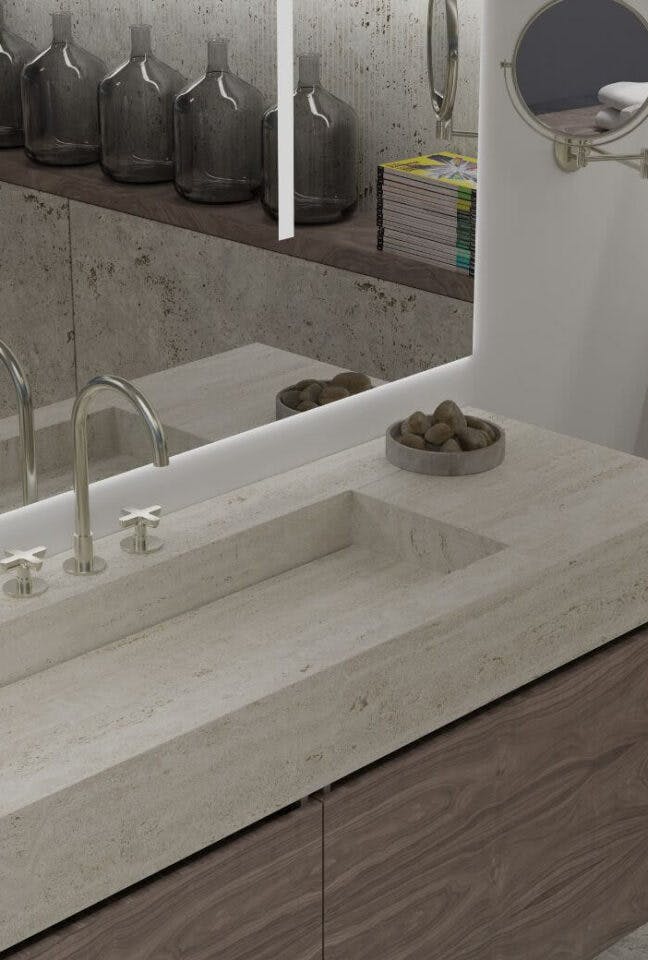 The Batherlier: TRAVERTINO
Contemporary, intimate and sophisticated features make up a balanced project. This water room reclaims a leading role that explores ancient bathing rituals from an updated perspective. In a wilful confusion between indoors and outdoors, Germani recreates a space for self-contemplation that goes beyond the traditional boundaries of the bathroom. A clean and serene bathroom, embracing the experience of light flooding the space.
"Pietra Kode invites to discover a timeless history, architecture and design".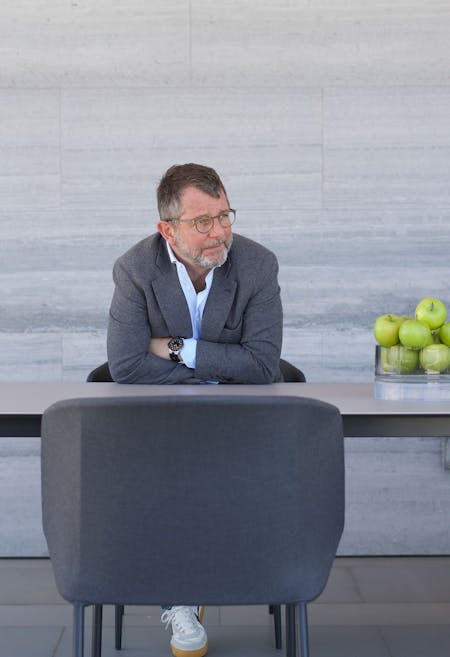 Daniel Germani
Architect and designer