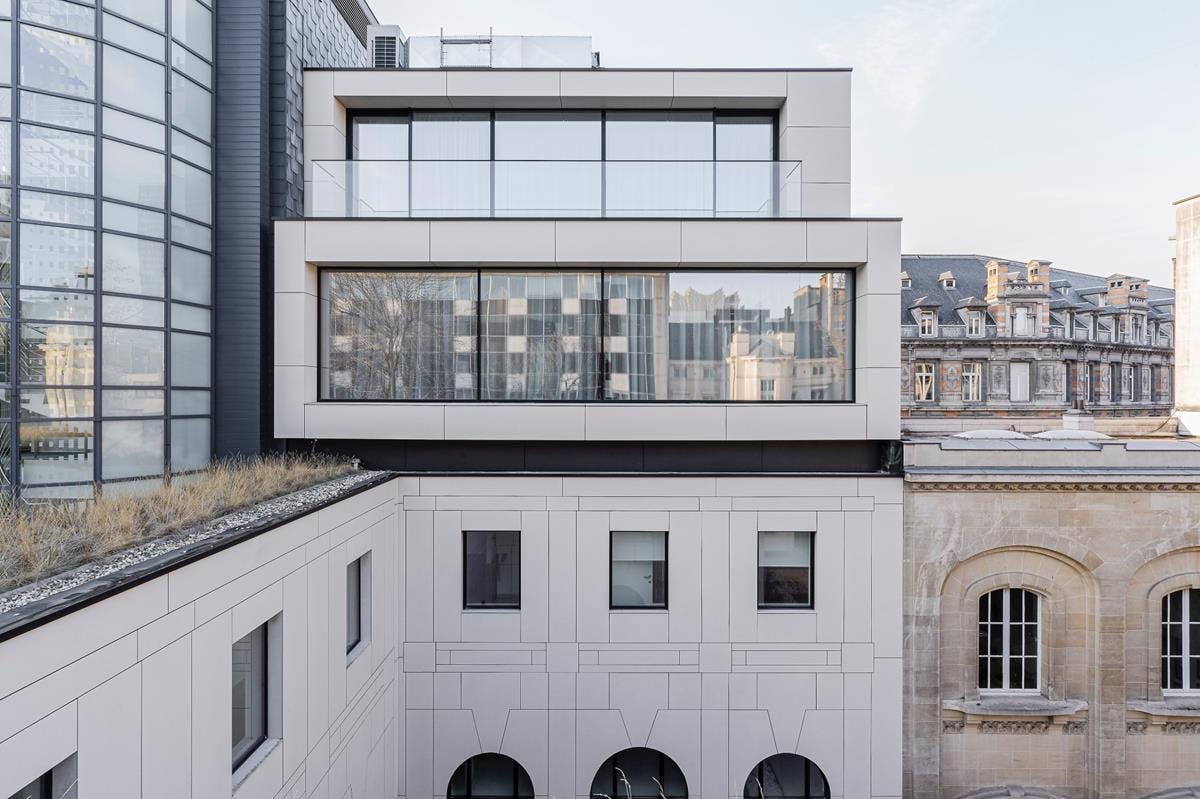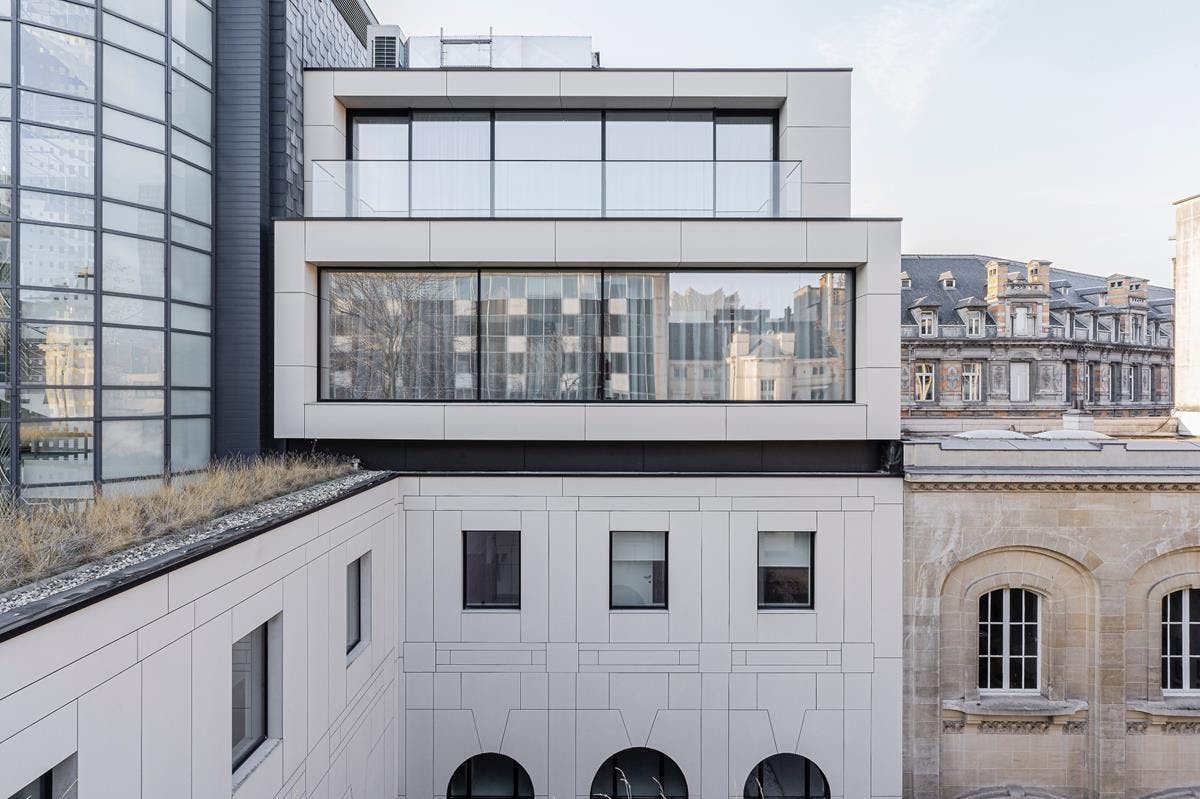 Reflections in Dekton: the renovation of the classicist building The Duke in Brussels
Case Study
Reflections in Dekton: the renovation of the classicist building The Duke in Brussels
VIVA Architecture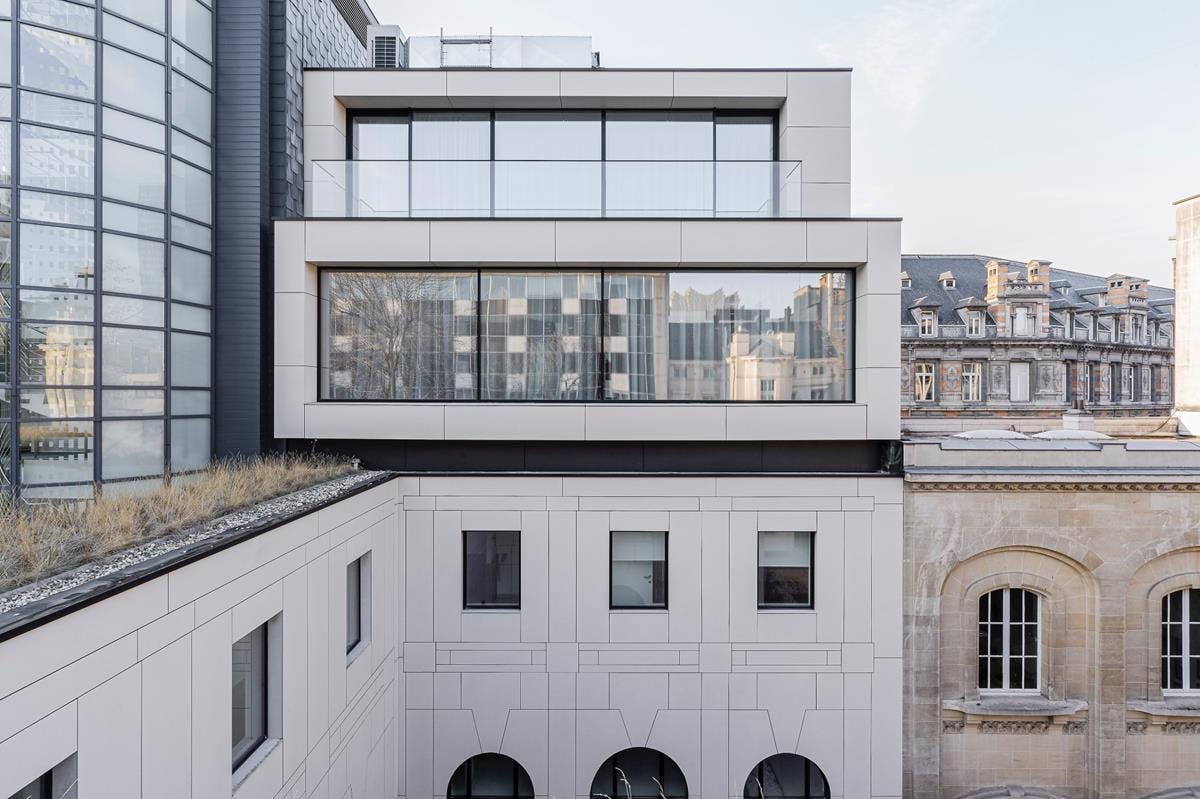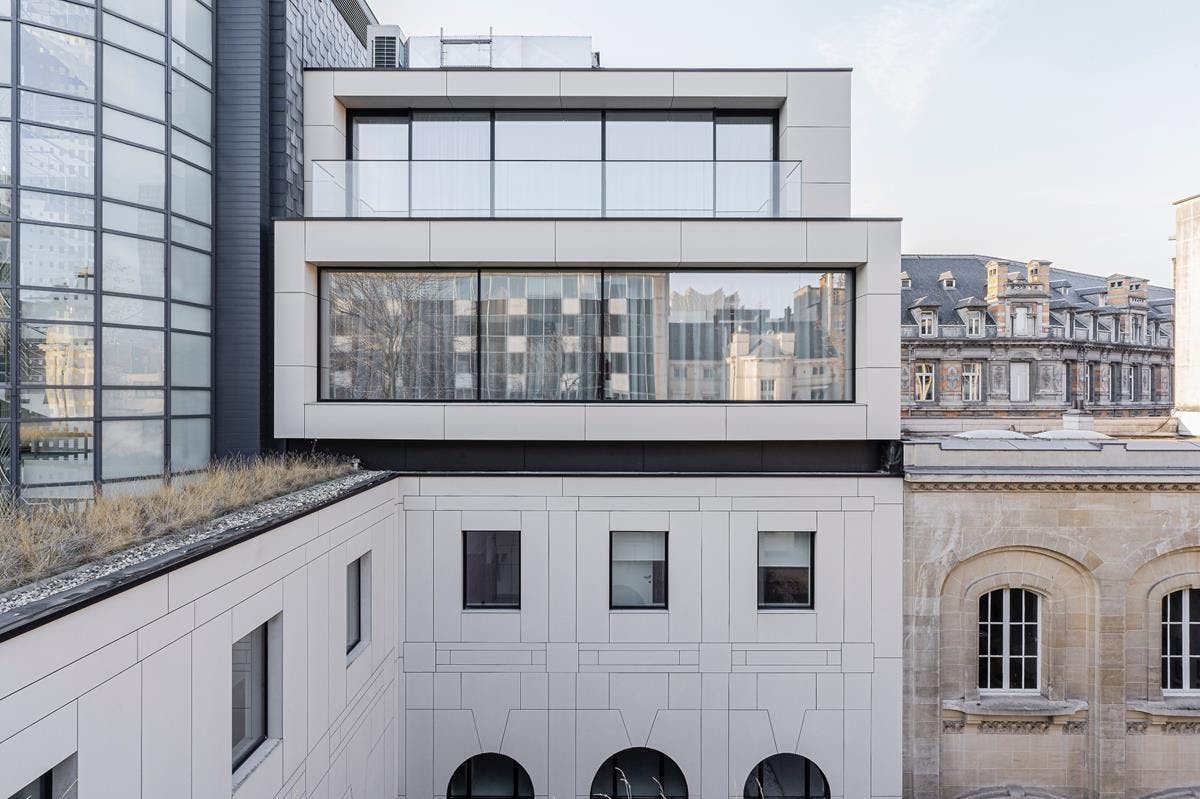 Location
Brussels (Belgium)
Architecture/Design
VIVA Architecture
Cosentino offers users an impressive range of indoor applications worldwide. In addition, thanks to the lightness and durability of its surfaces, it is also the perfect partner for outdoor applications. The renovation of The Duke office building, in the Warande district of Brussels, is proof of it. A composition consisting of custom cut graphic elements echoes and honours the classic design of the façade and, together with a new extension, brings a modern and balanced charm.
The Duke, an iconic building
The Duke was built in 1776 to a design by architect Barnabé Guimard, and has recently been acquired by VIVA Architecture, an Antwerp-based architectural studio specialising in transformation and reconversion projects in the city centre. The complex comprises a 3-storey rear building and a classical front building with a new, contemporary extension on top of it, which was built slightly recessed in dialogue with the façade. Both buildings are connected by a long corridor around the central courtyard.
During the design and implementation of the renovation project, the classic character of the building was carefully considered. The façade, for instance, was restored to its former splendour through collaboration with the City of Brussels and the relevant building heritage authority, the Onroerend Erfgoed Agency. As a result, the large arched windows were restored to their 18th century architectural style and the generous storey heights were preserved. The joint pattern on the Dekton surface is reminiscent of the profile of the columns of the original classicist façade.
The impressive and precise measuring and cutting work was carried out at the Cosentino factory, in Spain. There, all the façade cladding panels were made to measure so that the classicist character of the façade would dominate throughout the building. To this end, Dekton Fossil, a dark grey shade with a random pattern of pale veins and spots, was the colour chosen.
As for the rear building and the walls of the central courtyard, the colour chosen was Dekton Edora, a light beige shade. All the walls facing the courtyard feature a play of contrasts in dark tones created by 8 mm wide black lines, the same width as the thickness of the slabs, which, as already mentioned, evoke the classicist elements of the façade. The pieces in both colours were adhered by means of chemical fixing.
Dekton is perfect for use as outdoor wall cladding not only because of its light weight – only 20 kg per m2 and therefore 4 times lighter than natural stone –, but also because of its resistance to weather conditions, scratches, contraction and stains. Furthermore, Dekton is CO2-neutral in all areas and throughout its life cycle. It is the perfect interpretation of classic beauty and modern innovation.
Cosentino's materials used in this project