Case Study
Sustainability in large format at the new AEC Illuminazione Technological Center
By SBGA Blengini Ghirardelli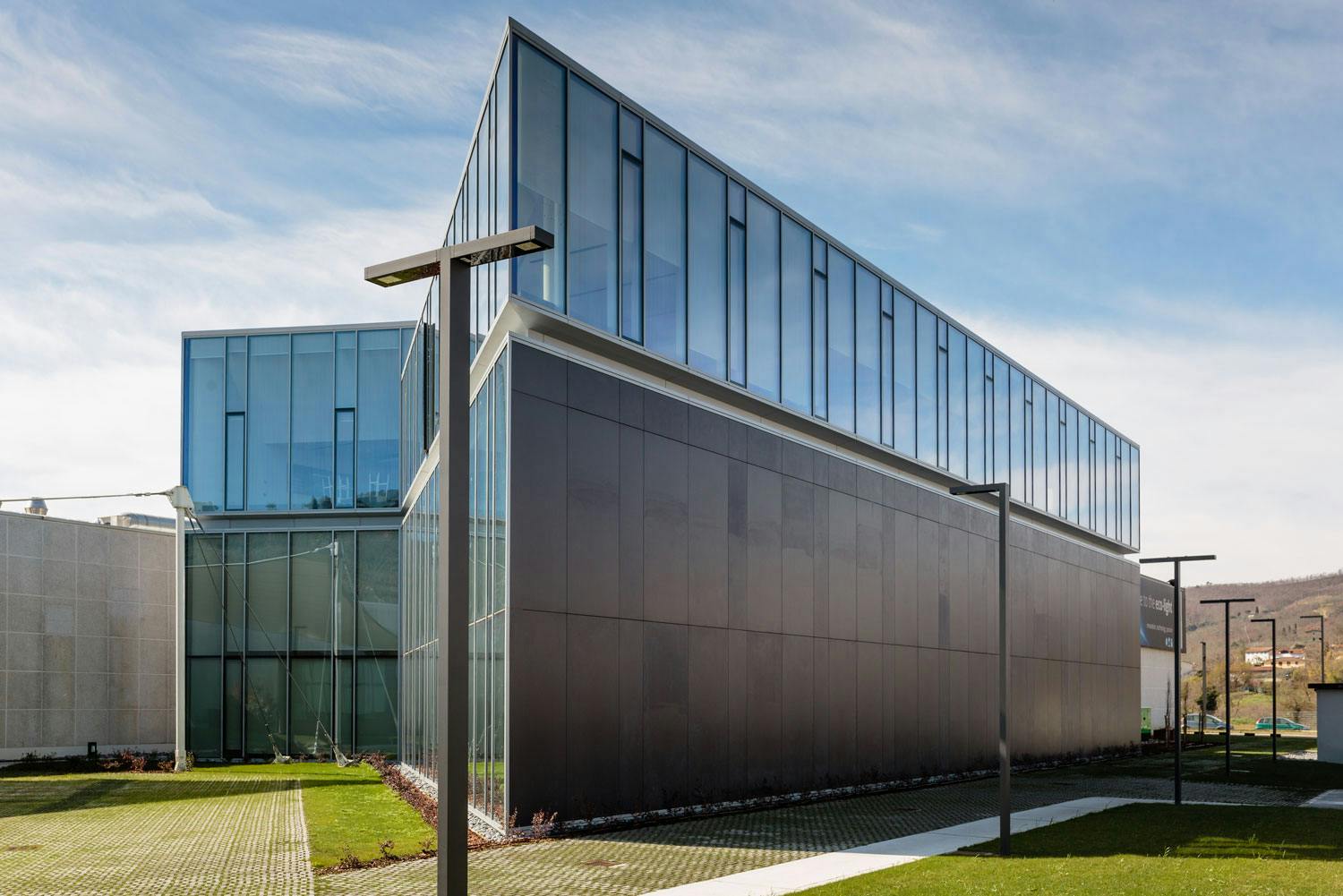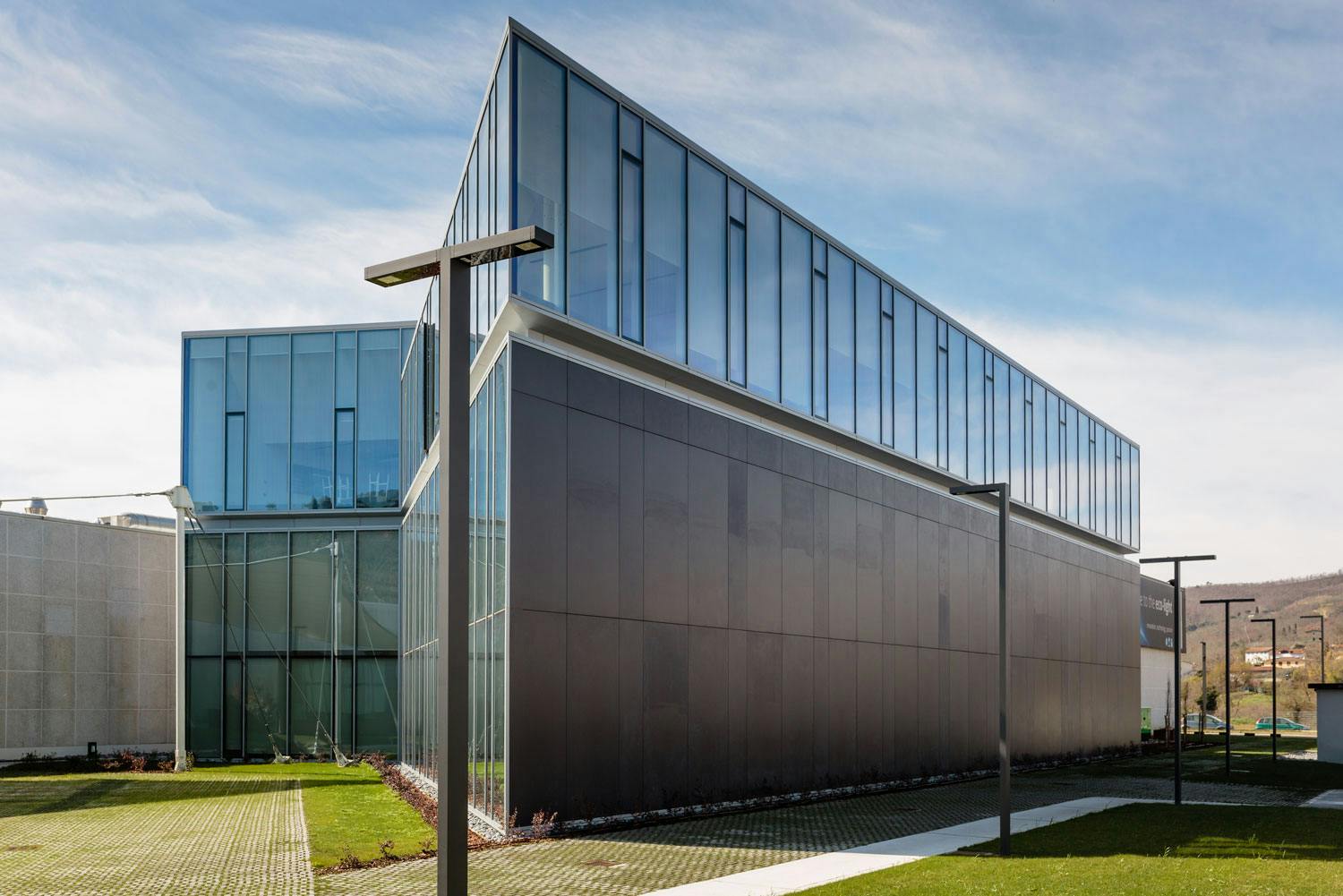 Location
Castelnuovo, Arezzo, Italy
Architecture / Design
SBGA Blengini Ghirardelli Associati CTS and Lamec srl (fitter)
Application
Ventilated façade
Large-scale passive building
The Innovation Technological Center (ITC) is a newly built building located within the AEC Illuminazione headquarters, where research and development work is carried out. The building has a surface area of 26,500 m2 and was designed by the Milanese architectural studio SBGA Blengini Ghirardelli, who based their design on pure, simple geometric lines. The heart of the project, known as "The Lab", is formed by the intersection of two parallelepipeds in which, over an area of 3,000 m2, technicians and researchers work together in a space designed to encourage collaboration.
One of the most eye-catching features of this project is its northern façade. This façade, made of large-format Dekton Domoos slabs and with a surface area of 1,100 m2, is one of the largest Dekton façades in Europe. The cladding was installed on the ventilated façade using a Keil fixed anchoring system. The choice of material was based on the company's sustainability criteria and the purpose of insulating the building from high temperatures.
Dekton Domoos is a finish from the Solid Collection. It is a dark, almost black shade, available in large format slabs (320cm x 144cm), which is ideal for outdoors and large surfaces and perfect for a ventilated façade.
In line with the company's philosophy
The ITC building is the best example of AEC's philosophy of innovation and automation. AEC's business vision and investment decisions continually seek innovative solutions in the lighting of public spaces. The building creates an interesting relationship between the exterior and interior. The landscape outside serves as inspiration to create a relaxing atmosphere. The double-height entrance and the glazed façade provide a light-filled space where natural light prevails. Everything was designed with the wellbeing of employees in mind and nothing here is reminiscent of a traditional factory concept.
The building was built on three levels. On the ground and first floors, where tests and experiments are carried out under extreme environmental conditions, a series of double and triple height laboratories were set up from the mezzanine floor, from which it is possible to safely monitor the tests. The research offices are on the third floor. The clean, geometric lines continue on this floor. The building is completed by a skylight roof that brings light into the centre of the workspace. The technical systems and photovoltaic panels are located above the roof, concealed by a cornice, rounding off the project.
The most innovative and sustainable materials combined with avant-garde architecture have come together to create the ITC, which has become AEC's best calling card.
Do you need help with a project?
Contact our specialists for advice
Do you need help with a project?
Contact our specialists for advice
"We chose Dekton Domoos for the north façade because it is a technological, resistant and sustainable material, capable of protecting the building"
SBGA Blengini Ghirardelli Associati
Cosentino's materials used in this project
Related Flagship Projects