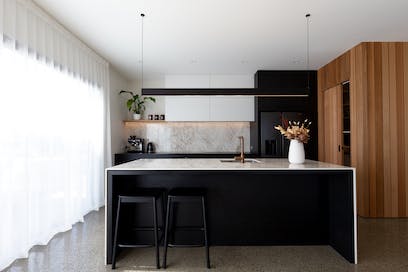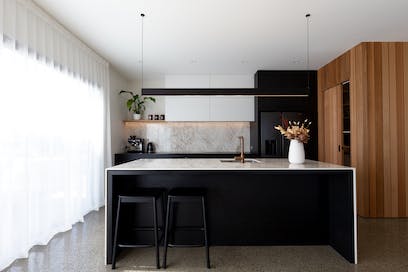 A Contemporary Black Kitchen Features Dekton Bergen
A clear design direction and a restricted palette can make designing a new home easier. When the team at Yellowfox was tasked with creating a sleek, uncluttered home with a black kitchen for a pair of clients, they had some firm parameters to work within. 
"The clients are very tidy and like a minimalistic aesthetic, but they didn't want their spaces to be too sterile," says Peta Davy, design studio manager at Yellowfox, Auckland. "They wanted a black kitchen with timber accents, to warm the coolness of the concrete flooring in the space. And they requested high-quality fitting and finishes."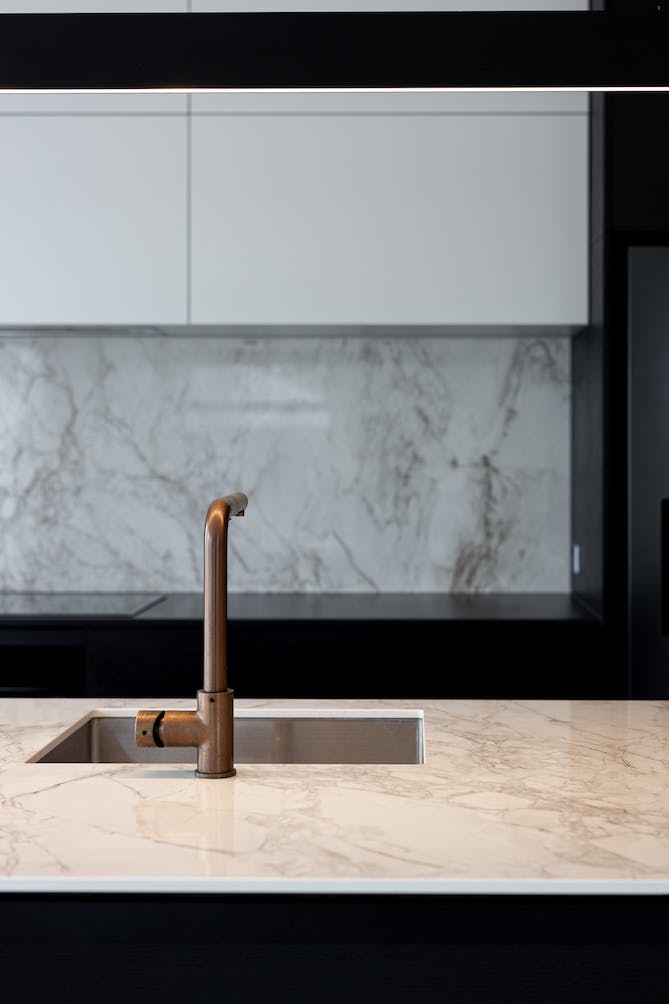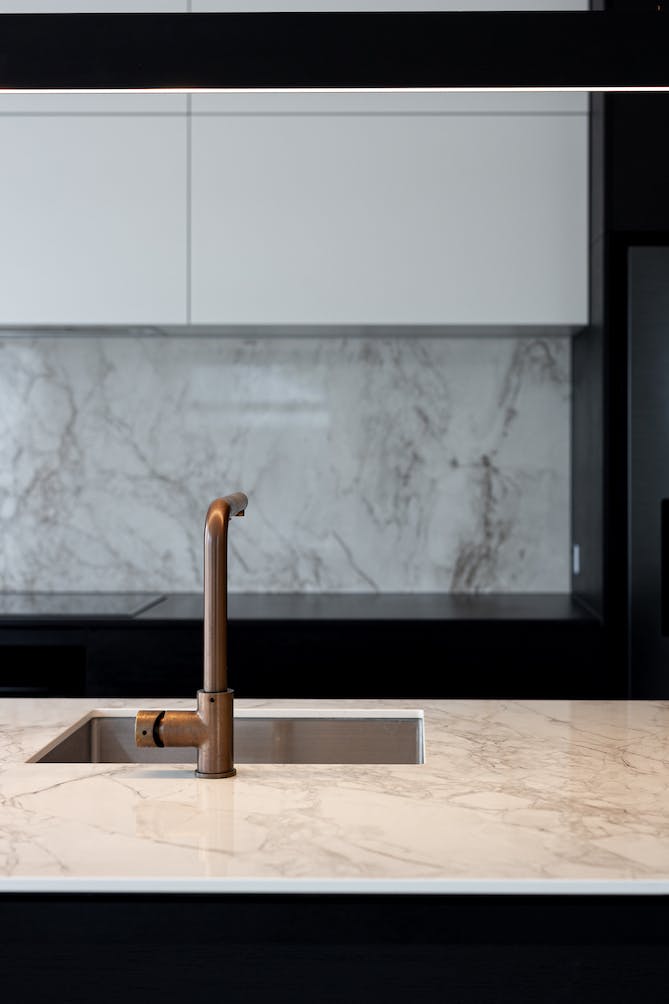 A stunning kitchen island bench and splashback in Cosentino's Dekton, Bergen with its highly reflective, Xgloss finish became the centrepiece of the brand-new kitchen. The 2400mm x 1000mm island adds subtle patterning and textural interest with veining inspired by Portobello stone, while the waterfall ends of the 12mm surface provide a touch of luxe to the decor. 
The nearby benchtops on the back wall of the kitchen and in the hidden scullery are fabricated in dark Dekton Sirius. The two surfaces work not only with the colour palette and the concrete kitchen floors, but also with the neutral tones of the adjacent open-plan living room.  
A tight budget meant that there were areas where the homeowners could splurge and places where they had to save.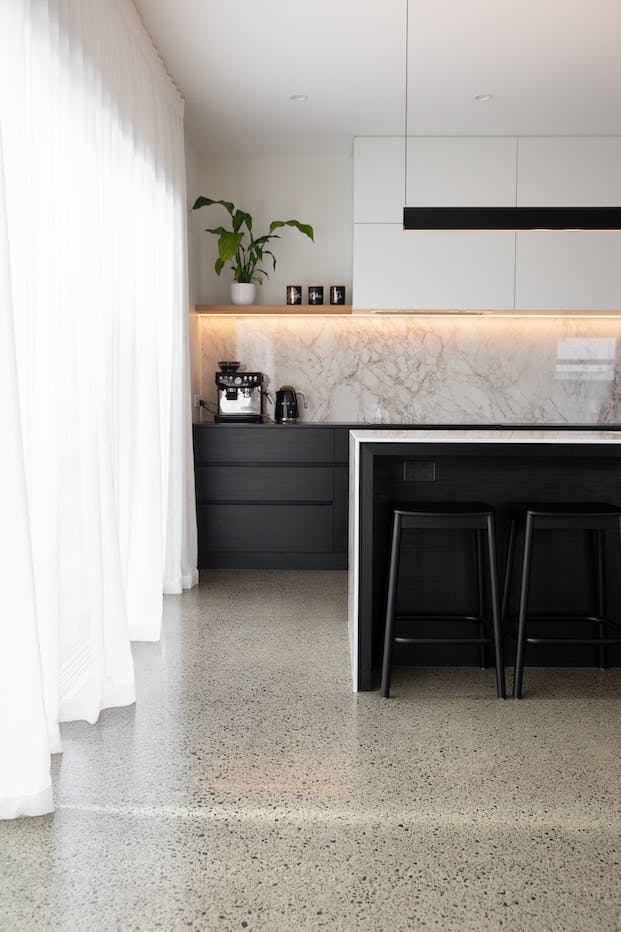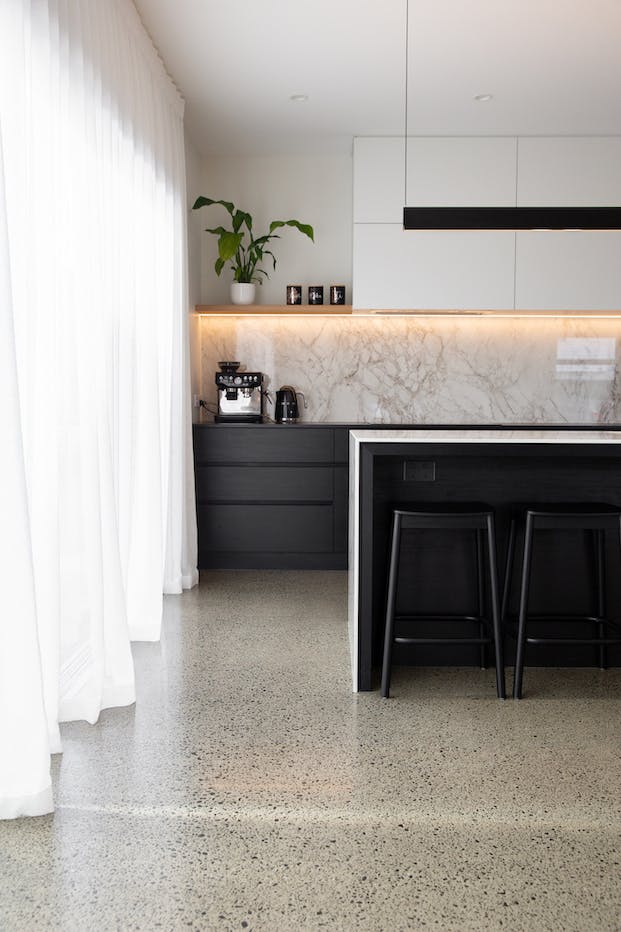 "We splurged on the kitchen benchtops, the timber wall accent and the carpet in the bedrooms, but we pared back the budget with the cabinetry doors and furnishings," explains Davy.  "With the kitchen island, we wanted to use a product that wouldn't date and that would complement the wooden elements and the black palette. Dekton had the vivid grain detail that the client was looking for, and paired with the functionality of the product, it was the obvious choice." 
Dekton Sirius has also been used in other wet rooms, such as the laundry and the master ensuite. This has created a relationship with the palette from the public living areas through to the private ones.