Top Homes
A bathroom for sharing and socialising
ALEJANDRA POMBO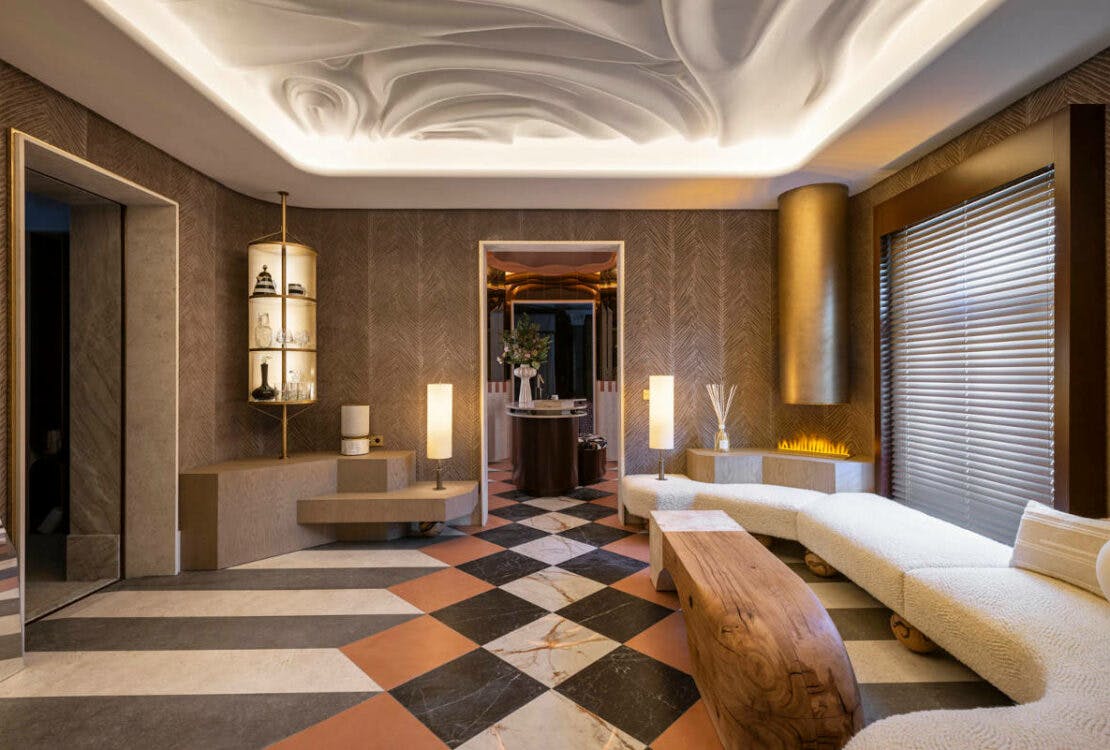 Lieu
Madrid, Spain, Casa Decor, space 47
Matériau
Dekton | Silestone
Application
Flooring, wall cladding, skirting boards, doorjambs, island countertop, washbasin, furniture
Architecture/Design
Alejandra Pombo
Couleur
Somnia, Umber, Awake, VK04 Grafite, TK05 Sabbia, VK01 Nebbia, VK07 Ceppo | Versailles Ivory
Alejandra Pombo reinvents en-suite bathrooms to turn them into spaces for sharing, relaxing or even ending a party. To do so, the designer draws inspiration from the dressing rooms of late 19th century French cabarets, thanks to which Pombo manages to integrate this space with the rest of the house, proposing new ways of inhabiting it. This is a far cry from the concept of the bathroom as a space in the home that should not be shown, that should be hidden from our guests and that should not be cared for, either functionally or aesthetically. 'Le Bain Parisien' is the name of the space that the designer has created for Cosentino as part of the 31st edition of Casa Decor, a space carefully designed to be enjoyed "while you are getting primped, dressed or getting ready to go out".
Alejandra Pombo's team divided the space into two different areas: one serving as a living room, the other dedicated to hygiene and dressing routines. According to the designer, the idea stems from that moment when girlfriends get together to get ready and go for a drink, that moment when, while some get dressed, others apply the latest Helena Rubinstein facial treatments while having a drink on the sofa or lighting some Tiziana Terenzi candles. The bathroom is fitted with a Bang & Olufsen designer loudspeaker to play music, and its two areas are interconnected, unifying the living area with the wet area, which is dominated by a washbasin and features showers and a dressing area on its sides.
The guiding thread throughout the space is the bespoke floor, which has been achieved thanks to Dekton's cut-to-size service, which allows surfaces to be cut to size and fitted as required. In order to achieve a play of materials, textures and colours, the team chose 5 different designs – in different colours – of the Cosentino ultra-compact stone:
VK04 Grafite and TK05 Sabbia, from the Pietra Kode collection, were two of the chosen colours. Pietra Kode is the latest collection from Dekton and has been developed in collaboration with Daniel Germani, taking inspiration from ancient Italian stones. VK04 Grafite features a dark background combining black and grey shades interspersed with whitish and reddish cloud-like patches. VK04 Grafite reinterprets the texture of dark, fine-grained limestone. Meanwhile, TK05 Sabbia recreates Italian travertine, featuring a vein pattern that runs through each piece in a random and colourful way, enriching it with nuances.
Somnia and Awake were also among the colours chosen for this project. The design of these two colours is completely different: one features a black background crossed by thin brown and rusty white veins; the other features a thick veining with gradients of light grey and cream that blend with luscious rusty terracotta shades and subtle hints of inky blue. Both are part of the Onirika collection by Dekton, designed by Nina Magon.
And last but not least, Umber, a terracotta colour with lots of character inspired by umber, a natural pigment with a reddish hue. Umber is part of the Kraftizen collection, which pays homage to the beauty of Venetian plaster.
The other area of 'Le Bain Parisien' is the wet area, which is more focused on hygiene and therefore required a more intimate structural design. Dekton was also one of the materials chosen for this area. Thanks to its many technical and aesthetic advantages, four Dekton colours were used for the wall cladding: VK01 Nebbia, TK05 Sabbia, GK07 Ceppo and Umber.
Two new Dekton colours are used here: GK07 Ceppo, a colour inspired by the distinctive blue-grey multiform structure of the Italian Ceppo di Gré stone, and VK01 Nebbia, which features a fine-grained white creamy base dotted with warm taupe hues. Both colours are part of the Pietra Kode collection.
"I've always like using natural stone, but through its designs, Dekton has achieved the perfect solution: the beauty of natural stone with greater resistance to stains and scratches, and greater versatility. Since it is not a porous material, it is much more hygienic, and its wide range of thicknesses and larger formats facilitates assembly and design in any project. It's a designer's dream", says the interior designer.
But without a doubt, the main star of this area is the bathroom island, created as a unique piece and featuring, for the first time, one of the colours of the upcoming Le Chic collection by Silestone: Versailles Ivory. The waterdrop-shaped countertop consists of two bases, separated from each other by black sculptural spheres, and houses a 20 mm thick washbasin in the shape of a decagon, also made of Silestone Versailles Ivory.
In order to maintain the same sense of movement achieved by the cutting of the Dekton piece, the space features stunning plaster ceilings. This is also the case with the lighting in the shower and dressing area, handmade and custom-made methacrylate lamps that turn both spaces into very dynamic areas, a dynamism that is enhanced by the changing lighting. In addition, both areas feature a mirror for added depth. Last but not least, to add the final touch of warmth, the team made use of a number of elements, including Misia-Casamance fabrics, Arte wallpaper and wood and aged brass, which were used for the shower taps by Griferías Galindo, electrical switches by Jung, wall lights by Terria and bespoke furniture, which was designed by Alejandra Pombo's studio.
Partner brands: Helena Rubinstein, Bang & Olufsen, Jung, Arte, Misia-Casamance, Terria, Griferías Galindo and Tiziana Terenzi.
Matériaux Cosentino utilisés dans ce projet

Versailles Ivory
SILESTONE