Green Kitchen Countertops
Increasingly, nature is becoming part of home interior design, with flora and fauna used as decoration and to clean the air Green is the colour of nature and works perfectly with interior design due to its fresh and calm tones, it can be applied all sorts of features in the kitchen e.g walls, floors, units and, of course, the work surface.
A green kitchen countertop can look very stylish, especially as many countertops these days offer sophisticated, elegant, dark and deep tones. Green colours with a strong hint of black are perfect for kitchen countertops, as they add a touch of class to the character.
Ideas for kitchens with a green countertop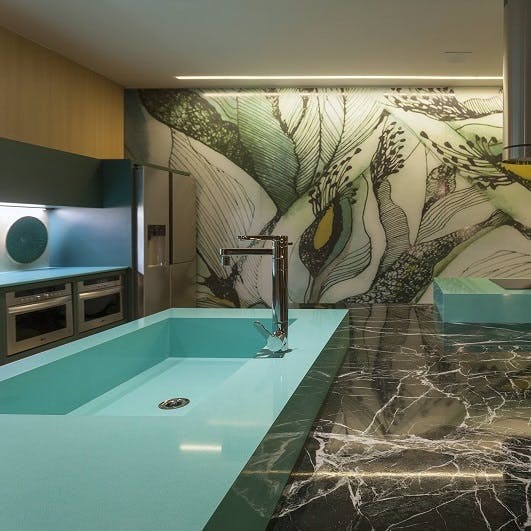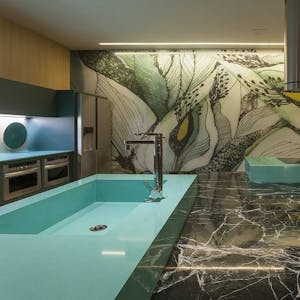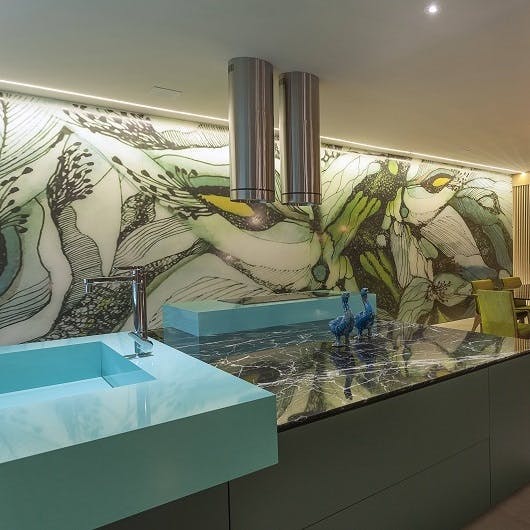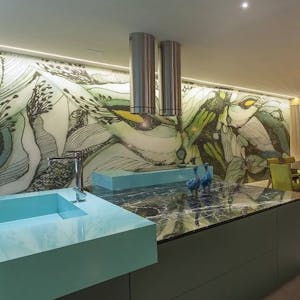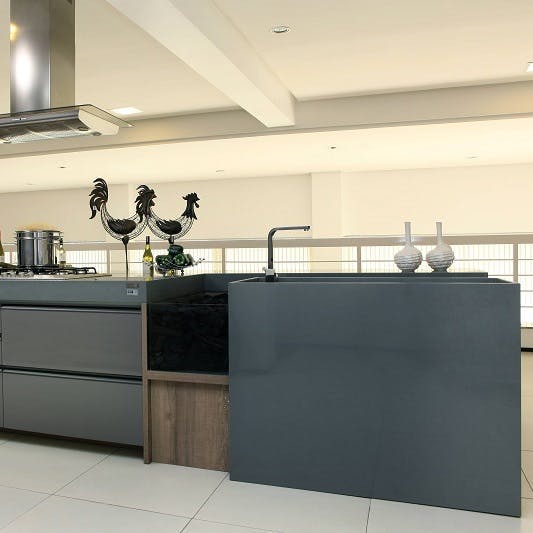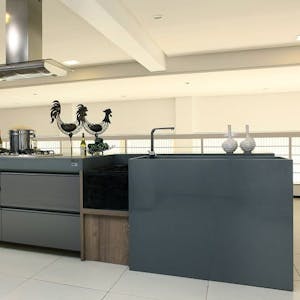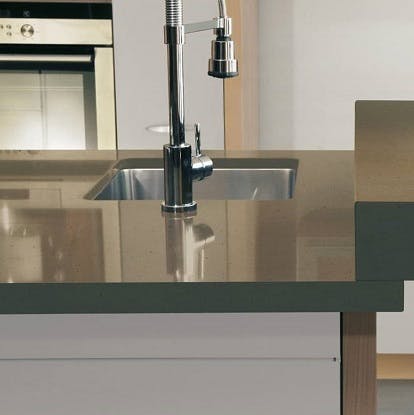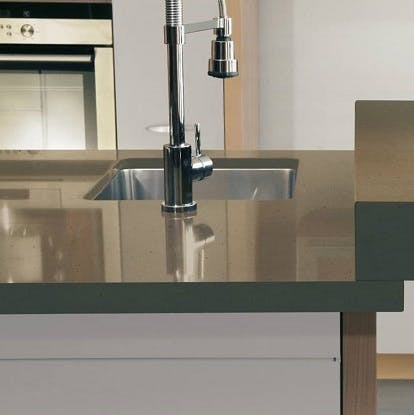 WHY CHOOSE A GREEN COUNTERTOP?
It is a fashionable colour that you will never tire of, because a green kitchen countertop provides calm and tranquility and its appearance is timeless, in keeping with any decorative style that you may select.
A SYMBOL OF LUXURY
Did you know why green is the colour of hope? Green is seen as the colour of hope because it represents harmony, luxury and freshness You can make your kitchen look even better with a green kitchen countertop, as well as with a vertical garden or an urban mini-garden.
CREATING A SENSE OF DEPTH
Dark green kitchen countertops are on-trend, as they are colourful but with a touch of sobriety. Light, contrasting shades must be used in order to achieve depth. This is a very useful tip to visually enlarge the space.
WHAT COLOURS DO I MIX IT WITH?
Green is the result of mixing blue and yellow, so combining it with one of these two colours is a very good choice. Also with wood and white or another light neutral tone, such as beige or soft grey. A few dare to combine it with red, as it creates a striking contrast.
TOO MUCH DARK GREEN IS NOT A GOOD THING
Cold colour ranges tend to enlarge spaces, but in the case of the green kitchen countertops, they are dark and can catch the light, so try to avoid the darker tones if you want a bright kitchen .
5 examples of green kitchen countertops
SOPHISTICATION ON THE COUNTERTOP
Launched in 2020, Feroe in ultra-compact Dekton material, features a sophisticated and sober dark green, ideal for green kitchen countertops with a refined look. It is available in a matte texture and can be used for all kinds of kitchen styles, from the most traditional to the most avant-garde ones. In addition to Baltic, a beautiful dark blue, Feroe is part of the Chromica series, which is the result of the company's collaboration with architect and designer Daniel Germani.
MAIN DESIGN FEATURE
Between the bottle green and cobalt colour you can find Scalea's stone in Verde Guaco, whose colourful and attractive look will become the main design feature of the space, providing a refined and fresh image. This option is so versatile that it is perfect for decorations with a touch of the tropics, but also for modern, Nordic and, of course, traditional ones.
STRONG DECORATIVE EFFECT
With such a dark green that almost appears black, like Verde Ubatuba or Verde Butterfly Oscuro both in Scalea, you will get a very enigmatic touch of art and drama. The fine-grained stone looks attractive and different depending on the quality of light . Due to their dramatic effect, they arecountertops that must be combined with neutral colours for the other features.
AN ORIGINAL AND REFINED DESIGN
Finally, Prexury is a beautiful mix of semiprecious stones in different colours. Specifically, the brand's proposal for a green kitchen countertop is Angel Jasper a combination from the softest aquamarine colours to the deepest green and emerald ones. A luxurious and unique material that provides a refined image.
TEXTURED OR SMOOTH FINISH
The designs in Scalea's natural stone are unique due to their textures, grain, or veins in the same colour. Also Prexury's semiprecious stone mix, has a stunning and charming range of shades. But if you are looking for a smooth finish, you should go for Dekton's Feroe, a green kitchen countertop ideal for more moderate designs.