Case Study
Open design and faultless beauty
Racheli Ben Avi
カラー
Trilium, Laos, Kovik, Bromo
Architecture / Design
Racheli Ben Avi
用途
Wall cladding, flooring, bar
A restaurant with an open and seamless design in Tel Aviv
The design of the new Grill Bar in Tel Aviv was a great challenge for interior designer Racheli Ben Avi. The aim was to create a seamless space that would offer clients a sensory experience through its atmosphere. "The biggest challenge of the project was planning the restaurant space. The idea was to create an open space that would encourage a natural and dynamic flow, allowing visual connection between the different parts of the space", explains the designer. In addition to this, the combination of several different styles posed the challenge of maintaining a well-balanced and refined design.
"The eclectic style was achieved by integrating industrial materials, an exposed black painted ceiling, bronze light fixtures, a wine display cabinet, green plants and a brightly coloured pop art piece in the cladding", she explains. To merge all these different elements, Racheli Ben Avi opted for Cosentino materials. The entire restaurant is clad in Dekton, including the bar counter, walls, cabinets and floor.
Inspired by nature
"My inspiration for the planning and design of the restaurant was nature itself. Its colours and intensity were my starting point", says Racheli Ben Avi. The textures of Dekton gave the project that natural touch. Dekton Laos was used for the bar top. Its dark matt shades together with its weathered look reinterpret industrial design. This colour was combined with the luxuriant Dekton Trilium for a contemporary design. Inspired by volcanic stones, the colour mix of Trilium adds touches of deep grey and black shades. Bromo, a dark grey colour with a natural texture, has been used on the floor, thus rounding off the design.
Designed to last
"The planning and design of the project started with the selection of materials", says the designer. Since it is a restaurant, it was important that all materials were durable, something that the Dekton colours chosen for the project guarantee. Without compromising on design and beauty, Racheli Ben Avi opted for Dekton's technical properties to ensure durability. In addition to its resistance to stains and scratches, it is a very easy to clean surface, hygienic and perfect for food contact, thus meeting all the requirements of a catering establishment such as this one.
プロジェクトのお手伝いが必要ですか?
我々のスペシャリストに連絡してアドバイスを受ける
プロジェクトのお手伝いが必要ですか?
我々のスペシャリストに連絡してアドバイスを受ける
"My inspiration for the planning and design of the restaurant was nature itself. The colours, the intensity of nature were my starting point``.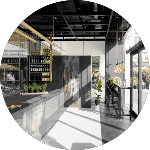 Racheli Ben Avi
"From my perspective as a designer, my concept focuses on originality and visual richness. These are the hallmarks of the space that I have designed to offer a unique atmosphere to clients who come to enjoy both the place and the wonderful dishes served", the designer points out.