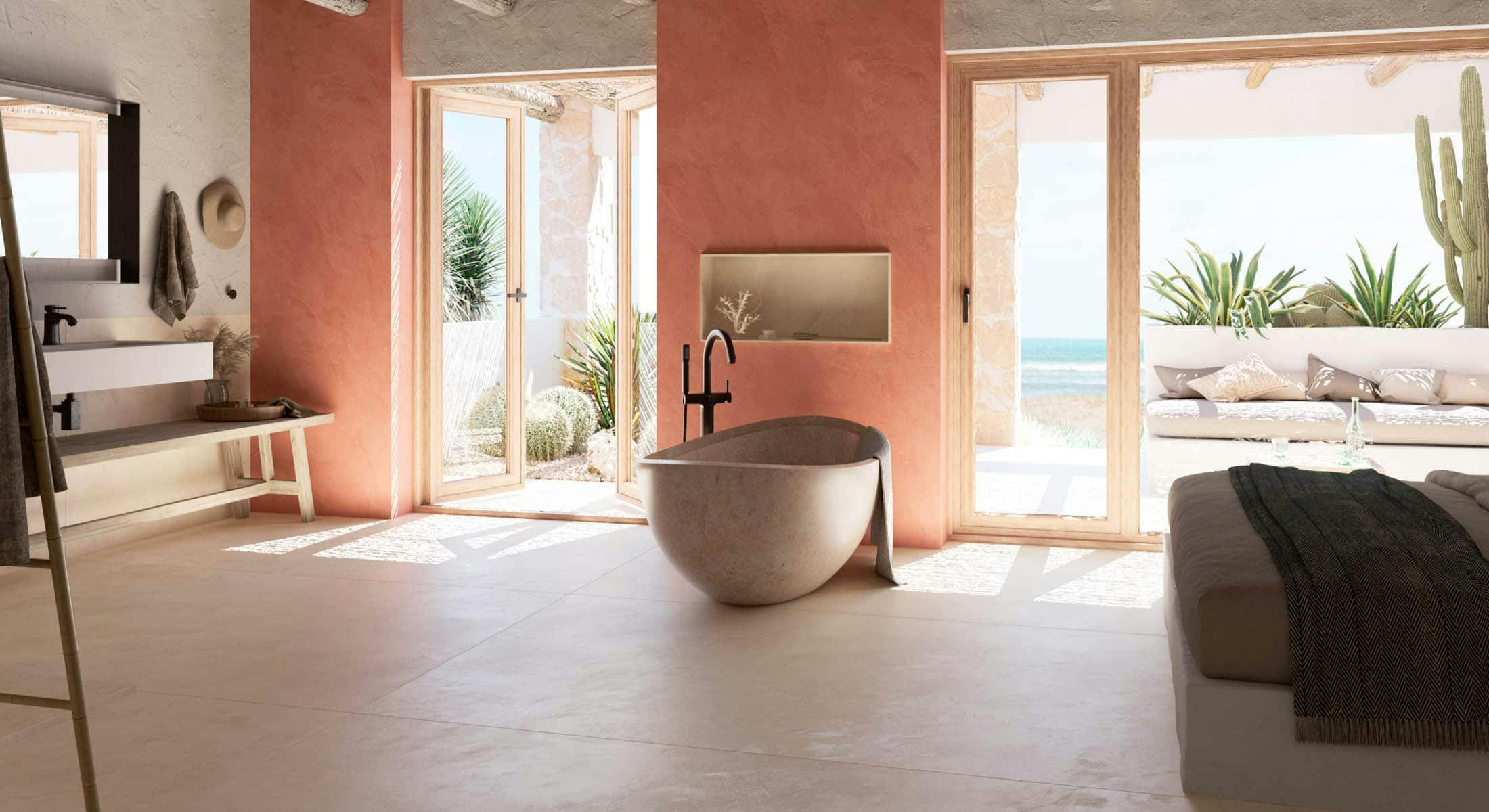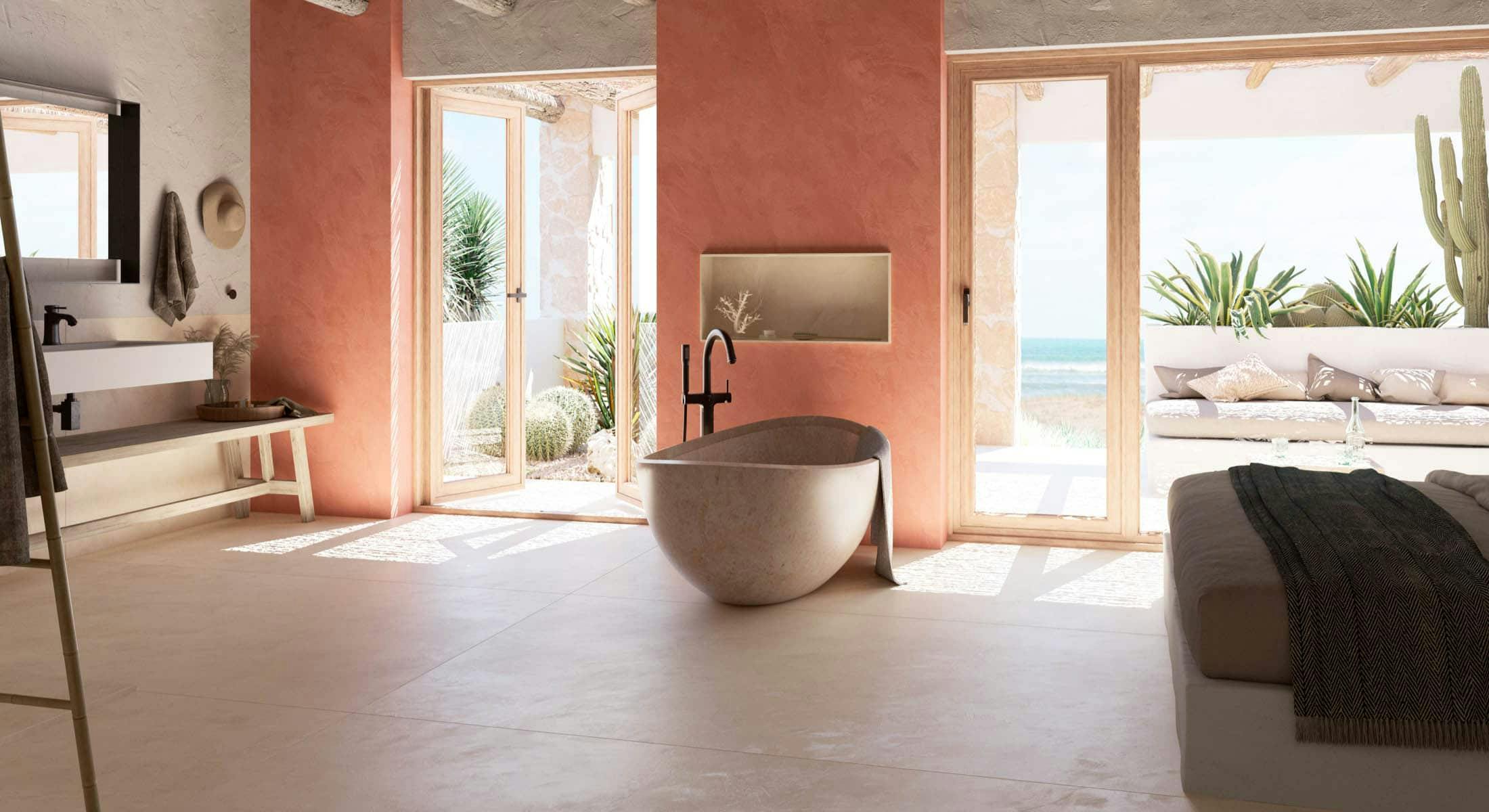 The light and brightness of the Mediterranean style
The Mediterranean style is a warm, welcoming decorative style inspired by the colors of coastal towns: the white of the whitewashed walls, the blue of the sea, and the ochre of the sandy beach. This entire color palette must be bathed in light and sunshine.
Mediterranean decoration shares elements of the rustic style such as the love for natural materials, craftsmanship, and simplicity. But unlike the rustic decoration, which has a certain darkness, the Mediterranean one is, above all, light and joy.
It is clear that this style works perfectly in any summer house by the sea, but it can also be used in any home as long as we stick to its most basic premises: white, blue, and sunlight.
Mediterranean style works very well when combining textures: rough and matte textures reminiscent of earth and smooth and ultra-bright that reflect the sunlight. This play of contrasts, so characteristic of the Mediterranean, is also found in its decoration.
Considering that the Mediterranean decoration takes its inspiration from nature, it is advisable to include local plant elements in the decoration. In this sense, the olive tree is undoubtedly the star, but palm trees, fruit trees such as orange or lemon, and even some varieties of cactus, are also very decorative.
Best-selling color of the mediterranean series
Silestone whites
Silestone offers over 18 different shades of white to start designing your Mediterranean style home. For the flooring, we recommend the colors Miami White and Iconic White in a polished finish. As for kitchen countertops, go for surfaces with subtle veins, such as the classic Calatacatta Gold, which reminisces the waves of the sea, or the Bianco River. Finally, the colors Blanco Capri and Tigris Sand with a suede finish remind us of the ochre tones of the sandy beach are our choices for bathroom wall claddings.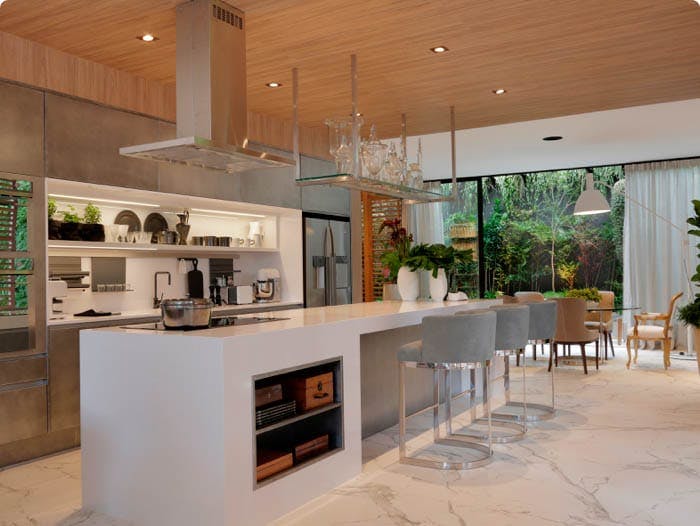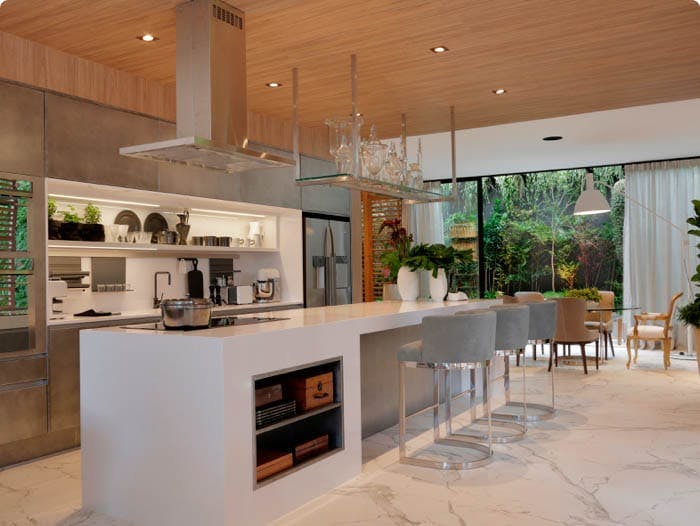 Calacatta Gold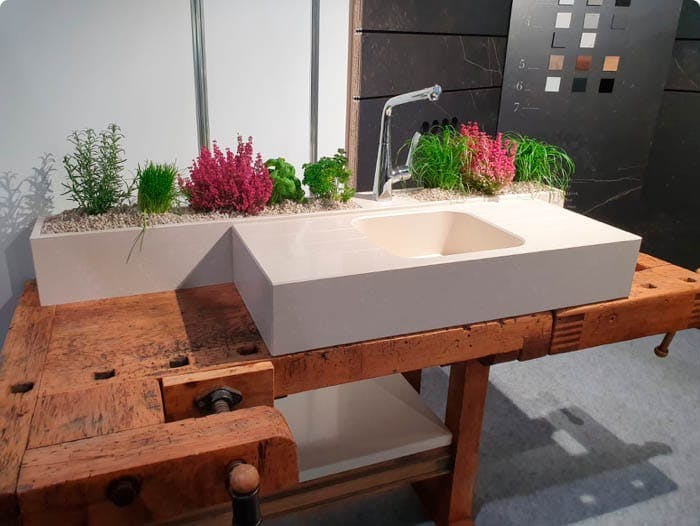 Tigris Sand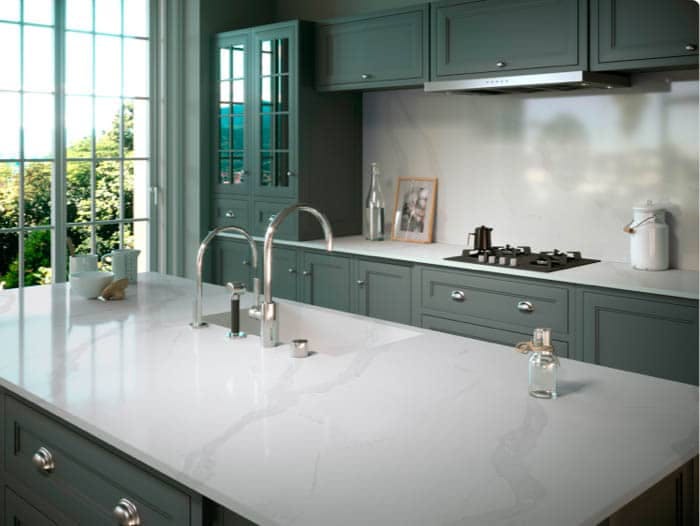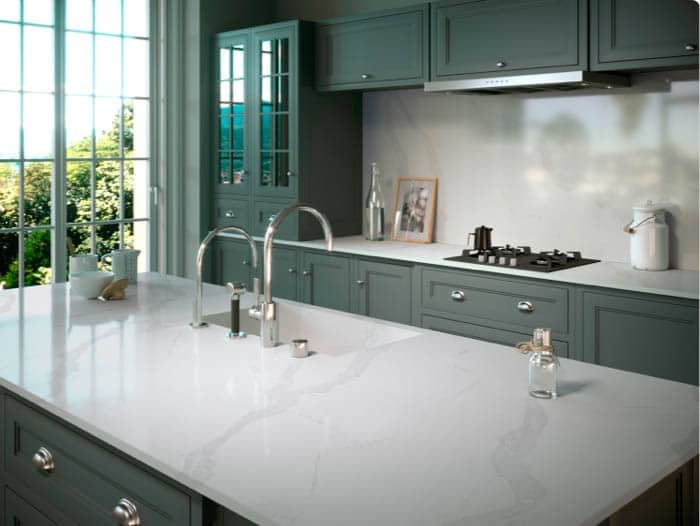 Calacatta Classic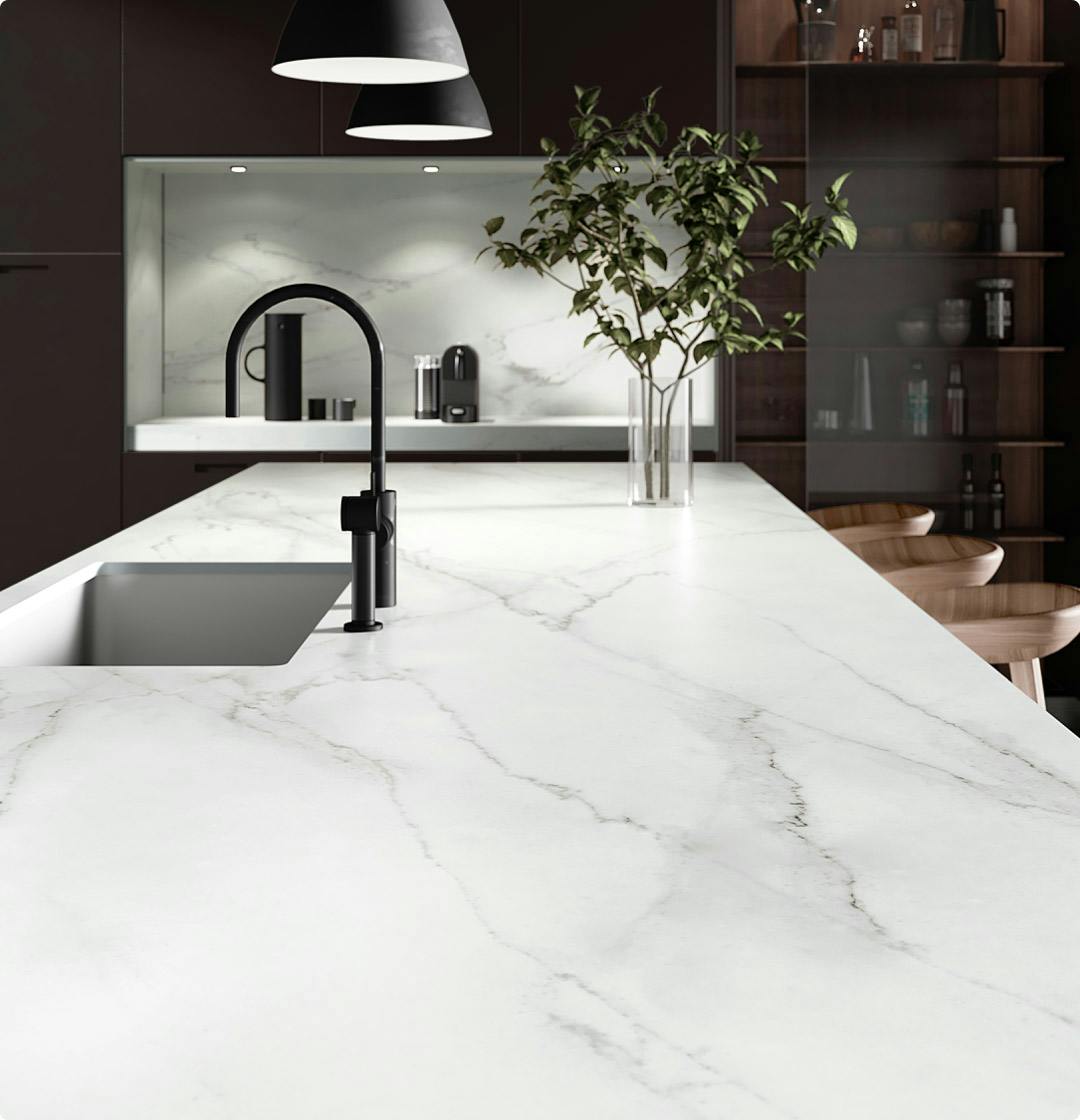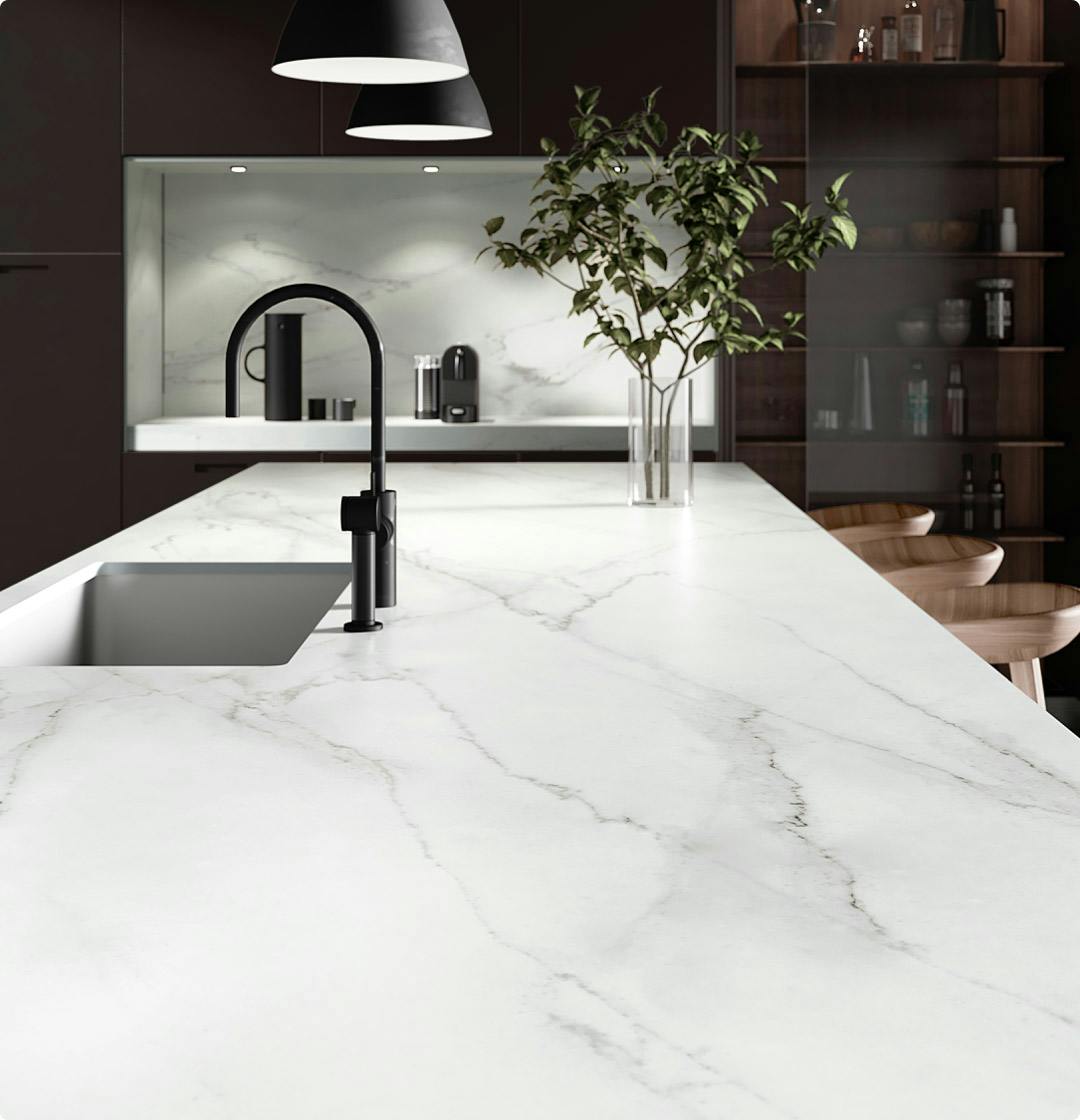 Dekton whites
Dekton is the perfect solution for residential housing façades, floors, and vertical cladding. In a Mediterranean style home, the traditional whitewashed or painted bricks can be replaced with one of the Dekton finishes, a more efficient and sustainable option.
We chose the color Kairos in large format because it reflects the light of the Mediterranean like no other.
As for the X-Gloss or Ultra-gloss finish, we opt for the Halo Solid Collection.
Other Mediterranean shades
In addition to Dekton whites, there are other combinations and finishes that are perfect for the Mediterranean style. Dekton Baltic, an intense blue contrasts very well with any white shade. In ochre and earth tones, we recommend Liquid Shell, Danae, and Edora. All of them are sober and elegant alternatives that you never get tired of.
Mediterranean style decorative tips
Ranging from cladding to countertops, vanities to shower trays, Cosentino offers a wide range of options to create a Mediterranean look in your living room, kitchen or bathroom:
Remember to use black or grey as a base and brown or copper as secondary tones.
As for the finishes, the volcanic or ultra-textured finish is the most suitable. But do not overdo it. The key is to combine them to achieve a distinctive industrial decoration.
Unify your space with a single material for the floor so that you achieve the loft effect. Opt for the large format to create an infinite and seamless space that reminds us of polished concrete.
For wall cladding, there are several materials to choose from. Combine black and grey and leave an unfinished wall, with exposed brick and imperfections.
When you choose taps, lighting, and furniture, remember that iron and black are your best friends.
For a bolder style, add some features in brushed copper, for example on taps or handles.
In line with brown shades, tobacco-colored leather is ideal for kitchen stools, chesterfield sofas, or armchairs. If your space also features an antique finish, the industrial effect will be more than guaranteed.
Embrace the charms of the industrial style by finding inspiration in a good film… in black and white!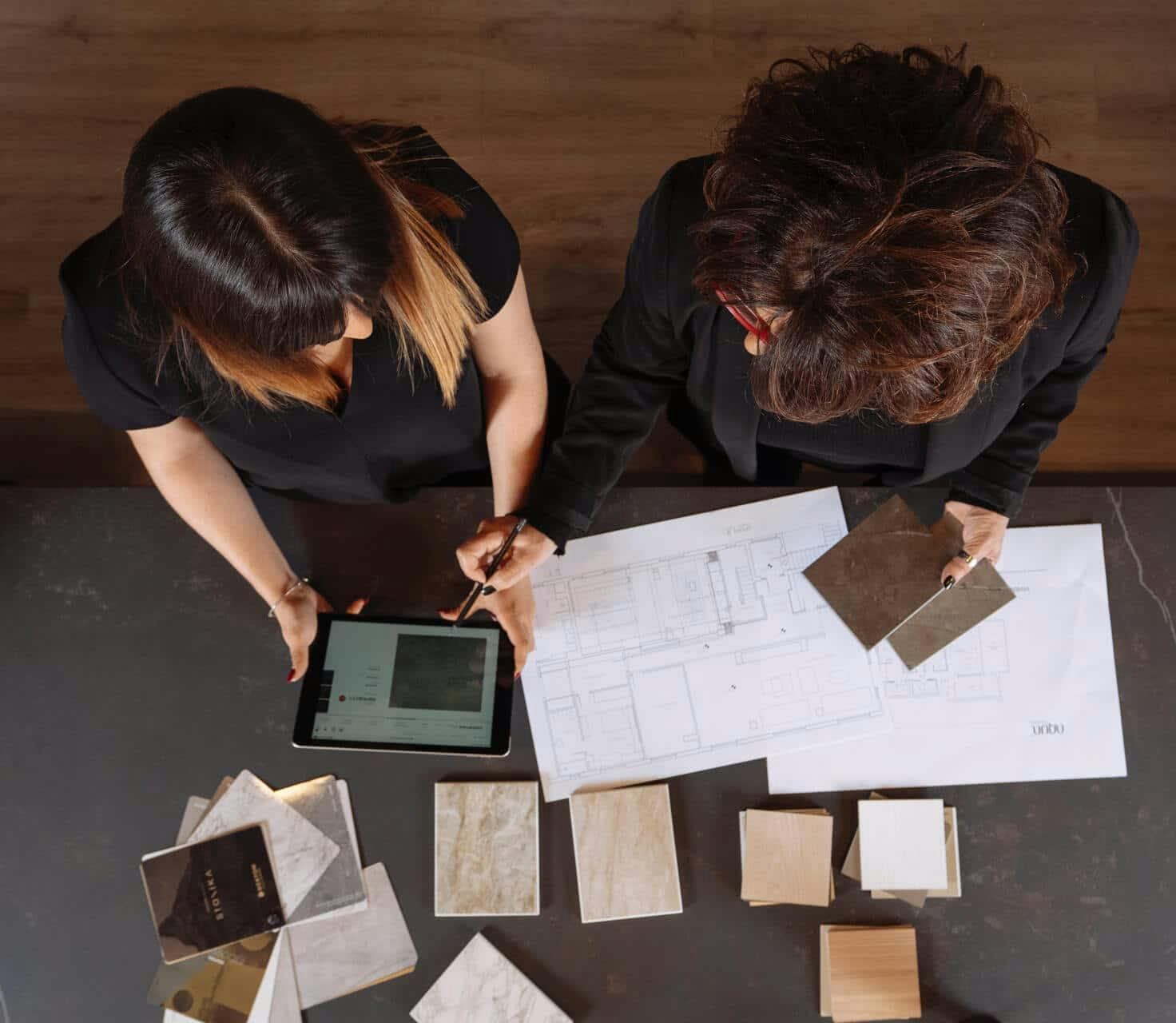 Find your closest Cosentino Dealer
Locate the Cosentino-certified shops and fabricators nearest you!
Go to locator