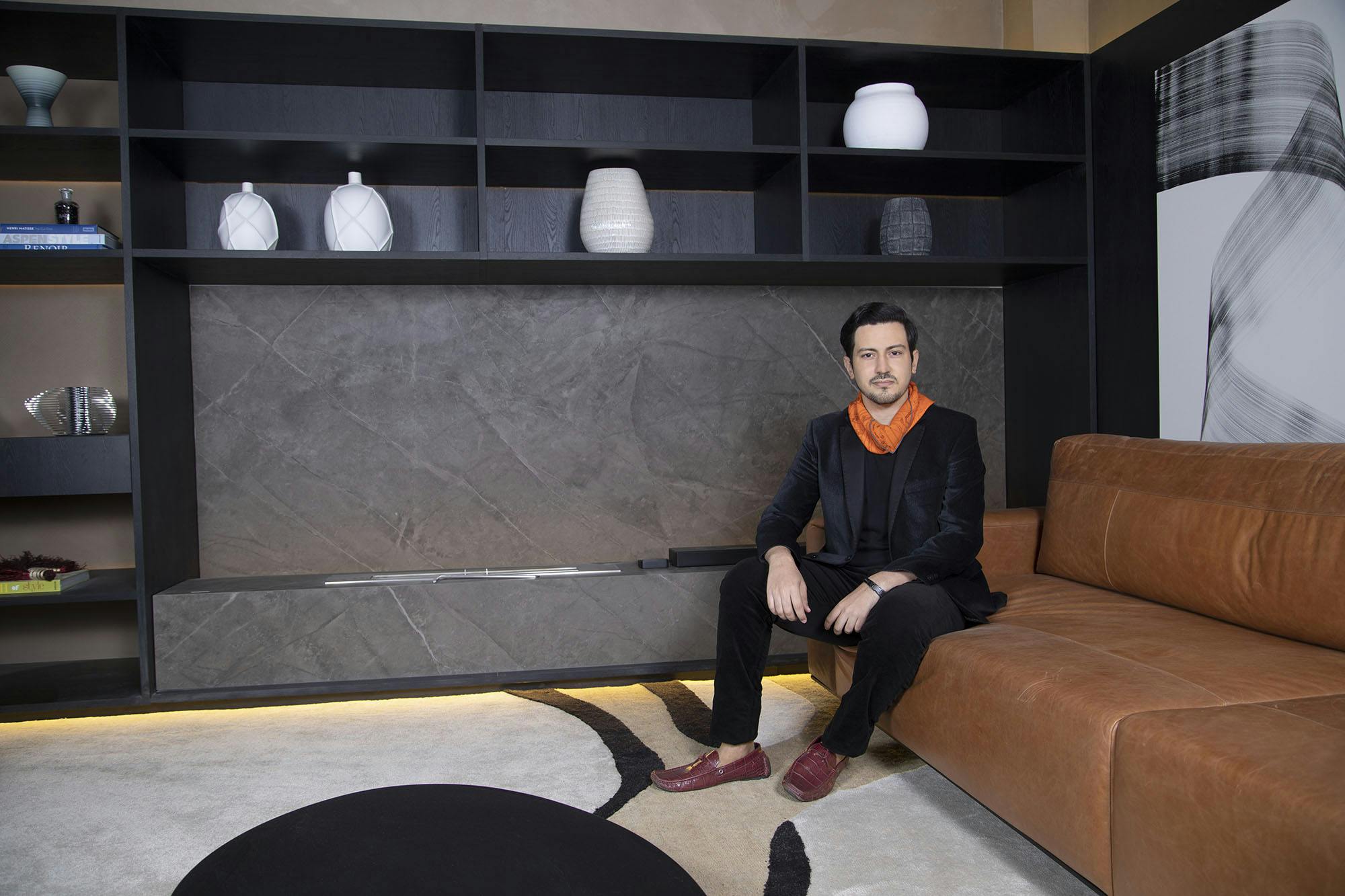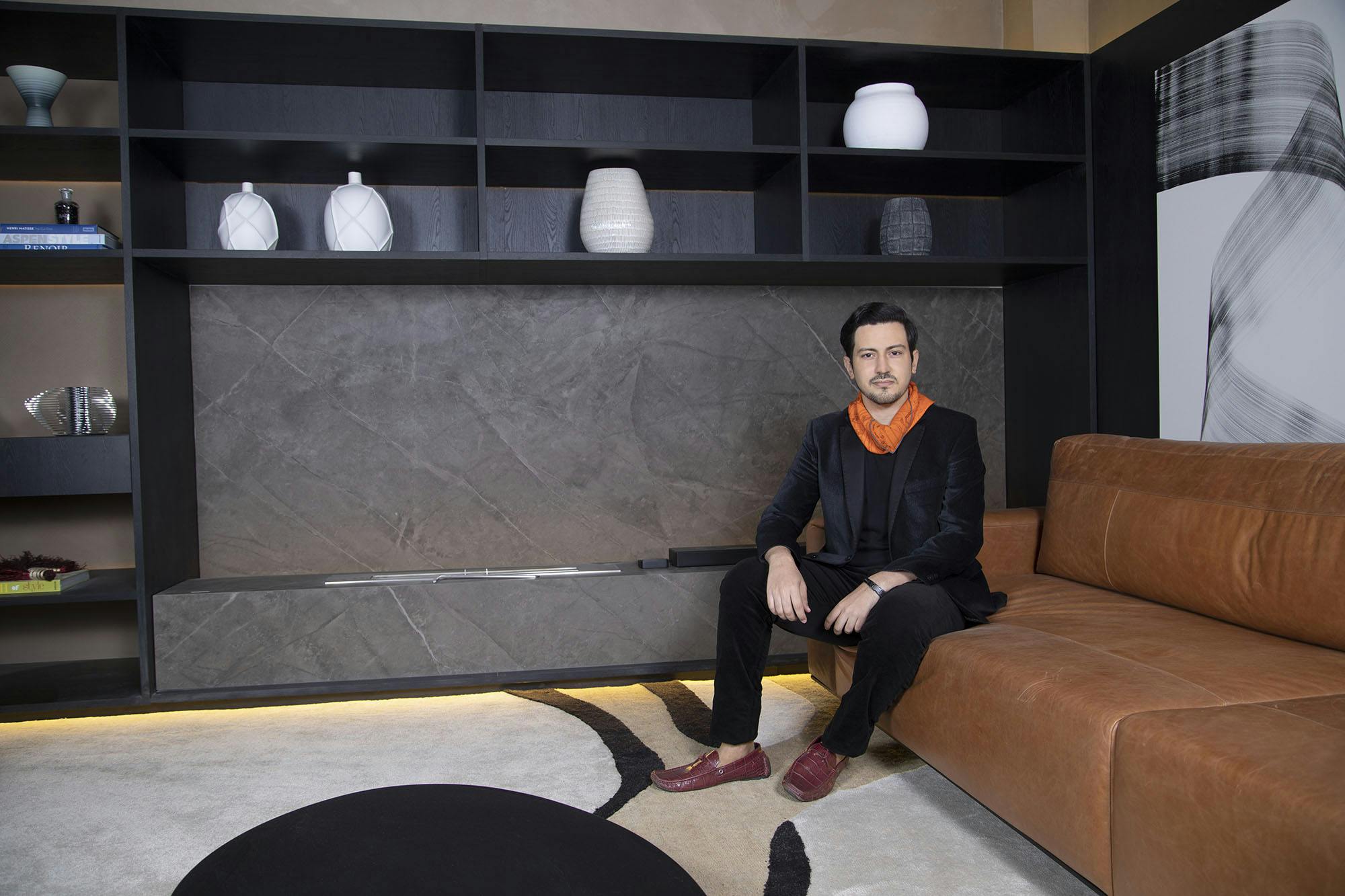 Cosentino, innovation and trends at CASACOR São Paulo 2021
Cosentino brings its innovative Silestone® and Dekton® surfaces to the CASACOR São Paulo 2021 projects. Cosentino surfaces bring their technology, sustainability, colours, versatility and innovation to 10 projects in this year's edition.
Lounge Comandante Rolim Amaro
Architect Arthur Guimarães is responsible for the design of the 'Lounge Comandante Rolim Amaro', a first class space that invites visitors to feel at home. This 110 m² space has a dining room, air-conditioned wine cellar, bathroom and a portico clad in Silestone® Charcoal Soapstone. This colour, inspired by the popular soapstone, has a blue-grey finish with strong grey veins. An extraordinary creation, which stands out for its volume, depth and sense of movement. This space also features a fireplace clad in Dekton® Kira. Timelessness, visual strength and character define this colour thanks to the excellent combination of a smooth matt texture, a deep toned background and a strong veining pattern.
Égide
With the aim of adapting the house to the changing times and people's priorities, architects Carlos Carvalho, Rodrigo Beze and Caio Carvalho, from Studio Ro+ca, have made sustainability and reconnection the cornerstones of their 'Égide' space, a place of support and retreat to enjoy with the family. In this space, decorated in a range of shades from black to grey and wood, Dekton® Laurent has been used for the bathroom floor and countertops, offering a spectacular brown background with golden veins that also stands out on the kitchen worktop.
Casa Alva
Partners and architects Bruno Carvalho and Camila Avelar of BC Arquitetos have chosen the versatility and technology of Dekton® for their project 'Casa Alva', a 180 m² space built on a removable metal structure, like a monochromatic box. This design of simple lines features delicate and sensory elements in the form of cut-outs, curves and textures that gradually reveal the different spaces (dining room, kitchen, office, bedroom suite, spa and swimming pool), integrated and connected by nature, water, wind and light. Dekton® Aeris, a subtle, neutral colour that offers light tones with touches of cream, was the colour chosen for the kitchen worktop.
Estúdio Terra 
Designed by Beatriz Quinelato, 'Estúdio Terra' uses the earthy tones of the cladding and the monochromatic decoration inspired by the green of the plants to welcome visitors, who are invited to recover the feeling of pragmatism, in a return to the roots and the sense of the essential. Beatriz used Silestone® Et. Marfil for the bathroom and kitchen worktops. This warm and minimalist colour, with a beige background crossed by soft orange veins, is a reinterpretation of Crema Marfil marble, a neutral colour that brings naturalness and serenity to any space.
Casa LG ThinQ
Guto Requena opted for Silestone® products for the 'Casa LG ThinQ' space. In collaboration with the architecture studio Pax.Arq, this open source and digital fabrication project brings together design, art, technology and sustainability, a proposal in line with Cosentino's values and the chosen colour series, Silestone® Sunlit Days, the first carbon neutral collection by Silestone®. Guto chose Silestone® Cincel Grey for the kitchen worktop, a silky, versatile and neutral grey tone with a fine grain and a smooth texture.
A, Dorê Gourmet L 'espace AD
Marcelo Diniz and Mateus Leopoldo Finzetto chose Silestone® Cincel Grey, from the Sunlit Days collection, and Dekton® Soke for the kitchen island of their project 'A, Dorê Gourmet L 'espace AD'. "We thought that the space should be an invitation to welcome people in different ways, both in the living room with bar area and in the gourmet island", says Marcelo. The project revolved around the central island, which has an integrated table that acts both as a tabletop for an informal reception and as a conventional table when open.
Riserva Todeschini
Inspired by dark marbles with light veins, Dekton® Kelya was the colour chosen by Débora Aguiar for her 'Riserva Todeschini' project, a welcoming space that enhances the role of the home as an increasingly important place in people's lives. With 250 m², the space consists of a living room, bedroom suite with dressing room, bathroom, garden and gourmet area, where the Cosentino product stands out.
Social House 
Renowned architect Léo Shehtmann is in charge of the design of the 'Social House', a loft which features a young and masculine language for a user who is very much into technology and digital influences and who uses the house as a space for work and content production. The sober colours, dark tones, organic shapes and materials in connection with nature used in this 125 m² space reflect a contemporary Brazilian style. Finally, Shehtmann used Dekton® Kelya on the kitchen worktop.
Casa Tempo
Ticiane Lima chose Dekton® Kelya for the kitchen worktop of the 40 m² house 'Casa Tempo'. Built on a timber base, it offers integrated spaces and minimalist decoration. For the bathroom in the bedroom, Ticiane chose Silestone® Et. Statuario, a white colour with very soft, greyish shiny veins. A true statement of colour and harmony.
Casa Alma Duratex
Melina Romano presents the 'Casa Alma Duratex', a house that arouses feelings beyond design. This 160 m² project revolves around tranquillity, well-being and emotion, which are reflected in the textures, colours, warmth and minimalism of its design. For the kitchen worktop, Melina chose Dekton® Lunar, a reinterpretation of conventional cement inspired by industrial design. The subtle surface structure on a white base makes Lunar a trend colour.