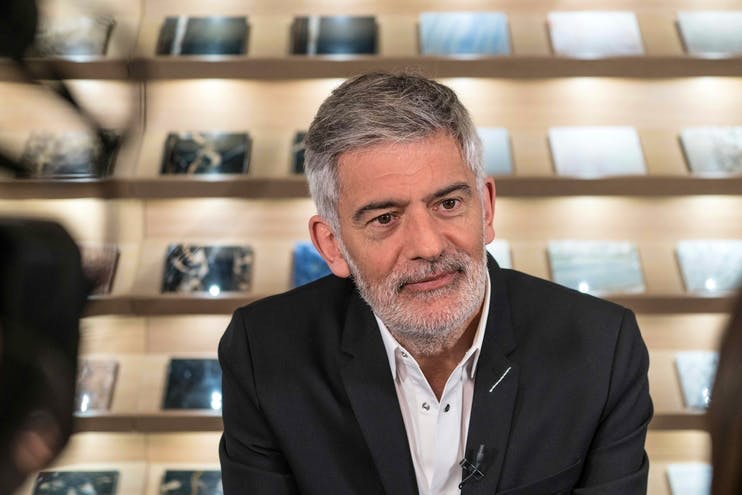 https://youtu.be/FGtZeranaKE
"I've always thought that observation is the loveliest form of thinking"
Alfredo Häberli was born in Buenos Aires, Argentina, in 1964. He moved to Switzerland in 1977 and graduated 1991 with distinction in Industrial Design at the Höhere Schule für Gestaltung in Zurich. Today, he is an internationally established designer based in Zurich and is working for some of the leading companies of the international design industry such as Alias, BD Barcelona, BMW, Camper, FSB, Georg Jensen, Iittala, Kvadrat, Luceplan, Moroso, Schiffini and Vitra. He manages to unite tradition with innovation, joy and energy in his designs and his work is strongly influenced by his early childhood in Argentina as well as his curiousness and studies in everyday life. The results are works with a strong expression and emotionality. One of his most recent projects "Sense and Sensuality. A kitchen for the near future" was sponsored by Dekton by Cosentino. In this conversation Alfredo shares with Cosentino some of his thoughts about design and the future.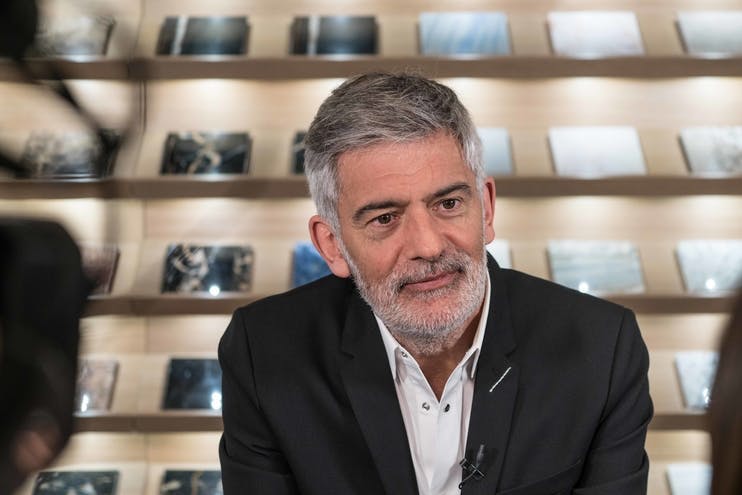 You were born in Argentina and have been residing in Zurich, Switzerland since the end of the 1970s. How does the Latino personality mix with the Germanic one?
At the beginning it was more suffering than a marriage of the two. But I have to say that I work a lot thinking about my childhood and the positive years that I experienced in Argentina, and a little with the rationality I learned in Switzerland and in my studies as an industrial designer. All of these have been good for me today. So I have both: the poetry and sense of intuition I got from Argentina and the rational, slightly more orderly side from Switzerland.
Does this dichotomy leave its mark on your designs?
I think it's evident. Yes.
You say your studio "nourishes your soul." We picture a place full of books, models, materials and curiosities. Is your studio anything like this? Do you find inspiration in your studio? Is it where your creativity is given full rein?
Yes. I've always thought that observation is the loveliest form of thinking. I started collecting all kinds of objects that I find or which are given to me. I have loads of books which probably extend for 50 metres and I've read nearly all of them. I have a very strong visual memory and when I begin a project I think of objects, pages, photographs, things I know, and I start putting them together to create something new. I like being in my studio; that's where I find my inspiration. I also find it in my everyday life. For example, yesterday when I arrived in Madrid I went for a walk. I wasn't thinking about anything in particular, but I see things that in that moment help me to develop my projects.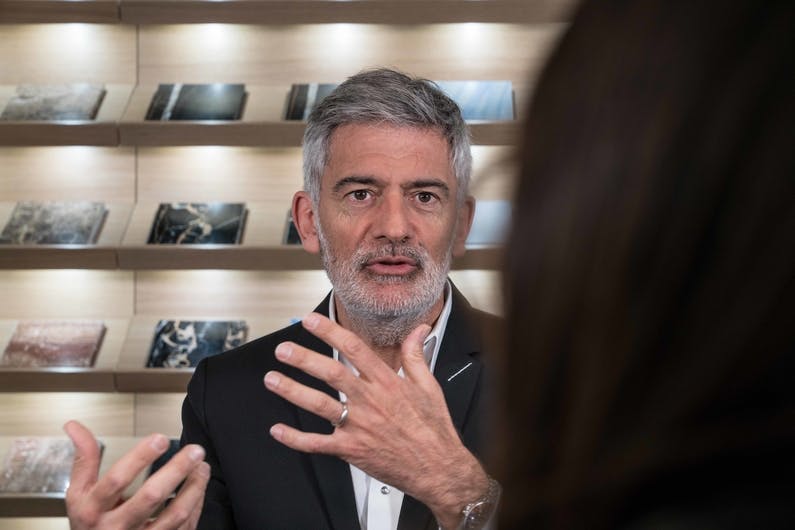 You have an impressive career and you've earned lots of recognition from around the world. You've worked with lots of prestigious brands, including Camper, BMW and Vitra, among many others. What would you say is your secret to success?
Being consistent, believing in the vision I have and doing something I'm passionate about. If you realise that you're passionate about something, something that you really like doing (in my case, it's design), you have to believe it and follow it. I think that's success: being honest with yourself. Thank goodness I can make a living of my hobby, which is being a designer.
Do all of your designs have that in common?
Yes, each and every one.
Although each project is independent and tries to resolve different issues, does your vision of the world colour the final result of your design process?
Yes. No matter what you create, I think it always reflects you a bit. I think that people can see what you have in mind. When I was very young and had just opened up my own studio, a businessman told me: "Designers repeat themselves." I felt offended! I see each project as completely new, and I believe I give it another vision, another option. Yet, at the same time, I realise that you work with different ideas for many years which you develop over time and each project helps reach that holistic view.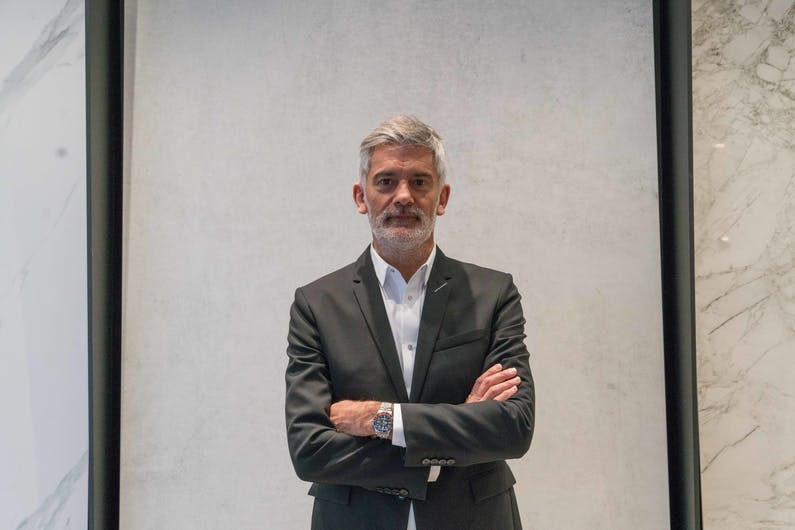 At the beginning of 2019, during the furniture trade show in Cologne, you presented a project called Sense & Sensuality, a stunning vision of the kitchen of the future. Your project considers how and for what purpose we'll be using our kitchens in the future. Practically speaking, what does this kitchen of the future translate into?
That's a very interesting question: to think about the future. Over the last few years I've been offered lots of projects heading in that direction. There's a lot of insecurity right now in the automobile, architecture, design and even fashion industries. What will the future be like? What do we have to develop? When it comes to kitchens, I was commissioned by the Cologne Trade Show (Koelnmesse) to think about the future. I told them that it's a not-too-distant future so that it didn't come across as excessively avant-garde. So I divided it into three levels: one is the architecture, the flooring; another is the furniture, the interior design; and the third is the virtual kitchen. And I made it a bit virtual to give myself some more freedom because I've already designed lots of kitchens. Creating that virtual world gave me the freedom to envisage a kitchen that today's technology is not capable of making a reality, although it points in the direction where we are probably headed.
Cutting-edge technology and a vision which maximises how we use natural resources, food, energy and water. Will we see this kitchen in our homes in the distant future, or in a future that's just around the corner?
There are ideas which can become a reality in 5 years and others which will become a reality in 10. It's precisely that which was interesting when I worked with companies like Samsung or Cosentino. It's when you realise, OK, I'm exaggerating a bit! But it's heading in the right direction. And now it needs to be developed with the companies.
How do you see the future? Do you think there needs to be a paradigm shift?
I really think that the future is going to be about finding the balance between communication and media and the reality of cooking. I think those are the two topics we're dealing with. On the one hand, it's truly about cooking with food. And on the other, it's about seeing that it's a place where you'll be doing many things in the kitchen. You realise that houses are developing in that sense of connectivity, which is also entering the automobile sector in a very pronounced way and is something we can't stop. But there, we must rediscover the balance between the traditional way of handling, cutting and contemplating the food we eat in the kitchen, while at the same time keeping yourself up-to-date, planning the day ahead and helping the kids with their homework. I think that's something that's very interesting.
In your purist vision of the kitchen area, anything superfluous disappears and you only keep the most basic and functional aspects. Do you believe in less is more?
Yes. I think we have too many technological items in the kitchen today, just like in so many other sectors too. Again, in the car or also in computers or on our smartphones. We have too many possibilities we do not use and I think that in the kitchen we are going to have to think about which electronic and technological items we really need. And well, that's also going to be a decision that we'll have to make, the items themselves will be a little smarter and will help keep our food fresher. We'll see what happens...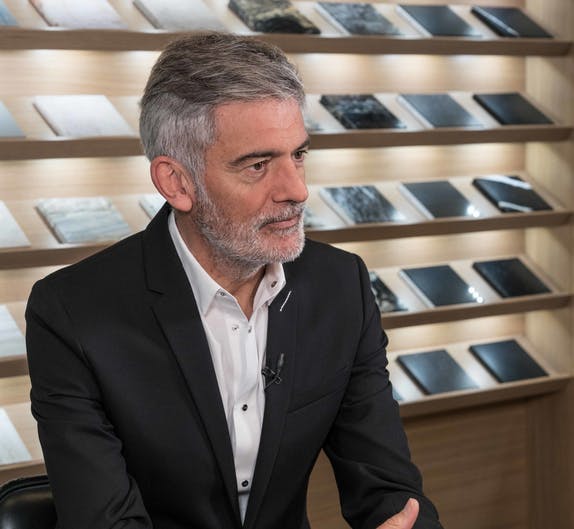 You prefer using high-quality, sustainable and long-lasting materials in your kitchens. Does the ultra-compact Dekton® surface meet your expectations when used as a countertop?
Yes, absolutely. That's something else I find interesting. Because, for example, in fashion the most interesting developments were the technological materials. It's the same when it comes to architecture. The traditional materials we use such as wood or stone will always exist because wood, for example, always grows back. Although it does also have its limits. And I think that's the interesting thing about the industry: finding new materials with qualities that traditional materials do not have. And that is a new and interesting thing that can be developed very well, together with designers and architects. I think there's still a lot to be discovered.
What's your favourite thing about Dekton?
What I like most about Dekton is its function—the fact that it's scratch-resistant and is very hard. It's something I like a lot when it comes to kitchens and bathrooms. But for me as a designer, what I like the most is the thickness. The fact that Dekton now has a thickness of 4 millimetres is amazing. You can achieve a super thin and super refined look. Again, I'm interested in finding the limits of that material with that level of thickness and taking it to its extremes. I'd love that.
At Cosentino, our corporate purpose is to inspire people through innovative spaces. Is it safe to say that this futuristic kitchen will be a space to inspire people?
I hope so. I hope that the kitchen I created makes people think and inspires them too. But of course, since I made the third level virtual, you can also see the limitations we have with this technology. I also learned a lot there. In five years, we'll be laughing at what I presented, how I presented it and the way it was displayed. In this sense we're developing at a very fast pace and well, I think that my grey hair is a result of thinking so much.
Being a Spanish company, we have to make the following question. Do you like Spain? What do you like the most?
I love the weather. And the people. I'm addicted to people and Spaniards are very open people. I love the warmth of the Spanish people.
Cosentino Interview with Alfredo Häberli