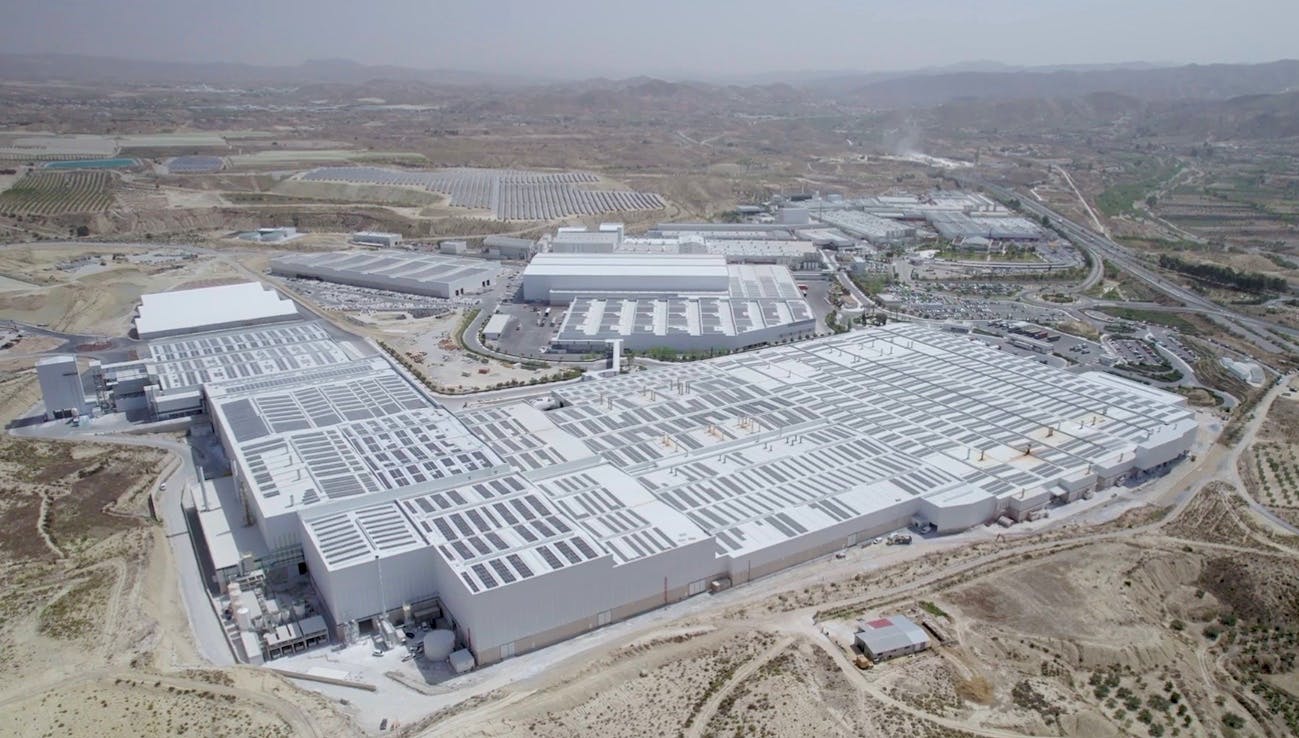 Cosentino maintains its double-digit growth rate and invests €197 million in 2022
The company increased its turnover by 22% with consolidated sales of €1,711 million.

EBITDA grew by 13% to €312 million, and net profit also increased by 13% to €117 million.

The Group's total investment in 2022 amounted to €197 million, 80% of which was spent on the consolidation, expansion and improvement of its industrial park in Cantoria (Almeria).

The company approved a new three-year investment plan (2023-2025), during which period it plans to invest around €400 million.

Cosentino continues to create stable quality employment via the creation of 426 new jobs. The company ended 2022 with a total of 5,851 employees.
---
Cosentino, a leading global manufacturer and distributor of innovative and sustainable surfaces for architecture and design, closed 2022 with sales of €1,711 million, 22 % higher than in 2021. EBITDA increased to €312 million, an increase of 13%, and net profit was €117 million, an improvement of 13% compared to 2021. These results are due to a consolidated business model based on continuous investment in innovation, sustainability, human capital, digital transformation and the diversification of markets and applications via products and sales channels.
Despite a global scenario characterised by high levels of uncertainty, geopolitical instability and a higher inflationary environment, especially in the second half of the year, in 2022 Cosentino was able to deliver sustained double-digit growth in its key financials, similar to those of previous years. A total of 92% of the company's revenue comes from international markets, the most important being North America (United States and Canada) with 59% in 2022, and Europe (including Iberia) with 31%.
This growth has again been accompanied by a robust creation of quality employment by generating 426 new jobs, and closed 2022 with a total of 5,851 employees. Of these, 98% (7% more than in 2021) have permanent contracts.
Cosentino continued its investment commitment and made investments totalling €197 million in 2022 (+88% compared to 2021). Approximately 80% of this was industrial investment dedicated to the consolidation, expansion and improvement of its facilities in Cantoria (Almeria). In terms of key business areas, investment in R&D&I assets and projects totalled €27 million, while for environmental and safety assets it surpassed €37 million.
Cosentino has constructed and commissioned the world's largest plant for the production of ultra-compact stone. This significant investment has been made to cater to the growing demand for Dekton® in all markets where Cosentino operates. A production line equipped with the most advanced machine technologies for large-scale production, a circular economy and energy efficiency. This project also involved the expansion of the automated logistics platform. The entire project involved an investment of over €140 million.
In terms of sustainability, in 2022 the company commissioned the largest industrial onshore photovoltaic plant for self-consumption in Spain with a capacity of 20 MW peak that covers an area of 330,000 m². The past year also saw the launch of other strategic projects for the group, such as the expansion of its own waste management plant and the construction of a municipal wastewater treatment plant (ERAR), along with various measures to improve energy efficiency and the study of other renewable energy sources.
In the area of R&D&I, last year saw progress in the digital transformation of connected industry 4.0 through the use of data, as well as in the development of advanced analytics or AI tools that are used in several key areas for Cosentino's business. Innovation projects were also carried out to improve the sustainability of the production process by reducing the consumption of water and energy resources and increasing the use of recycled waste in the composition of products to promote a circular economy and reduce its carbon and water footprint.
The other main investments were to expand and strengthen the company's high international presence on the basis of its own sales and commercial resources. Cosentino closed last year with 144 owned facilities (both "Cosentino Centers" and "Cosentino City") and 6 logistics platforms spanning all five continents. This network was expanded in 2022 with the opening of new "City" in Malaga, Paris, Stockholm, Tokyo and Washington, and new "Centers" in Tenerife, Gran Canaria and Oklahoma.
As a testament to our commitment towards being responsible when it comes to contributing to the social and economic development of the countries in which we operate, Cosentino made an impactful global contribution in 2022 by paying €59 million in taxes (mainly corporate income tax, customs duties and other taxes), and collecting €350 million in taxes from third parties (mainly VAT and withholdings) generated by the development of its economic activity.
2023-2025 Investment Plan
For the next three years, the company's strategic plan foresees continuing to invest significantly to support expected growth, with an estimated volume of approximately €400 million over the 2023-2025 period. The largest amount will again focus on the expansion and growth of production capacities within the criteria of sustainability and energy efficiency, and with a possible new Dekton® production line or the start of the first phase of a new production infrastructure in the United States.
In terms of environmental initiatives, noteworthy developments include commissioning the mentioned wastewater treatment plant (ERAR), and the completion of the second phase of the photovoltaic energy production plant, which involved the deployment of 27,000 solar panels on our factory roofs to expand our capacity by 15 MW/peak. Finally, the internationalisation process will continue at a steady pace on the basis of commercial assets. More than 50 new openings will take place over the next three years, which will include Cosentino Centers and mainly Cosentino City, focusing primarily on Europe and North America.
As in previous years, Cosentino constantly analyses the global environment, which is marked by a high level of macroeconomic uncertainty and geopolitical instability, both of which have a direct impact on the global outlook. With this in mind, and in order to attain sustained growth and bolster our economic competitiveness, the company will consistently adapt its forecasts, while prioritising investment as a key lever.