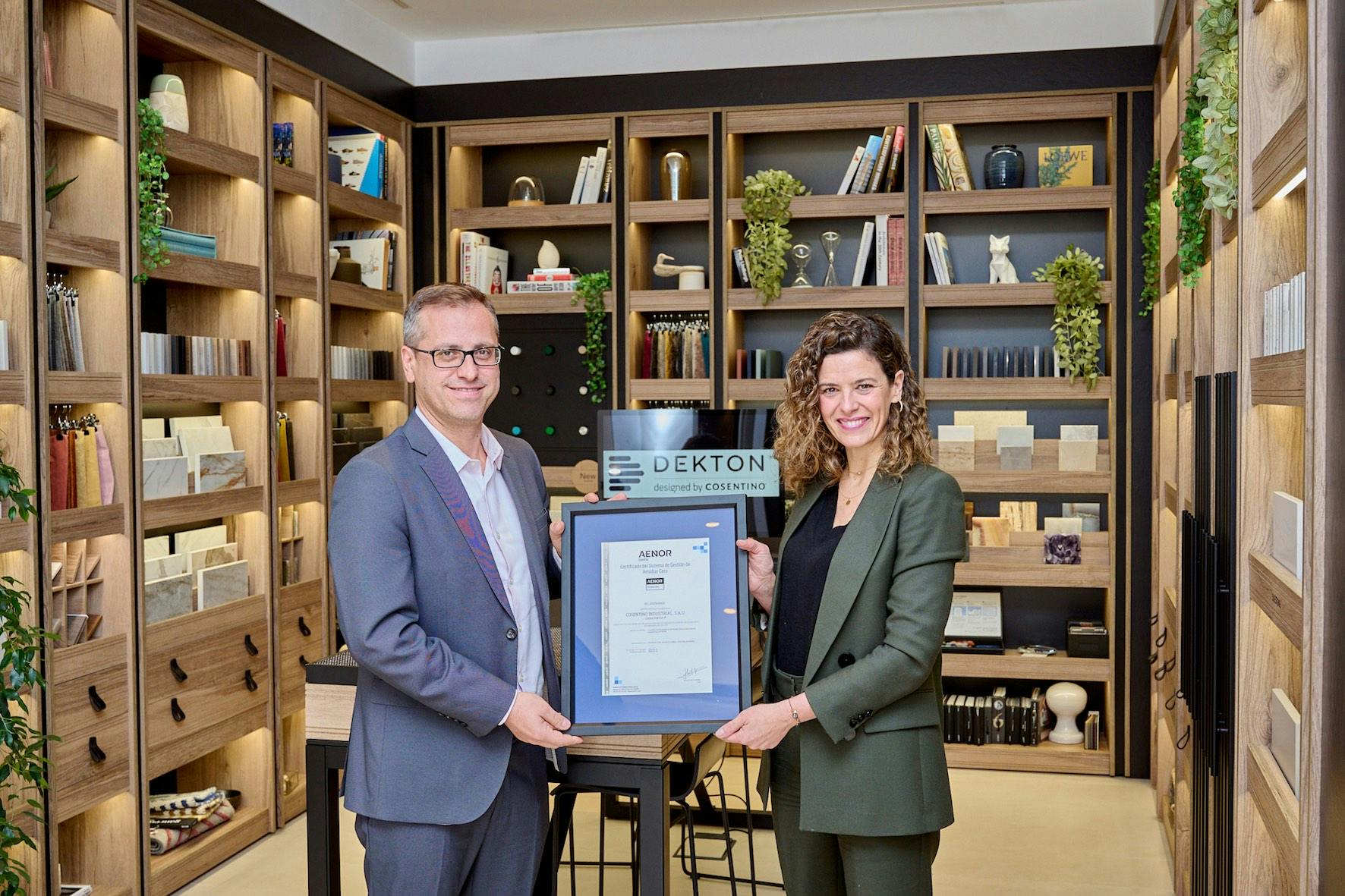 Cosentino obtains AENOR Zero Waste certificate for Dekton®
After the analysis carried out, it has been certified that more than 90% of the waste generated in Dekton® production process is recycled, recoveried or stored as raw material.

This certification adds to Dekton® recognition as a Carbon Neutral product since 2019, or to the Environmental Product Declaration (EPD), also available in Silestone®.
---
Cosentino Group, global leader company in the production and distribution of innovative and sustainable surfaces, continues to add new endorsements as part of its commitment to sustainability and circular economy. On this occasion, the multinational has obtained the AENOR "Zero Waste" certificate for its ultracompact high-performance stone Dekton®. Specifically, after the exhaustive analyzes carried out, it has been certified that more than 90% of the waste generated in the Dekton® production process is recycled, valued, or stored as raw material for use both internally and externally.
This AENOR certification is a consolidated model that recognizes those organizations that recovery at least 90% of their waste fractions, giving them a second life and preventing them from having landfill as their final destination. The organized management of waste allows it to be reused and/or transformed into raw materials, reintroducing it into the value chain and generating a positive effect on the conservation of natural resources.
"This new recognition reaffirms us in the work done with Dekton® over the years. Already in 2019 the entire portfolio of Dekton® was declared Carbon Neutral. Now this certificate also supports the effort made in our waste management. It's a great milestone within our industry to achieve a ratio of more than 90% of recovery in the same material, which practically means being on the path of nearly full reuse of the waste generated", according to Antonio Urdiales, Environment Director of Cosentino Group.
Cosentino is consolidated with this new endorsement as one of the most advanced companies in its sector in the recovery and reuse of waste. Management that has a double output: first, own production reuse promoting circularity and closed circuit products. But also developing that this waste could be used in other potential sectors or industries.
Cosentino included in the list of the Carbon Disclosure Project (CDP)
At the beginning of the year, Cosentino reported that the company participated for the first time in 2022 in the ranking that this prestigious entity elaborates annually, achieving a "B" rating. In its evaluation, CDP highlighted the firm's management of its carbon emissions, the integration of sustainability in the organization, as well as the measures implemented to mitigate the effects of climate change.
Lastly, mentioned that another Cosentino transparency tool for its stakeholders is the Environmental Product Declaration (EPD), availabe in both Silestone® and Dekton® brands.