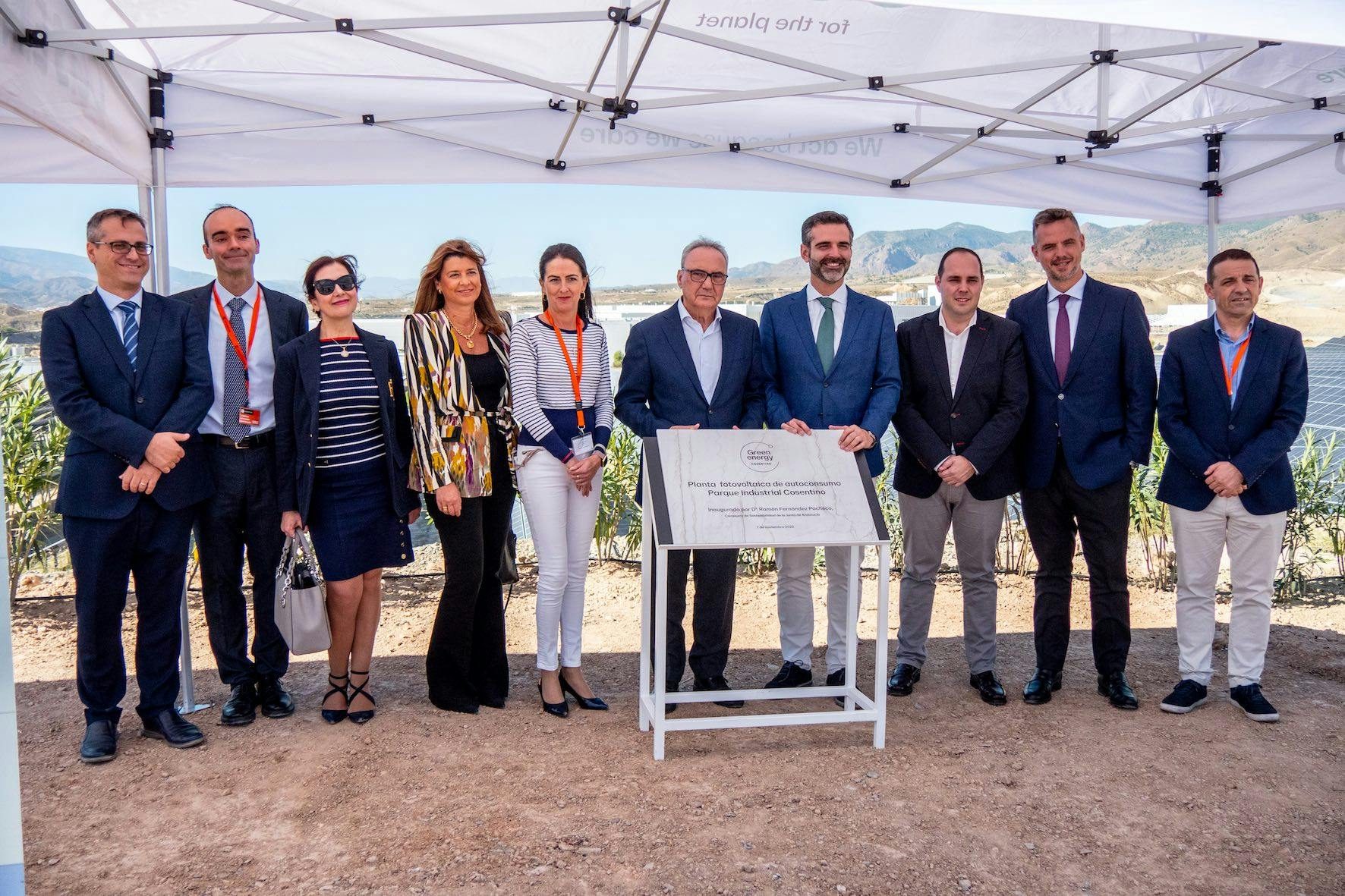 Cosentino plugs in its self-consumption photovoltaic installation
The company establishes a new renewable electricity management model in the industrial field. The installation has a capacity of 20 megawatt-peak (MWp). It represents around 20% of Cosentino's Industrial Park annual electrical consumption.
With an investment of € 14 million, the solar installation was inaugurated yesterday by Ramón Fernández-Pacheco, Sustainability, Environment and Blue Economy Director of Andalusian Government.
Cosentino Group has officially activate the largest photovoltaic self-consumption installation put into operation in Spain, and one of the largest in Europe. The plant will be located in the municipalities of Cantoria and Partaloa within the Industrial Park that the multinational has in Almeria. In this sense, it is worth mentioning the collaboration of both local administrations for the achievement of this milestone. With an investment of € 14 million, this project already in operation supposes a new renewable electricity management model in the industrial field.
The platform on ground has almost 37,000 solar panels -of 540Wp each one and a fixed structure- on a total land area of more than 40 hectares. With a capacity of 20 megawatt-peak (MWp), will generate approximately 34,000 MWh per year. It represents about 20% of Cosentino's electrical annual consumption. Framed in the 2030-2050 decarbonisation strategy of the company, will not only contribute to reducing its carbon footprint, but also it will combine a biodiversity recovery initiative. Thus, 15 hectares annexed to the solar platform will be dedicated to a biodiversity project based on the planting of flora and autochthonous species.
The official inauguration took place yesterday with the presence of Ramón Fernández-Pacheco, Director of Sustainability, Environment and Blue Economy of Andalusian Government. The act was part of the institutional visit that Fernández-Pacheco made to Cosentino's HQ in which, in addition to the inauguration of the photovoltaic installation, he had the opportunity to learn first-hand about other advances and projects that the multinational is carrying out within its Industrial Expansion Plan. Together with other political representatives, were received and accompanied by Francisco Martínez-Cosentino Justo, President of the Cosentino Group; Álvaro de la Haza, Executive Vice President; and Antonio Urdiales, Director of the Environment.
Continuing with the commitment to solar energy, the company has already launched a second phase consisting of the installation of solar panels located on the roofs of its factories. This roof project, which is expected to start up by the end of 2023, will involve an investment of around € 10 million. This second installation will have a power of 15MW peak, which will be added to the 20MW of the actual on ground platform, and will contribute to raising the annual self-consumption energy production figure within the Cosentino Industrial Park to 30%.