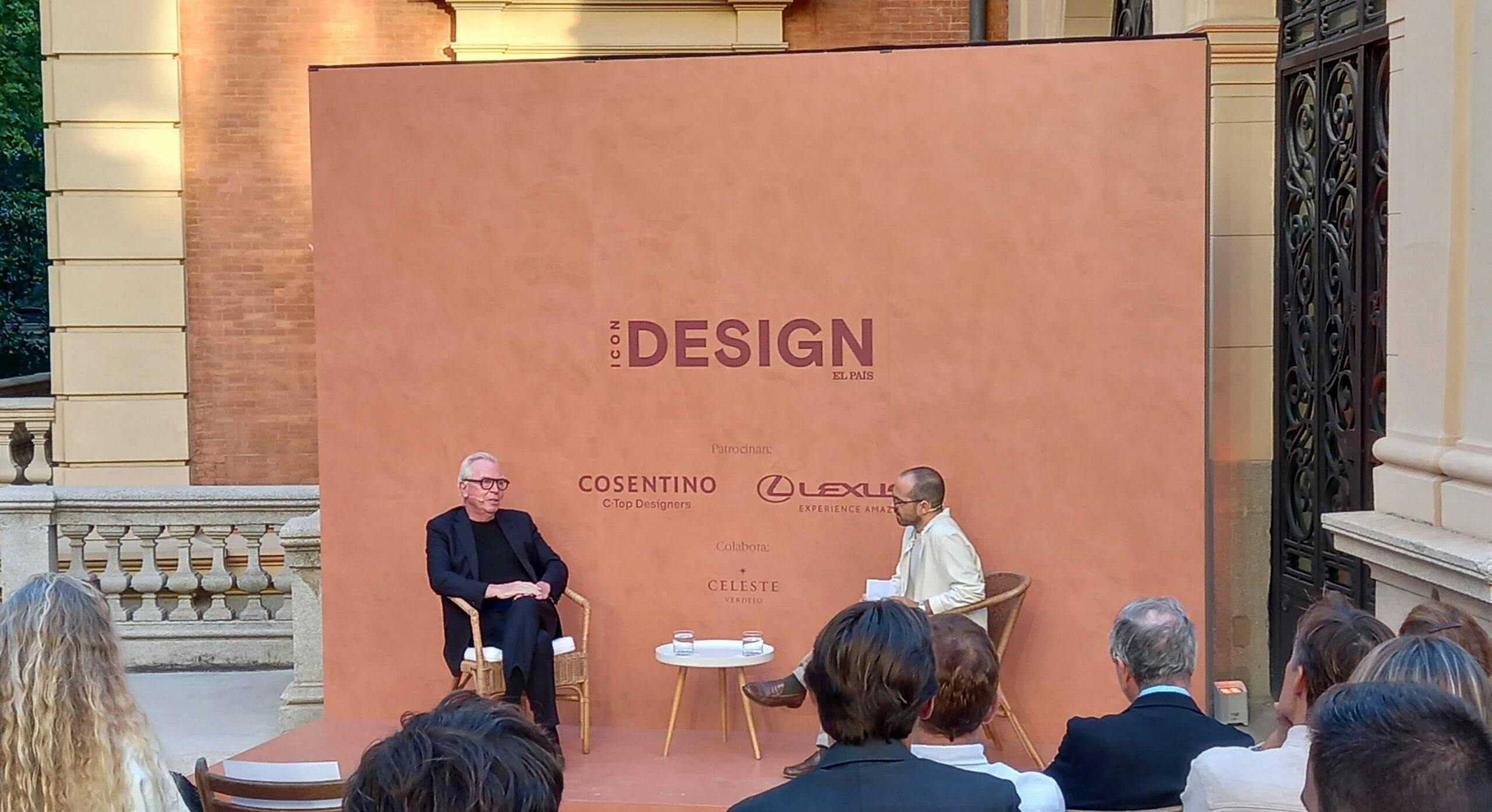 Cosentino sponsors the ICON Design event with David Chipperfield
The event, held in the stunning gardens of the Lázaro Galdiano Museum in Madrid, was attended by 40 guests, including leading professionals from the fields of design, architecture, interior design and art.
The highlight of the event was the talk between Daniel García, Director of ICON Design, and architect David Chipperfield, which took place on a spectacular stage made of the ultra-compact surface Dekton® by Cosentino.
In this context, the British architect spoke about his training in the studios of Richard Rogers and Norman Foster and his professional career, which includes iconic projects such as the extension of the Royal Academy in London or the reconstruction of the Neues Museum in Berlin. In his opening speech, Javier Moreno, Director of EL PAÍS, referred to the latter:
"We often admire the most visible, superficial or monumental part of an architect, and sometimes it is very difficult to be touched by what is not apparent at first sight. I have visited the Neues Museum and I have felt the wounds of history, the fragility of memory and the limits of good and evil in human beings emerging from a solid wall, and this is possible thanks to Chipperfield's work.".
During the talk, David Chipperfield spoke about the sense of responsibility that architects must acquire for any project, thinking about what they are doing and for whom they are doing it, always prioritising empathy and commitment to the environment and society. There was also time to talk about Galicia and Corrubedo, his second home, where the architect spends long periods of time every year, and which has become for him a place for experimentation and generation of ideas. It is there that he founded RIA, an association created to protect the sustainable development and the environment of the Galician Atlantic estuaries.
The evening ended with an exquisite dinner, whose decoration also featured the ultra-compact Dekton® by Cosentino surface. Two colours from the soon-to-be-launched Craftizen series were used for the circular underplate and the menu.
The sponsorship of this event is part of Cosentino's commitment to the design and architecture community, for which the company has recently launched the ambitious initiative "C Top Designers", which was very much present throughout yesterday's event.
"C Top Designers" is an innovative and comprehensive relationship and collaboration programme designed to create synergies with these professionals, carry out projects of high value and relevance to the industry, share the same vision of design and turn the growing network of Cosentino Cities into their point of reference, experience and inspiration.
The full talk between Daniel García and David Chipperfield at ICON Design