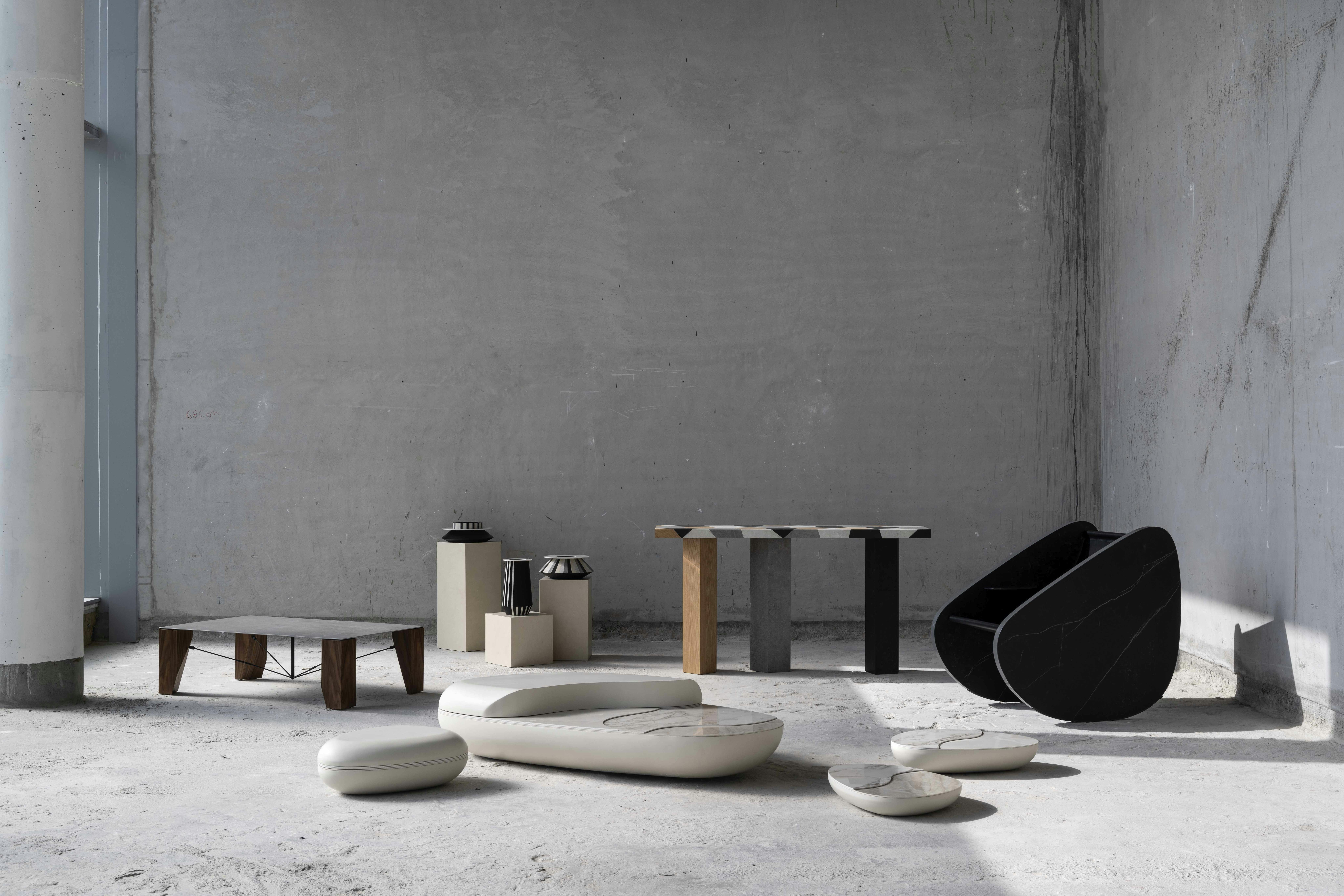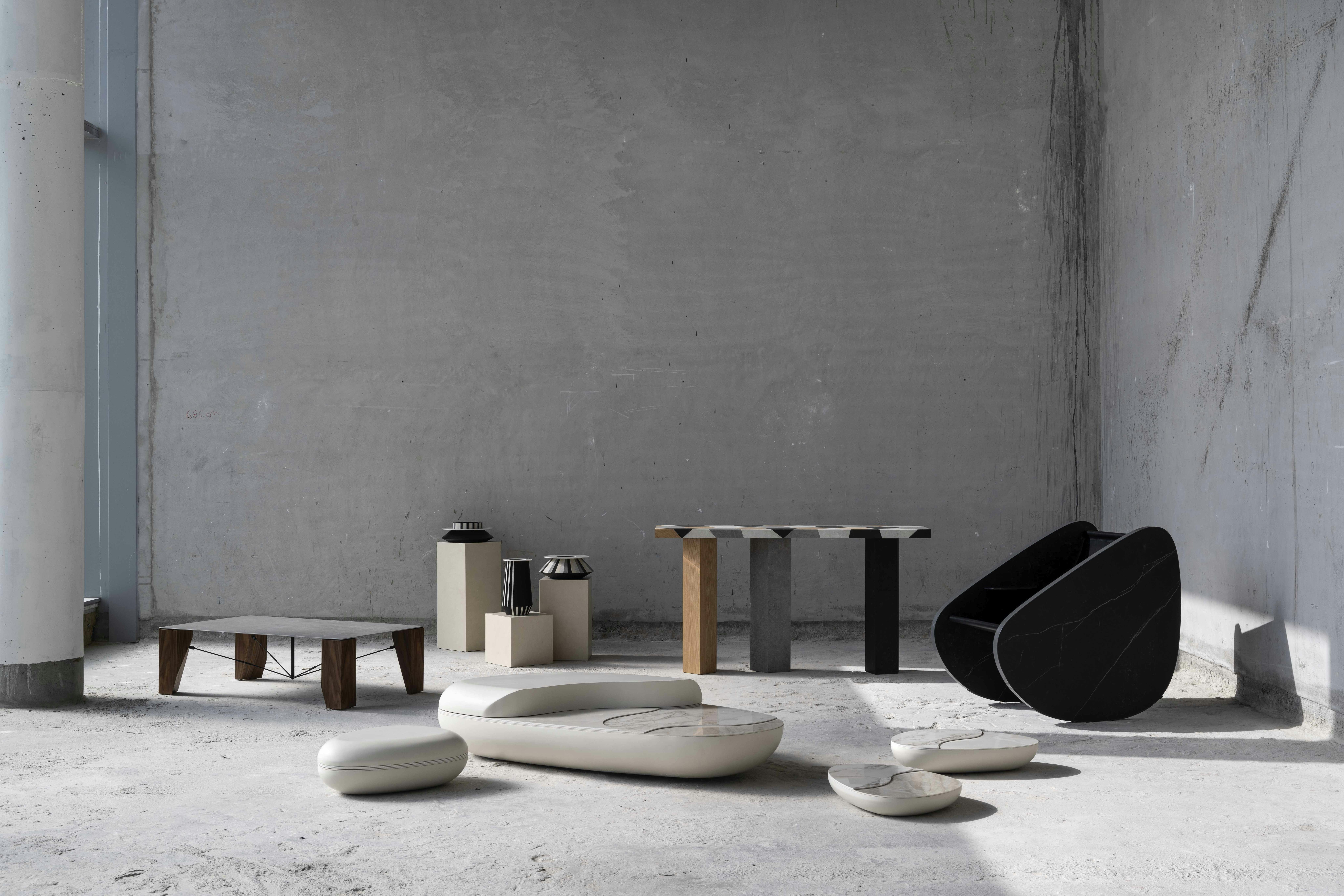 Cosentino unveils Capsule Collection
It is the first-of-its kind Dekton furniture line. Five top regional design houses break boundaries to create furniture and home accessories collection with Cosentino's 4mm Dekton Slim.
Cosentino unveiled its much-awaited Capsule Collection of furniture and home accessories created in collaboration with celebrated designers Nada Debs, Mustafa Khamash, Fadi Sarieddine, Aljoud Lootah and the duo Dana Al Matrook and Newsha Dastaviz from The Line Concept. Using Dekton Slim both as a functional and decorative feature, the collaborators have pushed the boundaries of the material to its full potential to create 5 individual works of art in their signature design styles. The eclectic collection comprises of a rocking chair, a console, a coffee table, a range of low side tables and a series of vases, created within a period of 4-months by the renowned collaborators.
Dubai-based interior fit-out contractor Cherwell played an integral role as the Production Partner on this project.
CARAPACE CONSOLE by Nada Debs for Cosentino
In line with the Nada Debs philosophy of creating unexpected material combinations, this console creates a synergy of opposing elements through a playful geometric composition of both natural and industrial elements that fit seamlessly together through the craft of marquetry using the house's signature Carapace pattern.
ROCCO by Mustafa Khamash for Cosentino
Was the first chair a stone? Rocco, designed by Mustafa Khamash, looks to the origin of commodities, the starting point being that if a stone was the first object from nature claimed to be a seating device, then it is likely that it also marked the beginnings of furniture making, design, craftsmanship, chairs, thrones, hammocks and other objects. This act of appropriating our natural elements and redefining their use towards providing for our needs sowed the seeds of our never-ending cultural development.
Drawing references from known rocking chairs in the design world, Rocco is a playful creation executed in the raw quality of Dekton Slim, without any unnecessary additions, finishes or embellishments. It represents Khamash's view on how we treat materials either for dressing ourselves, dressing our domestic context and the aesthetic quest for the abstraction of art.
TALYD by Aljoud Lootah for Cosentino
Drawing inspiration from large traditional metal pots used for cooking over open fires, Talyd is a collection of vases that pay homage to the UAE's rich culinary culture and the everyday tools and objects intertwined with the livelihood of the Emiratis from an era gone by.
Meaning legacy in Arabic, Talyd is a modern interpretation of historical findings. While the shapes and proportions of the vases are influenced by the original artefacts, they are repurposed as functional objects of curiosity using a minimalist design approach.
PAPER COFFEE TABLE by Fadi Sarieddine for Cosentino
Paper Coffee Table is a creation that celebrates the thinness of Dekton Slim. With its fine 4mm edge exposed, the material appears to hover as a table top, an engineering feat achieved through a system of bulky solid walnut legs held in place with gunmetal tension rods. The slimness of the slab is further visually enhanced by the deliberate bulkiness of the legs. Paper Coffee Table derives its elegance from this contrast as well as the geometry generated from the structural factors of tension and compression. The striking material combinations also play a crucial role in complementing the table's morphology.
TEKTONIA TABLES by The Line Concept for Cosentino
Soft and organic lines challenge the perception of stone as a hard, cold and sharp material in Tektonia Tables, created by The Line Concept as a tribute to the true origins of the earth. The design integrates organic flowing shapes, symbolizing nature and Earth's patterns. Parts of the tables are sliced off to expose layers that resemble earth's strata and movement of the tectonic plates, while the discreet exposed stone edges in profile highlight the particular thinness of Dekton Slim.
The series includes a large and two small feature tables which can be displayed as either closed, or separated to expose the layers of stone within.
Miriam Llano, Marketing Manager – Cosentino Middle East: "We are pleased to unveil the first ever Dekton Slim Capsule Collection worldwide. This project, which we kickstarted in March 2021, is a true labour of love. The unique creations, proudly Made in the UAE, is an ode to the spirit of collaboration, sustainability and breaking boundaries in every sense – material, design, process and production."
The Cosentino Capsule Collection will be officially launched at a public event in September at Cosentino City Dubai, d3, following which it will be showcased at the Expo 2020 Spanish Pavilion and Downtown Design 2021.