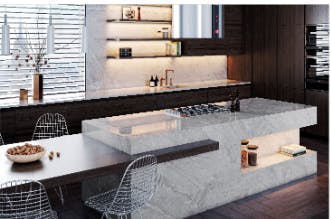 Dekton Sogne named Architectural Digest Great Kitchen Design Awards Winner
As a leading global design authority, Architectural Digest celebrates the very best of international design and innovative products in its magazine each month. To further elevate distinctive products in an increasingly crowded space, AD holds its annual AD Great Kitchen Design Awards, curated with the publication's tastemakers, influencers and design enthusiasts in mind. Past winners have included Silestone Eternal Marquina and Dekton Orix.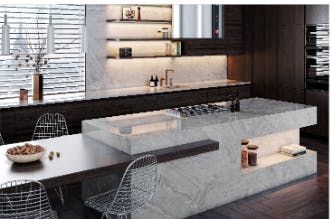 Among the 2019 winners: Dekton Sogne- a luminary from the Dekton Stonika Collection, which draws inspiration from the most coveted natural stone materials - with spectacular shine and unrivaled durability. New findings in the manufacturing process also allow for sharper designs and in turn, an ultra-realistic appeal. The colorway Sogne captures the distinctive, weathered beauty of Gris Pulpis natural stone. With a texture that blends natural stone and aged concrete, it evokes an industrial aesthetic with the juxtaposition of it's ultra-glossy shine.
Dekton Sogne and its fellow AD Great Design Winners from the kitchen category are featured in the November 2019 issue of Architectural Digest, with expanded coverage online and across the Architectural Digest social media platforms. Winners in the bath category will be announced in the spring.