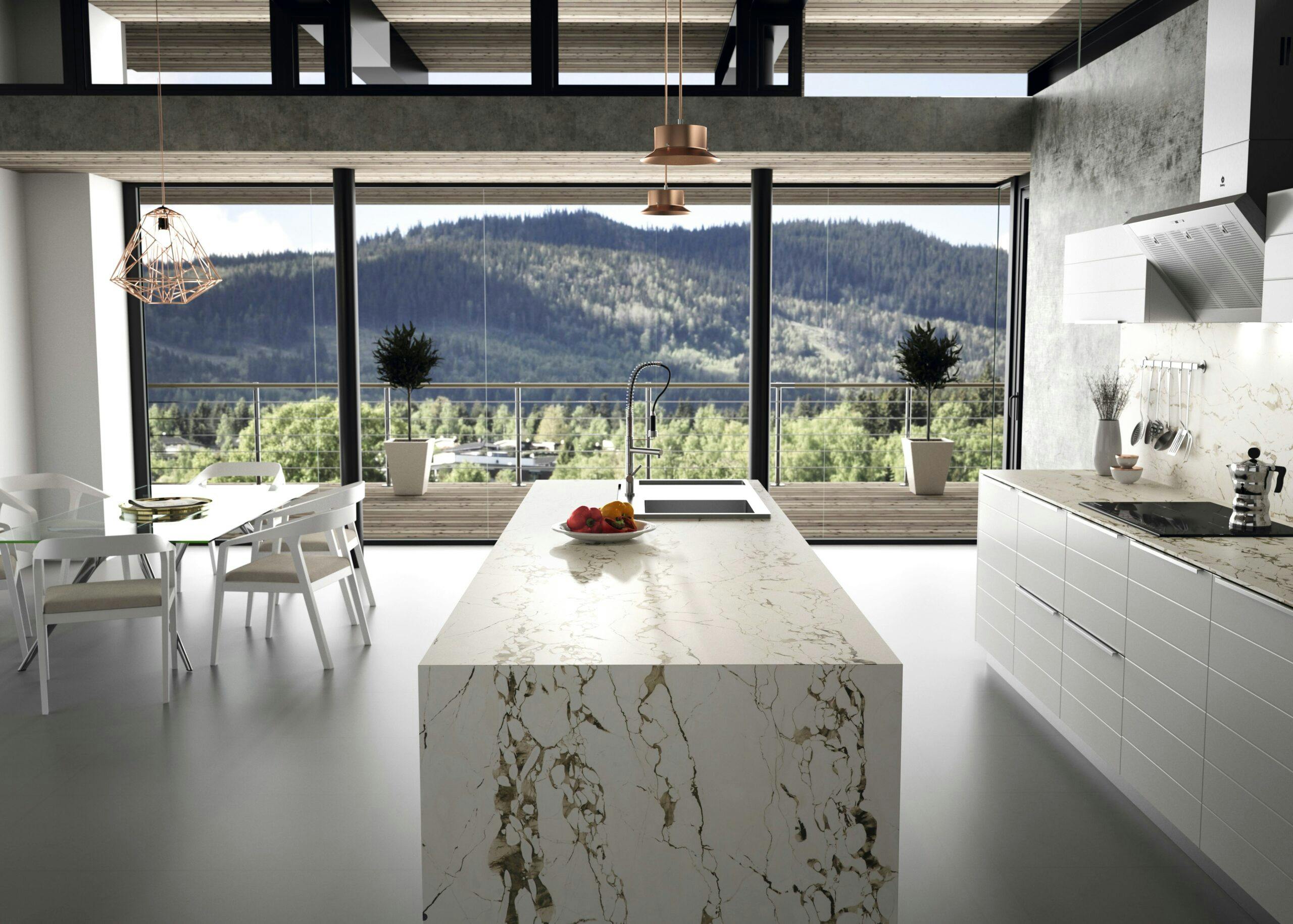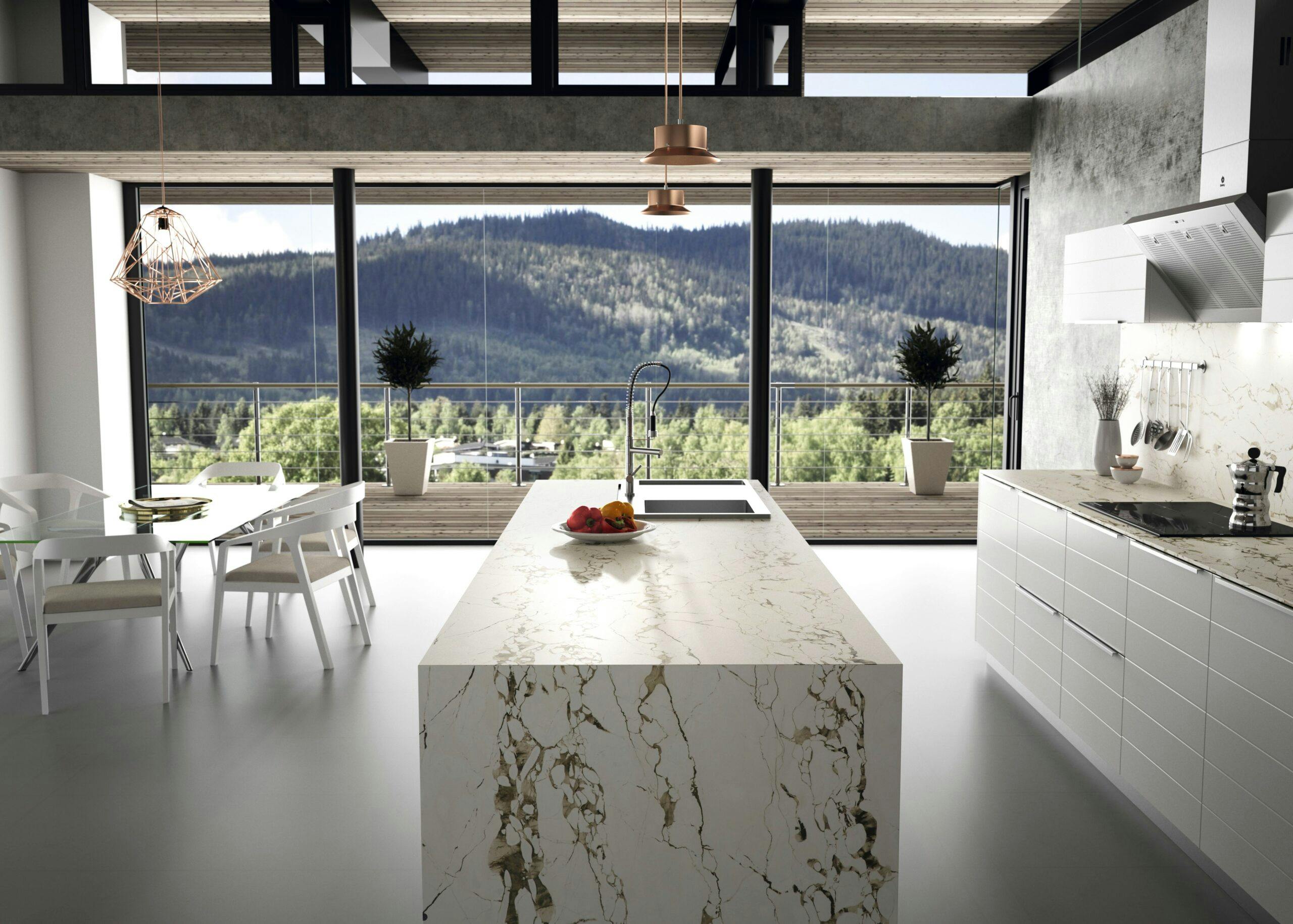 Design a professional kitchen
Ideas to design a kitchen like those of the top chefs
If you love to cook, experiment with the best recipes and latest gastronomic techniques, and you are thinking about renovating your kitchen, don't miss out on our ideas to enjoy a professional kitchen in your home, just like those of the top chefs.
In order to have a kitchen like those of the top chefs, you have to pay close attention to the materials, as well as to the furniture, countertops and backsplashes. Keep in mind that work areas are the parts of your kitchen that undergo the most wear, so choosing surfaces that are suitably resistant will help you to enjoy an impeccable kitchen for a lot longer.
Silestone work surfaces, made of over 90% quartz, will allow you to have beautiful and durable countertops, floor coverings, and backsplashes. Since they are made of non-porous material and are highly resistant to stains from coffee, wine, lemon juice, olive oil, vinegar, butter and many other products used daily, you will be able to cook your best dishes without worrying. Discover the latest developments in Silestone colors. If you want to design a sophisticated and stunning kitchen, choose Eternal Marquina in an intense streaked black or, if you prefer to create an elegant and light space, your best option is Eternal Calacatta Gold from the Eternal series.
Dekton surfaces, large in size yet light, have some surprising and unique advantages in designing a professional looking kitchen. They are highly resistant to scratches, stains, wear, fire, heat, etc., and they will help you cook without limitations. Their variety of colors and textures, from solid finish designs to those that imitate a natural wood, marble, or cement finish, or the latest developments of the Industrial Collection, will surprise you with their quality and unmistakable style.Combine these innovative materials with steel or wood cabinet and drawer doors to obtain a professional look.
The cooking area in the kitchen of a top chef is one of the most important spaces. Choose the modular cooktop, made up of gas and electric burners with a grill and Teppanyaki option to allow you to cook just like the top Japanese chefs, quickly and healthily.
A properly planning the lighting in your kitchen will help you to work more comfortably, safely and efficiently. Aim for your overall lighting to be even and consistent so that you can properly see all the corners of your kitchen. Also position ambient light sources and points in every specific area, over the cooking area, the space intended for the office and, specifically, the countertop. This way, you will be able to handle your food with complete comfort and safety.
Use LED light sources: they consume less energy, reduce heat emissions and you can integrate them under cabinets, in strips, and inside your drawers. You can also install an automated system so that the light turns on when you open the door of the cabinet, cupboard or drawer.
In professional kitchens, sinks are vitally important. Therefore, if you are thinking about designing a space with these professional characteristics, it is worth it to install a large piece. If you have enough space and an island, you can install two sinks, one close to the cooking area, ideal for filling up pots or washing food, and another next to the dishwasher to be able to rinse kitchen utensils.
With Silestone quartz countertop, you can create a feeling of seamless continuity by choosing the Integrity sinks, manufactured with the same material. The Integrity XL model is available in 43.5x67x21 centimeters, perfect for a single drainer sink. Its large design is ideal to add continuity to your kitchen and turn it into a completely integrated extension of your countertop.
5.
Multifunctional luxury faucets
For a professional style kitchen, you need a faucet with professional functionality. Removable faucets have become the best option to design a kitchen just like the kitchens of the top chefs. The removable faucet handles, with jet and shower systems, are very comfortable and efficient when filling up large containers and to properly wash foods.
If you want to enjoy the latest developments in sinks, choose the pot filler model. It has a faucet that supplies hot or cold water immediately. By choosing this model, you will avoid having to wait for the water to boil to cook your vegetables or pasta, quickly, saving electricity or gas consumption.
6.
Perfectly organized cabinets and drawers
Do you think the kitchen of a top chef has cabinets and drawers that are always unorganized?
All you have to do is properly plan the inside of the cabinets and drawers to have everything at hand. Try to place the things you often use in the upper part of the base units and the larger accessories and utensils in the lower area. The large drawers under the cooktop are very practical to store pots and pans, and to be able to easily reach them when you need to.
7.
Customized recycling and garbage system
Forget about a traditional garbage can and set aside a specific space to place a recycling system with different bins for different wastes: organic, plastic and glass.
If you want your kitchen to be perfect, you can also place an opening with cover in the countertop to easily dispose of garbage.
8.
A cellar in the kitchen
If you love good wines and you like to drink them at their ideal temperature (between 5 and 8 ?C) and proper humidity, you can install a small wine bar to always enjoy them in their perfect state.
A wine cabinet will let you store the bottles that you don't finish in proper conditions. Most of the models have dispenser nozzle so that you can also serve glasses of wine just like they do in the best restaurants.
A good chef always has a wide variety of spice jars in their kitchen, and having these jars well organized will help you execute any recipe. Install a specific dispenser module for spices or sauces, or install a bar with a hanging spice rack. You can use this type of bar to hang other utensils, such as a skimmer spoon, sauce pan, etc.
If you liked this article, check out our free guide: