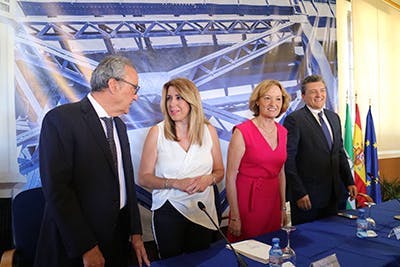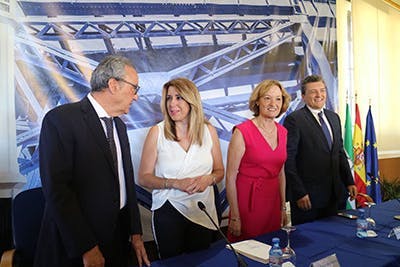 Almeria Port Authority, Cosentino Group and Maersk Line presented together, this morning  the new Maersk container route, which was launched last 20th of June thanks to the commercial agreement between Maersk and Cosentino. Presided by
Ms. Susana Díaz, President of the Junta de Andalucía
, together with
Mr. Marcos Hansen, General Director of West Mediterranean Maersk Line; Mr. Francisco Martinez-Cosentino Justo, President of Cosentino Group, as well as the President of Almeria Port Authority, Ms. Mari Carmen Ortiz;
the event has gathered more than 100 people in the Varadero Room of Almeria Port Authority.
Cosentino, who was key in the arrival of the Danish shipping company to Almeria, and Maersk have made a detailed presentation about characteristics and advantages of this new service which was launched last month of June. The weekly transport service will connect Almeria Port with Algeciras hub and from there to the rest of the world. Maersk representatives informed that the service will take place on Tuesdays, and the vessels assigned for this service are the BF Caroda and the Max Loyalty, with a capacity for 450 teus, 11.000 tons of dead weight and 134 meters length. The transit time between Almeria Port and Algeciras will be 12 hours, which considerably improves the transit time of exports.
Jose Antonio Fernandez, Cosentino Group Logistics and Planning Vice-president
highlights Cosentino's support, as well as the support of the port services specialized firm Ronco & Cía, being key to launch this service and contributing to the development of the optimization of round trip operations.
Ms. Susana Díaz, President of  the Junta de Andalucía: "this event happens due to Cosentino's compromise with Almeria and with Andalucía. The arrival of Maersk opens a horizon of opportunity which a province, number one in export, like Almeria will benefit from.