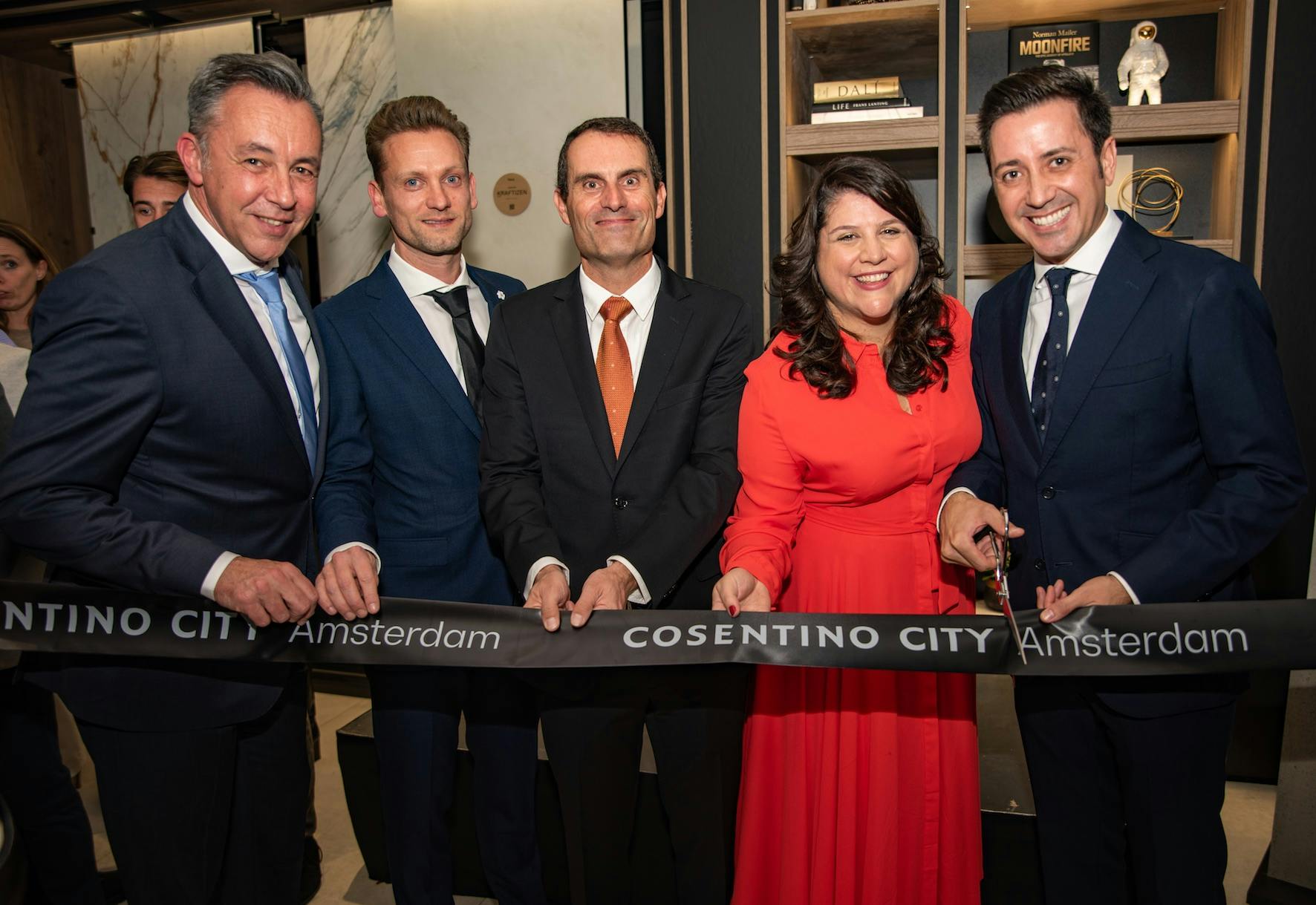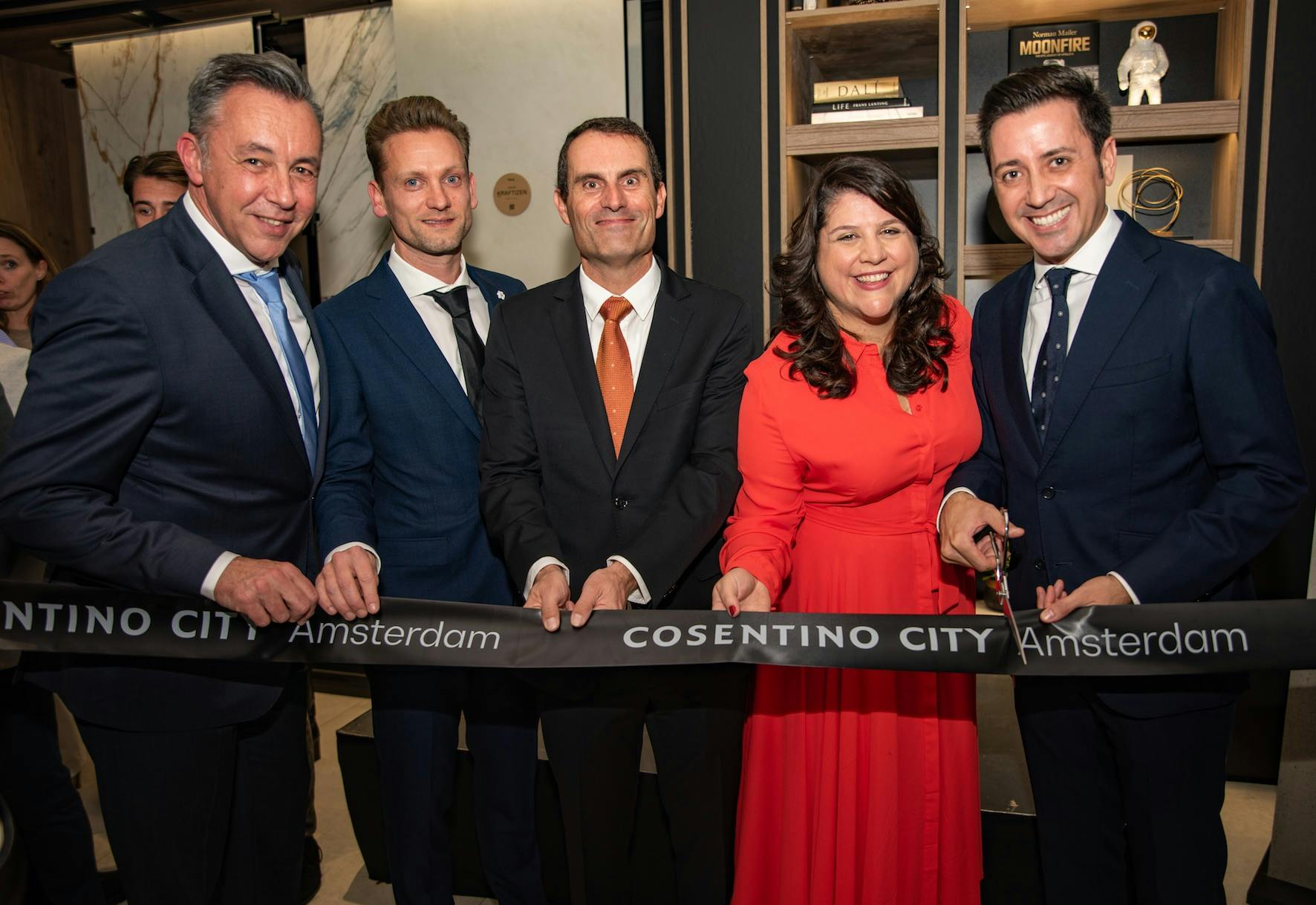 (Re)Opening Cosentino City Amsterdam
The Spanish multinational Cosentino celebrated its two-year anniversary on November 24, 2022, officially reopening the Cosentino City experience in Amsterdam. An inspiring and innovative place where the worlds of design and architecture come together in the center of the Dutch capital.
The official ceremony took place last Thursday in the presence of Eduardo Cosentino (Corporate Vice President of Sales & CEO Cosentino North America), Pedro Parra Uribe (Vice President of Sales Cosentino Europe), Hendrik Willems (Regional Director Cosentino Benelux & Germany), Marc Mandirs (General Manager Cosentino Netherlands) and Lara Leenhouts-Regnault (Manager Cosentino City Amsterdam)
Cosentino is the market leader in the production and distribution of innovative materials for architecture and design. Last Thursday night the company reopened the Cosentino City Amsterdam. Amsterdam joins an important list of iconic cities such as Sydney, Singapore, New York, Paris, London and Tokyo that have developed this innovative concept where both consumers and professionals can meet and be inspired through digital visualisations, exhibitions and events. In the heart of the city, diagonally opposite the concert hall and around the corner from the Rijksmuseum, Cosentino wants to inspire its visitors under the motto: "Get Inspired and explore what's beneath the surface".
Stimulating the senses was central during this festive (re)opening: Open a world of senses! Listen, see, feel, smell and taste. In addition to the inspiring and visionary words of Eduardo Cosentino, you could discover the new collections and colors of Dekton and Silestone and discover the company's heritage and learn about exciting plans for the future.
Cosentino City Amsterdam is the experience center for Cosentino and covers 550 m2 of interior space spread over two floors. Day-to-day management is the responsibility of City Manager Lara Leenhouts-Regnault together with Specialist and architect Vanja Masala. Visitors are introduced to Cosentino's main brands: Silestone®, Dekton® and Sensa®. The experience center offers space for multifunctional applications, including large-format Cosentino materials, mock-ups of (ventilated) facade applications, kitchen and bathroom inspiration, a workshop with color samples and workplaces for professionals to develop their projects, as well as space for organizing events. events and exhibitions.
In the Atelier Lab, visitors are surrounded by samples, not only from their own collection, but also from other materials (wood, textiles, wallpaper, books, etc.). The Atelier lab is perfect for architects and interior designers to get inspiration for any kind of project. People can make mood boards and combine materials to sketch a good picture for the project to be developed.
Cooking demonstrations are regularly given in the fully equipped kitchen. The kitchens are equipped with high-quality appliances from Gaggenau and taps from Quooker. There is also a meeting room available for visiting architects and designers and there are various flexible workplaces. With this, Cosentino City expresses the ambition to be a real meeting place for networking and meetings for this target group.