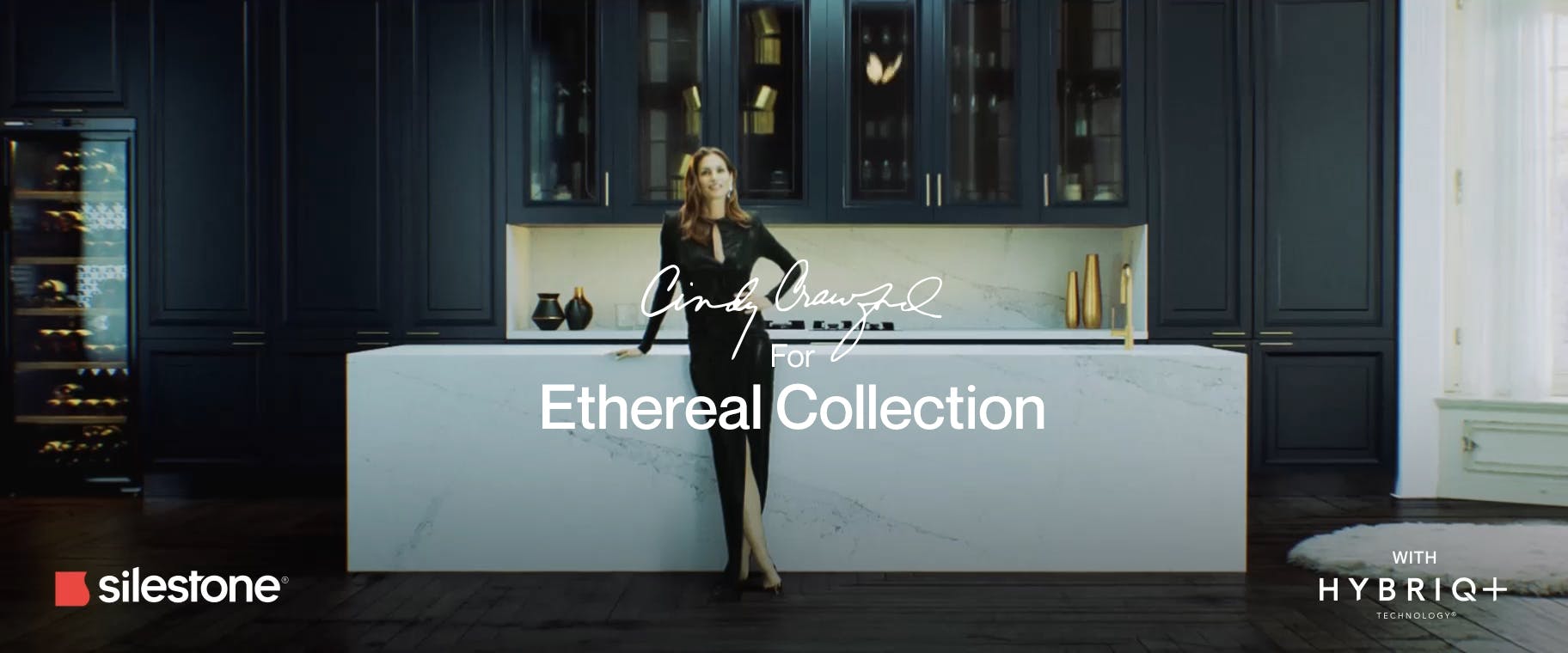 Silestone premieres "The Metamorphosis", featuring Cindy Crawford
Silestone® by Cosentino launches "The Metamorphosis", the third campaign starring international fashion icon and businesswoman Cindy Crawford.
As its name suggests, "The Metamorphosis" is an allegory of the internal and external transformation that the Silestone® brand is undergoing. Recently, Silestone® has launched the pioneering HybriQ+® technology, a revolution for the industry thanks to its sustainable and responsible nature which reflects Cosentino's firm commitment to the environment and our planet. The brand has also launched its new corporate image, promoting values such as quality, personality, innovation, responsibility and humanity. This has inspired further communication and engagement with new generations. "The Metamorphosis" is also a small preview of the new and surprising Silestone® colour collection that will be launched in the coming months.
In the making of "The Metamorphosis", the Cosentino Group has once again relied on the creative Álex Román, an expert in 3D and with whom the Spanish multinational created the advert "Silestone, Above Everything Else", winner of the Golden Lion at the 2011 Cannes Film Festival in the  Film Craft category , Animation section.
The use of CGI (Computer Generated Imagery) animation, which creates astonishing, lifelike scenes that play perfectly with the star of the advert, Cindy Crawford, as well as the acoustic space generated and the musical arrangements by composer Pilar Onares, make this work an extraordinary piece of work.
Since the collaboration between Silestone® and Cindy Crawford began in 2017, the brand's campaigns with her have focused on producing print creatives that have been published in the world's most important and renowned design and lifestyle magazines. Now, with "The Metamorphosis", Cosentino is once again taking a qualitative leap forward to achieve something unique and majestic that will allow the company to continue to accomplish its purpose as a company and as a brand: to inspire people.
Eduardo Cosentino, CEO of Cosentino North America and Vice President of Global Sales.
"Our partnership with Cindy Crawford has always highlighted the connection between the world of fashion and interior design and decoration. This new campaign is a continuation of this goal, told in a unique way and through a truly captivating and visually stunning narrative".
"The Metamorphosis" - Fact sheet
Title: "The Metamorphosis"
Agency: NA – direct customer
Advertiser: Cosentino Group
Brand: Silestone® by Cosentino
Product Kitchen worktop
Sector: Trade/Catering
Director of photography: Miguel de Olaso "McGregor"
Art Director: Alex Román
Editing: Alex Román
Original idea/concept: Alex Román/Damián Granados/Pablo San Román
Creative leader: Álex Román
Creative direction: Alex Román/Damián Granados/Pablo San Román/Mabel Sánchez/Esteban Sosa
Copy: Pablo San Román
Original music and musical direction: Pilar Onares
Sound design: Oscar Araujo
Mix and master: Mikel Krutzaga
Piece: Spot 60″