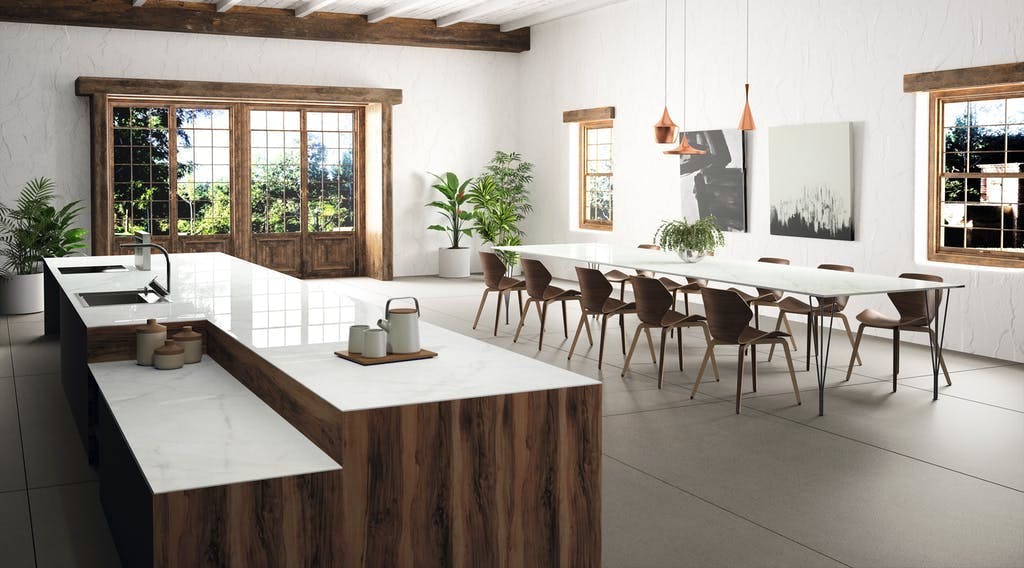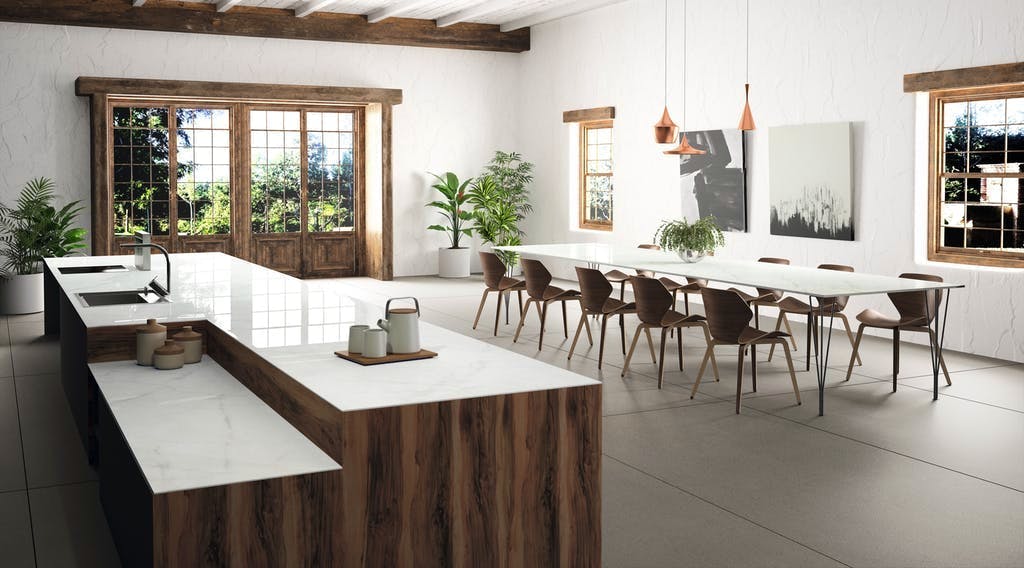 Spacious kitchen without a construction project
Tricks to open up the kitchen space without starting a construction project
In decoration, one of the aspects that concerns us the most is the lack of space; we live in spaces characterized by small dimensions, our bedroom seems to decrease in size day by day, the dressing room or closet has turned into utter chaos and in the kitchen, it seems impossible to find a simple pan or enjoy an appetizing morning coffee. If this is the case with you and you don't plan to renovate your kitchen, you just have to keep in mind a few simple tricks that will allow you to open up the space as well as maximize storage capacity, so that you can enjoy a much bigger and more optimized space than what it actually is.
Opt for light and bright colors so that your kitchen appears to have larger dimensions, using white and pale gray tones, as better alternatives. If you aren't going to refurbish your kitchen, you can paint the front of the cabinets and drawers, some of the walls and even use specific paints to change the color of the tiles. In addition to providing a greater sense of openness, you will be able to rejuvenate and revamp your kitchen's appearance with quick and inexpensive, yet simple, steps.
If you think it will look too sad and monotone, you can add some color details in the accents and in small details such as accessories and kitchen utensils, lamps, etc.
2.  Cut back on the variety of materials
If you want your kitchen to look more spacious, try to reduce the use of materials; Limiting the amount of materials you choose will bring a greater sense of continuity to the space so that it will appear to be larger and more orderly.
Choose the same type of surface for both the hob and the backsplash, for example; if you settle for a model in light Silestone shades like Iconis White, Montblanc, Ariel or Lagoon, among many others, to make the countertop and the front end, you will make your kitchen appear more spacious and bright.
If you also choose a material that can double as flooring, such as those offered by Dekton, the company specializing in ultra-compact surfaces, you will definitely achieve a double effect.
3. Monopolize on verticality
When you find that you are working with reduced spaces, you will need to take full advantage of the height of the walls and their storage capacity. If you are about start remodeling, choose units that reach the ceiling; if, on the other hand, you already have your kitchen finalized, use baskets and boxes that fit into the holes, for example, on the tall cabinets and the refrigerator.
Replace the typical baseboard of the kitchen base units with drawers in which you can store all kinds of utensils that you don't use often.
Cupboards and drawers with a push-to-open or swing latch system, without visible handles, will also provide a greater sense of spaciousness.
6. Small kitchen appliances
For especially small kitchens, it's best to choose small appliances that carry out the same functions; for example, a 40 cm dishwasher will allow you to gain 20 centimeters of cupboards or drawers on the sides.
7. Do not give up your nook
Even in smaller kitchens you can still include a small nook space; you only need to install a small shelf/bar, 35 cm in height x 60 cm in width, where you can place a stool and enjoy your breakfast or daily meals; all in the same kitchen.
One of the most effective keys to achieving an open concept in your kitchen is to remove any boundaries and walls to create clear spaces. Of course, in this case, you will have to undergo construction. You can avoid the annoyance of renovations by replacing hinged doors with sliding doors or get rid of them altogether so that the two spaces flow together and the kitchen appears to be bigger.
In kitchens with small dimensions, get rid of the curtains, a feature that always provides a greater sensation of warmth and coziness although, in minimized environments, they also limit the sense of space. For this reason, it is preferable that you choose very simple blinds or even, if you have a good view, leave the windows exposed; as in completely bare. - You will make the space seem bigger.
10. Keep your kitchen clear
Order is one of the essential factors that will allow your kitchen to look bigger. Making sure that the countertop is always clear and well organized allows you to take full advantage of the internal capacity of the cupboards and drawers, as well as organizing the kitchen utensils on practical shelves and compartmentalized baskets.
If you liked this article, check out our free guide: