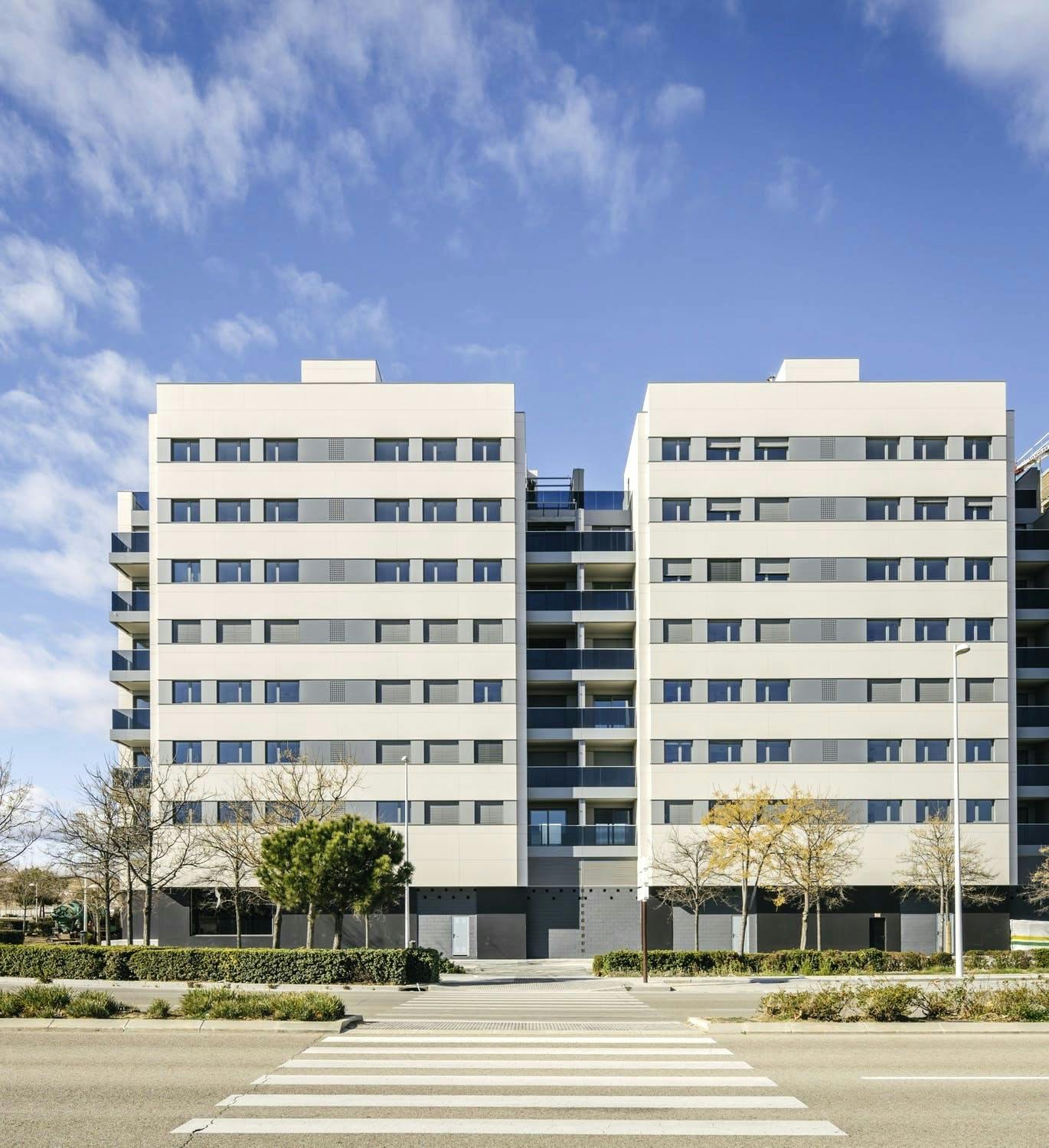 Valdebebas 127 with Dekton® and Silestone® by Cosentino
Valdebebas 127 is a residential project with an exclusive location along the edge of Valdebebas Central Park in northern Madrid. The development consists of 201 two-, three- and four-bedroom homes, all with double orientation, views of the park, storage rooms and parking spaces. There are also shops separate from the residential area.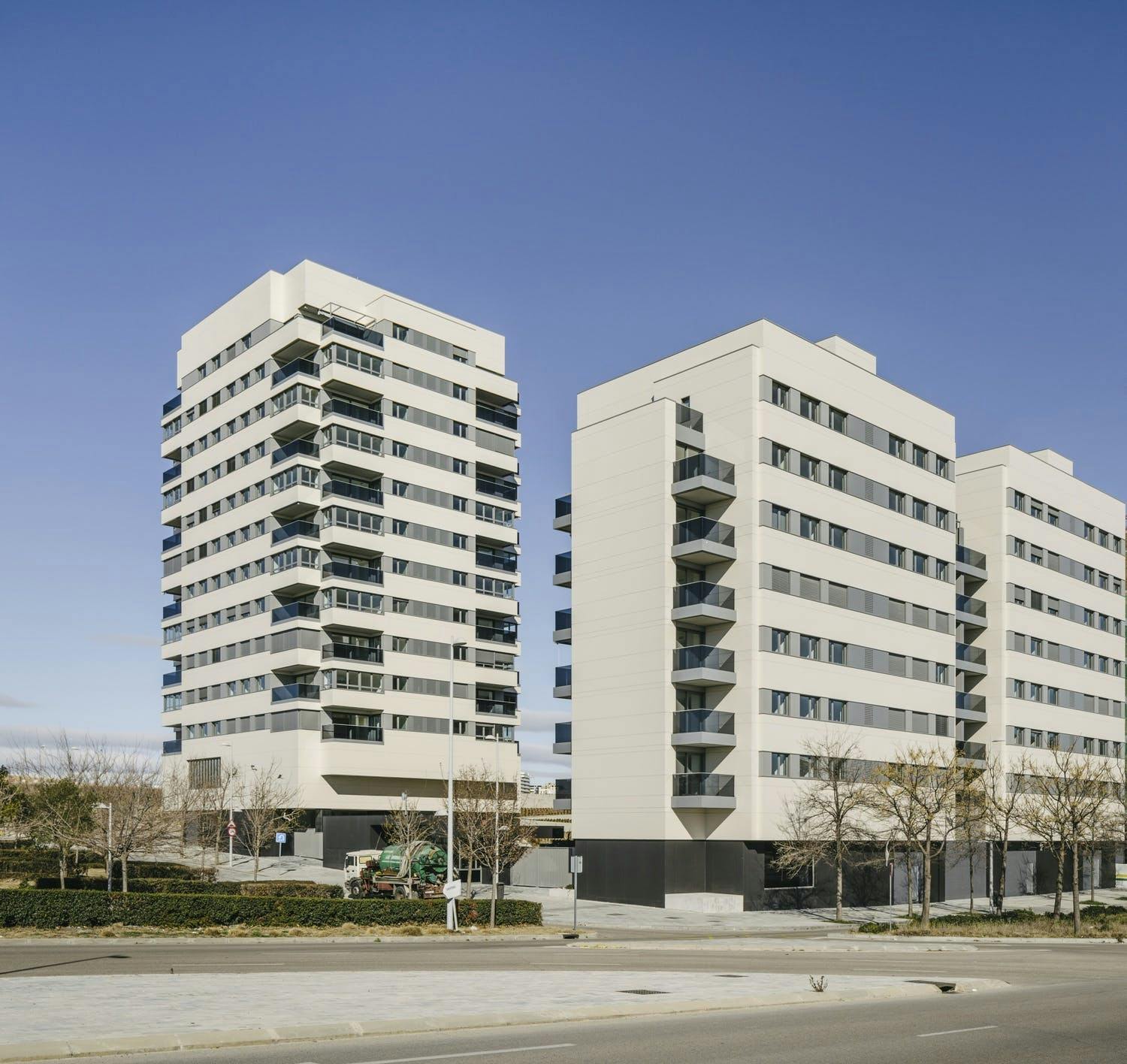 This project's most notable features are its layout, accessibility and thermal and acoustic efficiency, as well as its incorporation of the latest technology and application of innovative, next-generation materials for construction, architecture and design, such as Dekton® by Cosentino and Silestone® by Cosentino. Almost 8,000 m2 of the ultracompact surface Dekton® have been used in the first stage of this residential development to make façades and pedestals, as have 72 worktops and 72 shower trays made from the quartz surface Silestone®. In this first stage of the work, Dekton® has given shape to 7,200 m2 of façade and 400 m2 of pedestal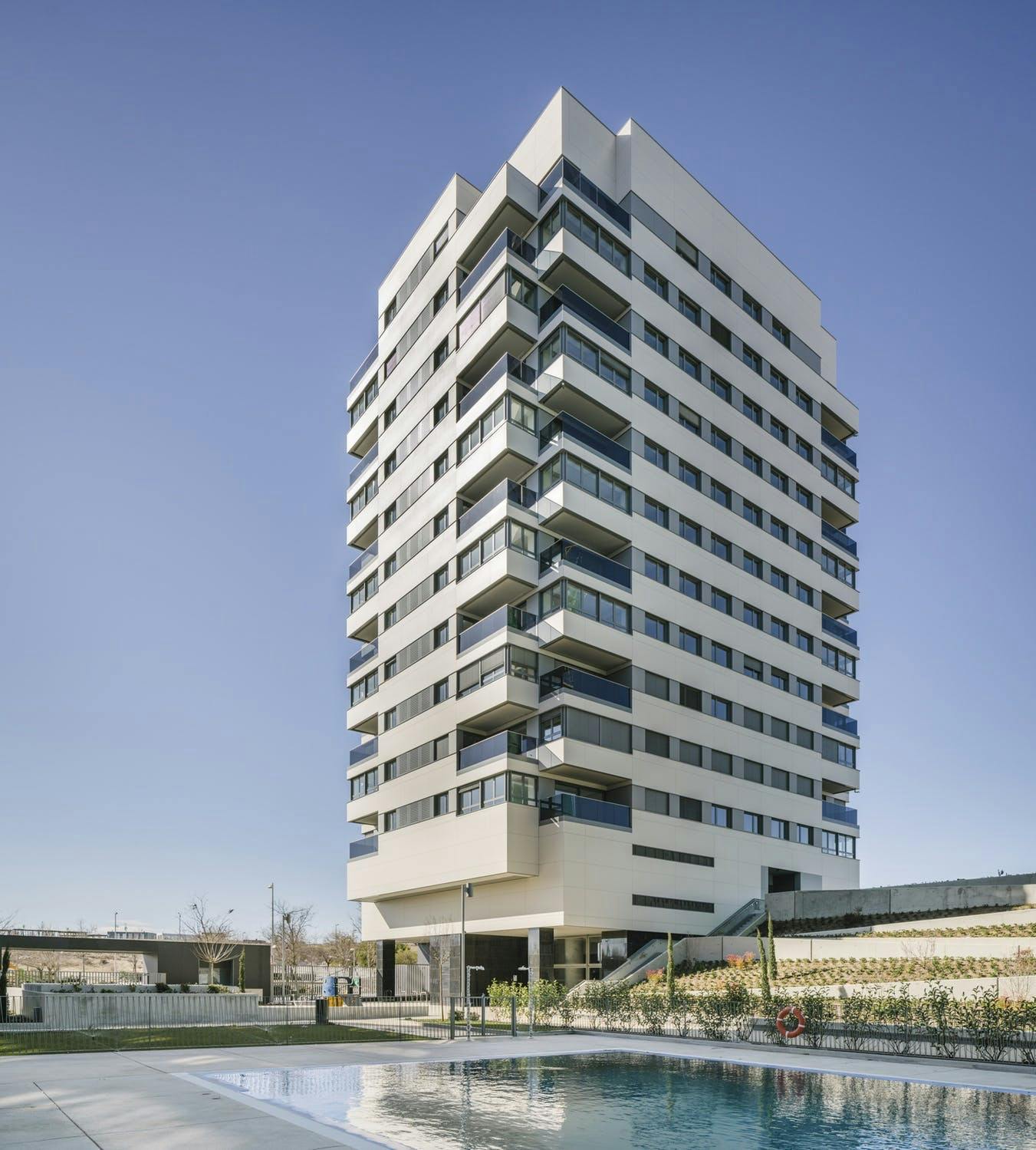 Dekton® by Cosentino has been chosen as the façade cladding for this project due to its excellent aesthetic and building qualities, which ensure exceptional durability and extraordinary thermal performance.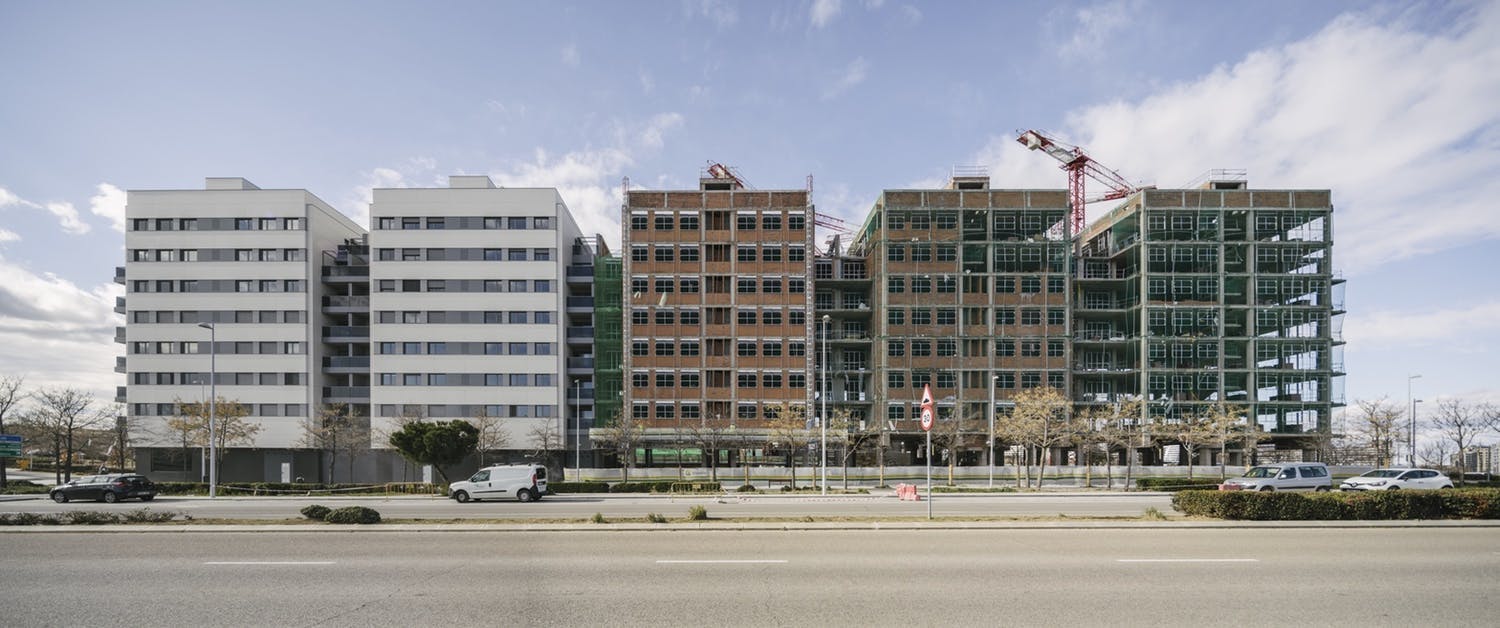 Carlos Rubio. Architect. Estudio Rubio Arquitectura: 'The exceptional qualities of Dekton® were a key factor in its choice as the façade material. Its large format, as well as its variety of textures and colours, have allowed us to respond and emphasise our play on form and volume.'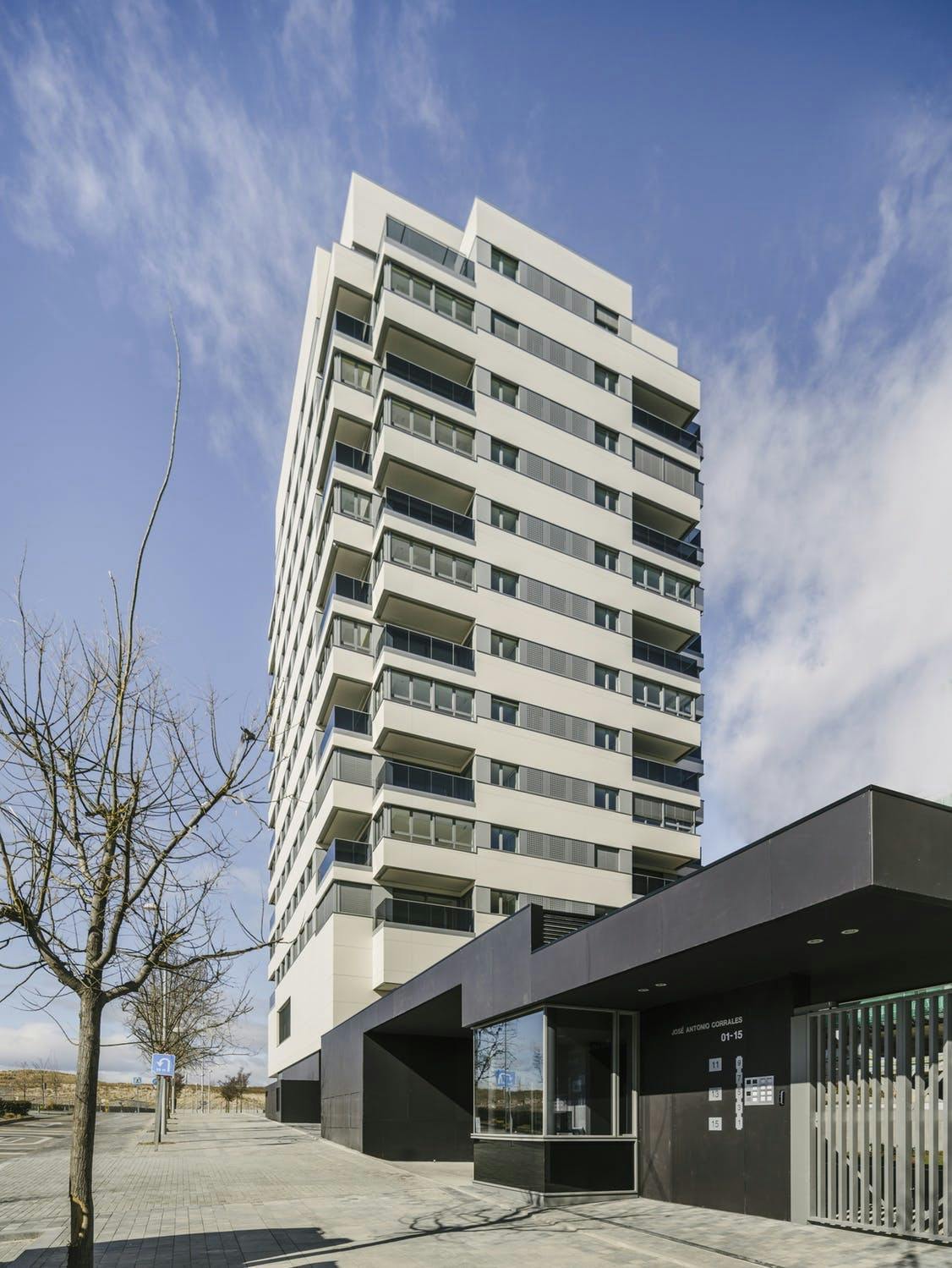 Cesar Cort. Valenor President: 'Our projects stand out for their exclusive architecture, functional design, accessibility and versatility, incorporating the latest technologies for both materials and facilities. Dekton® is a material with zero porosity that neither expands nor contracts with changes in temperature, so it doesn't degrade or deteriorate. It's a unique product.' The selected Dekton® colours - Warm and Korus - bring harmony and restraint to the development. Warm's white finish gives the building a cosy feel and brings it into harmony with its surroundings. Korus' grey shade has been installed to highlight particular parts of the façade, complementing the colour Warm to perfection. The pedestal has been surfaced with Domoos, a very elegant black shade that facilitates a unique contrast with the larger areas.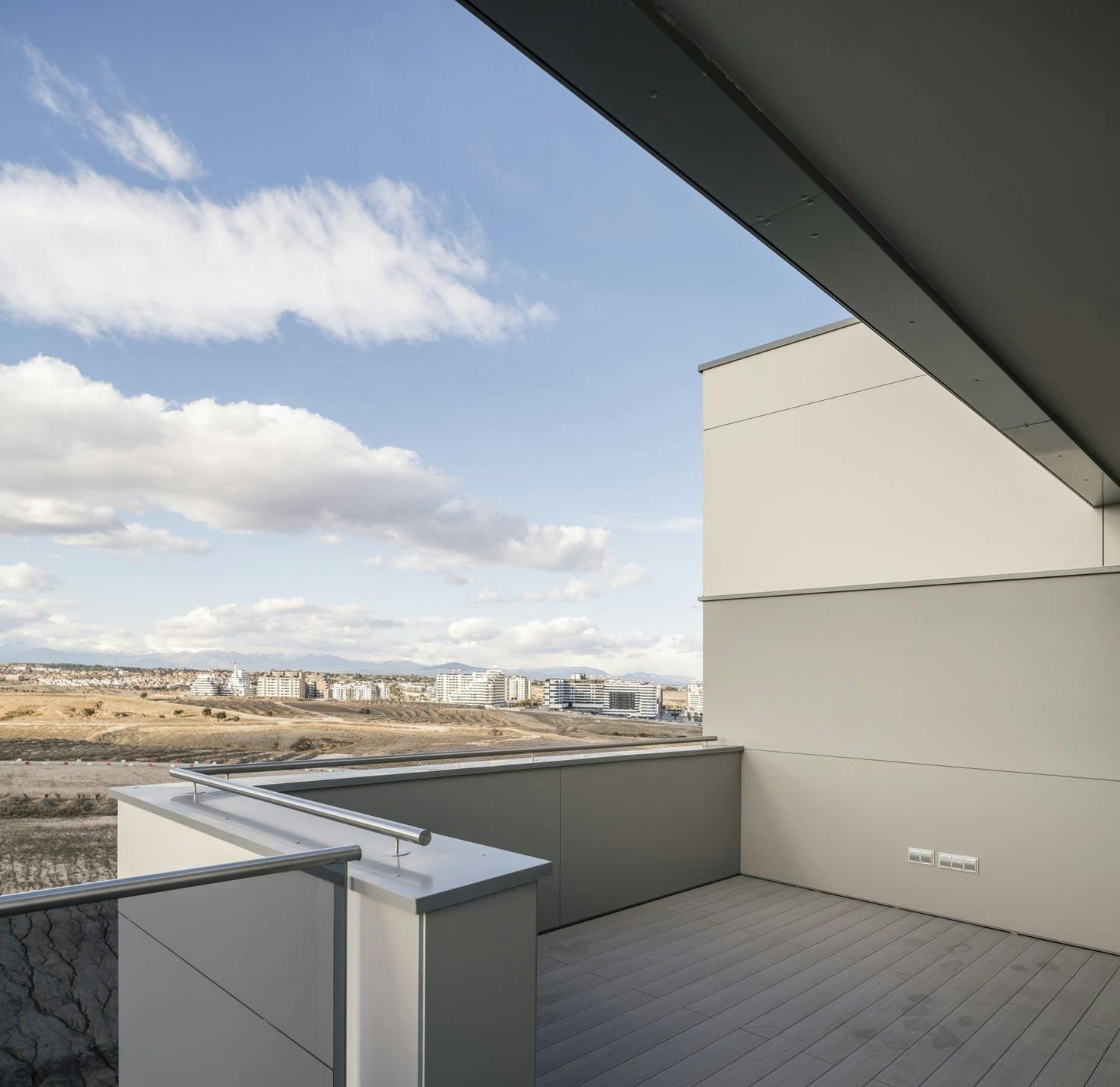 Dekton® by Cosentino is the perfect material for this kind of application due to its excellent qualities, such as high resistance to UV radiation, colour stability, durability, resistance to thermal shocks, high stain resistance, reduced porosity, and large-format and personalised manufacturing. ETA 14/0413 (European Technical Assessment) documentation and CE certification attest to its suitability as cladding for a ventilated façade.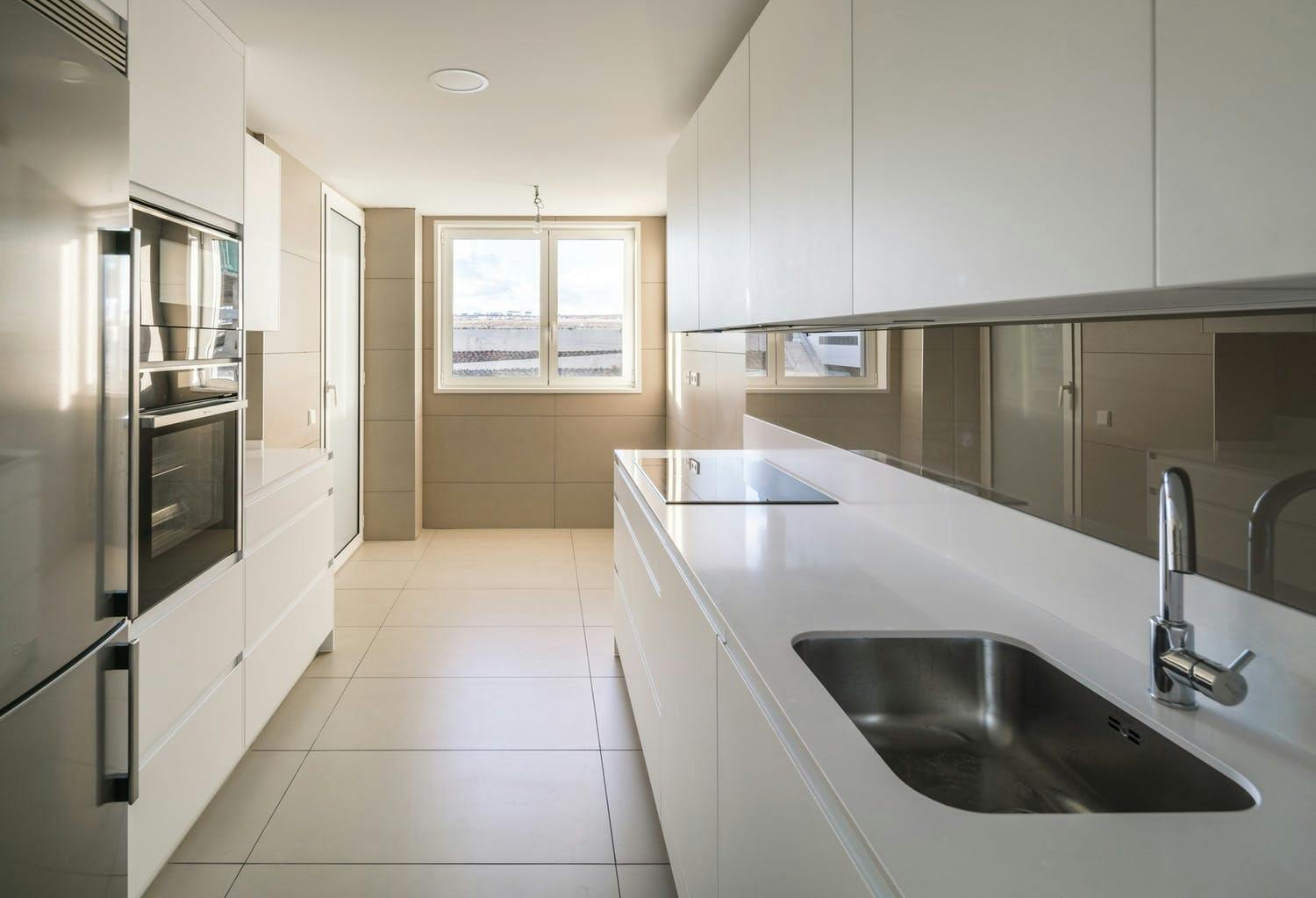 This first set of homes features 72 custom Silestone® Kador shower trays The Valdebebas 127 project was conceived with the idea that its interiors, like the exteriors that surround them, would be of the highest quality and provide design that stands out.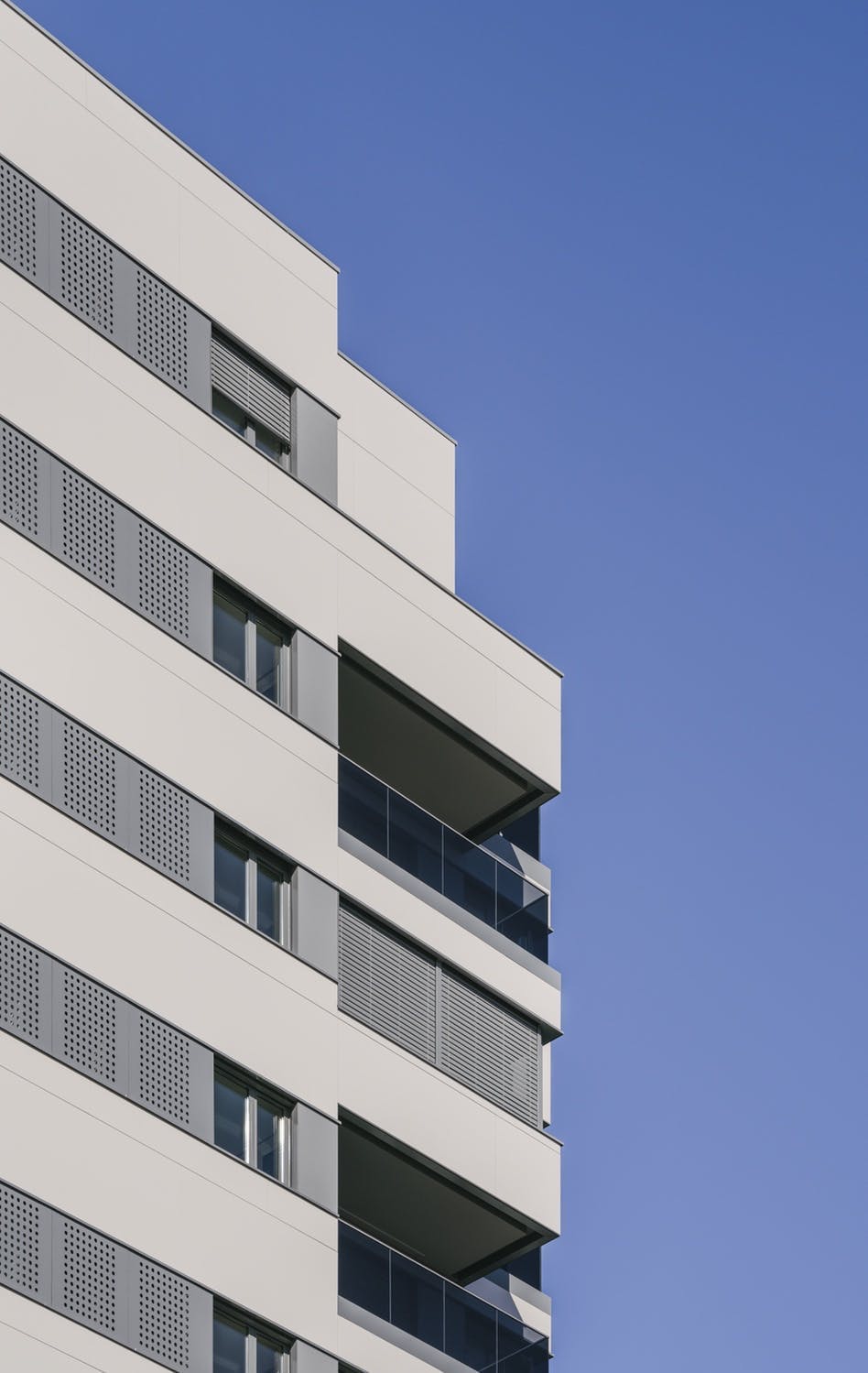 The Silestone® Kador model has been chosen for the shower trays, providing the excellent durability of quartz, which is entirely impervious to stains and scratches. The colour chosen for this application - Silestone® Blanco Zeus - brings a sense of cleanliness, hygiene and space to the environment. Cosentino's shower trays comply with DIN 51097:1992 standards certifying their low slip risk. A total of 72 custom Silestone® Blanco Zeus worktops have been used in the first stage of the housing development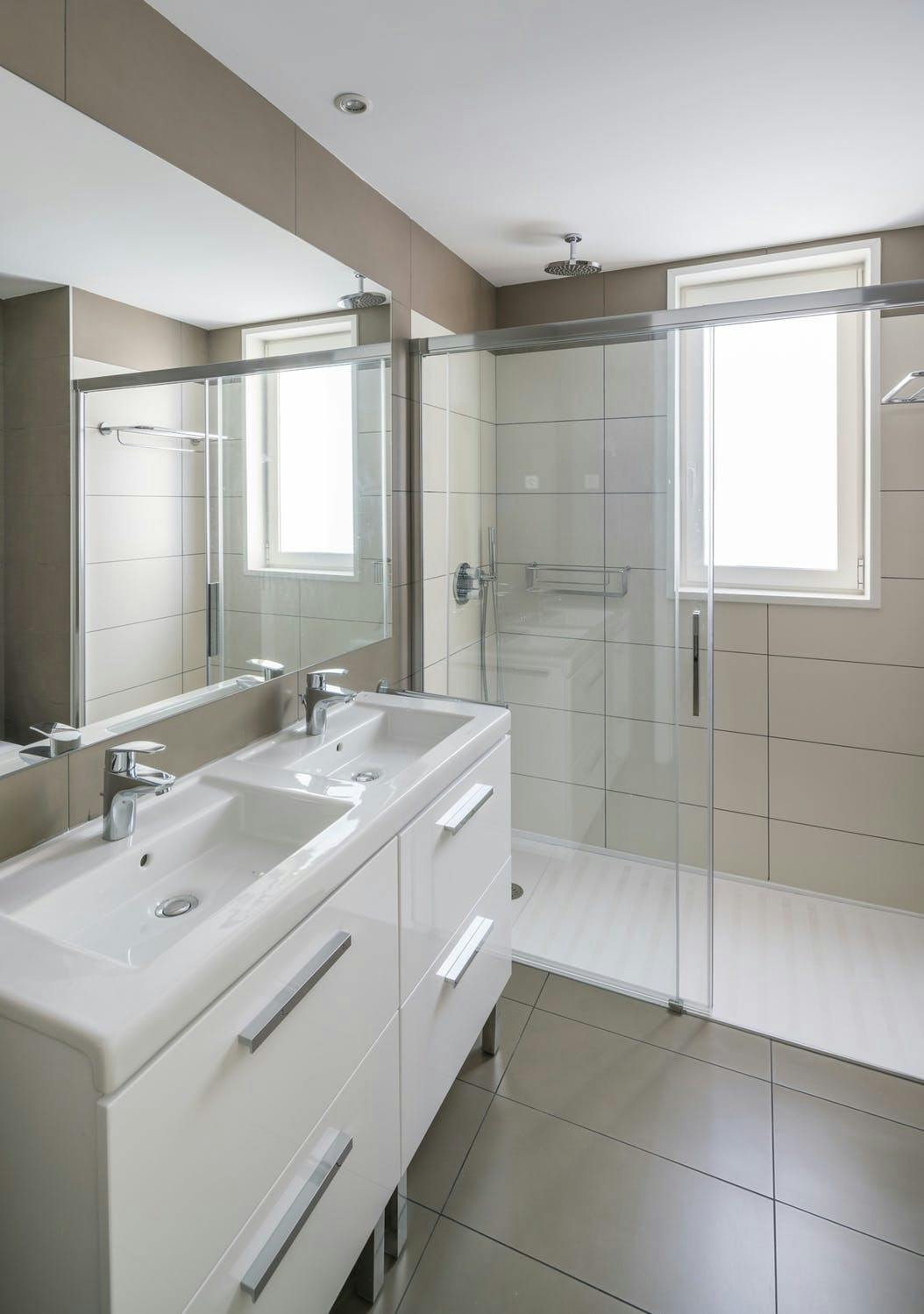 The kitchens in this housing development were conceived to give customers top performance. For this reason, the kitchen worktops have been made of Silestone®, the sector benchmark and leader. Silestone® guarantees worktop quality, durability, low porosity, stain resistance, easy maintenance and cleaning, scratch and knock resistance, a wide range of colours and textures, and large-format and custom manufacturing.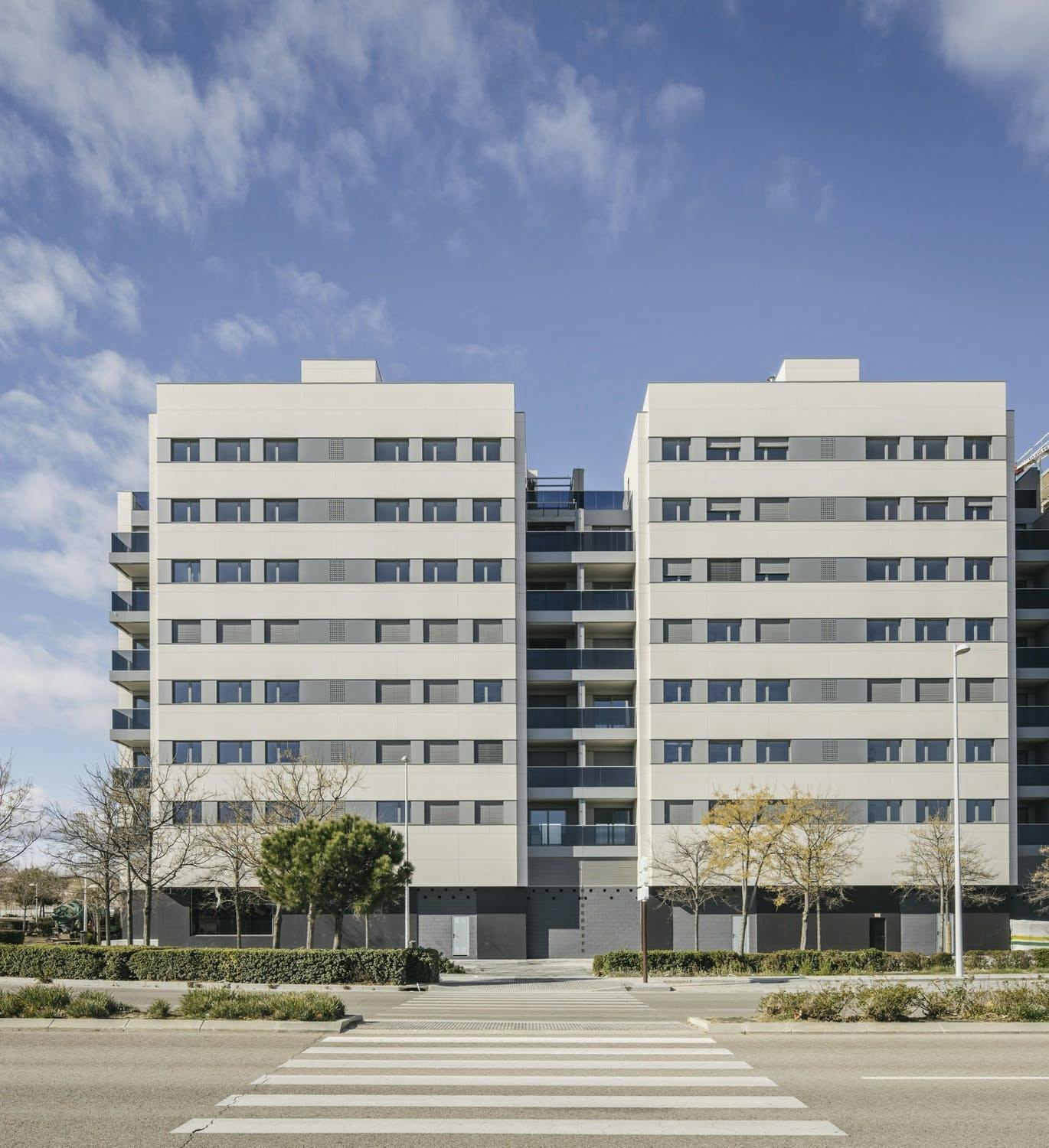 The search for light meant that the colour chosen for the worktops was the purest white: Silestone® Blanco Zeus. The kitchens are elegant, restrained and light-filled thanks to Silestone®. HR Images: Photos by Subliminal_Miguel de Guzmán_ Rocío Romero Data sheet: Name: Valdebebas 127 Address/location: C/José Antonio Corrales 1-15. Madrid Total area of project: 55,201.36 m2 Work completion date: 21/11/2017 for stage 1 (stage 2 completion scheduled for February 2019) Architecture studio / architect: Estudio Rubio Arquitectura / Carlos Rubio Carvajal Design studio / designer: Estudio Rubio Arquitectura. Landscaping: Susana Canogar and I?aki Vi?uela from Evergreen Paisajismo. Developer: Valenor Builder: Arpada - Cosentino Materials: Dekton® by Cosentino: façade and pedestal Silestone® by Cosentino: shower trays and kitchen worktops