Case Study
Dekton is as Stylish as it is Practical at Luxury Surrey Hair Salon, Leo Bancroft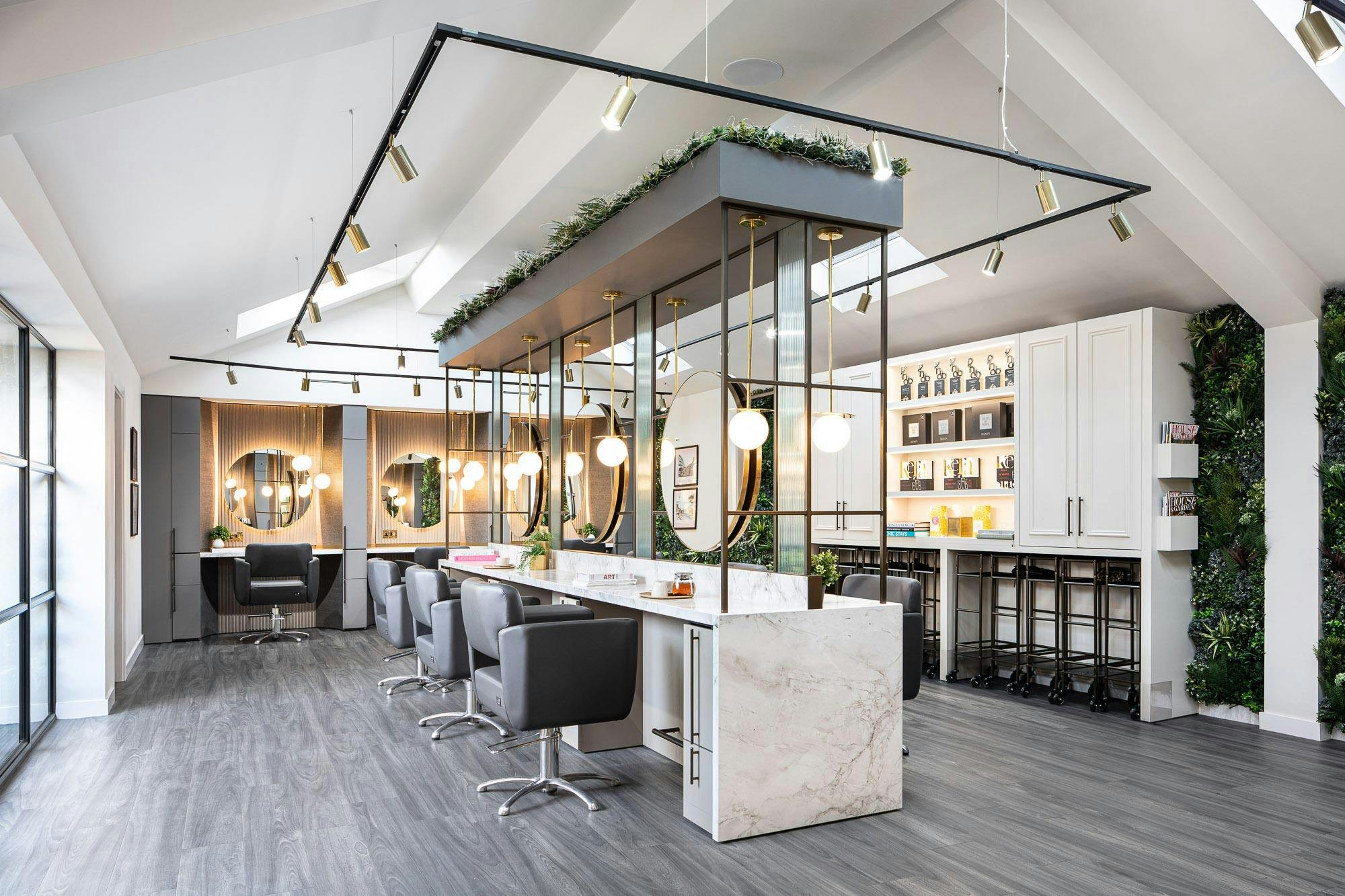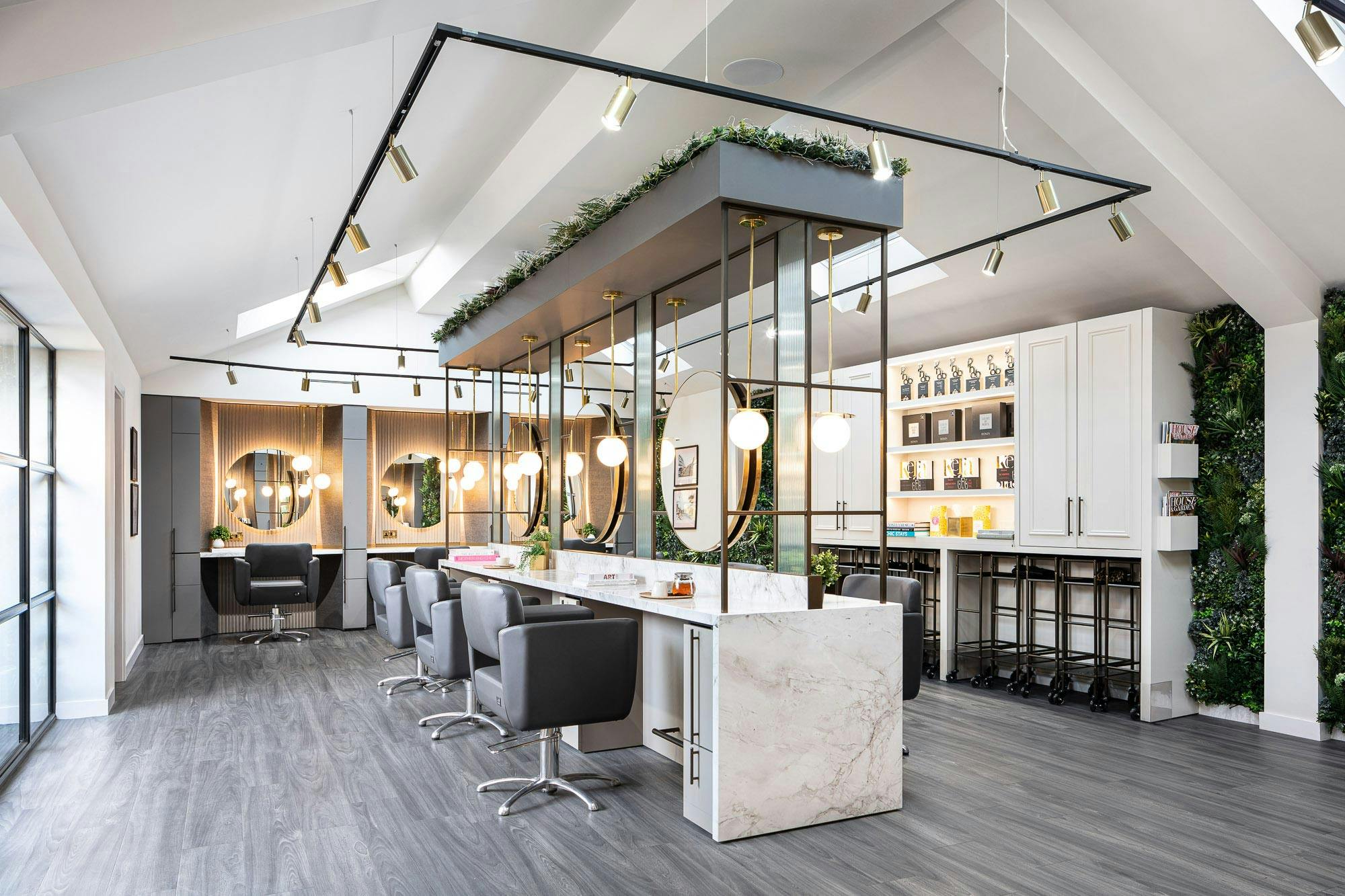 Toepassing
Countertop, worktop
Cosentino's innovative ultra-compact and carbon neutral surface, Dekton has been specified at Leo Bancroft, an award-winning hair salon in Surrey. The client's goal was to extend the Victorian townhouse building and revitalise the popular salon; from a compact and cluttered space to a calming, yet highly functional one.
To help achieve a luxury feel, designers Gordon-Duff & Linton chose Dekton Bergen to adorn various areas of the salon, including a large central island with a striking waterfall edge for customers to be pampered at and a welcoming reception desk front.
Luxury and functionality thanks to Dekton Bergen
Inspired by Portobello stone with greyish and white tones throughout, Dekton Bergen was specified throughout the salon. Thanks to its heat resistance and durability with no aesthetic compromise, it stood out amongst other surface alternatives.
Bergen looks stunning at the heart of the salon book-matched on a large island vanity area with a showstopping waterfall edge and bronze frame. Its properties ensure that the hair cutting equipment and hot hair styling tools which are placed on it multiple times daily do not leave a single trace. For a seamless space, Bergen was also selected for the front of house reception desk.
Dekton: high-performance and high sustainability
Dekton is a high-performance surface that offers an infinite variety of design possibilities for both indoor and outdoor spaces and is the perfect choice for a high traffic hair salon where heat and sharp tools are used daily, as Dekton is highly scratch, stain, fire and heat resistant.
It's ideal for commercial and residential projects alike, including surfaces for bars and restaurants, kitchens, outdoor kitchens, bathrooms and more. In addition, carbon neutrality has been achieved for the entire life cycle of Dekton (from cradle to grave), covering Scopes 1, 2 and 3, from the extraction of the raw material, to the use of the product and the end of its life. This recognition, obtained through emission reduction and compensation projects certified by the United Nations, confirms the good practices of Cosentino Group in terms of sustainability and environmental management.
Dekton Bergen gives a first-class experience
Leo Bancroft prides itself on giving a first-class experience to its customers, and its recent refurbishment achieves just that. Individual, bespoke wooden pods with separate areas for the stylists' equipment and customers' belongings and statement lighting help to achieve the luxurious feel alongside Dekton, while a 'service' button ensures customers always feel attended to.
Various textures are embraced throughout the salon to offer interest, from ribbed wood to bespoke brass framed mirrors and pendants to add glamour. What's more, external and internal green walls were chosen to bring a bit of nature to the space and ensure the salon is a calming area for customers to fully relax in.
Cosentino's materialen gebruikt in dit project