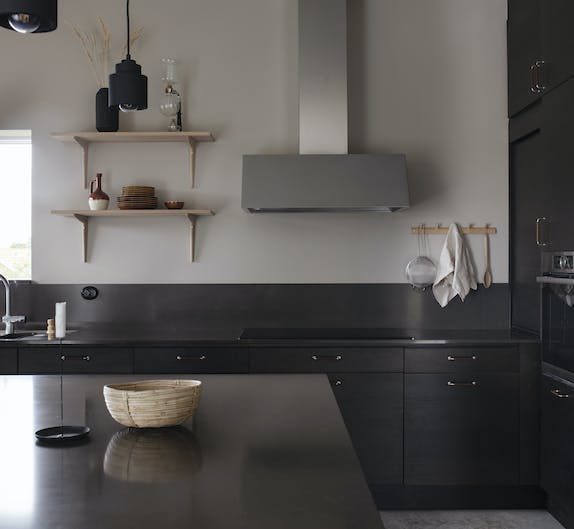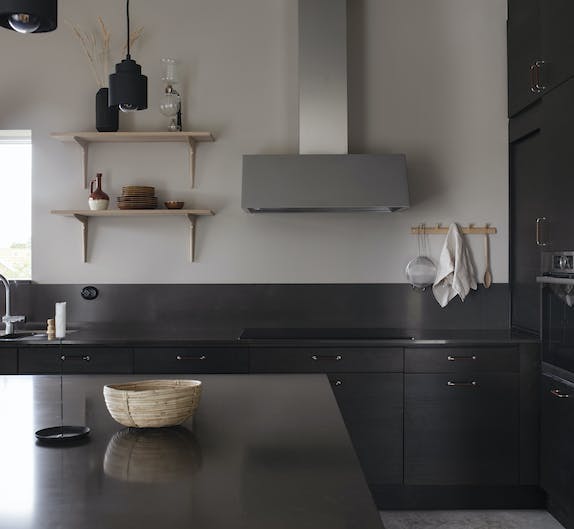 Project details: • Project: Photographer Alice Johansson's Silestone Kitchen from Swedish kitchen producer Vedum Kök • Trend: Scandinavian dark • Style: Classic, clean dark Scandinavian with a warm ambiance • Influence: A unique kitchen with a harmonic feeling • Producer: Dekker Nordic Sweden • Materials: Silestone® Calypso 2cm polished: work surfaces and back splash
Photographer Alice Johansson Alice Johansson is a photographer with a focus on interior and lifestyle and has Gothenburg as her base. Alice works primarily with the natural light, as she finds that it contributes with more credibility to her images and creates a more natural impression. Alice studied to become a Professional Photographer at the School of Photography in Gothenburg, practiced and then worked at alongside advertising photographer Lennart Sjöberg and has taken photography courses at FIT in New York. In Alice's network and the customers who has hired her you will find multiple interior companies, some of Sweden's best interior stylists, Influencers and Interior magazines. To name a few, you will find Alvhem, Rum21, Bunches by Blomrum, Ellos Home, STRIKK and Trendenser, Team Sarah Widman, Kvart Interiör, Johanna Bradford, Hanna Stefansson and Elle Decoration, Vårt Nya Hem and Vårt Nya Hus. To see her portfolio, go to www.alicej.se/ Alice lives with her family in the Swedish west coast archipelago on beautiful Donsö where the design and materials in the house and the surrounding nature match so well with the feeling in the kitchen.
Presentation of the project Even before our house ideas were ready, I had a picture of what the kitchen would look like, that's about 5 years ago. Inspired by Danish Frama, I wanted the kitchen to feel like a part of the interior, as one with the house. I loved the idea that the kitchen would be connected to a larger living room, not that the kitchen would be apart. It would serve as a party space, the one who cooks could still be a part in the conversation if you have dinner guests.
And so it became, the kitchen is the social space No. 1. We chose to have a large kitchen island and a lot of worktop surfaces. Thanks to this choice we could opt out of cupboards above the benches, we have plenty of storage anyway. Initially we had plans for a completely black kitchen, but pretty soon we changed due to our fears that it would "feel too hard". On the whole downstairs we have concrete floors, so in order to have a slightly softer experience we chose a brown oak kitchen where you can see the vein in the wood. The kitchen is from Vedum and the cabinet is called Liv. The countertop Silestone Calypso and Liv couldn't have fit together better, it all feels like a unit and Calypso was a given choice when we decided what kitchen we would have.
The fan is called Aero and comes from the company Fjäråskupan. Already in the first kitchen sketches the fan was chosen, it was like a given element in the kitchen with its clean and straight lines. When it came to the choice of handles, it was also already predetermined. I had long been fond of these leather wraps from Beslag Design and the brown leather makes the kitchen feel "nicer" in some way. The soft impression is reinforced. Also, the other wood-wrapped kitchen details make it more homely and cozy, the wooden shelves and knobs are from Norrgavel.
Q&A How would you describe your style? I would describe our style as classy, Scandinavian with a sense of warmth. We like to mix light and dark colors and add a lot of details in wood and other natural materials to get a sense of softness. What was your personal goal or directive for the space? For us, the kitchen is among the most important area in the whole house, we wanted the kitchen to have a central and obvious placement, but also that it would merge with the house and become part of the total interior. We like to cook and invite friends over for dinner and for us it was important to have social spaces in the kitchen, hence the kitchen island. We have a lot of drawers and storage facilities, which also feels important.
Did you make any renovations? We designed the kitchen together with Vedum. No renovation made since the whole house is new. How did you decide on the color scheme? I never thought I would have chosen a brown kitchen, but when I first saw the cabinets called Liv from Vedum, the choice was simple. It would be a brown painted kitchen. The choice of color made the whole impression of the kitchen softer, a black one (which we had initially thought) had become too "hard" together with our concrete floor.
What was the biggest challenge of this project? For us, the kitchen is so important in a house, so our biggest challenge was to find a kitchen that we really liked and that felt long-term and obvious to the house. Another big challenge was getting a sense of that homey felling, which can be so difficult in a completely new, modern house. But with the choice of color on the walls of the kitchen and the color of the cabinets, I think we got a nice and cozy feeling. What's your favorite thing about the space? We love this kitchen and cannot choose just one favorite result, it became our dream kitchen!
Alle foto: Alice Johansson/@alicej.se